When me and Katie headed to Iceland last month, we couldn't not stop at the famous Blue Lagoon geothermal spa, one of the most visited attractions in Iceland, and it's not hard to see why. The Blue Lagoon is one of the most visited attractions in Iceland, and it's not hard to see why.
The beautiful milky-blue opaque water is set against the black lava field and dark green moss, offering a welcome retreat from the cold and wintery weather that happens in the country from September – May. Read all my posts from Iceland here.
The Blue Lagoon history dates back to 1976 when it formed next to the geothermal power plant, Svartsengi. The lagoon is in fact not natural and was caused by a man-made structure for excess water from the power plant, that used to drill for steam and hot water.
A visit to the Blue Lagoon Iceland
The Blue Lagoon is located in a lava field in Grindavík on the Reykjanes Peninsula only 20 minutes from Keflavik airport on the west of the island. That makes it the perfect first stop when arriving in Iceland, or the last stop before you leave the country.
The Blue Lagoon is simply a large lake that has the perfect temperature to bathe in, on average it's 39°C/102°F. It's supposedly great for your skin, offering soothing waters and rich skin nourishment.
The lagoon's warm geothermal water and natural active ingredients; mineral salts, silica and blue-green algae help you relax and unwind while the lagoon's distinctive white silica mud gently cleanses and exfoliates the skin.
The mineral salts balance and relax body and soul. The modern facilities have been developed into a wellness complex including saunas, a warm flowing waterfall, restaurant and in-water treatments and massages using the all-natural Blue Lagoon skincare products.
Blue Lagoon Opening Hours
| Season | Opening Hours |
| --- | --- |
| 26 May – 29 June | 7:00 – 23:00 |
| 30 June – 20 August | 7:00 – 00:00 |
| 21 August – 1 October | 8:00 – 22:00 |
| 2 October – 31 December* | 8:00 – 20:00 |
Do you need to book the Blue Lagoon?
In general, entry to the Blue Lagoon is fully booked throughout the year. In order to reserve your desired date and time—and avoid the possibility that the lagoon will be sold out on the day you intend to visit—pre-booking is absolutely essential.
What do you need to bring to the Blue Lagoon?
A swimsuit
A towel
Money, cash or card
Sunscreen if it's summer!
Hair tie if you have long hair
Conditioner for your hair after
Spare towel
Change of clothes
How much is the Blue Lagoon?
Comfort: Blue Lagoon
From ISK 6 990
Entrance to the Blue Lagoon
Silica mud mask
Use of towel
1st drink of your choice
Premium: Blue Lagoon
From ISK 9 900
Entrance to the Blue Lagoon
Silica mud mask
Use of towel
1st drink of your choice
Second mask of choice
Slippers
Use of bathrobe
Table reservation at Lava Restaurant
Sparkling wine if dining
*Prices taken from Blue Lagoon website for accuracy.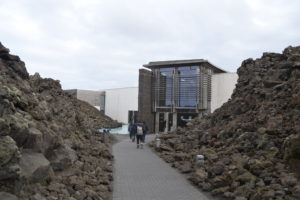 A visit to the Blue Lagoon Iceland
A few things you should know:
The Blue Lagoon is a spa in Iceland and is open all year round
A standard entry is from 6100 ISK (£46) for adults (14+)
The age limit to the Blue Lagoon is 2 years old, entry is free for 2-13 year old
Pre-booking is required, days or up to weeks in advance
The average temperature of the water is 39°C / 102°F all year round
The Blue Lagoon is not natural and formed in 1976
The warm seawater is rich with minerals such as silica that do wonders for your skin
The water in the Blue Lagoon completely renews itself every 48 hours
You should shower before getting in to the pool (you may be asked if attendance notice you haven't)
Combine a trip here with your in-flight or outbound flight as it's not very close to much else
Take precautions for your hair, they have conditioners in the shower, or tie it up – it will ruin your hair for days and days!
I enjoyed my time at the Blue Lagoon and I would go back, if it wasn't so bloody expensive. It was a fun few hours as we bathed in the pools, grabbing a drink using our wrist band, heading over to the face mask bar, and swimming around. In late April, temperatures were around 5C, which made the pool nice and toasty, despite a heavy wind coming in from the south!
The Blue Lagoon has a sauna and steam room, as well as an exclusive section. Here you can get a variety of spa treatments, including a massage on a float right in the Blue Lagoon!
There are cocktails, smoothies and more at the swim-up bar, but we both opted for beer instead, which I paid for with my wristband (everyone gets one free drinks and you can put any additional purchases on these too and pay as you leave).
A visit to the Blue Lagoon Iceland
Included with your visit:
ONE DRINK FROM THE BAR
Take your pick from a smoothie, cider, beer or cocktail. Sit back and enjoy!
SILICA MUD MASK
The white facemask that you've probably seen in photos is the Silica Mud Mask. The mask is delivered at the Silica bar, located in the lagoon. You can apply as much as you want to your face and body, before leaving it on for at least 5 minutes. When you wash it off, you will feel a significant difference in the softness of your skin.
SAUNA AND STEAM ROOMS
Our sauna and steam baths are a big part of the Blue Lagoon experience. Carved into the lava rock, they reflect the stunning landscape around the Blue Lagoon.
THE WATERFALL
The man-made waterfall works wonders on sore shoulders and stiff muscles. On busy days you may have to wait a little while to enjoy its refreshing power.
RELAXATION AREA
We recommend that you take regular breaks from the water. The relaxation area, next to the changing room doors, offers comfortable seating and soothing music to relax to. It also has an amazing view, looking out across the lagoon.
Overall, if you're going to Iceland, the Blue Lagoon is one of those experiences that you just have to try. But if you can, I recommend you do it on the way to or from the airport — and I beg you, don't let that water touch your hair!
If you're planning your own trip to Iceland, feel free to ask me any questions by tweeting me @sophiessuitcse or use the Google Map I created for our trip here.
---
My Travel Tips and Recommendations
Flights
To book flights, I always use flight search engine, Skyscanner, I regularly use the Everywhere tool to find the cheapest places to travel. It's how I get to travel so much all around the world. I find it the easiest way to compare flight prices across airlines and get the best deals.
Accommodation
For accommodation, I usually book most of my hotels or hostels through Booking.com. I love using this platform as it provides me with some amazing deals for accommodation all around the world. Or if you prefer, I also recommend using Airbnb. If you haven't signed up with Airbnb already, you can use this link to get £25 off your first visit!
Photography and Technology
Here is a list of the technology I always travel with:
Travel Insurance
Picking travel insurance that covers you in all eventualities is an essential part of planning a trip for every single person. If you can't afford travel insurance, you can't afford to travel. You never know what's around the corner. World Nomads is an affordable option that I personally recommend. BOOK HERE
Sign up to AirBnB with this link and receive a £23 off your first booking.
To receive my articles and reviews straight to your inbox SUBSCRIBE HERE.
Did you know I also vlog my trips? Make sure you subscribe to my YouTube channel so you get alerted when all my travel videos goes live… CHECK THEM OUT HERE
Thank you for reading and as always happy adventuring! If you have any questions about the destination please leave these in the comments below.
If you've enjoyed this post, please share it for me with all your friends and family!
Sophie X