Minneriya National Park is one of the best places to see elephants in Sri Lanka – add this place to your Sri Lanka itinerary!
One of my ultimate bucket list experiences was going on elephant safari in Sri Lanka and last month I got to do just that.
Sri Lanka is famous for many things; beautiful beaches, amazing food and iconic landscapes and wildlife. This tiny island in the middle of the Indian Ocean offers visitors the opportunity to see an incredible array of wildlife, all across the island.
Sri Lanka is most famous for it's elephants, who reside all across the island, mostly within Sri Lanka's national parks. It may only be a small island but it's high degree of biodiversity is second to none and is considered one of the best place to see wild animals in the world, especially seeing elephants in Sri Lanka.
We planned an elephant safari at a national park in to our Sri Lanka itinerary and it was the best decision we made, despite the long drive in to the middle of the country to Minneriya National Park. Taking a safari in Sri Lanka is an experience you cannot miss!
In addition to Minneriya National Park, you may have also heard about Yala National Park or Udawalawe National Park, another two national parks in Sri Lanka which are amazing to see elephants in the wild.
Both are fantastic national parks to visit on your Sri Lanka itinerary, and also only a few hours' drive of each other, but my personal favourite has to be Minneriya National Park.
Note: Yala National Park is closed for 6-8 weeks each year, from the start of September.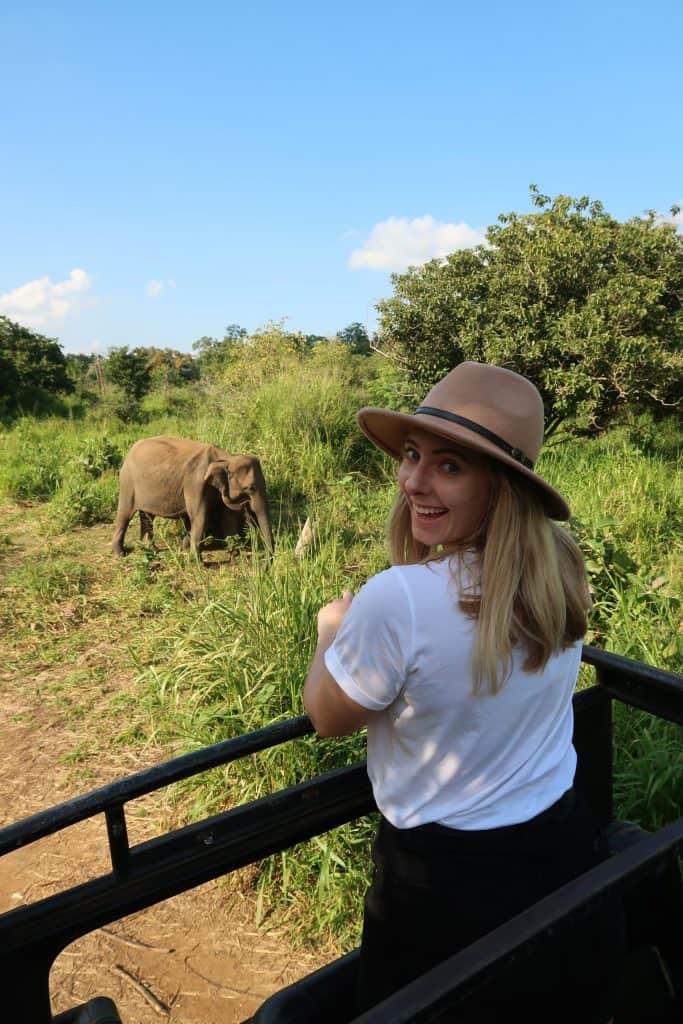 Looking for more Sri Lanka travel tips? CLICK HERE!
Where is Minneriya National Park?
Minneriya National Park is a national park in North Central Province of Sri Lanka and is most famous for their elephant safari. Minneriya National park is around 180 km from Colombo and a drive here takes around six hours.
The area was designated as a national park on 12 August 1997, having been originally declared as a wildlife sanctuary in 1938. The national park's faunal species include 24 species of mammals, 160 species of birds, 9 species of amphibians, 25 species of reptiles, 26 species of fish, and 75 species of butterflies.
There is also a neighboring national park called Kadulla and the elephants tend to move in herds between the two parks, so it is worth checking with the local guides which is the best place to go when you arrive in the area. This is also where booking a tour jeep guide is useful as he will already know this information and will only take you to where he knows the elephants have been last spotted.
Where to stay at Minneriya National Park?
Most people are staying in a city called Habarana, a short 10-minute drive from Minneriya. I would recommend the best for elephant safaris at Minneriya National Park is a stay at the gorgeous Jetwing Lake.
In between planning things to do in Sri Lanka, you will also need to book some accommodation in Sri Lanka. The island is huge, so it's best to travel around from hotel to hotel during your trip, plan your itinerary first, and then look for hotels close by to those main hot spots.
For example, when you are visiting Sigiriya Rock, Jetwing Lake is going to be your best bet, as it offers great service, stunning pool and is only 20 minutes from the rock.
How much is an elephant safari at Minneriya National Park?
There are lots of travel agents offering tourist access to the national park. A tour will usually include pick up and drop off at your hotel, plus a 3-4 hour safari in the national park. You can expect a price of around $75 USD-$100 USD per person.
When is the best time to visit Minneriya National Park?
The best time to visit Minneriya National Park in the dry seasons between May and September, as when the weather is hot, the elephants tend to gather more frequently around bodies of water. Sri Lanka is a hot country, with an average temperature of around 30 degrees. I visited Sri Lanka in February and the temperature was around 28-30 degrees most days, whereas in the summer it can reach 35 degrees.
What time of the day is best to visit Minneriya National Park?
I would personally recommend going on your Minneriya National Park elephant safari in the afternoon and in to the evening. We opted for a 2pm pick up to head in to the national park and it was a great time to go as many elephants will venture out to the river for a bath and sip of water in the late afternoon once the midday sun has started to go down. The light in the evening was also beautiful so worth going at this time regardless.
Elephant safari at Minneriya National Park
Large numbers of Sri Lankan elephants are attracted to grass fields on the edges of the reservoir during the dry season. Elephants gathered here is numbering around 150–200, and some reports account for numbers as high as 700. Minneriya National Park is reported as the largest known wild Asian Elephant gathering at one place in the world which is incredible!
It is believed the elephants migrate here from Wasgamuwa National Park because they can benefit from food and shelter of the park's forest.
Kaudulla National Park, the unknown little brother of Minneriya, hosts over 250 wild elephants and offers wildlife fanatics a chance to see wild elephants without the hordes of tourists.
Note: Do not go to Pinnawala Elephant Orphanage – they chain their elephants!!!!!!!
What can I expect from an elephant safari in Minneriya National Park?
It is an unmissable experience to go on safari while in Sri Lanka and although there are lots of national parks to choose from, including the famous Yala National Park, I would suggest heading to Minneriya National Park safari if you are after herds of elephants in the wild.
We jumped on a jeep at our stop off and our driver took us in to the national park where we drove around for around four hours in total, stopping as and when we wanted and when the driver guide saw an elephant or got a tip off from another guide.
Our driver was both the driver and the animal spotter, and his vision was incredible. Within seconds of turning a corner, he would see an animal incredibly far away and would stop and let us know. Sometimes he would see tiny animals on a rock, or a tree, from 100 metres away. That guy did not need to go to Specsavers that's for sure!
The drive through Minneriya National Park can be bumpy, and it's not uncommon for jeeps to be fighting for the best spots when an animal or elephant is spotted so don't rush, take your time, and you never know there may be a better opportunity just around the corner. That's often what we found…
We got into an open-top jeep and began cruising through the national park, and we also spotted some other animals during the trip including peacocks, antelope and several monkeys. Then before you know it around every corner there would be an elephant or seven.
And our most magical experience was when we were heading back to the entrance of the Minneriya National Park to head home and in our way crossing a river was a herd of elephants, both adult and baby elephants.
We waited and watched patiently as they crossed the before our jeep rolled out into a clearing. It was an incredible experience, and one which I would recommend to anyone!
Minneriya Jeep Safari Tour includes:
Safari Jeep (Private)
Professional Safari Jeep Driver
Park Entrance Fee
Park Service Fee + Park VAT Tax
Hotel pickup & drop off (we got picked up from a nearby cafe after lunch)
On a Minneriya Safari tour you can see wild elephants as they graze on the grasses growing on the forest, and maybe you will also see many other animals within Minneriya National Park such as moneys, wild pigs, grey langers, porcupines and peacocks.
What should I bring on the safari?
Camera – This is one of the best places in the world to photograph elephants so make sure you've got a good camera with a good lense!
Sun Cream – If you are like us the jeeps top will be down the entire time, so you will be out in the elements.
Water – You are going to be in the jeep for a while so you will need water to see you through.
Cash for the park entrance fee (if its not included in your package) – They only take Sri Lankan Rupees but they also accept Visa or Mastercard.
Elephant Conservation in Sri Lanka
Of course, this was a topic I wanted to invest in prior to our trip and I made sure I did all my research on the park I was visiting. Sri Lanka has one of the largest density of wild elephants in the world and of course that doesn't come without a negative side. I don't know a lot about elephant conservation in Sri Lanka so I have listed some article below for reference.
Tours of Sri Lanka
Explore tea plantations and rock fortresses on this 14-day tour, which is designed to please. This tour is about more than just beaches and stunning views; it's about the inspiring people you'll meet along the way. You will visit major cultural sights within Sri Lanka, including the most scenic train ride in the world from Kandy to Ella. All of the highlights, culture, access, and I-can't-believe-we-did-that moments, all at a great price. Includes expert guides, meals and transport.
Fancy a trip to the Maldives following your adventure in Sri Lanka? This is the tour for you! This 14-day combo trip brings together the best of Sri Lanka's cultural highlights and the once-in-a-lifetime opportunity to sail the islands of the Maldives aboard a dhoni boat. Experience a safari in Udawalawe National Park, discover cultural treasures of Negombo and Kandy, and then spend an entire week cruising from one tiny and perfect atoll island to another, snorkelling in crystal-clear waters and stretching out on blazing white-sand beaches. From culture to paradise, this tour's got it all.
Have you been to Minneriya National Park Sri Lanka? Let me know in the comments your experience!
---
My Travel Tips and Recommendations
Flights
To book flights, I always use flight search engine, Skyscanner, I regularly use the Everywhere tool to find the cheapest places to travel. It's how I get to travel so much all around the world. I find it the easiest way to compare flight prices across airlines and get the best deals.
Accommodation
For accommodation, I usually book most of my hotels or hostels through Booking.com. I love using this platform as it provides me with some amazing deals for accommodation all around the world. Or if you prefer, I also recommend using Airbnb. If you haven't signed up with Airbnb already, you can use this link to get £25 off your first visit!
Photography and Technology
Here is a list of the technology I always travel with:
Travel Insurance
Picking travel insurance that covers you in all eventualities is an essential part of planning a trip for every single person. If you can't afford travel insurance, you can't afford to travel. You never know what's around the corner. World Nomads is an affordable option that I personally recommend. BOOK HERE
Other posts that may help you:
15 Epic Things to do in Sri Lanka
Hiking Pidurangala Rock in Sigiriya Sri Lanka
50 Sri Lanka Photos to Inspire Your Next Trip
The World's Most Beautiful Train from Kandy to Ella
Hiking Riverston Matale and 'The Knuckles' in Sri Lanka
Pedro Tea Factory Tour in Nuwara Eliya Sri Lanka
Sign up to AirBnB with this link and receive a £23 off your first booking.
To receive my articles and reviews straight to your inbox SUBSCRIBE HERE.
Did you know I also vlog my trips? Make sure you subscribe to my YouTube channel so you get alerted when all my travel videos goes live… CHECK THEM OUT HERE
Thank you for reading and as always happy adventuring! If you have any questions about the destination please leave these in the comments below.
If you've enjoyed this post, please share it for me with all your friends and family!
Sophie X