On our recent trip to Cyprus, we headed towards the water, spending most days beside the ocean, on many of the best beaches in Cyprus. The country is the third largest island in the Mediterranean sea and is one of the best places in the med for a beach holiday, being award a large variety of blue flag certificates for their beaches.
Their waters are clear, clean and they continually rank high in reports around the best beaches in Europe, and around the world. Use this guide to the best beaches in Cyprus to find the perfect beach for you, whether you want crystal clear snorkelling, white sands, cliff diving, or party beach clubs, you can find everything here.
Here's my guide to the 10 of the best beaches in Cyprus.
10 Things to do in Cyprus
Hire a yacht with Georges Watersports
Visit the crystal waters of the Blue Lagoon
Swim around Aphrodite's Rock
Hike the Avakas Gorge
Go scuba diving with Dive Point Cyprus
Explore the ruins of Paphos
See flamingos at Larnaca Salt Lakes
Try Horse Riding at Aphrodite Hills
Wander around beautiful Limassol
10 of the best beaches in Cyprus
How to get to Cyprus
Wizz Air flies daily from Luton to Larnaca, with fares starting from £49.99 (one way, including all taxes, non-optional charges and one small cabin bag). For more information about Wizz Air's routes or to book, visit wizzair.com.
10 of the best beaches in Cyprus
Hire a yacht with Georges Watersports
One of our most memorable experiences from our trip to Cyprus was the morning we spent with the wonderful people at George's Watersports. Georges watersports is a well established business that settled operations 1989 in the small graphical harbour of Latchi, located on the North West of the island and lies on a beautiful coastline and a panoramic peninsula.
During the summer time Latchi Harbour attracts thousands of tourists every year that want to visit and explore by themselves the magnificent bays and the beauties that Akamas forest offers. Georges watersports offers self drive speed boats for hire, a great opportunity for you and your family to experience your own private charter on your holiday.
We hired our very own 300hp Acapulco Sports Yacht which could have 12 people onboard and they also provide you with a skipper. It was an amazing boat (make sure you check out my vlog from the trip for the most amazing drone shots from the yacht).
Once you leave the harbour, you then cruise along the 13 km long North Coast of the Akamas Peninsula, from Latchi Harbour up to the Arnautis cape. Along the coast you can visit and anchor in all the multiple bays, such as Manolis- Sea Caves, Bladji-Amphitheatre bay, Chamili before ending up at the Blue Lagoon for swimming.
10 of the best beaches in Cyprus
Makronissos Beach
Makronissos beach is beautiful with the peninsula forming the shape of a dolphin tail and it also has the most beautiful white sand. Once parked up you can head down the alluring walkway into the crystal clear waters of the ocean and a secluded beach along the coast. The peninsula is a former reef, so there are many interesting rock formations and there are also an array of sea creatures and fish dotted around the seafloor.
10 of the best beaches in Cyprus
Coral Bay
With a spooling 600m beach, a collection of sleepy seaside tavernas and the ancient ruins of Paphos on your doorstep, Coral Bay takes elegant coastline to a whole new level. The blue flag winning waters here are clean and safe for swimming.
Coral Bay is also where me and Theo went diving with Dive Point Cyprus. We drove over to Paphos to Saint George's Hotel just north of Paphos town and met with Ray, who owns the Dive Point Diving Centre. Diving in Paphos is among the best diving in Cyprus with a number of different dive sites with their own range of depths, difficulty levels and points of interest. I have dived a few times before, but Theo was a beginner and had never dived before.
The wonderful team at Dive Point Cyprus are professional PADI and BSAC registered instructors who are waiting to show you the delights of diving in this Mediterranean paradise. With water temperatures remaining pleasantly above 25C well into October, Cyprus has a longer diving season than most of its competitors nearby.
The clarity of the sea, often vital to good diving, is also excellent. Visibility of more than 30 metres is not uncommon. Seas are usually calm, meaning there is rarely any current to contend with, and making the diving benign and manageable for people of all abilities.
10 of the best beaches in Cyprus
Nissi Beach
Despite Nissi beach being well-known as the part beach, due to its reputation close to Ayia Napa, its natural beauty is undeniable. Nissi Beach is a large curve of white sand with shallow waters and is popular with thousands.
When the tide is low in winter and spring, a sand walkway is unveiled from beneath the water, a path leading to the small island of Nissi from which the beach takes its name. Make sure you spend a morning here if you're not interested in the party aspect, before the party goers arrive in the early evening!
10 of the best beaches in Cyprus
Fig Tree Bay
Fig Tree Bay is a sandy beach in the resort of Protaras, Cyprus. In 2011, TripAdvisor declared it to be the third best beach in Europe, but it dropped to 13th place in 2013. As with all beaches in Cyprus, access to the public is free, whilst bed and umbrella hire is chargeable. Fig Tree Bay offers visitors golden sands and gets its name from the idyllic fig trees which line its coast. The islet is home to shallow waters and intimate pools, making it an ideal place for children and families alike.
10 of the best beaches in Cyprus
Konnos Bay
Konnos Bay is a small cove with a great beach for families to relax all day. Konnos bay is considered to be one of the most scenic beaches on Cyprus and is around 200 metres in length. Here you can find a dramatic, rugged coastline, with excellent nature trails but beware before getting in the water, as it can be slightly colder than the rest of the island due to its sheltered position.
10 of the best beaches in Cyprus
The Blue Lagoon
We headed to the Blue Lagoon as part of our 3-hour boat hire with George's Watersports and because we had hired our own boat it meant we arrived before the crowds on the bigger boats arrived. The place is spectacular and is the largest natural bay in Akamas Peninsula, beside the Akamas National Park.
This lagoon is one of the most popular spots in Cyprus due to its clear waters and white sandy seabed, making it perfect for snorkelling, swimming and playing around. The water also tends to be warmer here due to the sheltered area. It's a really good spot for snorkeling where you can see a variety of fish or swim in the incredibly clear water.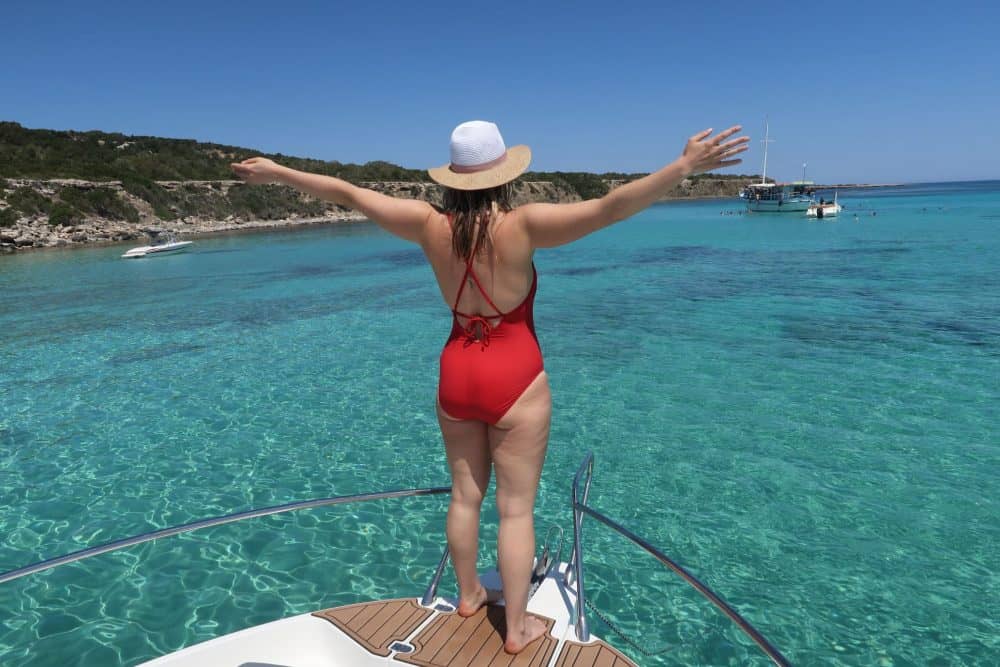 10 of the best beaches in Cyprus
Episkopi
If you want to hit the waters for surfing or kitesurfing this is your beach and Episkopi is famed for being a popular destination for activities, as the winds here make this region ideal for the sport. However, be aware, the strong currents mean swimming is off limits in some of this area.
10 of the best beaches in Cyprus
Lara Bay
Located just north of the other popular beach I mentioned earlier Coral Bay, is Lara Beach, another of the best beaches in Cyprus. However to access this beach you will need a lot of time and an off-road vehicle as the roads are extremely rocky and a rather isolated landscape.
But what is lacks in accessibility, it makes up in privacy. Because it is so hard to reach it means it is rarely visited by tourists and therefore you get the most beautiful waters, sands and quiet space. And you might even see a turtle here!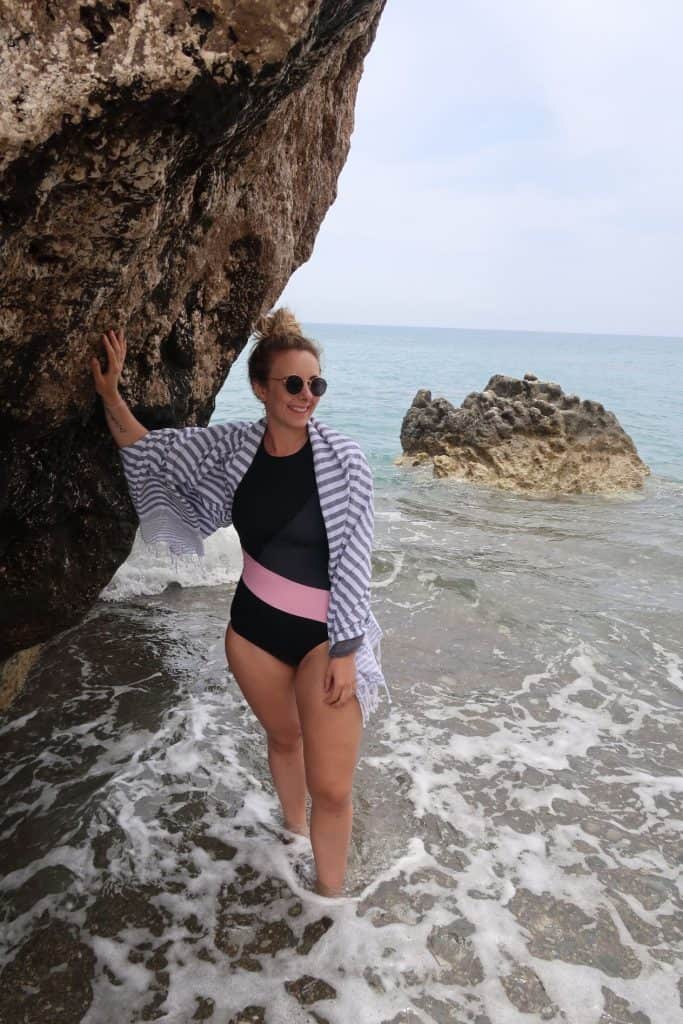 BOOK TRAVEL INSURANCE BEFORE YOU FLY

Picking travel insurance that covers you in all eventualities is an essential part of planning a trip for every single person. If you can't afford travel insurance, you can't afford to travel. You never know what's around the corner. World Nomads is an affordable option that I personally recommend.BOOK HERE
Other posts that may help you:
10 Hygge Things to do in Copenhagen
The Ultimate Guide to the Christmas Markets in Copenhagen
Copenhagen Chic at the Andersen Hotel
Ultimate Guide to 48 Hours in Malmö
Best Vegan Restaurants in Malmo
Thank you for reading and as always happy adventuring!
If you've enjoyed this post, please share it for me with all your friends and family!
Sophie X