Hiking and the Peak District go together like jelly and ice cream – you can't take a trip to the Peaks without taking in one of the famous hiking routes.
I'm lucky enough to live within a stone's throw of the UK's first national park. That's right, the Peak District was the first area to be designated a national park in the country following on from the Mass Trespass in 1932 which saw walkers exercise their right to walk freely on open moorland.
Gamekeepers and landowners were against this and so some scuffles broke out which led to five of the trespassers being imprisoned.
Twenty years later the Peak District National Park was created. And all this so that we can enjoy the Peak District today, 88 years after that first protest.
With stunning landscapes, challenging peaks and beautiful villages, a hike through the Peak District is like no other. It's 1437 square kilometres of diverse, wild and wondrous terrain and scenery and I love nothing better than getting out into its fresh air, no matter what the weather!
There is something for everyone in the Peaks, no matter what your level of walking. From countryside strolls to scrambling to the top of hills and exposed ridges, you'll find something for you here.
Here are six of the best walks in the Peak District…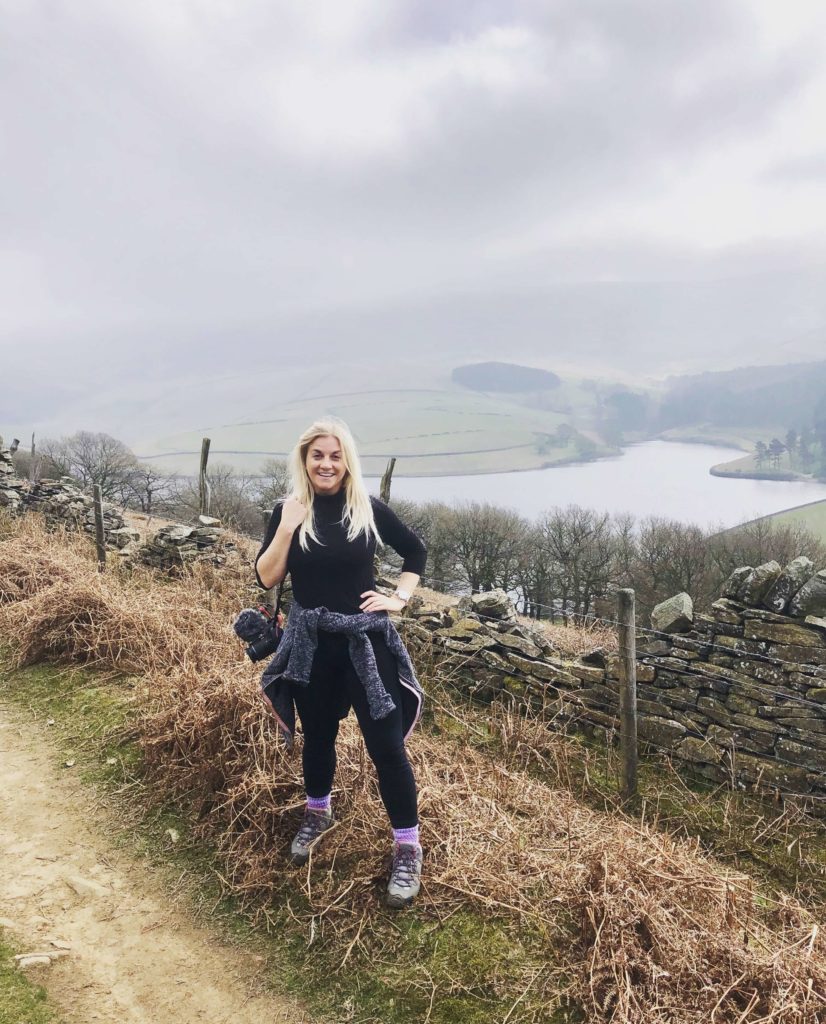 If you are looking for some of the best restaurants in Derbyshire look no further than with Samantha, or if you're pooch is along for the ride, check out her blog post on dog-friendly pubs in Derbyshire.
1. Baslow to Chatsworth circular
Chatsworth House is a stately home in Derbyshire which has been home to the Cavendish family since the 1500s. There are 100 acres of parkland to explore, a river to take a dip in and you can look round the house and gardens too.
I especially love Chatsworth at Christmas time where they have a Christmas market, a Christmas ball and the house is decorated with that year's theme. A couple of years ago it was transformed into a Narnia winter wonderland.
This circular 10 mile walk starts in the pretty village of Baslow which is home to some independent boutiques, cosy pubs and even a Michelin starred restaurant, Fischers Baslow Hall. You can leave your car in Nether End car park, but it's best to get there early, especially if the weather is fine as it can get busy.
From here, head up the hill through the village and into the woodland. The terrain is a little boggy at first, but work your way up through here until you reach open views at the top of the hill. Then it's on to the Chatsworth Hunting Tower where you'll be rewarded with views of Chatsworth House and there's even a waterfall not far past here.
Make your way back down to the Chatsworth Estate and walk back to Baslow along the river. If you've brought a picnic, this is a lovely spot to stop to refuel. One of the best walks in the Peak District.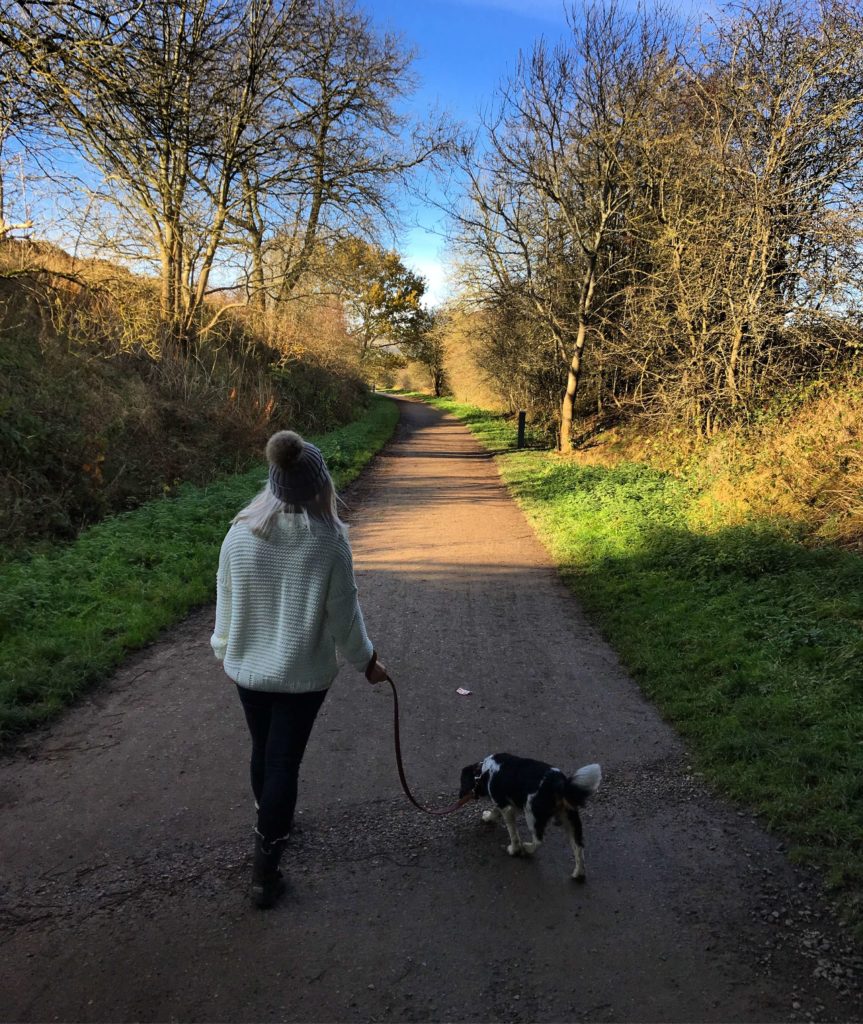 2. Castleton – Mam Tor via the Great Ridge
There are many hiking routes which take in Mam Tor, one of the most well-known hills in the Peak District, but the Great Ridge walk is my favourite thanks to the stunning scenery of the ridge.
Standing at 517m (1,696 ft), Mam Tor isn't quite high enough to be counted as a mountain but it does have a very windy summit like the best of them! Mam Tor is known locally as the "Shivering Moutain" because of its landslip-prone shale and gritstone layers.
This six and a half-mile walk starts and finishes in the village of Castleton, another picturesque village which is known for its caverns which lie 450m below the hills. You can do a guided tour of the caverns which is really cool.
From Castleton, head to the summit of Mam Tor for some great views before walking to the craggy top of Back Tor and then on the Lose Hill Pike, all of which offer views across the national park.
From here you can choose whether to head back to Castleton for a well-earned pint or take the slightly longer route which follows the river back to Castleton via the village Hope. There are plenty of places in both villages to stop for a pub lunch or a cuppa and slice of cake.
3. Monsal Head Trail
The Monsal Trail is a traffic-free route for walkers which follows a former railway line through the limestone dales. If you like your walking routes easy to follow then this one is for you as it is an obvious trail for all of its eight and a half miles which run between Chee Dale and Bakewell.
One of my favourite things about this walk is that you get to walk through the old railway tunnels which have lighting and benefit from interpretation explaining the history of the route – so you get to learn something too!
There's also a great stop at Monsal Head which gives you stunning views of the Monsal Dale Valley. There are a couple of pubs up here where you can have lunch or a glass of wine.
Following your walk, you can explore the market town of Bakewell which is most famous for its Bakewell pudding, a delicious jam pastry which is topped with a filling made from egg and almonds – well, it would be rude not to try it!
4. Tissington circular
There is another former railway which runs between Buxton and Ashbourne which makes up the Tissington Trail. This is a good option again, if you like more of a trail walk rather than a hike, however, I prefer the circular Tissington walk.
This walk starts and finishes in Tissington before leaving the trail and crossing lots of open fields before descending to Fenny Bentley. Tissington is an absolutely stunning estate village which is famous for its Jacobean manor house and its good dressing ceremony.
There is an independent candle shop which is a family business housed in a workshop. There's also Herbert's Fine English Tea Rooms which is a beautiful spot to sit and watch the world go by with a prosecco on a sunny day.
5. Kinder Scout
Kinder Scout is the highest peak in the Peak District, standing at 636m (2,087ft) above sea level. This walk starts at the official start of the Pennine Way in the village of Edale. Follow the waymarked path until you come to Jacob's Ladder and you can choose whether to follow this steeper path, or continue along the Pennine Way. Both of these routes meet at the top.
There's a little bit of a scramble over Edale Rocks before you reach the Kinder Low trig point which, despite its name, marks the highest point of Kinder Scout.
From here, you can follow the Kinder plateau for a couple of miles before you arrive at Kinder Downfall, a spectacular waterfall when it's been raining or a little trickle if the weather has been dry. This is a great spot to stop for lunch.
From here you'll descend through some boggy terrain, so make sure you're wearing suitable footwear, before reaching a rocky path which leads back down to Edale. The weather up here can be unpredictable so do ensure that you check the forecast before heading out.
This is one of my best walks in the Peak District!!!
6. Stanage Edge
Stanage Edge is gritstone ridge where you can often see climbers taking advantage of the stone cliffs, especially when the weather is good. My favourite walk here is an eight miles circular hike which starts and ends in the village of Hathersage.
Hathersage is well known for its outdoor swimming pool which is surrounded by Peak District views. It has even been called the best lido in Britain! There is a car park just opposite the pool at the train station where you can leave your car for this walk.
This six mile walk goes through fields and woodlands before emerging at the edge where you'll be rewarded with incredible views of the Derwent and Hope Valleys as well as both Kinder Scout and Mam Tor.
On your descent you'll go via Carhead Rocks and back into the village of Hathersage along pretty country lanes. You'll even pass Carr Head Farm, a vineyard in the heart of the Peak District which produces wine. Relatively new, the vineyard has been there for just seven years after its owners started it as a retirement project.
The weather may not be absolutely ideal for growing wine grapes with it being pretty blustery up there but the owners took expert advice on choosing the grapes and preparing the land and it seems to have worked out really well. They now supply restaurants and pubs in the village. This is the highest vineyard in the country and you can even take a wine-tasting tour here – yes please!
Author Bio: Samantha blogs at CocoTravels.co.uk about travel and adventure. She especially loves exploring more of the UK and is a passionate advocate for travel here as there is just so much to see. You'll most likely find her hiking near her home in the Peak District with her King Charles Spaniel, swimming in the sea, or taking in the sunset with a glass of fizz!
If you on a bigger trip exploring more of Europe check out my guides to France, Germany, Greece, Iceland, Italy, Portugal, Spain and United Kingdom.
---
My Travel Tips and Recommendations
Flights
To book flights, I always use flight search engine Skyscanner, I regularly use the Everywhere tool to find the cheapest places to travel. It's how I get to travel so much all around the world. I find it the easiest way to compare flight prices across airlines and get the best deals.
Accommodation
For accommodation, I usually book most of my hotels or hostels through Booking.com. I love using this platform as it provides me with some amazing deals for accommodation all around the world. Or if you prefer, I also recommend using Airbnb. If you haven't signed up with Airbnb already, you can use this link to get £25 off your first visit!
Travel Insurance
Picking travel insurance that covers you in all eventualities is an essential part of planning a trip for every single person. If you can't afford travel insurance, you can't afford to travel. You never know what's around the corner.
Did you know I also vlog my trips? Make sure you subscribe to my YouTube channel so you get alerted when all my travel videos go live… CHECK THEM OUT HERE
Thank you for reading and as always happy adventuring! If you have any questions about the destination please leave these in the comments below.
If you've enjoyed this post, please share it for me with all your friends and family!
Sophie X