Booking a trip to Vietnam's capital city Hanoi? Sitting on the banks of the Red River Hanoi is one of my favourite places ever. Backpacking Hanoi is a must on any trip!
When visiting Hanoi be prepared for its hectic, bustling traffic, but know it is also an unmissable stop on your Southeast Asia itinerary. You definitely won't regret backpacking Hanoi!
Hanoi is a thrilling city to experience, with its fusion of ancient history, vibrant culture, exquisite architecture, and mouth-watering street food.
Truly, Hanoi is the perfect combination of culture, tradition, and progress. And it's also multi-cultural, blending a French-colonial city with Chinese and Russian influences.
So, if you're planning to stop in Hanoi on your backpacking Southeast Asia trip, then this article is for you! From listing the best ways to get around to the top places to stay, here is my ultimate guide to backpacking Hanoi, Vietnam.
Also, make sure you use this Vietnam packing list of indispensable items to take on your trip in 2021.
Photo by Flo Dahm from Pexels
When is the Best Time to Visit Hanoi
If you're backpacking Hanoi, the best time to visit is in the autumn and spring. In other words, it's best to visit from September to November, and February to the beginning of April.
During this time, the weather is lovely, with minimal rain, and the temperatures are mild. While Hanoi has high humidity throughout the year, the sun is not too intense in the autumn and spring.
In contrast, the winters in Hanoi tend to be cold and dry, with temperatures below 10ºC (50ºF), and the summers tend to be hot and rainy, with temperatures around 28-35ºC (82º-95ºF).
Nevertheless, while Hanoi's rainy season is from May to September, this rain is not consistent. Therefore, while it is best to visit Hanoi in the autumn and spring, it is still lovely to visit in the winter and summer!
And, if you're planning a backpacking trip around Southeast Asia and are wondering what to pack, check out my Southeast Asia packing list!
How to Get to Hanoi
There are three main ways of getting to Hanoi: plane, train, and bus.
Aeroplane: The best way of getting to Hanoi is by plane, with the Noi Bai International Airport being 45 km (28 miles) from central Hanoi.
Train: If you're already in Vietnam or China, you can also get to Hanoi by train. There are a couple international trains between Beijing and Hanoi, and Hanoi is also accessible by train from multiple destinations within Vietnam, including Lao Cai, Hue, Da Nang, and Ho Chi Minh City.
Bus: Finally, Vietnam is also accessible by bus from destinations within Vietnam, Laos, and China.
I could spend a lifetime in Vietnam, but for those on a restricted time limitation, this 2 week Vietnam itinerary will help you plan your trip.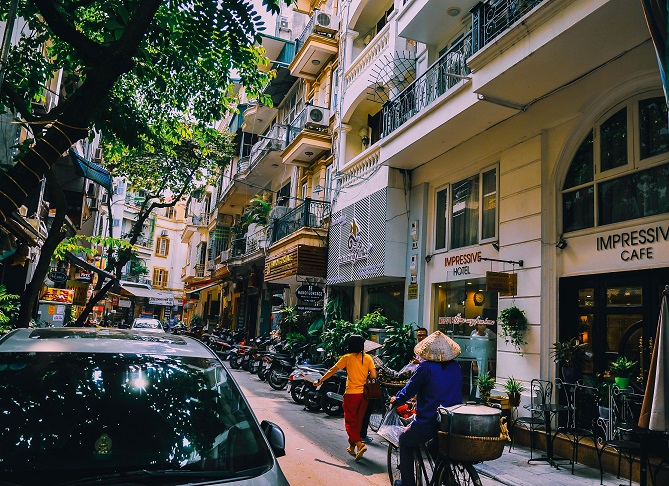 Photo by Arnie Chou from Pexels
How to Get to Hanoi from the airport
Assuming your first point of arrival in Hanoi is the Noi Bai International Airport, the first big step on your trip will be getting from the airport to your accommodations in Hanoi.
This can be stressful, especially if your flight arrives late at night. Nevertheless, there are multiple ways of getting to Hanoi from the airport, including public bus, private minibus, airport pick-up, and taxi.
First, while public buses aren't a possible mode of transportation if you're arriving late at night, they are the best option for budget backpackers during the day.
You can take the number 7 or 17 bus from the airport to Hanoi city centre, which will take about an hour. Costings 5,000 VND ($0.22 USD), it's only available from 5 am to 10 pm.
There are also private minibuses available during the day, which will drop you off somewhere in central Hanoi. They cost around 32,000 VND ($1.39 USD). Or, you can also arrange an airport pick-up with your hotel.
Lastly, you can take a taxi from the airport to Hanoi. This is essentially the only option if you're arriving late (like I did), and unfortunately, this is when taxi drivers significantly raise their prices.
Like me, you are likely to get ripped off, but everyone does; it's just how things are. To avoid it, I recommend going to the official taxi ranks and sticking with an agreed-upon price.
And remember always travel with a transportable backpack! Here are some of the best Wheeled Backpack for Travel.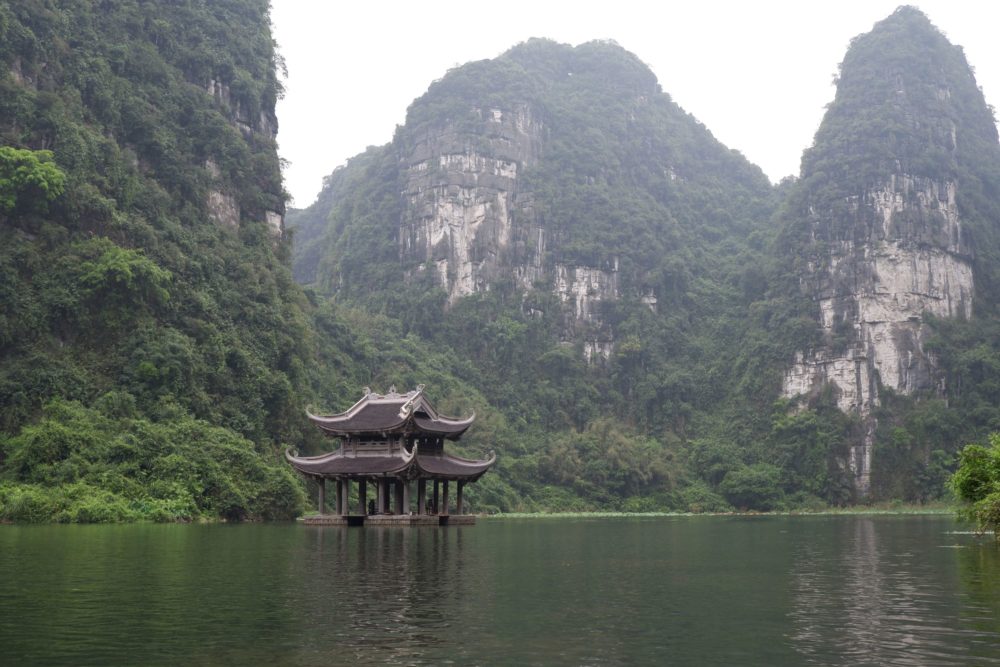 How to Get Around Hanoi
Once you're in Hanoi, there are multiple ways of getting around, including:
By Foot: If you're staying near Hoan Kiem Lake (which is likely the case if you're backpacking Hanoi), then there is an abundance of incredible things to do nearby. With everything within close proximity, the best way of getting around is by foot!
Public Bus: If you're leaving the area around Hoan Kiem Lake, then the cheapest transportation option is the public bus. With stops throughout the city and extremely low prices, it is the best option for backpackers!
Cyclo (Bicycle Rickshaw): If you're travelling within Hanoi's city center, you can also take a cyclo. Holding up to 2 passengers, they cost around 100,000 VND ($4.33 USD) per hour.
Xe Om (Motorcycle Taxi): You can also get around by motorcycle taxis. For solo travellers, this is cheaper than taxis, but if you're in a group of two or more, then a taxi is more cost-efficient. You can find many motorcycle taxis on street corners, and they cost around 10,000-15,000 VND ($0.43-$0.65 USD) per km. However, I recommend negotiating the rate prior to boarding.
Taxi: Another way of getting around Hanoi is by taxi. However, you're likely to get ripped off. I recommend negotiating a flat rate prior to boarding, and to show them an exact address of where you want to go. And remember to bring small bills; taxi drivers don't like to carry around change!
Motorbike Rental: While you can rent a scooter for around $5 USD/day, I wouldn't recommend it (unless you're experienced with Hanoi's chaotic and anarchic traffic). Otherwise, it can be pretty dangerous.
Budgeting for Backpacking Hanoi
So, how much should you expect to spend if you're backpacking Hanoi? Well, at the cheapest, I would suggest a budget of $25 USD per day. This budget is definitely doable if you stay in hostels, eat street food, and limit the costly activities. If you're planning on backpacking but still want to splurge on certain activities, you can raise this budget to $35 USD per day.
And if you're backpacking around Southeast Asia and are wondering where to go next, check out my 1-month Southeast Asia itinerary, for some travel inspiration!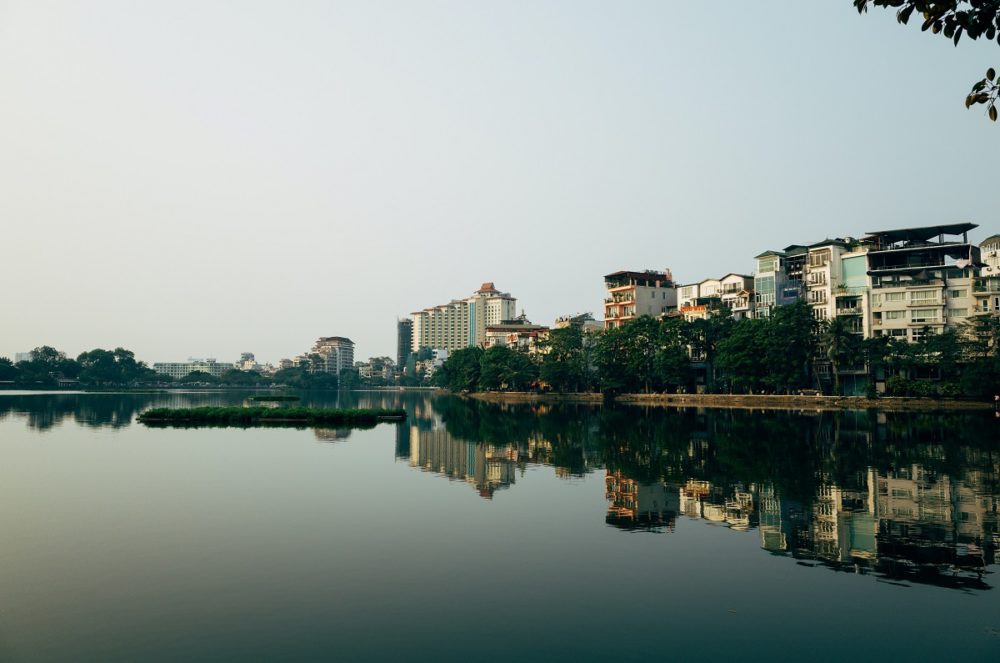 Photo by Markus Winkler from Pexels
Backpacking Hanoi
Top 10 Things to Do in Hanoi
1. Explore Hanoi's Old Quarter. Filled with Buddhist temples and colonial architecture, the Old Quarter is Hanoi's historic centre. You can easily spend hours wandering around its ancient streets!
2. If you want to take a break from Hanoi's frenzied traffic and streets, Hoan Kiem Lake is the place to go. A serene and enchanting lake, it is the perfect escape from the city. I also recommend checking out the Ngoc Son Temple lying in the centre of the lake!
3. Tour the charming Temple of Literature. Built-in 1070 for Confucius, the Temple of Literature is a picturesque place of study that highlights Vietnamese architecture.
4. For a unique experience, visit the Ho Chi Minh Mausoleum. As the final resting place of Ho Chi Minh, the mausoleum displays his preserved body. While visiting the mausoleum is free, remember to dress respectfully!
5. Visit the Imperial Citadel of Thang Long. A UNESCO World Heritage Site, it includes artefacts excavated at the citadel, some dating back to the 6th century. As a reminder of Hanoi's ancient and colourful history, it's definitely worth a visit!
6. Watch a Water Puppet Theatre Show at the Thang Long Water Puppet Theatre. A Northern Vietnam art form dating back to the 11th century, it is truly an extraordinary experience. But remember to book your tickets in advance!
7. Shop for souvenirs at the Dong Xuan Market, Hanoi's largest indoor market. Housed in a four-story Soviet-styled building, you can easily spend hours exploring all the stalls and shops.
8. Admire the architecture of the Hanoi Opera House. Built-in 1911, it features both neo-classical and Gothic French architecture. If possible, I definitely recommend watching a live show in this exquisite building!
9. Drop by the St. Joseph's Cathedral. Another building constructed by the French colonists, it features stunning architecture, outside and in. Stationed near Hoan Kiem Lake, it is the perfect place to stop by as you tour Hanoi's Old Quarter!
10. Take a day trip to Trang An. Referred to as the Ha Long Bay of land, Trang An is a UNESCO World Heritage Site filled with towering limestone karsts and lush jungles. With the boat tours taking you under caves, through turquoise waters, and to temples, it should definitely be on your Southeast Asia bucket list!
Photo by Vo Thuy Tien from Pexels
Top Places to Eat in Hanoi
For the best (and cheapest) places to eat in Hanoi, I recommend Hanoi's street vendors. Filled with inexpensive, authentic, and delicious Vietnamese food, they are definitely the best option for all travellers, regardless of budget!
Nevertheless, the top places to eat in Hanoi include:
Banh Mi 25: Stationed in the Old Quarter, this restaurant serves some of the best banh mi in Hanoi. The baguette is perfectly crispy, the fillings mouth-wateringly delicious, and the restaurant is clean and organized, with extremely friendly staff. It's definitely a must-visit in Hanoi!
Pho Gia Truyen: Another restaurant in Hanoi's Old Quarter, Pho Gia Truyen is the best place for affordable, delicious pho. I recommend ordering the beef pho!
Bun Cha 34: For some incredible bun cha, you have to visit this restaurant. A northern Vietnamese dish, it consists of grilled pork strips over rice vermicelli noodles. With the meats well-seasoned and the sauces just right, you won't regret visiting Bun Cha 34!
Photo by Flo Dahm from Pexels
Top Places to Drink in Hanoi
While Hanoi's nightlife is vibrant and exciting, the city does maintain strict regulations, with nightclubs and bars closing by midnight. Nevertheless, there is an abundance of incredible places to drink in, with most of them clustered around Hoan Kiem Lake! Here are the top places to drink in Hanoi:
Bia Hoi Junction: Known as the quintessential nightlife spot in Hanoi, the Bia Hoi Junction is the best place to get a cheap beer at night. A must-visit for all first-time Hanoi backpackers, the Bia Hoi Junction is a great place to relax outside, surrounded by locals and tourists alike.
Legend Beer Hanoi: If you're looking for a relaxing spot with incredible views, I recommend checking this tavern out. With delicious food, refreshing beers, and great sunset views overlooking Hoan Kiem Lake, this restaurant is the perfect place to spend an evening.
King Pirates Pub: If you love Pirates of the Caribbean, I definitely recommend visiting this pirate-themed pub. With a welcoming atmosphere, super friendly owners and staff, and a wide variety of rum-based drinks and local beers, this charming pub is the perfect place to drink after a long day of sightseeing!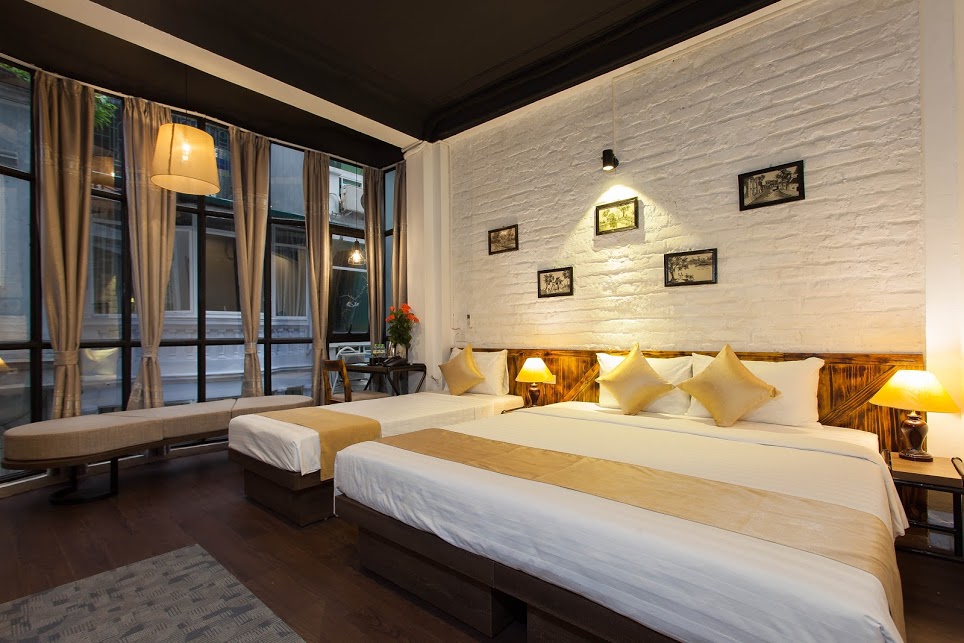 Hostels own photography
Where to Stay in Hanoi
The best area to stay in Hanoi is definitely Hanoi's city centre, i.e., the area surrounding Hoan Kiem Lake. Surrounded by Hanoi's top attractions, and with an abundance of budget hostel options in the Old Quarter and luxury five-star hotel options in the French Quarter, this area is perfect for travellers of all budgets.
I have listed some of my best hostels in Hanoi below, as as well as some luxury backpackers Hanoi hostels.
Here are some accommodation options for Hanoi:
Hotel: For a double room, the price is from $25 USD a night
Airbnb: The average cost for 2 people per night is around $43 USD.
Hostel: Stay in a mixed dorm room at the Old Quarter View Hanoi Hostel for $6 USD a night.
Hanoi Backpackers Hostels
Luxury Backpackers Hanoi
Luxury backpackers has been in operation since the beginning of 2016. The hotel is located at No 56 Ngo Huyen street, Hoan Kiem District, Ha Noi, Viet Nam. Opening up a new road which went through many different names before its current title of being Ngo Huyen. Luxury Backpackers offers MANY beautifully decorated bed guest rooms that have been stylishly furnished with an array of modern amenities and facilities.
Buffalo Hostel Hanoi
Located is in a prime location of Hanoi Old Quarter, Hanoi Buffalo Hostel is right next to the Beer Hoi conner, where is the busiest part of Hanoi's downtown which is easy to walk to all of the tourist attractions, bars and restaurant in town.
Central Backpackers Hostel Hanoi
Central Backpackers Hostel – Old Quarter is version 2.0 of a firm fave on the Vietnamese travelling scene. It's a little more lively than the original, thanks to our daily parties, pub crawls and happy hours (with free beer!). You can get the lowdown on your next destination from other nomads in the common room or rooftop bar, and the travel desk's always happy to help with tips for exploring Hanoi.
If you on a bigger trip exploring more of Europe check out my guides to France, Germany, Greece, Iceland, Italy, Portugal, Spain and United Kingdom.
---
Author Bio: Mia is a Canadian with a passion for hiking and exploring the world on foot. She is currently working abroad in Japan and runs the successful travel blog Walk a While with Me, where she shares her tips and guides for travelling around the world. Follow Mia adventures on Instagram too!

---
My Travel Tips and Recommendations
Flights
To book flights, I always use flight search engine Skyscanner, I regularly use the Everywhere tool to find the cheapest places to travel. It's how I get to travel so much all around the world. I find it the easiest way to compare flight prices across airlines and get the best deals.
Accommodation
For accommodation, I usually book most of my hotels or hostels through Booking.com. I love using this platform as it provides me with some amazing deals for accommodation all around the world. Or if you prefer, I also recommend using Airbnb. If you haven't signed up with Airbnb already, you can use this link to get £25 off your first visit!
Travel Insurance
Picking travel insurance that covers you in all eventualities is an essential part of planning a trip for every single person. If you can't afford travel insurance, you can't afford to travel. You never know what's around the corner.
Did you know I also vlog my trips? Make sure you subscribe to my YouTube channel so you get alerted when all my travel videos go live… CHECK THEM OUT HERE
Thank you for reading and as always happy adventuring! If you have any questions about the destination please leave these in the comments below.
If you've enjoyed this post, please share it for me with all your friends and family!
Sophie X