Last month my best friend and I, embarked on a five-day road trip around the wonderful country of Switzerland. As part of our trip we explored Basel, Lucerne and Zurich, over five days, by public transport. We spent two days in Basel, one in Lucerne and two days in Zurich.
All three cities were amazing and had so much to offer, check out my blog posts on 48 Hour Guide to Basel, and 5 days in Switzerland Itinerary here. But for now, welcome to Zurich!
Top places to visit in Zurich
Hike to the top of Uetliberg
Eat lots of Fondue!
Swim in one of the many badi in Zurich
Go to one of Zurich's many street parties
Visit the Grossmunster Church
Wander around Altstadt
Live the luxury lifestyle on Lake Zurich
When to visit Zurich
I visited Switzerland in the summer, so experiencing Switzerland in the summer is amazing, as you can enjoy the hot weather and take up traditions such as swimming down The Rhine, watersports on Lake Zurich and river cruises. I'd recommend visiting between Mid May and End of June, or Mid August to End of October.
A lot of my friends have been in the winter season, especially around Christmas and they said at this time of year, nearly every city in Europe decks itself out in its Christmas and the country is also amazing for skiing. I am off to Switzerland again in January, but this time for a winter break in the country, with a few days in Interlaken, spending time in the mountains and we will even head off for a few days skiing. I cannot wait to experience a different side to Switzerland!
How to get to Zurich
Flying
easyJet, SWISS & British Airways fly the most frequently from United Kingdom to Switzerland. The most popular route is London to Geneva, and most airlines fly this route. Or you can fly in to Zurich or Basel – we flew from London Luton to Basel and return from Zurich, and the flights were an incredible £60 return.
Where to stay in Zurich
When we booked B2 Boutique Hotel + Spa I knew it was going to be good, but I just hadn't realised how good. Located in the former Hürlimann brewery, B2 Boutique Hotel + Spa is a quirky hotel, in the city of Zurich, where beer was once brewed.
The trendy city hotel has been boldly designed around the old brewery, retaining its history and architecture. And the hotel is perfectly located in the Enge area, making it a great stay for a weekend in Zurich, and is only a ten minute tram journey away the main streets and Lake Zurich.
The hotel is sprawled across three buildings, and four-storeys, with 60 rooms for guests to enjoy. In what was once the mash house is now a sprawling lobby with lush sofas, roaring fire and tables held up by hardcover books.
And just behind is The Library where over 33,000 books are placed across three 36-foot tall walls. The style of the hotel is luxury, meets industrial, where small elements of what used to be, within the Hürlimann brewery is set against plush fabrics and clean surfaces.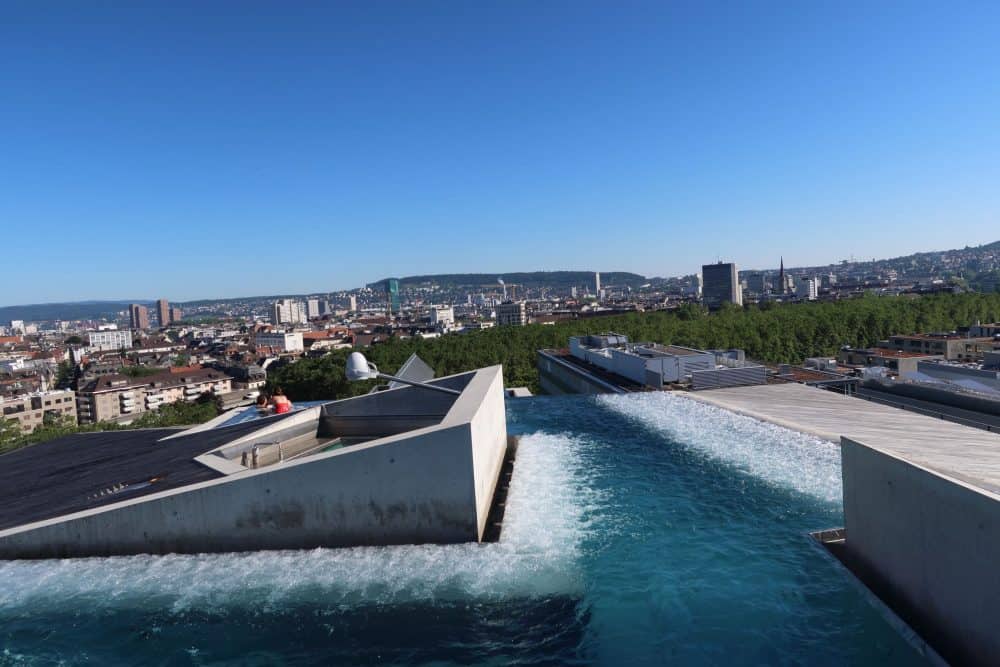 Switzerland Itinerary
The city of Zurich is globally known as the centre for banking and finance in Switzerland and is located on the north end of Lake Zurich. However, Zurich is';t just about money and finance, it's also about the food, the culture, the people and most importantly the lake.
If it's hot, like it was when we went (34 degrees) the lake will be your saviour, with hundreds of places to take a dip, including many 'badi' – which are open-air swimming pools beloved by locals. Zurich's residents could never live without their beloved 'badis', where people come in the summer to sunbathe, spend a pleasant day with their children or after work to enjoy a chilled waterside drink.
The city is also set beside the alpine mountains, and because of it's proximity to both the mountains and the lake, living outdoors is what the Swiss do best.
So here we go, here are my favourite 15 places to visit in Zürich
1. Lake Zurich
I couldn't put it anywhere in the list, expect first. Because for our trip in the summer, it was our saving grace, offering us fresh, cold water, and places to strip off and sunbathe when the sun was at its hottest.
There are many ways to make the most of the lake, including taking a dip, sunbathing, grabbing friends for a BBQ, and enjoying the many watersports on offer. For ease from the city, the best section to go, is the scenic promenade along the east shore in the Seefeld quarter. Here you can pitch up your towel, grab an ice cream and then look across the lake at the many watersports taking place, yachts and behind you can look over to Uetliberg.
We spent a lot of time here, and one evening we came down to the lake, with some beers and some food, got chatting to some locals and stayed there late in to the night, finding out about the real Zurich.
2. Altstadt (Old Town)
Altstadt is where much of the city's culture, nightlife and shopping is concentrated and it's here you will feel the most crowded. Here you can find squares, museums, cozy bars, traditional Swiss restaurants, and art museums like the Kunsthaus. Iconic churches include Fraumünster, with Chagall and Giacometti stained-glass windows are also in this area of the city.
3. Grossmünster
One of the most iconic landmark of Zurich, the Grossmunster is a Romanesque church, originally built as a monastic church at the start of the 12th century and was finished just over a century later. The church an part of Zurich's skyline and plays a large role in the cities history too, with the oldest part of the church, is also original and has faded frescoes by Hans Leu the Elder from the 1400s.
4. Zürich Zoo
If you love animals, but also love animals being treated right in captivity, then you're going to like Zurich Zoo, which meets the highest of ethical standards. Close attention has been paid to the design of the habitats, synthesising whole ecosystems and allowing animals as much space to roam as possible.
5. Uetliberg
As mentioned before, Uetliberg can be seen from the lake, and possibly from all over Zurich. It has been possible to get a train up to the summit Uetliberg, in 25 minutes. All you need to do is take the S10 on the SZU from Hauptbahnhof, and once you've arrived at the station you'll have a short walk to the peak and the observation tower. From the top of Uetliberg there are some amazing views, that are out of this world.
You can look over the lake, from Zurich city to the yachts gliding up and down the water, and you can also see the rivers and snow-capped Alps in the background. There is also a hotel and restaurant at the top, if you want to make the most of your trip up the mountain and grab some food, or stay a night. You can also hike the route up to the peak, but I wouldn't recommend doing it in winter or when the weather is too hot in the summer.

6. Fraumünster
The Farumuster was founded by Charlemagne's grandson Louis the German in the 9th century, although most of the architecture is from between the 12th and 15th centuries. Since 2016 it has been possible to view stonework from the 800s in the crypt after it had been sealed off for more than a hundred years.
7. FIFA World Football Museum
If you're a football, or travelling with a big football fanatic then FIFA's World Football Museum is the perfect way to spend the day if the weather isn't great. Located in the Enge quarter and having opened in 2016, it's fairly new and not many visitors know that it's here in Zurich.
The museum occupies three floors of a mixed-use development and the museum is a must-do for lovers of the beautiful game. The museum takes you back to football's earliest days and documents every World Cup since the first in 1930.
8. Outdoor Swimming
I mentioned before about Lake Zurich, but different to swimming in the lakes and rivers, there are also swimming baths called 'badi'. There is a women's only 'badi' called Frauenbad am Stadthausquai, while the male counterpart is the one at Schanzengraben. Both of these spots also open as bars on summer evenings, so are great for relaxing with friends after a long day of exploring!
9. Zürich Opera House
Also located near Lake Zurich is the resplendent Neoclassical Opera House at Sechseläutenplatz, which dates to the 1890s and was conceived by the prolific Viennese architects Fellner & Helmer. It's a beautiful building, located on a square, where there are seats set around for passers by to admire the architecture.
On the exterior of the building there are famous cultural figures on the facade, where Mozart, Wagner, Schiller, Goethe, Shakespeare and Weber all have pride of place.
10. Fondue
If you love food as much as me, you'll understand what is so great about fondue. HOWEVER, because it was 34 degrees when we visited Zurich in June, the last thing we wanted to eat was hot, sticky cheese, above a roaring fire. However, if it hadn't been so hot, we would have indulged.
Our amazing guide told us that Fondue was actually invented so that the locals could use stale bread and aged cheese in the cold winter months. But these days it's seen as a luxury dish, and is one of the most well known Swiss dishes!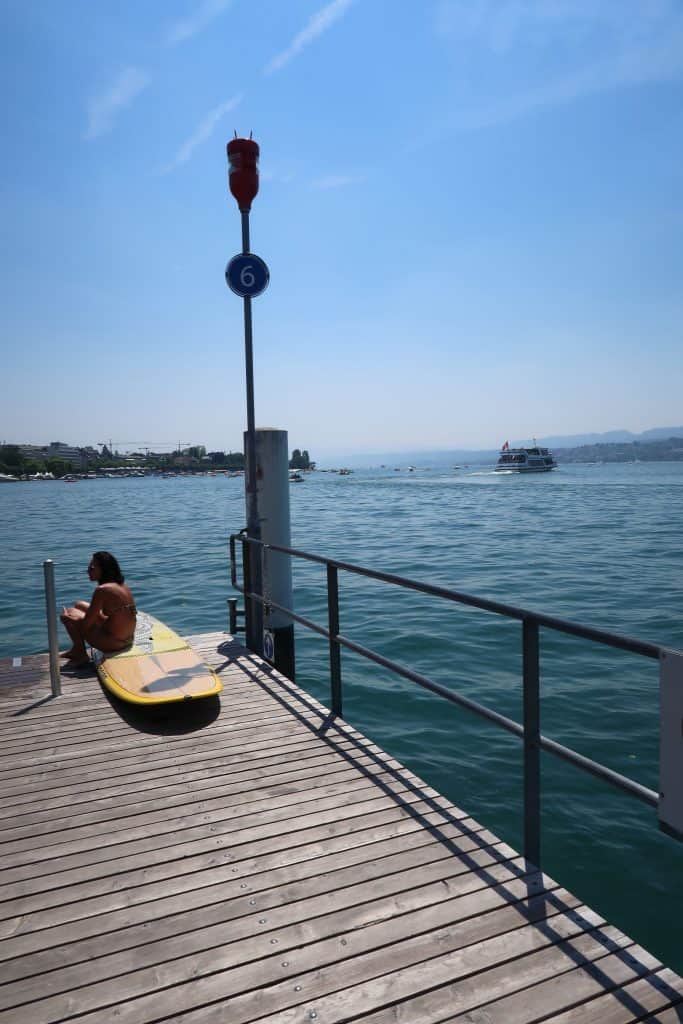 11. Soak in a Thermal Spa
B2 Boutique Hotel is also a spa, with two areas for guests to enjoy. Upstairs there is a rooftop hydrotherapy pool, with views across the city. The roof (my favourite bit) is a pool with a view, where we spent many hours watching the Zurich skyline!
And then downstairs there is a low-lit network of basement-level caverns set with wood-panelled baths designed to look like barrels, a dark meditation pool, foot baths, heated loungers and an array of Roman-Irish baths, where you can spend a whole day if you follow their recommended treatment.
This hotel really does offer up the best of Wellness in Zurich! The spa is owned by a separate company, but hotel guests get reduced rates and get private access before 9am in the morning. At times it got quite busy up on the roof, so it's worth rising early for to really experience everything the spa has to offer.
12. Glass Biodomes at the Botanical Gardens
Zurich's botanical garden is small and compact, but has an adequate array of over 9,000 different species and opened in 1977. This is not so much a tourist attraction as a place where you can see the locals sunbathing on the grass, having a picnic or watching the frogs in the large pond. I usually love botanical gardens, but I wasn't impressed with this one at all. I must prefer Kew Gardens in London or Amsterdam Botanical Gardens.
13. Rent a bike
In Zurich you will see a lot of people cycling, mostly because the city is quite compact and also because Switzerland is one of the environmentally friendly countries in the world. They also love being outside, and when you are visiting Zurich, one of my favourite places to visit in Zurich aren't walkable, and some trams don't go there. Therefore hire a bike! Leave a CHF 20 deposit at one of the Züri rollt containers and enjoy the city on two wheels.
14. Vegetarian food at Hilt
Forget about Züri Geschnetzeltes, the veal dish with a creamy sauce of which some people might tell you is Zurich's iconic culinary offering. Zurich has had a vegetarian revolution over the past two years, with shops, restaurants and cafes all specialising in vegetarian foods. And if you love vegetarian food, then you've got to check out Zurich's most famous Hilt. Founded in 1898, the Hiltl is – according to the Guinness Book of Records – the world's oldest vegetarian restaurant, with over 100 amazing dishes.
15. Party at Street Parade
The Street Parade is the most attended techno parade in the world, since the end of Love Parade 2010. It takes place in Zurich, Switzerland and is the largest annual event in Zurich. It sees a long stretch of decorated trucks make their way through the millions of people. The parade started officially a demonstration for freedom, love and tolerance and goes along the the side of Lake Zurich on the second Saturday of August.
Other posts that may help you:
10 Hygge Things to do in Copenhagen
Best Vegan Restaurants in Malmo
Ultimate Guide to Columbia Road Flower Market London
Log cabins with hot tubs in the UK
Review: Nomads Noosa Backpackers Australia
Thank you for reading and as always happy adventuring!
If you've enjoyed this post, please share it for me with all your friends and family!
Sophie X