Last summer I headed down to Vic Sur Aisne with my family for a week at the local Eurocamp. We were staying at the local La Croix du Vieux Pont which is the perfect base to explore Northern France, as well as being only an hour from Disneyland Paris.
Some of the families we met whilst in Vic Sur Aisne didn't leave the site once, except to visit the supermarket, and that's fine for them. But being the adventurers we needed to get out and explore the local area. And for us, our closest town to explore was Vic Sur Aisne.
The village of Vic Sur Aisne is a small french village located north of France in the french region Picardie. The town is a stunning village with lots of things to do and see close by.
The population of Vic sure Aisne was 1,718 in 2007, making the village on the smaller side, with a beautiful French village to explore.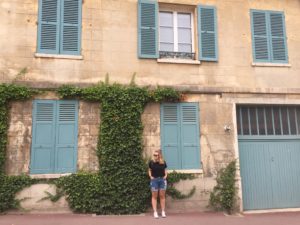 How to get to Vic Sur Aisne
We drove from our home in the UK to Vic Sur Aisne and it took 6 hours and 300kms. But if you are coming from Paris it's around 2 hours. The best way to travel to Vic Sur Aisne is by car, as there are no nearby stations.
Best time to visit Vic Sur Aisne
The weather is generally good all year round here, but I would recommend visiting during the months of May – September for the best weather in Vic Sur Aisne.
10 Things to do in Vic Sur Aisne
1. Pierrefonds Castle
Built-in the 14th century Pierrefonds Castle is a beauty both on the approach into the town and from the inside. The castle was taken down in the 17th century and re-built by Napoleon 3rd who was attempting to build the 'dream' castle.
The castle is a fun few hours for both adults and kids, with lots of history, and stories. You get to wander around the castle from top to bottom, and there are some great views from the top across the town. Fun fact: it was also the castle that BBC's drama Merlin was filmed in. If you are a European citizen, and under the age of 26 you get free access – yay!
2. Disneyland Paris
I don't really need to write about Disneyland as you already know what it is, and that it is well worth a visit whilst staying at La Croix du Vieux Pont. Think Main Street USA, Mickey Mouse, It's a small world, Peter Pan, Frozen, Popcorn, castles, Indiana Jones, and everything in between and there you have it – where the magic happens!
You can read all about my tips for visiting Disneyland Paris here.
3. Paris
A visit to France isn't finale until you've stepped foot in the city of love. Paris is a city that delights and surprises, whether it is visiting the famous Moulin Rouge, climbing the Eiffel Tower, dodging the traffic at the Arc de Triomphe or indulging in a glass of France's finest champagne by the Louvre. You can jump on a train in Crepy-en-Valois which only takes 35 minutes in to Gard du Nord.
3. Soissons
Soissons located to the east of Vic Sur Aisne, is the nearest large town. Soissons is home to a gothic era cathedral built in the 12th century, an abbey and shopping district with cute cafes. There is also a weapons museum, an old fort and an Arsenal, as well as Chateau de Berzy-sec. It is the go to place for local markets and larger supermarkets, as well as the nearest place to get petrol.
5. Reims
Reims is a city in North-Eastern France Grand Est's region. It is the unofficial capital of the Champagne region and many of the well-known champagne houses headquartered there offer tastings and cellar tours. Here you can find tours and tastings at houses such as Veuve-Cliquot, Tattinger and Mumm.
All take you down into the cellars where they let you try some of their wonderful fizzy liquid. And if you are after some culture, head to Reims Cathedral. Every single French king has been crowned at Reims Cathedral and is well known for its beautiful architecture.
If you on a bigger trip exploring more of Europe check out my guides to France, Germany, Greece, Iceland, Italy, Portugal, Spain and United Kingdom.
My Travel Tips and Recommendations
Flights
To book flights, I always use flight search engine, Skyscanner, I regularly use the Everywhere tool to find the cheapest places to travel. It's how I get to travel so much all around the world. I find it the easiest way to compare flight prices across airlines and get the best deals.
Accommodation
For accommodation, I usually book most of my hotels or hostels through Booking.com. I love using this platform as it provides me with some amazing deals for accommodation all around the world. Or if you prefer, I also recommend using Airbnb. If you haven't signed up with Airbnb already, you can use this link to get £25 off your first visit!
Sign up to AirBnB with this link and receive a £23 off your first booking.
To receive my articles and reviews straight to your inbox SUBSCRIBE HERE.
Did you know I also vlog my trips? Make sure you subscribe to my YouTube channel so you get alerted when all my travel videos goes live… CHECK THEM OUT HERE
Thank you for reading and as always happy adventuring! If you have any questions about the destination please leave these in the comments below.
If you've enjoyed this post, please share it for me with all your friends and family!
Sophie X