Heaven really is a place on earth, and you can find it in The Maldives. On my recent visit to The Maldives I stayed at the wonderfully laid-back resort Fushifaru.
Located on the quiet Lhaviyani Atoll, Fushifaru is a bohemian paradise, which merges traditional Maldivian design with modern technology and luxury brands, and my recommendation on where to stay in The Maldives.
The brand new private island is where to stay in The Maldives. Of course Maldives accommodation is easy to come by these days, but choosing where to stay in The Maldives can prove difficult as you need to really focus on those personalised experiences when booking a Maldives holiday.
It is of course possible to book a Maldives all-inclusive holiday and be done with it, but I much prefer the more authentic stays where you can choose what you eat, what you do and how much of the resort is based around traditional values.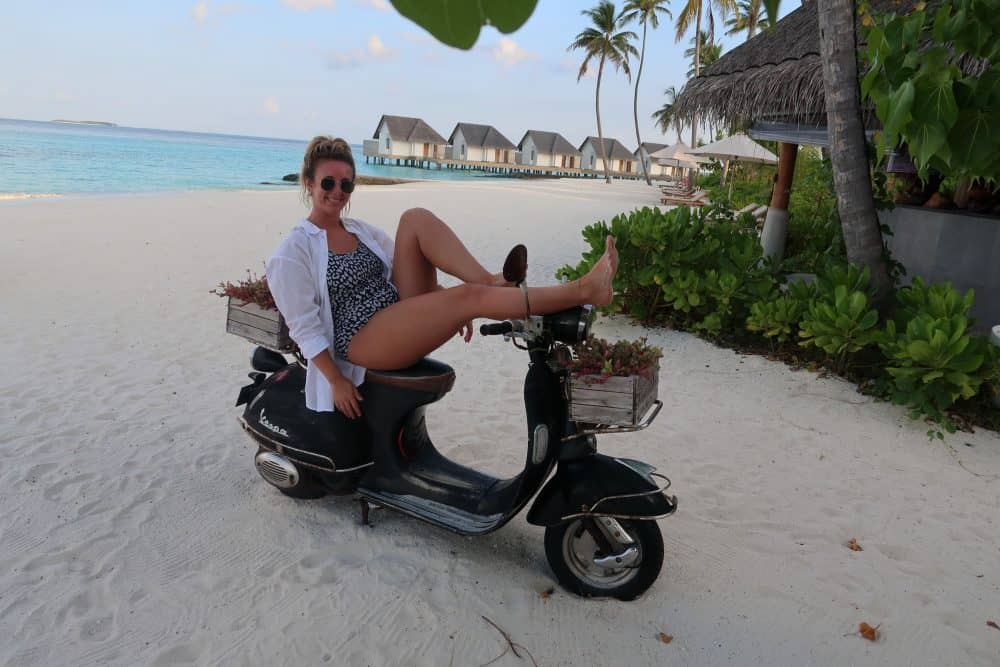 It is more than possible to spend a week in Maldives here and booking a Maldives tour package can be done through tour operators, or you can simply go direct to the resort. There are many resorts offering Maldives all inclusive holiday packages but this isn't always the best way to experience The Maldives.
Instead really get to know the people, their culture and their customs by going to a more local-orientated resort for your Maldives vacation. And cheap Maldives holidays are also now possible, but again you then don't get to experience the hospitality you get at a resort like Fushifaru.
The paradise island of Fushifaru is so small as soon as you arrive, you can kick off your shoes and walk around the entire island in a little over 15 minutes. The design is kept simple, but has clearly been thought about and their branding is perfectly executed but their iconic aqua blue dotted all across the resort.
The resort is based upon a Maldivian village, with coconut palms and sandy paths leading to peaked-roofed villas and common areas, with the heart of the island in the middle and the sandy paths leading out to their amazing white beach.
Fushifaru is one of the smaller island resorts you can find it The Maldives, but offers punch when it comes to hospitality, variety of cuisine and intimate backdrops. This unique and friendly resort is exactly what we need on our recently Maldives holiday and I am so glad we got to experience a smaller island, and one with its own sandbank too… The perfect Maldives vacation!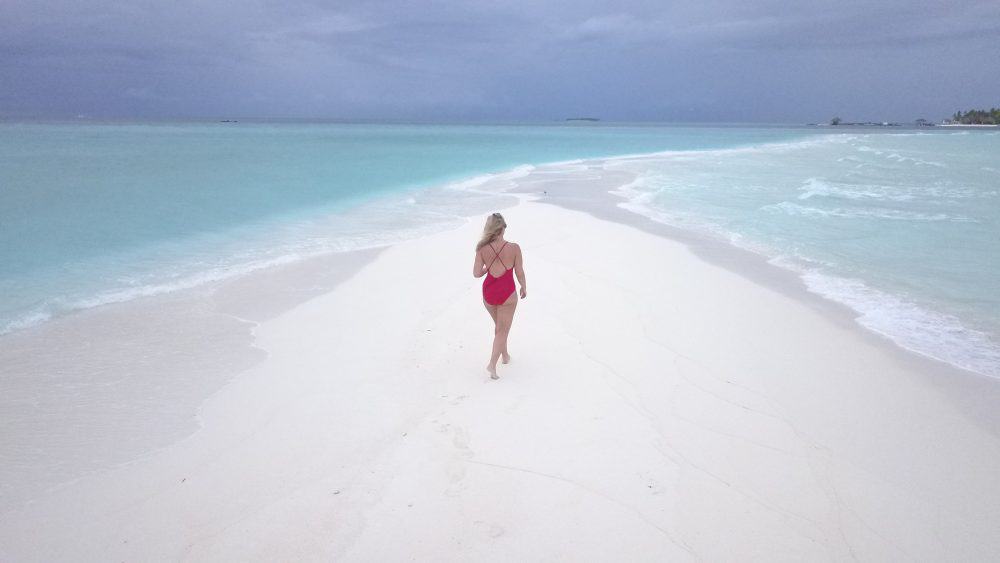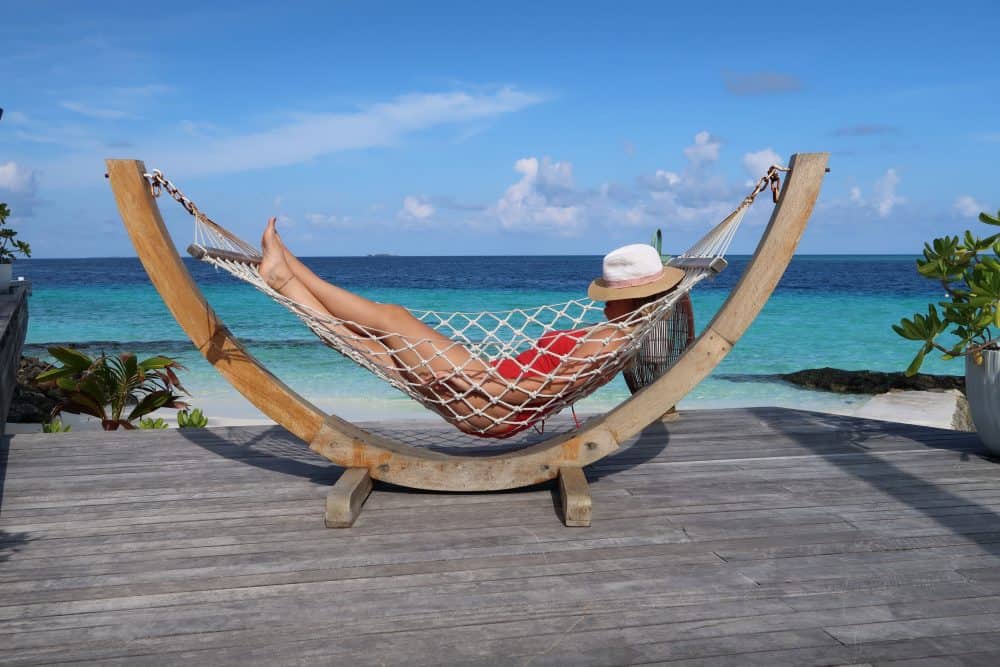 Maldives Accommodation
Where to stay in The Maldives: Fushifaru Maldives
Location
Located in the quiet and low-key Lhaviyani Atoll, only 40 minutes away from Male by seaplane, Fushifaru is the perfect place for a Maldives holiday. The Maldives accommodation is surrounded by healthy reefs, and the underwater world here is second to none.
We spotted an eagle ray within 30 minutes of arriving so this place is a must if you love snorkelling. There are many fish here including rays, turtles, clownfish, parrotfish and trumpetfish. And although we didn't see any, apparently there are large pods of bottlenose dolphins that swing by at sunrise and sunset most days.
On our arrival in to the atoll, we had the most wonderful views from our seaplane, and we were in awe of the stunning waters that were below us. Experiencing a seaplane was also amazing and such a unique experience. The hotel currently doesn't have any alternative for guests to arrive by e.g. boat or domestic flight, but we were told that in the next year another domestic airport is to open in the atoll and this will mean that guests can come in by other means.
And our arrival off the seaplane was also amazing, with what I can only imagine was nearly all their staff waiting for us on the jetty as the plane pulled up. There were beating drums, ladies handing us flower necklaces and lots of smiling faces. It was a lovely arrival and something we will forever remember!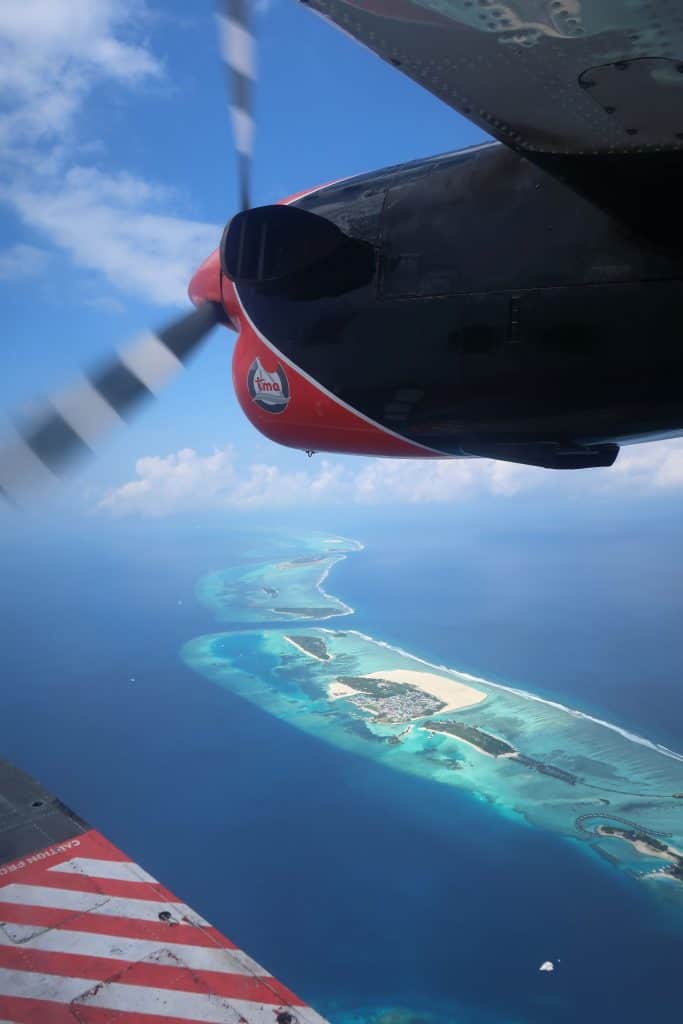 Maldives Accommodation
Where to stay in The Maldives: Fushifaru Maldives
Bedrooms
At Fushifaru resort there are 49 villas tightly woven around the small intimate island, including five water villas on the sunrise side of the island, offering something unique for guests to experience. At Fushifaru there are four types of accommodation available: Water Villa, Sunrise Pool Villa, Sunset Pool Villa and Beach Villa.
We stayed in one of their gorgeous Sunrise Pool Villas, with our very own private pool in the garden area, leading straight down to the beautiful beach. We also had great views of the seaplane deck, so we loved watching the plane coming in to land as we swam in our private pool, or read a book on the sunbeds on the beach.
The villas all lead to the beach and have lovely outdoor bathrooms with rain showers and bathtubs, as well as a good spaced interior, offering desk space and sofa area. The villas on the Eastern side of the island facing the Sunrise also have the view of the "Maakandu", the vast Indian Ocean.
And on our final morning in The Maldives we had a floating breakfast brought to us, which was incredible. We spent the morning relaxing in our private pool, whilst having breakfast and watching the ocean waves crash against the shore. What an experience for us to get to do whilst we were on our Maldives holiday!

Maldives Accommodation
Where to stay in The Maldives: Fushifaru Maldives
Facilities
The staff at Fushifaru are their best asset, we met a myriad of staff from all across the hotel departments during our stay and they all acted professional and friendly. A few of them were shy, but that's to be expected where a resort sets high standards for their guests. We also met the wonderful General Manager who spoke to us every time we saw him wandering around the island, even when he was at work with other staff members. Each guest is also given a 'host' who looks after them during their stay.
Facilities on-site include a small fitness centre, spa, infinity pool, dive centre, watersports tent as well as restaurants and a bar next to the pool. The island is tiny so there isn't much, but as long as you know what you are getting yourself in for: intimate island life, then this is more than enough.
The resort also offers the following non-motorised water sports complimentary :
Use of snorkeling gears

Use of non-motorised water sports (canoe, paddle board and windsurfing equipment)
There are also complimentary activities for guests to enjoy through the season including yoga, scheduled sandbank snorkelling trips, Maldivian afternoon tea, entertainment, Maldivian night, marine talk and nature stroll and much more.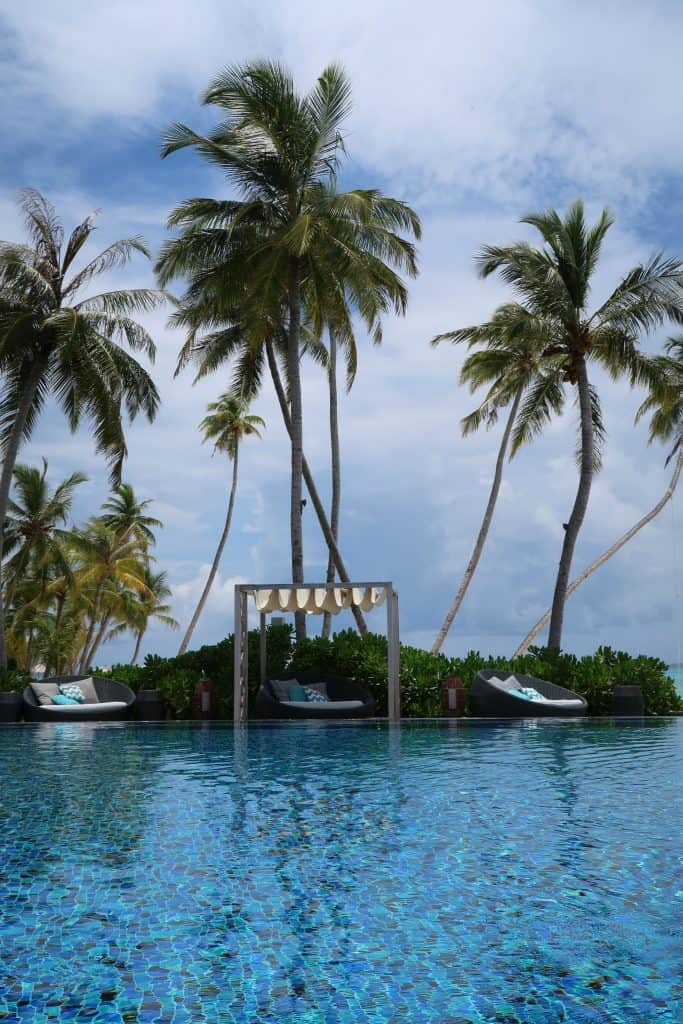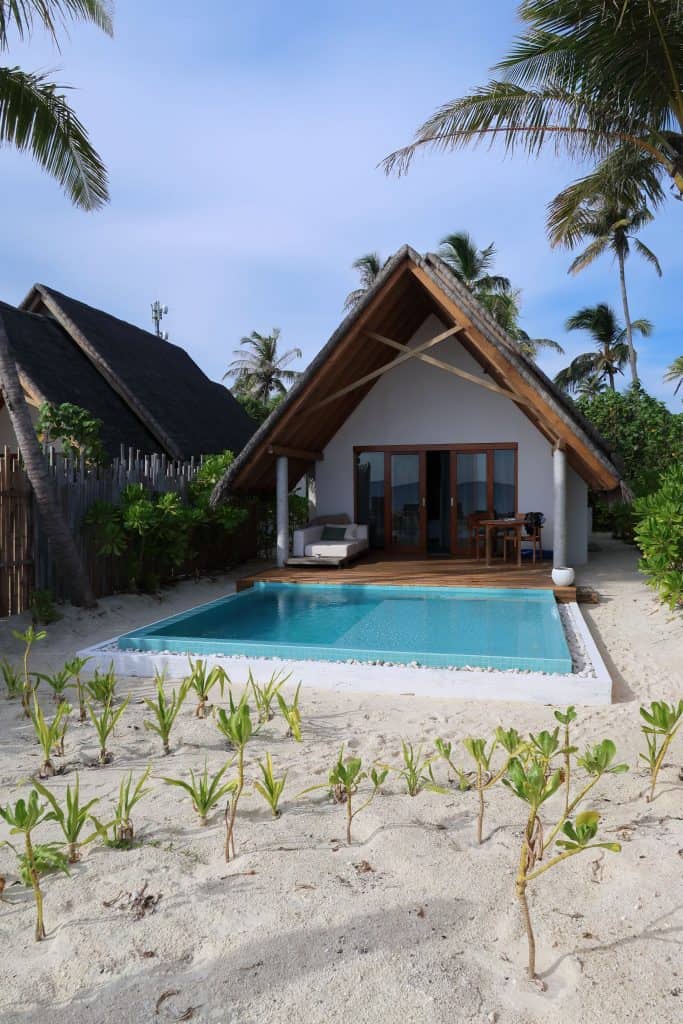 Here is a list of general services/facilities available free of charge:
Complimentary early check-in and late check-out subject to availability

Personal greetings and escort by Fushifaru Airport representatives for all arrival and departure guests

Use of the lounge at the seaplane terminal

Island host service (personal butler)

Fushifaru signature welcome on the island: welcoming on the island with Boduberu drumming in the traditional Maldivian way

Welcome drink and refreshment towel served upon arrival to the resort

Free Wi-Fi access in al villas and public areas throughout the resort

Twice daily villa turn-down service

Use of snorkeling gears

Use of non-motorised water sports (canoe, paddle board and windsurfing equipment)

Unlimited use of Gym and multi-sports court

Outdoor children's playground (no age restriction)

One x complimentary sandbank snorkelling trip once during stay
Also on the island is the Heylhi Spa, located in the centre of the resort. This is where you can come to rejuvenate, relax and unwind. Due to its location in the centre of the island, the spa is surrounded by a jungle like interior, offering guests treatments rooms dotted around a central pool in the middle, and sun loungers to relax after your treatment.
The Heylhi Spa offers an array of treatments from foot massages, to scalp treatments, facials and couples massage. You can expect to pay $110~$200+ for a couples massage and around $120+ for a facial. Theo and I opted for a massage each for 60 minutes and the therapists were amazing – I felt truly like a new woman coming out of my treatment, and it's one of the best massages I've ever had. I definitely reconnected my body and mind!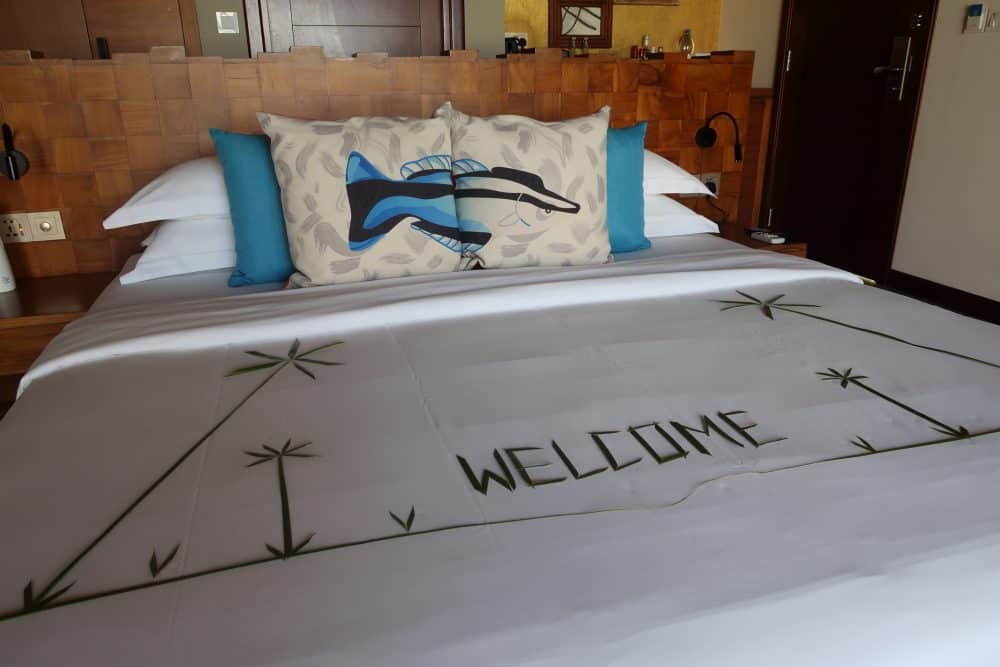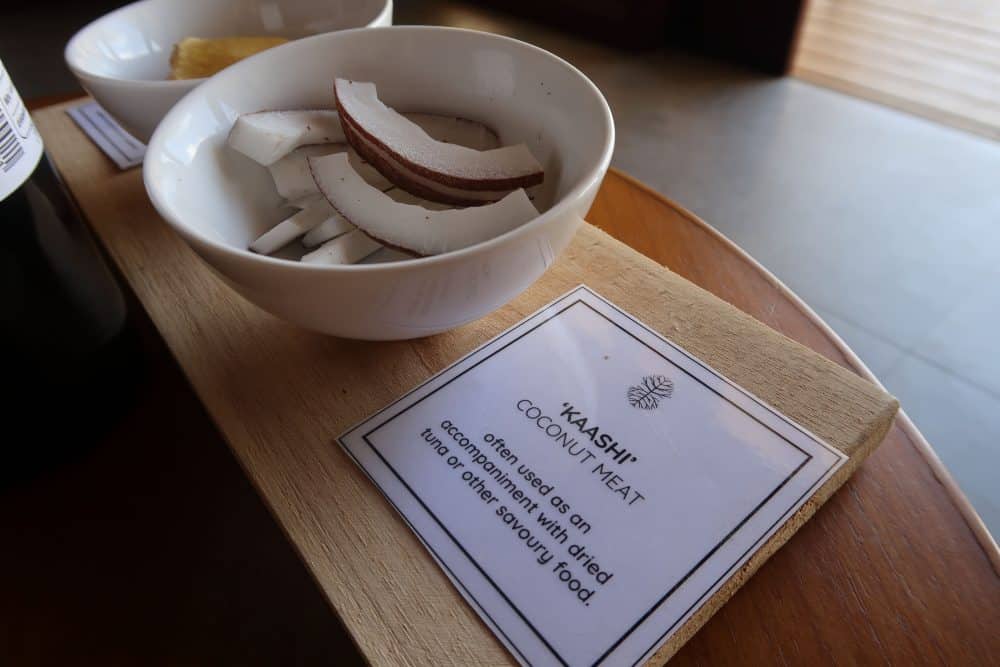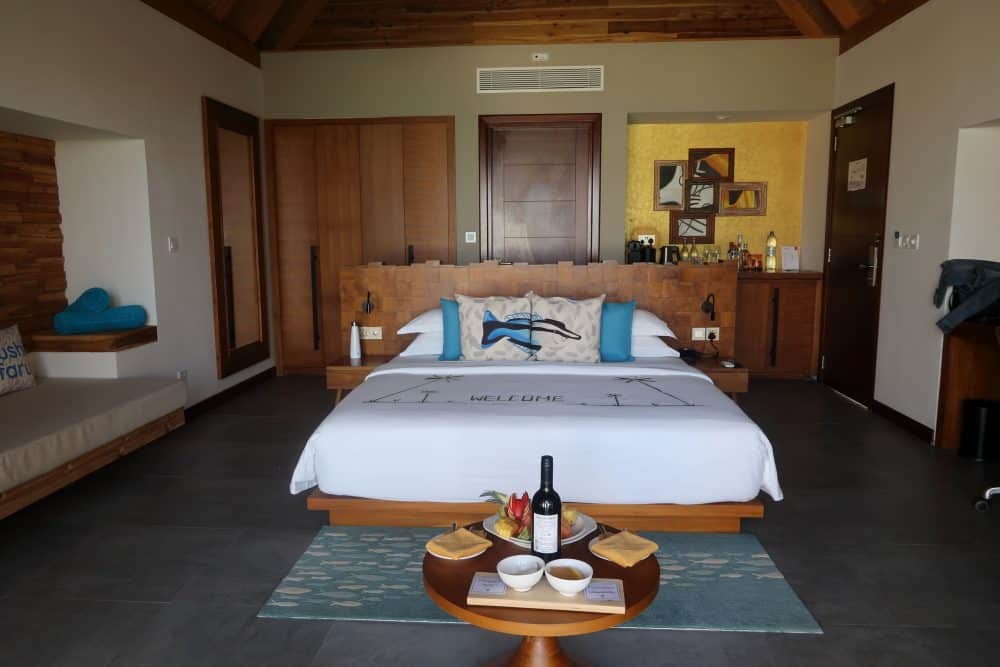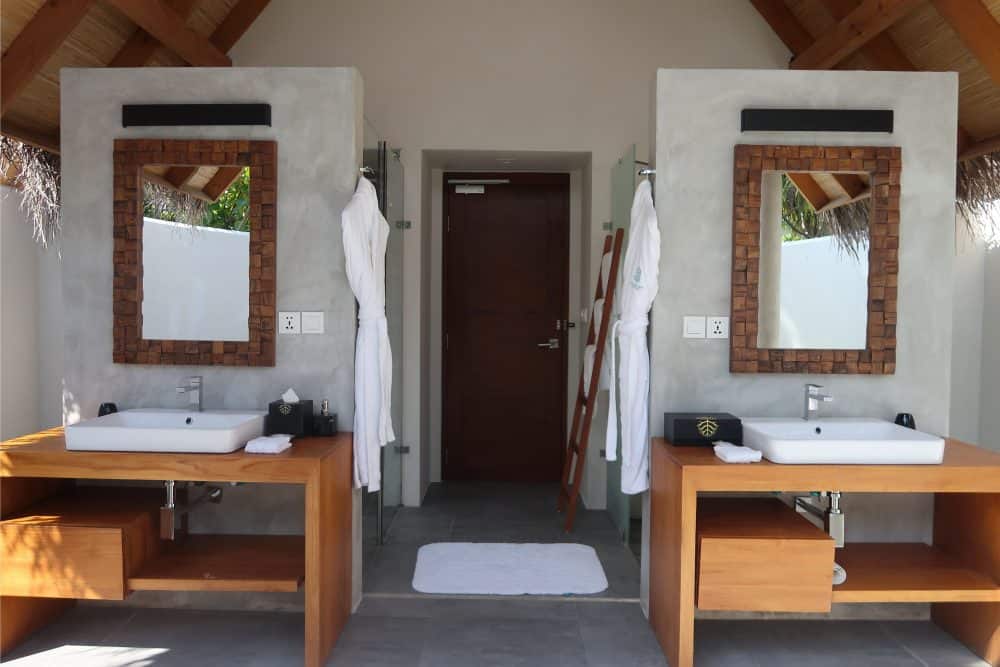 Maldives Accommodation
Where to stay in The Maldives: Fushifaru Maldives
Food & Drink
I was incredibly impressed with the standard of food and drink available on the island, considering they are such a small resort and located in a very isolated atoll. All of their restaurants face the water and I think that's a gorgeous touch.
The dining experiences are mostly based around their main restaurant Korakali, which is included on all half and full-board packages, for both breakfast, lunch and dinner. Breakfast is served in Korakali too, and there is lots of choice from fruit, yogurt, breads, cheeses, and a chef whipping up omelettes, pancakes and waffles. In the evening you can expect a varied cuisine each night, with grilled meat, salads, traditional Maldivian food, italian dishes, pudding, and much more.
They also have an additional two restaurants (with an additional price) for guests wanting to shell out a little more money and experience some alternative cuisine. They have Raakani Grill serving the finest array of meat and freshly caught seafood, grilled to perfection. In addition to this the Fanihandhi Bar also serves food, as well as signature cocktails, fun mocktails, and light meals while you lounge by the pool.

Maldives Accommodation
Where to stay in The Maldives: Fushifaru Maldives
Underwater Activities
This was my favourite element of our week in The Maldives: the underwater world. I have always loved the ocean, and I especially love snorkelling, so for me The Maldives was always going to be a dream destination to explore under the water. Offering a pleasant water temperature of 29 degrees, Fushifaru offers an array of water based sports, including snorkeling, diving and semi-submarine expeditions. The underwater activities are endless at Fushifaru.
They are also big on their conservation, and can educate guests in the various ways they are trying to protect their ocean. They have a resident marine biologist, who looks after coral rehabilitation and provides marine education, as well as well-trained staff who work in the dive centre and know their way around the local reefs.
Fushifaru Kan'du is a national Marine Protected Area and sits right beside the resort. It is home to three iconic dive sites including the renowned Fushifaru Thila that is teeming with marine life, unique cave formations and a marine cleaning station, as well as spaces to find a multitude of wildlife including eagle rays, sting rays, sharks, turtles, and fish of all colour, shape and size. Fushifaru really is a haven for diving enthusiasts and snorkelers alike.
And if you want to go scuba diving you can also join the team of PADI professionals who will help you become a certified Scuba Diver. You can start with Discover Scuba Dive and learn how to breath underwater without any need to sign up to a course. Or you can develop your skills with a new course or a specialty dive. There's lot of offer to explore the amazing local reefs!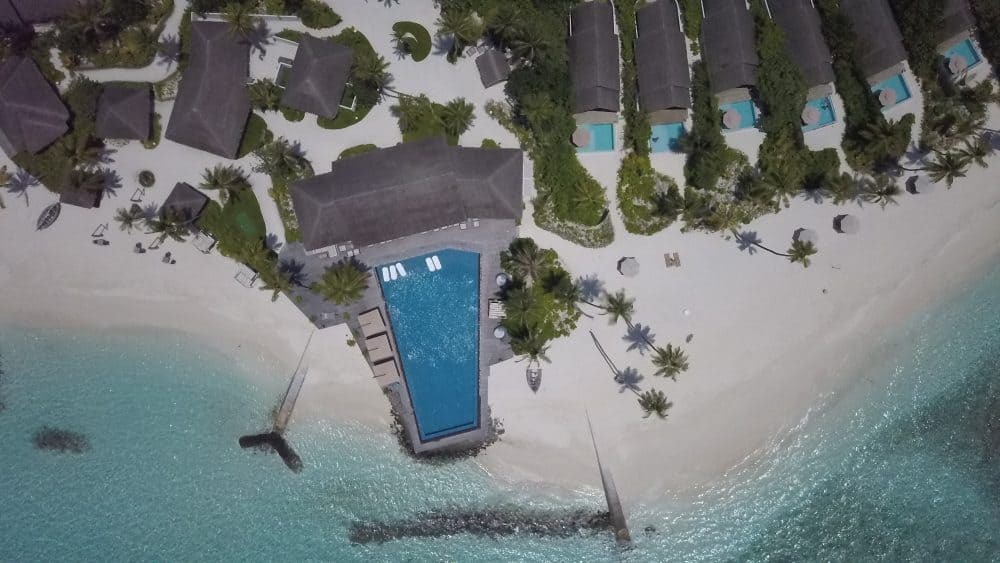 Maldives Accommodation
Where to stay in The Maldives: Fushifaru Maldives
Overall
An incredible resort, and whilst small they pack a lot of punch, with a friendly atmosphere, paradise island sandbank, traditional cuisine, chatty staff and a home-from-home feel. Double rooms start at £550, year-round and this includes breakfast wifi and an option of upgrading to half-board or full-board. We opted for half-board and found this to be enough, as by the time we had finished breakfast we then weren't hungry until 2-3pm and snacked a little before dinner in the evening.
We had such a wonderful Maldives holiday and despite knowing we could do a trip to The Maldives on a budget, we decided if we were visiting this amazing region, we wanted to do it right and splash out on one of the best resorts we had heard of, Fushifaru. They offer guests the ultimate Maldives vacation, with water bungalow, dolphins and Maldives accommodation worth splashing the cash for.
Fushifaru was the best Maldives accommodation we visited, and offered the perfect stay for our Maldives holiday. From offering overwater villas, to sunrises overlooking the ocean, this place had it all and offers guests the opportunity to really unwind and spend a week in The Maldives. The perfect Maldives vacation!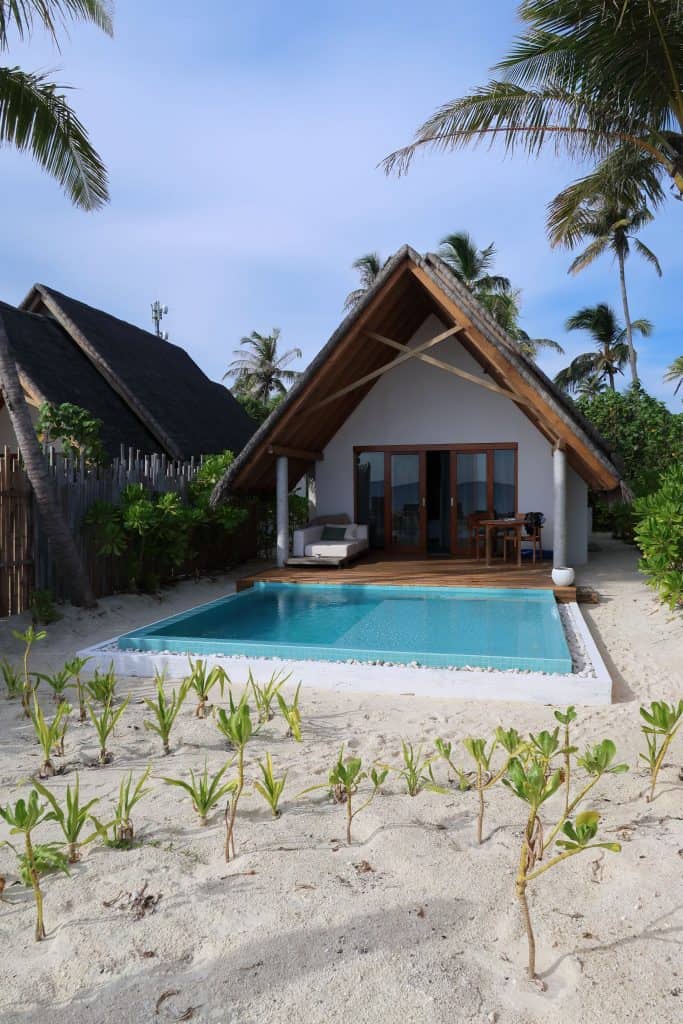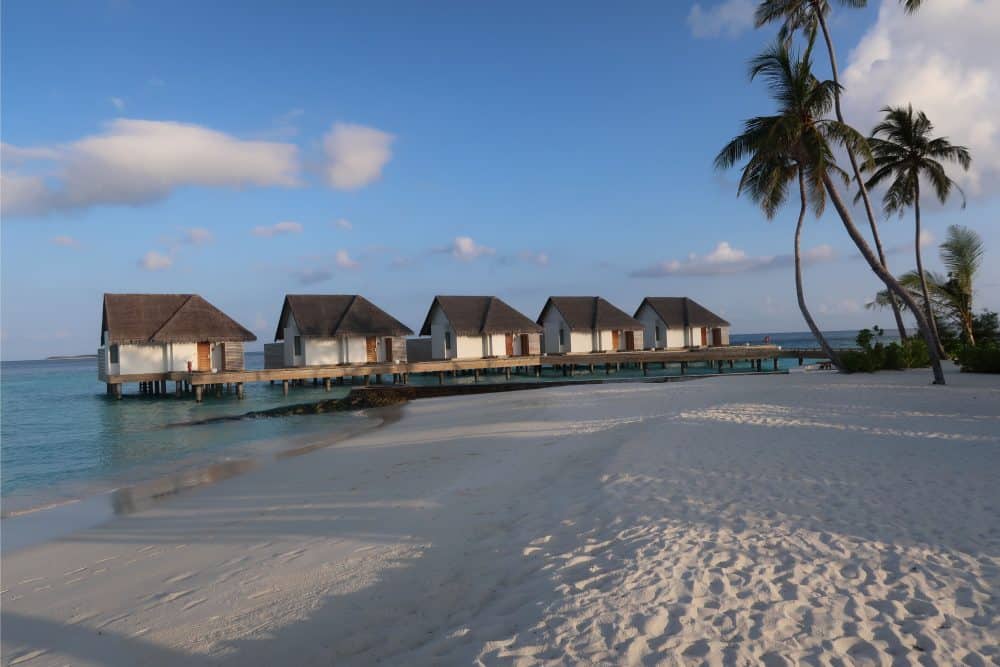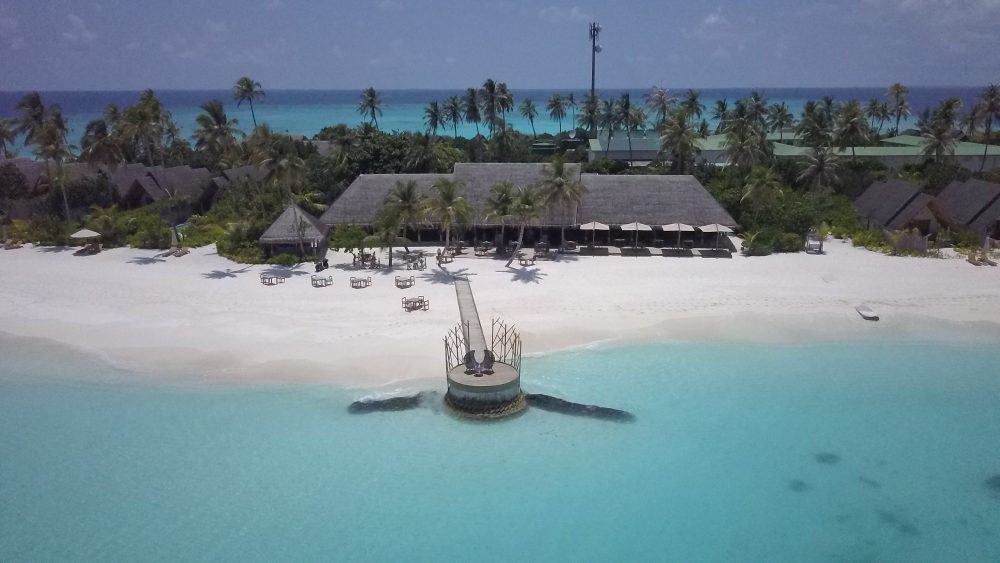 ---
Price starts from $580 a night in a Sunrise Beach Villa including buffet breakfast for two.
Half-board and all-inclusive package available at $60 and $149 per person per day respectively. Unlimited beverage package can be purchased at only $60 per person per day.
Fushifaru Discount
Early Bird Offer: Book by 30th of November for 2020 and receive 10% OFF
Summer Bliss Offer: 20% OFF Room and Meal Plans for May through to October 2020, book by 30 NOV 2019
Family Fantastic Offer: kids below 12 Eat, Stay and Play for FREE excluding Christmas and New Year holiday period
***All combinable for now until 30 November 2019 only***
---
Are you wanting to go on a multi-resort trip to The Maldives?
Make sure you check out my other blog posts on visiting The Maldives and check out where else I stayed!
Reethi Faru Resort
After three gruelling flights from London Heathrow we finally hopped onto a speed boat at Dharavandhoo Island and hurtled towards our Maldives accommodation, the beautiful Reethi Faru Resort. Due to our flight arriving in to Male mid-afternoon, we ended up arriving at the resort after sunset. From the moment we stepped onto the jetty, all we could hear was the sound of the waves and our guides friendly voice, as they welcomed us to the resort with fresh coconut water.
Situated in the Raa Atoll, the magical resort of Reethi Faru boasts a beautifully set 600-meter island fortified by the impressive coral reef that circles the surrounding beaches. A larger resort in The Maldives, they offer guests a choice of over 150 rooms, with many located on the beach or over the water.
Reethi Faru is a one of a kind resort, located on a tropical paradise island, where crystal clear waters and their incredible house reef, set the standard for an amazing visit to The Maldives. The lush island is full of tropical foliage, surrounded by coconut groves and palm trees.
Priding itself on being a bio-luxury island paradise, Reethi Faru is unassuming and isolated, where natural beauty shines through. The stunning lagoon and house reef offers guests the opportunity to swim with an array of marine life, including eagle rays, sharks and fish.
On most mornings we ventured to the pool and enjoyed the views from this side of the island. We then spent the afternoon watching the sea planes come and go, whilst lounging and swimming in the idyllic infinity pool. And there are activities galore on this tropical island, including windsurfing, canoeing, kitesurfing and jet skiing. You can head further out on a sailing trip to nearby islands, or dive deeper underwater on a PADI course.
It is more than possible to spend a week in Maldives here and booking a Maldives tour package can be done through tour operators, or you can simply go direct to the resort. There are many resorts offering Maldives all inclusive holiday packages but this isn't always the best way to experience The Maldives. Instead really get to know the people, their culture and their customs by going to a more local-orientated resort for your Maldives vacation. And cheap Maldives holidays are also now possible, but again you then don't get to experience the hospitality you get at a resort like Reethi Faru Resort.
---
Honeymoon in The Maldives
Maldives Honeymoon Prices
And of course, the costs. What does it cost to go on honeymoon to The Maldives?
That answer I am afraid is endless, and it's much better to work it around your own budget, than the other way around. The Maldives is even more affordable these days and it's still possible to have the most amazing adventure to The Maldives on a budget.
The cost of a honeymoon in the Maldives is going to vary based on which Maldives resort you stay t, what package you go for and how many excursions you want to do whilst at your resort.
If you are trying to take a honeymoon in the Maldives on a budget, don't be afraid of the Maldives, it is possible to do it cheap but be aware the resorts you stay on won't be as amazing. Also another option is to go in off peak season too.
We worked out is cost us around £4,000 for two people with flights, half board, activities, seaplane, transfers, and any additional extras.
One Week Maldives Honeymoon Cost Estimate:
£1,200+ return flights to the Maldives from London (similar from USA)
£200-£800 transportation to Maldives resort island depending on domestic or seaplane transfers
£500+ activities and excursions in the Maldives (snorkelling, kayaking, turtle quest, local village trip, diving, special dinners)
£,1500+ accommodation in the Maldives
AND REMEMBER – DON'T FORGET INSURANCE! I always get my travel insurance with World Nomads which covers which medical, trip cancellation, theft or damage, baggage, car rental coverage, and more.
A honeymoon in the Maldives is easily the best place in the world to take a honeymoon. So what are you waiting for? Get those flights booked and use this guide as your go-to travel companion.
---
Other epic honeymoon destinations
If a Maldives honeymoon isn't for you make sure to check out some of my other favourite honeymoon destinations.
---
So has that made up your decision on where to stay in The Maldives?
For further information on the Maldives, visit www.visitmaldives.com.
Other posts that may help you:
The Best City Breaks for Couples
10 of the Best places to eat Brunch in London
Ultimate Guide to Columbia Road Flower Market London
Ultimate Guide to one week in Bali Itinerary
Gili Islands Accommodation: Backpacker Hostels to 5* Luxury
10 Things You Can Only Do in Australia
Sign up to AirBnB with this link and receive a £23 off your first booking.
To receive my articles and reviews straight to your inbox SUBSCRIBE HERE.
Did you know I also vlog my trips? Make sure you subscribe to my YouTube channel so you get alerted when all my travel videos goes live… CHECK THEM OUT HERE
Thank you for reading and as always happy adventuring! If you have any questions about the destination please leave these in the comments below.
If you've enjoyed this post, please share it for me with all your friends and family!
Sophie X
*I was a guest of this hotel but as always opinions are my own.