I am currently planning my road trip around Canada and first on my list is finding out where to stay in Banff. It's one of the places I am most excited to visit, and to coincide with this part of the trip I want to book an outstanding hotel, one which offers luxury and comfort, alongside impeccable design and Canadian hospitality.
Most of these hotels are located in Banff National Park and are less than an hour away from all of the must-visit attractions including Lake Louise, Lake Moraine and Banff Gondola Ride. Here are my favourite hotels so far for where to stay in Banff.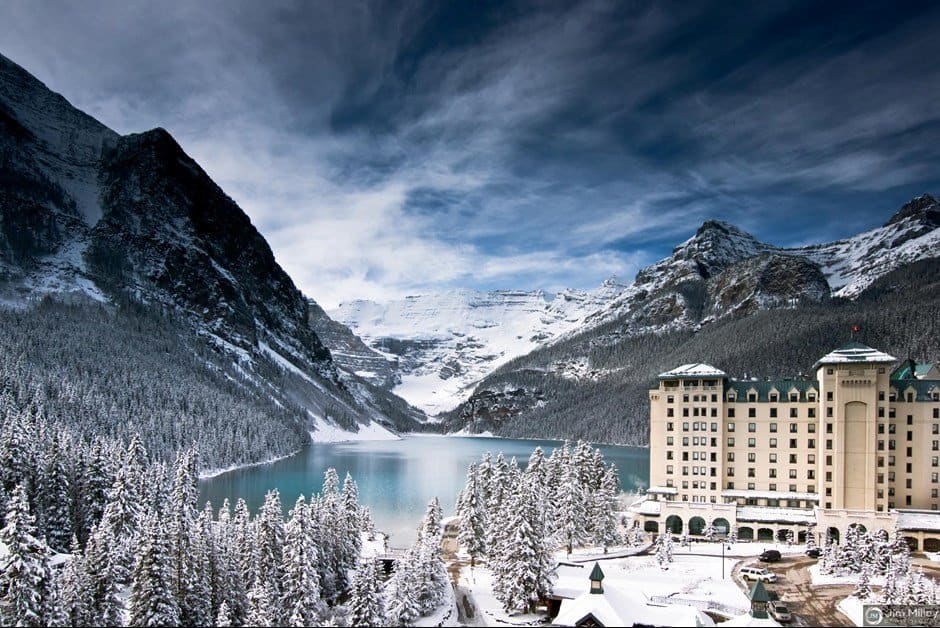 Photo credit: Fairmont Chateau Lake Louise
Where to stay in Banff
I've heard so much about this iconic hotel, originally built over 100 years ago as a base for the outdoors enthusiasts that would descend upon Banff every year. Fairmont Chateau Lake Louise is a year-round luxury mountain resort offering guided mountain tours, world-class skiing in the winter, scenic hiking and canoe activities in the summer. The hotel sits at the base of Lake Louise, offering incredible views of the soaring mountains behind, the majestic Victoria Glacier and a glistening emerald Lake Louise. And bonus, the hotel is also recognised globally for progressive environmental stewardship and responsible tourism. (Credit: Banff Lake Louise)
Photo credit: Mount Royal
Where to stay in Banff
Another magnificent hotel located in Banff is the stunning Mount Royal Hotel. Re-opened in July 2018 after a massive regeneration, the hotel is now ready for the modern day traveller, offering a great location, and a classic yet exciting place to stay for families and couples alike. .The decor honours its heritage since 1908, whilst inserting all-new contemporary amenities and four new room categories, for guests to choose from. The bedrooms have also been re-designed offering a Scandi-inspired feel to the rooms, plush beds and well-appointed spaces with unobstructed views of the surrounding areas. (Credit: Banff Lake Louise)
Photo credit: Grand Rockies Resort
Where to stay in Banff
Set amidst the mountains in Banff National Park, the Grande Rockies Resort is a hotel like no other… Offering the opportunity to stay in trendy apartments, or in the more classic hotel. The perfect location enables easy access to the Rockies and the National Park, as well as beyond. There are over 150 bedrooms on site, including penthouses equipped with kitchens, spa-inspired bathrooms and luxury amentities. It is also perfect for families, with an indoor swimming pool, water slides, hot tubs and kids club. (Credit: Grande Rockies Resort)
Photo credit: Canalta Lodge
Where to stay in Banff
A brand new addition to the region, Canalta Lodge is a all-year-round hotel at the base of Western Canada's most majestic backcountry, offering the perfect base for families and couples to explore Banff National Park and the surrounding areas. Decked on the exterior in wooden panels and with larger-than-life pine cones in the spa area, this hotel stands out from the crowds. The decor is simplistic yet modern, with bedrooms also getting the same iconic yellow treatment throughout. It is the perfect basecamp to launch any expedition into the wilderness! (Credit: Canalta Lodge)
Photo credit: Stoneridge Mountain Resort by CLIQUE
Where to stay in Banff
And last but not least, the magnificent Stoneridge Mountain Resort! Located in the town of Canmore, this hotel is the ideal place to take in the natural beauty of the national parks, with expansive mountain views from almost every bedroom and offering families a luxury getaway in the Canadian Rocky Mountains. They have an array of suites on offer including one, two or three bedroom apartments with fully equipped gourmet kitchens, BBQ on the private deck or patio, and a living area with gas fireplace. They are also located just moments from downtown and the Banff National Parks so you can go and explore at ease! (Credit: Stoneridge Mountain Resort)
BOOK TRAVEL INSURANCE BEFORE YOU FLY

Picking travel insurance that covers you in all eventualities is an essential part of planning a trip for every single person. If you can't afford travel insurance, you can't afford to travel. You never know what's around the corner. World Nomads is an affordable option that I personally recommend. BOOK HERE
*This post is sponsored by Expedia.
Let me know in the comments your top tips or share it with the social media links below!
I'd love to keep giving you advice and tips so feel free to follow me on my blog. And don't forget you can follow me on Facebook, Twitter, Instagram & bloglovin'.
Other posts that may help you:
Ultimate Guide to one week in Bali Itinerary
A Guide to a Weekend in The Gili Islands
A Guide to Where to Stay in Bali
Gili Islands Accommodation: Backpacker Hostels to 5* Luxury
Animal Adventure at Australia Zoo
Regional Work: Working on a cattle station in Australia
10 Things You Can Only Do in Australia
Thing I Will Miss About Australia
Review: Nomads Noosa Backpackers Australia
Sign up to AirBnB with this link and receive a £23 off your first booking.
To receive my articles and reviews straight to your inbox SUBSCRIBE HERE.
Did you know I also vlog my trips? Make sure you subscribe to my YouTube channel so you get alerted when all my travel videos goes live… CHECK THEM OUT HERE
Thank you for reading and as always happy adventuring!
If you've enjoyed this post, please share it for me with all your friends and family!
Sophie X