If you want to experience wellness in Zurich this is the hotel for you…
When we booked B2 Boutique Hotel + Spa I knew it was going to be good, but I just hadn't realised how good. Located in the former Hürlimann brewery, B2 Boutique Hotel + Spa is a quirky hotel, in the city of Zurich, where beer was once brewed. The trendy city hotel has been boldly designed around the old brewery, retaining its history and architecture. And the hotel is perfectly located in the Enge area, making it a great stay for a weekend in Zurich, and is only a ten minute tram journey away the main streets and Lake Zurich.
The hotel is sprawled across three buildings, and four-storeys, with 60 rooms for guests to enjoy. In what was once the mash house is now a sprawling lobby with lush sofas, roaring fire and tables held up by hardcover books. And just behind is The Library where over 33,000 books are placed across three 36-foot tall walls. The style of the hotel is luxury, meets industrial, where small elements of what used to be, within the Hürlimann brewery is set against plush fabrics and clean surfaces.
After a long, hot journey from Lake Lucerne on a train without air con or windows, we arrived in Zurich in dire need to fresh air and a cold drink and that's exactly what we received when we checked in to B2 Boutique. As our taxi pulled up a lovely gentleman opened the door and took our suitcases inside for us, whilst reception checked us in and offered us a beer on arrival. That's my kind of perfect welcome!
The former brewery has an industrial white facade, with brick chimney on the outside, with velvet sofas and open-plan lobby inside. Whilst chandeliers of beer bottles hang from the ceiling, and a concrete and glass tunnel that holds up the building can be viewed from both the lobby and the spa on the top floor. It's a hotel with many sides and facades, offering all guests something interesting to stare at.
Once we checked in, we were shown to our room….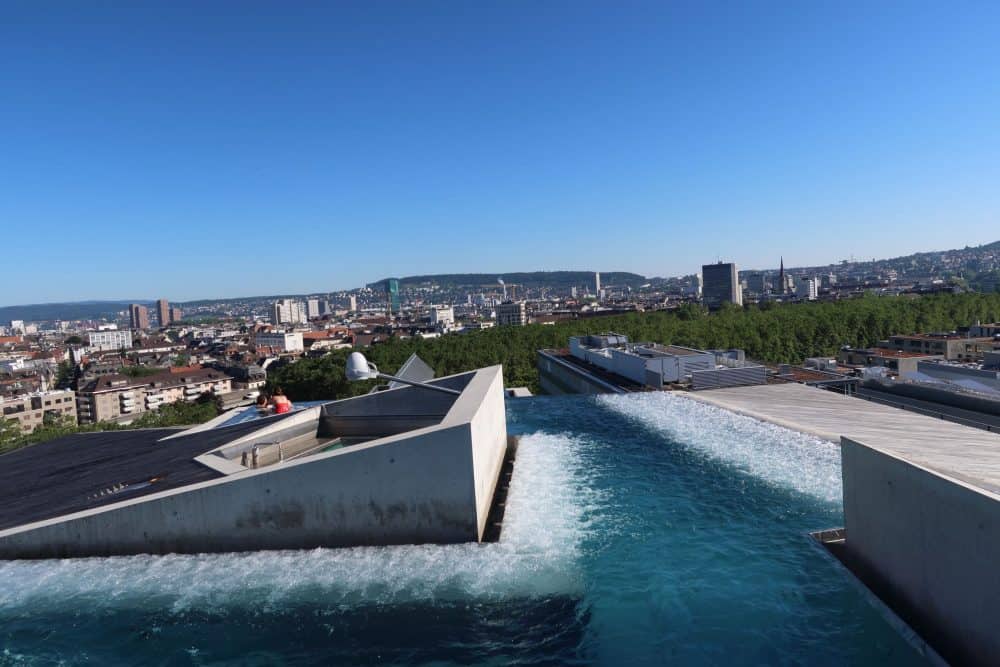 THE BEDROOM
The hotel has 60 rooms in total, that are all bright and spacious. Our was a Hürlimann Executive Room with large king-side bed, open bathroom and direct access to the spa.
Our room was amazing, located on the sixth floor of the main building, spread across 300-square feet with an airy feel, white curtains, beautifully high ceilings and oak wooden flooring throughout. And much like the lobby, the bedrooms, had an air of effortless style throughout with books on display above the bed, brass pendant lighting and two-layers of windows to protect you from the outside world. The bathroom was an exhibitionist's paradise with glass walls, that looked on to the room and a rainfall shower (they did have a white curtain to pull around when needed).
The technology was also high-end with blinds that were opened at the flick of a switch, different settings for the lights, a state-of-the-art coffee machine and TV that swung out from the wall. There is also a complimentary minibar with Hürlimann beer, ethical toiletries, spa robes and plush towels. I'd recommend getting an Executive Room, as they are located in the corners of the buildings and offer a bigger space to enjoy. Or they also have some duplex rooms, with two levels, where the beer was once cooled with a terrace, free-standing bathtub and skylight.

THE SPA
As if the hotel itself and your bedroom wasn't enough, B2 Boutique Hotel is also a spa, with two areas for guests to enjoy. Upstairs there is a rooftop hydrotherapy pool, with views across the city. The roof (my favourite bit) is a pool with a view, where we spent many hours watching the Zurich skyline! And then downstairs there is a low-lit network of basement-level caverns set with wood-panelled baths designed to look like barrels, a dark meditation pool, foot baths, heated loungers and an array of Roman-Irish baths, where you can spend a whole day if you follow their recommended treatment. This hotel really does offer up the best of Wellness in Zurich!
The spa is owned by a separate company, but hotel guests get reduced rates and get private access before 9am in the morning. At times it got quite busy up on the roof, so it's worth rising early for to really experience everything the spa has to offer.
FOOD & DRINK
As the hotel isn't located in the city centre, unless you've got a car, you are limited with choice in the surrounding area. This isn't a problem though as the hotel has a lovely wine bar in The Library which serves a selection of alcoholic and non-alcoholic regional beverages, including mineral water from Alpine resort Vals. They also have a small limited food menu, with some light bites throughout the day and then in the evening offers dishes such as burgers and plates of local meats and cheese.
The Library is also where breakfast is served, which we really enjoyed. The buffet breakfast has lots of healthy options, including make-your-own fruit bowl and continental buffet including Bircher muesli, cured meat, cheese, baked goods, gipfeli (Swiss-style croissants) and zopf (a plaited bread similar to challah), dense house-made muesli, herb-flecked bacon and air-dried beef from the Grison Alps, cheeses from the Zurich Highlands, and juices. Breakfast is included in the room price.
OVERVIEW
Overall, we had a lovely stay at B2 Boutique Hotel + Spa. The staff were attentive and friendly, always asking if we needed anything. The building is stunning, and I loved hearing about the history of the hotel, and how the spa had become one of the most well-known wellbeing retreats in Switzerland. It's worth also asking for a tour if you love learning more about beer or architecture.
Double rooms from 340 Swiss Francs (£262) in low season; and from 360 Swiss Francs (£277) in high with buffet breakfast included, free Wi-Fi.
Brandschenkestrasse, 152, 2. Wollishofen-Enge, 8002 Zürich, Switzerland.
b2boutiquehotels.com
Other posts that may help you:
Copenhagen Chic at the Andersen Hotel
Ultimate Guide to Bottomless Brunch (& prosecco) in London
Log cabins with hot tubs in the UK
Ultimate Guide to one week in Bali Itinerary
Thank you for reading and as always happy adventuring!
If you've enjoyed this post, please share it for me with all your friends and family!
Sophie X