As you may have seen on my Instagram I've just returned from a weekend trip to Malmö in Sweden and absolutely fell in love with this lesser known Scandinavian city. It's full of the best cafes, the freshest food, the cosiest apartments, the coolest neighbourhoods and activities galore. Malmö is a coastal city in southern Sweden and lies at the eastern end of the striking Öresund Bridge, a long road and railway bridge–tunnel running to Copenhagen, Denmark.
Me and Katie take a trip together every year, and this year I've been lucky enough to take two trips with her, firstly to Iceland in April (you can read all of these posts here) and this trip to Malmö . It was a lovely few days and I felt so grateful for having such a wonderful friend once we got home! Here is my ultimate guide to Malmö….
HOW TO GET THERE
London to Copenhagen 
I flew with RyanAir from London Stansted and despite the journey being super simple – I wouldn't recommend flying with RyanAir at the moment. However flights were cheap, very cheap!
London Stansted with Easyjet to Copenhagen
London Stansted with RyanAir to Copenhagen
London Gatwick with Sterling to Copenhagen
London Heathrow with SAS or BA to Copenhagen
Copenhagen to Malmö 
Reaching Malmö from Copenhagen is fast and easy. The distance between Copenhagen and Malmö is only 30 km. Remember to bring your passport and you're good to go with one of these means of transportation. Trains depart from København H (Copenhagen Central Station) every 20 minutes and the travel time is only 35 minutes to the centre of Malmö. You can also take a direct train to Malmö from Copenhagen Airport. You can get to Copenhagen Airport by both train and metro. Find train tickets here.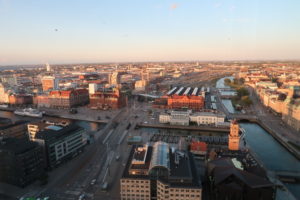 WHEN TO GO
A packed calendar of annual festivals help make Malmö a rewarding year-round destination. Malmö is great for beaches, christmas markets and festivals. Located in the Skane region of south Sweden, Malmo's climate varies from average temperatures of 71 degrees in July and August,, making summer the best time to visit Malmo's 1.5-mile Ribersborg beach. Sometimes referred to as "Scandinavia's Copacabana," it's a short walk from the city and the shallow water is suitable for paddling and swimming.
Come November and the city becomes a different place altogether as they begin to celebrate Christ,as. Winters in Malmo can be bracing with short daylight hours and occasional snow. But the flip side is the city begins holiday season celebrations early, building to a crescendo of romantic Christmas markets, ice rinks and illuminations. It starts in late November with "Shop Window Sunday" when more than 800 stores unveil their Christmas window displays simultaneously.
WHERE TO STAY
Ohboy Hotell, Malmö
On my trip to Malmo last month we stayed at the wonderfully unique Ohboy Hotell on the Western Harbour. Ohboy Hotell is accommodation with a difference, offering 31 loft hotel rooms (55 rooms in total) within walking distance to the city and Central Station. And the beach is only
around the corner, as well as lots of cafes, bars and grocery stores.
The hotel offers accommodation for the modern, urban traveller, making it easier to live green with solutions to enable the sharing of resources, reducing emissions all the while living a comfortable life in the city. The loft hotel rooms' interiors are locally sourced – design, production and materials for the furniture are all from the south of Sweden.
The location is perfect; five minutes from the Central station and the city centre. The sea and the beach is just around the corner, as is grocery stores and cafes. Every room includes comfortable beds, a kitchen, workspace and your own bike to get around town – it's the hotel of the future! Read my full post here.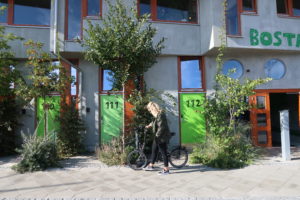 WHAT TO DO
1. The Oresund Bridge
This bridge is the longest cable-tied road and rail bridge in Europe, measuring 7.8km from Lernacken (on the Swedish side, near Malmö) to the artificial island of Peberholm (Pepper Island), south of Saltholm (Salt I…
2. Rundan Sightseeing

Travel along the canals and under the bridges and see Malmö from a new side. The guide onboard will give you a vivid tour about history, personalities, buildings and anecdotes. The sightseeing tour goes through parks, the harbor, passing the Malmöhus Castle in the old part of town and back through the modern Malmö. The sightseeing boats are without roof so you will get a great view of Malmö. We pass some low bridges on the tour where you have to curl up!
3. Turning Torso
Architect Santiago Calatrava's iconic, energy-efficient Turning Torso is the tallest building in Scandinavia and soars to a spectacular 190m height above the sustainable Vastra Hamnen district. It twists 90 degrees from the base to the top – and makes a great backdrop to your selfie. You can't miss the eye-boggling Turning Torso, a futuristic skyscraper designed by Spaniard Santiago Calatrava.
4. Gamla Stade 
Focusing on the area around Stortorget (the town square) and lively Lilla Torget (the little square) Malmö's Old Town is a gorgeous warren of cobblestone streets, half-timbered houses and bold facades that feel like they'd be more at home in Hamburg.
5. Nudist bathing at Kallbadhus
Ribersborg open-air bath is an open-air public bath on the Ribersborg beach in Malmö, Sweden approximately one kilometre southwest of Turning Torso. The bathhouse is open for a skinny dip year round and has separate areas for men and women.
6. Västra Hamnen

Located about 2.5km northwest of the Old Town, buzzing, bayside Västra Hamnen represents the modern face of Malmö. It's a popular spot to stroll, sip coffee and browse boutiques, but mostly people come to marvel at the Öresund bridge and ogle the Turning Torso twisting its way skyward: it's beautiful and an engineering marvel, but one can't help feel it's out of place here.
7. Modern Museet
Architects Tham & Videgård chose to make the most of the
distinct 1901 Rooseum, once a power-generating turbine hall, by adding a contemporary annexe, complete with a bright, perforated orange-red facade. Venue aside, the museum's galleries are well worth visiting, with regularly updated exhibitions featuring art from their collection, which includes works by Dalí and Picasso.
8. Malmo Live
Malmo Live opened in 2015 and it's an entire neighbourhood crammed with entertainment possibilities; a concert hall, congress centre and a hotel with a Skybar on the 25th floor, as well as a collection of great eateries.
9. Centralstation
It might seem strange to pick a railway station as a highlight, but Malmo's has an amazing food court, where you can grab a bargain bite. Read a Scandi-noir novel in the gorgeous library cafe, which is adorned with an enormous spherical chandelier.
10. Malmohus Slott
Erik of Pomerania built the first fortress here in 1436 but it was destroyed between 1534 and 1536 during a popular uprising in Skåne. After this rebellion, Denmark's King Christian III had the castle rebuilt in a Danish Gothic/Renaissance style, but his castle was devastated by fire in 1870. It lay in ruins until the 1930s when the functionalist, factory-like red-brick buildings were added to what remained of the main building and the intact gun towers, and Malmo Museer was born.
WHERE TO EAT
TBC
WHAT TO PACK
You guys have been loving my outfits posts on Instagram over the past month, and I've had so many messages from you asking where the outfits I wore whilst on my recent trip to Malta and Malmo are from. I've tried to reply to you all separately and where possible send links to the items, but to make things easier, I have pulled together some of my favourite outfits from the trip…
Outfit #1 – Red Herring Leopard Print Midi Dress – BUY HERE: Red Herring Leopard Print Midi Dress
Outfit #2 – Womens Holiday V-Neck Button Through Midi Dress – BUY HERE: White Midi Dress
Outfit #3 – ASOS Denim Skater Dress – BUY HERE: Denim Blue Dress
Outfit #4 – ASOS Shirred Sleeve Polka Dot Midi Dress – BUY HERE: ASOS Polka Dot Dress
Outfit #5 – Marks and Spencer Leopard Print Midi Dress – BUY HERE: Marks and Spencer Midi Dress
Have you been to Malmo?! Let me know what your favourite things to do in this wonderful city are in the comment or on Twitter @sophiessuitcse
*In partnership with @malmotown