Back when Shakespeare placed star-crossed lovers Romeo Montague and Juliet Capulet in Verona – he certainly knew what he was doing! And it was with good reason: this city is alive with colour, romance, drama and culture. I recently spent four days here exploring this underrated city.
Here is my Ultimate Guide to Verona as I pass on some tips from during my time here.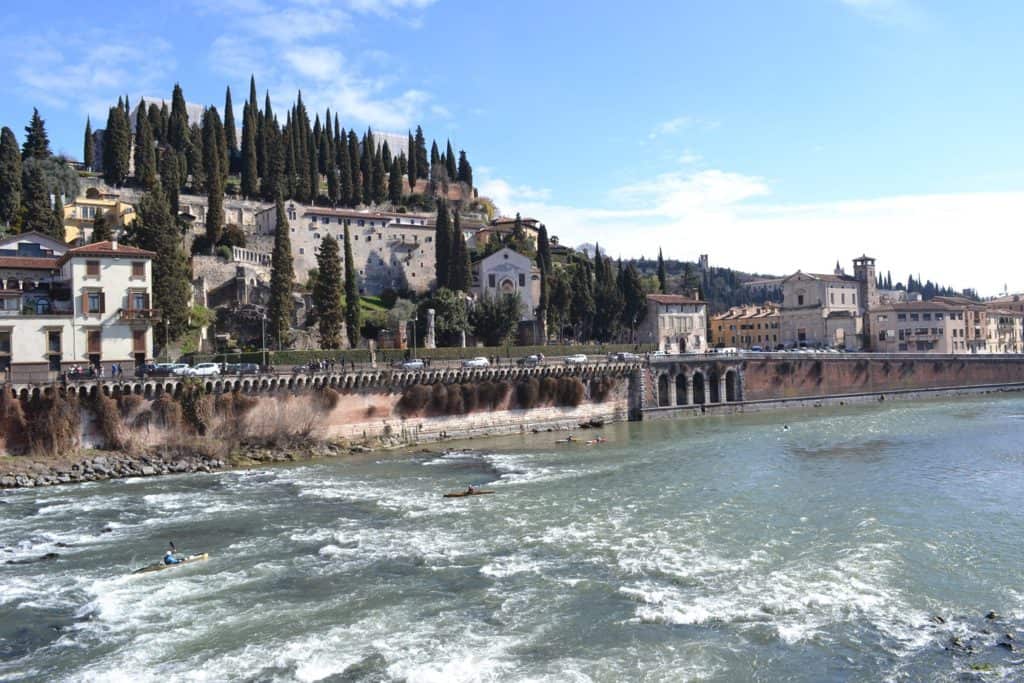 VERONA, VERONA
Verona is traditionally very Roman with ancient gates, Piazza delle Erbe which played host as a form and the magnificent arena. This Roman presence makes Verona a stunning city with incredible architecture, lots of culture and a lot of history. And today, the city is a Unesco World Heritage Site and buzzing city that comes alive even more so in the summer when the 2000-year-old arena hosts opera's biggest names.
HOW TO GET TO VERONA
You can fly from most airports around the UK to Verona, with most airlines. I flew with EasyJet from Birmingham International to Verona Airport which took only 2 hours, and cost me around £70 for a return flight!
WHEN TO GO TO VERONA
We loved visiting Verona when we did, in March, as the weather was sunny but not too hot or cold. We took our coats, but ended up taking them off most days. The sunshine was out and it was generally lovely weather. I would go back again at this time of year, before it gets too hot in the summer months (up to 28 degrees).
WHERE TO STAY IN VERONA
There are 100's of hotels in Verona but when I visited I stayed at the stylish Hotel Trieste, not far from the arena. Hotel Trieste is a designer hotel with an eclectic style. A hotel by Andrea Quiriconi, Hotel Trieste is a hotel with a difference – a true artist's residence, housing artwork from many an artist, both Italian and beyond. The hotel has hand-picked design interiors and regularly updated installations by local artists making it a piece of art in it's own right.
The hotel is located in the exhibition area minutes away from Fiera di Verona and Verona Arena, and also only 1.2 miles away from Verona Train Station. It was also easy to get to from the airport by taxi (only 20 minutes and 25 euros) or by train (takes maybe an hour but is only 6 euros) and then a short walk into the centre where you can find all the main tourist spots.
At Hotel Trieste you can choose among fully equipped suites, standard rooms, and rooms just to 'crash'. They have an array of rooms, varying in price and comfort, depending on your budget. We opted for a room with more space, going for the spacious, newly refurbished and discreet Superior room measuring 35 square meters and boasting a balcony with a view of Verona. The rooms are as eclectic as the lobby downstairs, with art adorning the walls and colour splashing out from every angle. I loved the theme throughout this hotel, it was unique and left lasting memories in my mind.
Read my full review here.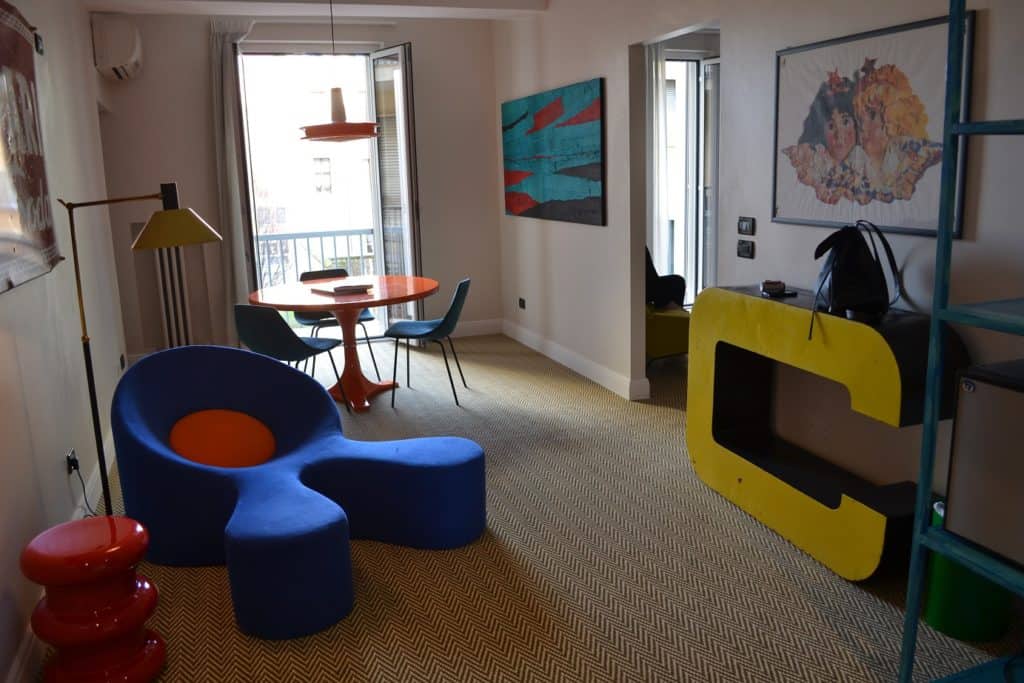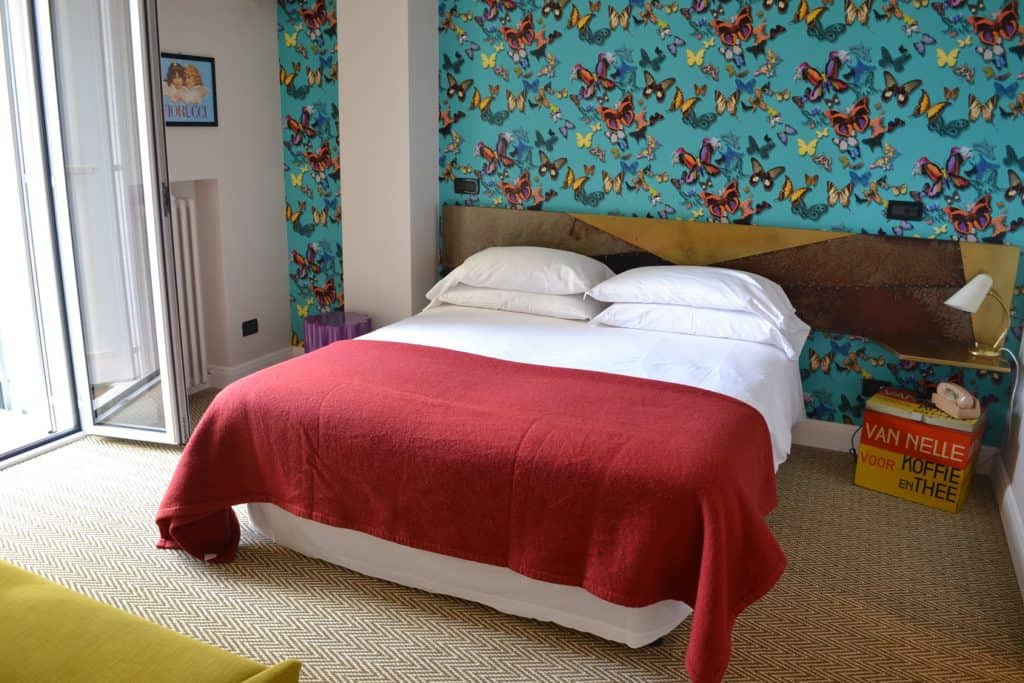 WHAT TO DO IN VERONA
Galleria d'Arte Moderna Achille Forti
In the shadow of the Torre dei Lamberti, the Romanesque Palazzo della Ragione is home to Verona's jewel-box Gallery of Modern Art. Reached via the Gothic Scala della Ragione (Stairs of Reason).
Torre dei Lamberti
For panoramic views of Verona and nearby mountains, head up this 84m-high watchtower. Begun in the 12th century and finished in 1463 – too late to notice invading Venetians and sports an octagonal bell tower.
Museo di Castelvecchio
Situated on the river, this museum is bristling with battlements along the River Adige, Castelvecchio was built in the 1350s by Cangrande II. Severely damaged by Napoleon and WWII bombings, the fortress was reinvented by architect Carlo Scarpa.
Duomo
Not as impressive as Florence's but Verona's 12th-century cathedral is a striking Romanesque creation, with bug-eyed statues of Charlemagne's paladins Roland and Oliver, crafted by medieval master Nicolò, on the west porch.
Roman Arena
Built of pink-tinged marble in the 1st century AD, Verona's Roman amphitheatre survived a 12th-century earthquake to become the city's legendary open-air opera house, with seating for 30,000 people.

Casa di Giulietta
Never mind that Romeo and Juliet were completely fictional characters and that there's hardly room for two on the narrow stone balcony: romantics flock to this 14th-century house to add their lovelorn pleas to the famous wall.


Teatro Romano e Museo Archeologico
Just north of the historic centre, you'll find a Roman theatre. Built-in the 1st century BC, it is cunningly carved into the hillside at a strategic spot overlooking a bend in the river. Take the lift at the back of the museum for incredible views of the city.

Arche Scaligere
Walkthrough the archway at the far end of Piazza dei Signori to these ornate Gothic funerary monuments, the elaborate tombs of the Della Scala family, in front of the little Santa Maria Antica church.

Piazza dei Signori
Verona's beautiful open-air salon is ringed by a series of elegant Renaissance palazzi. Chief among these are the Palazzo degli Scaligeri (aka Palazzo Podestà), the 14th-century residence of Cangrande.

Piazza delle Erbe
Originally a Roman forum, Piazza delle Erbe is ringed with buzzing cafes and some of Verona's most sumptuous buildings, including the elegantly baroque Palazzo Maffei, which now houses several shops at its northern.
Palazzo Maffei
Flanking the northern end of vibrant Piazza delle Erbe is Palazzo Maffei, an elegantly baroque creation now home to numerous offices and businesses.
WHERE TO EAT IN VERONA
Pintxos Bistrot – MODERN ITALIAN
Very good food with a mix of sushis, pasta and Spain-Basque coast pintxos. Creative platters and fresh fish with a good service.
La Taverna di Via Stella – VENETO
Real Italian fresh food – superb dining at his best. Delicious food with a great choice of wines and the staff are very knowledgeable.
La Costa in Bra – TRATTORIA
Cheap and cheerful pizzeria serving all italian food, and European. Situated in the arena square, good place to people-watch.
Terrazza Bar Al Ponte – CAFE
Wonderful cafe situated just off the main street which has an open balcony area looking over to San Pietro Castel. Drinks, snacks and food available.
Cappa Café – CAFE + TRATTORIA
Gorgeous little cafe next to the river serving drinks, snacks and food. Nice place to grab a seat and chill out.
Ostinati – OSTERIA
Just a short walk from the Arena and well worth it. We dined here on our first evening and it was just what we needed, good wine, good pizza and good vibes. We ate here again for lunch one day as it was great.
Gelateria Ponte Pietra – GELATO
Nothing else needs to be said here than: AMAZING ICE CREAM.
Re Teodorico Food & Garden – TRATTORIA
A small walk from the main city, located in the hill that San Pietro Castel sits with incredible views across the city.
I would highly recommend a visit to Verona if you have a weekend coming up. Book that flight now using Skyscanner or download the app here.
BOOK TRAVEL INSURANCE BEFORE YOU FLY

Picking travel insurance that covers you in all eventualities is an essential part of planning a trip for every single person. If you can't afford travel insurance, you can't afford to travel. You never know what's around the corner. World Nomads is an affordable option that I personally recommend.BOOK HERE
---
My Travel Tips and Recommendations
Flights
To book flights, I always use flight search engine, Skyscanner, I regularly use the Everywhere tool to find the cheapest places to travel. It's how I get to travel so much all around the world. I find it the easiest way to compare flight prices across airlines and get the best deals.
Accommodation
For accommodation, I usually book most of my hotels or hostels through Booking.com. I love using this platform as it provides me with some amazing deals for accommodation all around the world. Or if you prefer, I also recommend using Airbnb. If you haven't signed up with Airbnb already, you can use this link to get £25 off your first visit!
Photography and Technology
Here is a list of the technology I always travel with:
Travel Insurance
Picking travel insurance that covers you in all eventualities is an essential part of planning a trip for every single person. If you can't afford travel insurance, you can't afford to travel. You never know what's around the corner. World Nomads is an affordable option that I personally recommend. BOOK HERE
Other posts that may help you:
Ultimate Guide to one week in Bali Itinerary
Visit Lisbon: 9 Day Trips from Lisbon
Berlin City Break: How to spend a Weekend in Berlin Germany
The Best City Breaks for Couples
10 of the Best places to eat Brunch in London
Sign up to AirBnB with this link and receive a £23 off your first booking.
To receive my articles and reviews straight to your inbox SUBSCRIBE HERE.
Did you know I also vlog my trips? Make sure you subscribe to my YouTube channel so you get alerted when all my travel videos goes live… CHECK THEM OUT HERE
Thank you for reading and as always happy adventuring! If you have any questions about the destination please leave these in the comments below.
If you've enjoyed this post, please share it for me with all your friends and family!
Sophie X