I have loved writing more blog posts recently about lesser known cities and this month's city of choice is Ghent in Belgium. I visited Ghent a few years ago, on a Christmas market trip to the city. But I never wrote about my trip. But with the increase in tourists taking weekend breaks all year round to cities they might not have visited before I wanted to share my experiences of visiting this gorgeous city.
Ghent is a city in the Flanders region of Belgium and is one of the oldest and historic towns. It is the second-largest city after Antwerpen. Ghent is an alternative city to Burges, their more famous cousin, but offers everything Bruges has to offer on a smaller scale.
Ghent, much like Bruges, is steeped in history and used to be a prominent city-state during the Middle Ages, due to it's proximity to the water and shipping routes. This city of Ghent is a university town today, but lots of cultural activity, museums and medieval architecture such as 12th-century Gravensteen castle.
Despite being one of Belgium's oldest cities, the town of Ghent is cosy, with small streets, and markets in town squares, but also offers tourists a wealth of historical architecture, as well as becoming an urban and hip city.
Combining the traditional with the modern has become Ghent's strong suit, and it is now visited for it's art, music and amazing cuisine. When booking a trip to spend two days in Ghent, you should have a schedule that will be your guide.
Before the departure of your journey for two days in Ghent, use this guide to plan your short time visiting this magical city. And remember, there's lots of fun activities to do in Ghent during two days in the city. It is also important to plan according to the period of your stay so that you can cover the majority of the areas that you plan on visiting.
Here is my ultimate Ghent Belgium Itinerary….
Top 10 Things to do in Ghent Belgium
St Michael's Bridge
Drop by Granslei & Korenlei
Walk by Patershol
Day trip to Bruges
Shop at the Vrijdagmarkt
Attend the Ghent Festivities
Visit the Mystic Lamb
Canal Cruise
Eat cultural dishes
Climb the Belfry

Ghent Belgium Itinerary
How to get to Ghent
From the UK Ghent is only an hour flight away from most London airports. And flights are generally really cheap too! Or if you fancy getting on the Eurostar you could travel from London St Pancras to Brussels and then Ghent is an easy 45-minute train ride from Brussels, with tickets costing around £5.
When is the best time to visit Ghent
The best time for a two day itinerary Ghent can be during the summer period that is between May and September because of the varying temperatures during the year; additionally you can have a day trip to Bruges. Before planning your two days in Ghent, consider your accommodation.
Where to stay in Ghent
Accommodation is an essential factor that you should consider when creating a two day itinerary Ghent. The Ghent Belgium itinerary must include the season that you want, the low or the high season because of the variation in housing prices. Additionally, there are high-end hotels and middle-class Airbnb houses that are affordable; thus, it all depends on your budget and the location that you love since prices fluctuate anytime.
Additionally, when you are taking a day trip to Bruges, you can do a research on where the reasonably priced accommodation is depending on your budget, this can be added into the Two Day Itinerary Ghent when exploring the location. This is one consideration you should have when creating a Belgium Itinerary.
Ghent Belgium Itinerary
How to spend two days in Ghent
The Ghent Belgium Itinerary begins in Ghent, considering you have only two days in Ghent; this can be your first stop. Ghent is an old historic city with buildings that are dated as late as 1100. They create beautiful scenery for the town which makes it a leading tourism site. One of the historic places is the Gravensteen, which is also known as the 'Castle of the Counts' in Dutch that is a site to die for and should be included in the two itinerary Ghent. It is dated 1180, and it is an Arms and Judicial object museum.
They house artefacts like weapons that were used during the warfare in the medieval period. The castle has a rooftop that gives you 360 degrees' visuals of the city, which is breathtaking with views such as the Medieval towers of Ghent. A day trip to Ghent while encountering such museums enlightens you about the Belgium History.
Two Days in Ghent Belgium
St Michael's Bridge
When you are taking a day trip to Ghent, include the St Micheal's Bridge to your Two day Itinerary Ghent. The scenic view of the Korenmarkt that is the Wheat Market and the surrounding designs is to die for. The location of the bridge and its angle allows you to view the Medieval Towers of Ghent- St Nicholas' Church, the Belfry of Ghent and St Bavo's Cathedral. The sites can be good backgrounds for photography during your two day itinerary in Ghent.
Two Days in Ghent Belgium
Drop by Granslei & Korenlei
The Belgium Itinerary should not miss a stop at this appealing place in the city. The day trip to Ghent entails fun; thus, the walk by the Granslei and Korenlei is key. It is located at Leie river, where there is a long stretch that is suitable for walks and drives. Antiquated buildings that are right next to the bank enhance the beauty of the area. The Granslei which is Grass Quay is located on the right bank while the Korenlei; Corn Quay is located on the left side.
Two Days in Ghent Belgium
Walk by Patershol
When you are in Ghent for two days, Patershol should be on your day trip to Ghent. It is vital as it is a picturesque neighbourhood that hosts restaurants and retail stores. The middle-aged street patterns, 16th-century houses, and different arts create a subtle ambience for the place thus making it favourable for evening and day walks. On your one day in Ghent, visit the traditional candy outlets for a taste of sugary and tasteful sweets. Additionally, the area is surrounded by ancient artist ateliers that have beautiful murals that you might purchase. Furthermore, you can add this destination to the Belgium itinerary during your two days in Ghent.

Two Days in Ghent Belgium
Day trip to Bruges
Bruges is the capital city of the West Flanders in the North-west region of Belgium. As you plan to ensure to add this day to the Two Day Itinerary Ghent. Excluding a day trip to Bruges is important due to the proximity it has from Ghent. Getting to Ghent or Bruges is a thirty-minute train drive from either city. There is a Brussels to Ghent train that still goes to Bruges; thus, you can commute anytime. Bruges has the best beer discoveries where there are underground pipelines at the De Halve Maan brewery, the Belfry and Rose Hat Quai and Boat rides along the canals are some of the interesting activities that are inclusive in your two days in Ghent, and they can be fulfilled during your day trip to Bruges.
Two Days in Ghent Belgium
Shop at the Vrijdagmarkt
When creating the Two Day Itinerary Ghent, you can include shopping in the schedule. It is significant in your two days in Ghent visit where you get to taste different delicacies in the market. This is the Friday Market, which has existed since the 12th century. Belgium, most specifically Ghent, is popular with horticulture farming; therefore, they host a flower Market on Sunday. However, on this day, they host different delicacies in the food restaurants and beers in the Belgian pubs. It is pivotal to Ghent's History as it hosted Ceremonies such as the Joyous Entries and Publica, where royalties were received.
Two Days in Ghent Belgium
Attend the Ghent Festivities
When scheduling your Two Day Itinerary Ghent, check the seasons. Annually Ghent hosts several festivities around July. There is a ten-day Ghent festivity in the city centre where the whole city comes alive through music, dancing, and live jazz music. There are a variety of activities such as the Flanders Ghent Festival, Film festival, Ghent light festival, and Ghent Smakt, which take place on different months' of the year. Placing this to your two days in Ghent itinerary will make you love the vacation.

Two Days in Ghent Belgium
Visit the Mystic Lamb
The Ghent Belgium Itinerary should include this visit where you get to see the Adoration of the Mystic Lamb. Everyone who has a Two Day Itinerary in Ghent must visit the famous sculpture, at least when they have one day in Ghent. This is one of the ancient paintings that date back to the early 15th century. The mural has a fascinating detail that makes it exquisite. The great Altarpiece is on the display of the St Bavo's Cathedral.
Two Days in Ghent Belgium
Canal Cruise
During your two days in Ghent, take canal trips across the city; the scenery is priceless that one should never miss. As you ride through the river, you get to learn more about the city. The boat ride departs at the Granslei Castle, where the history learning begins. Canals cruise can be taken in Ghent or Bruges; additionally, you can have one day in Ghent or Bruges the next day.
Two Days in Ghent Belgium
Eat cultural dishes
During the one day in Ghent, you must try out the waterzooi, which is a local Flemish dish that is a traditional stew that is one of the Belgian Cuisine that originates in the Ghent. Your stay at Ghent for two days should also entail indulging in the Belgian Frites and the Waffles. As popular as the Belgian chocolates are global, you should get taste some of it if you are a chocolate lover. When indulging in the food, you can accompany it with the Belgian beer, which has an alcoholic content of 5-12% that definitely will take a toll of you instantly. However, despite the alcohol content, during your two days in Ghent, their local beer tour might interest you where you get to participate in a two-and-a-half-hour beer tasting.

Two Days in Ghent Belgium
Climb the Belfry
When creating the two day itinerary Ghent, add the Belfry. This is one of the ancient buildings in Ghent that should be included on your day trip to Ghent. The vicinity of the St Nicholas church, St Bavo's church, is totally fascinating. The site is suitable for photography especially if the weather is right.
Two Days in Ghent Belgium
Brussels to Ghent train
The Belgium itinerary must include the Brussels to Ghent train ride when you are in Ghent for two days. The two cities are located thirty minutes apart, that is, if you use the train from Ghent or Bruges. This mode of locomotion is convenient as it works the whole day. The Brussels to Ghent train eases the mode of transport in the cities. The train also commutes directly from Brussels or Ghent or Bruges, depending on your choice of destination during your one day in Ghent.
Ghent Belgium Itinerary
Where to eat in Ghent
Carte Blanche in Ghent
Holy Food Market in Ghent
Brasserie Pakhuis in Ghent
Balls & Glory in Ghent
't Oud Clooster in Ghent
Comida (by Palenque) in Ghent
Panda in Ghent
Pizza Gülhan in Ghent
Amadeus in Ghent
Brooderie Jaffa in Ghent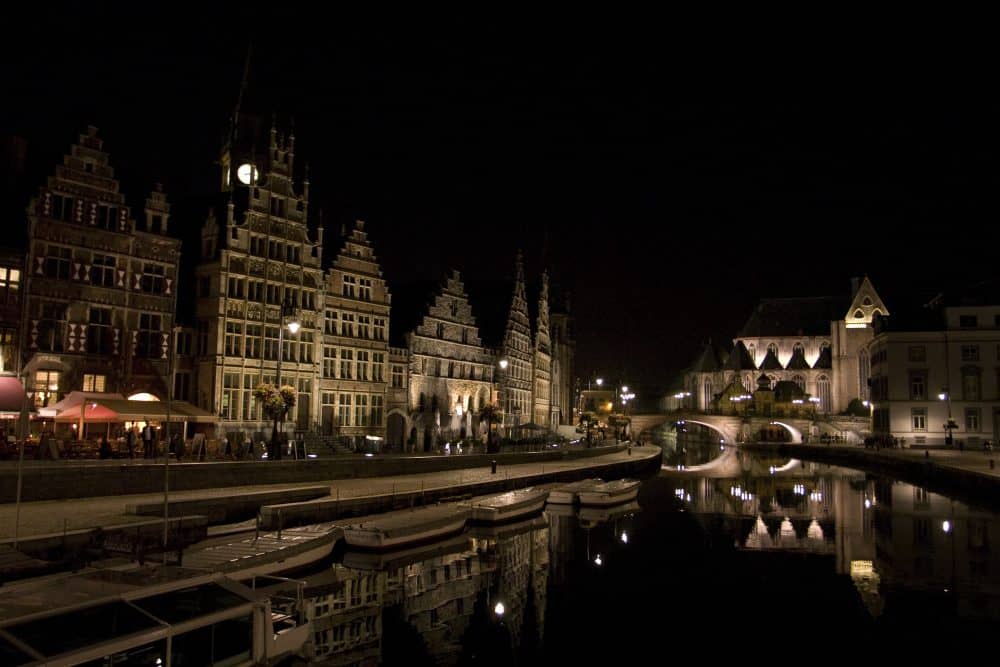 Did you enjoy my guide to two days in Ghent? I had the best time visiting this lesser known city last year and I am so glad I can share with guide to visiting Ghent Belgium with you.
This Ghent Belgium Itinerary includes a lot of touring, where one can never miss out. From visiting museums, medieval buildings, boat rides, shopping, trying new cuisines and using the Brussels to Ghent train can totally make you extend your stay in Bruges or Ghent. Staying in Ghent for two days enables one to appreciate nature and become more keen on environment conservation such as the canals in Ghent or Bruges. The two-day itinerary Ghent is one of the fantastic destinations to visit.
Other posts that may help you:
The Best City Breaks for Couples
Beginner's Guide to Europe Interrail Routes
Copenhagen Chic at the Andersen Hotel
Best Vegan Restaurants in Malmo
Ultimate Guide to a Weekend Break in York
10 of the Best places to eat Brunch in London
The Best Weekend Trips in the UK
Sign up to AirBnB with this link and receive a £23 off your first booking.
To receive my articles and reviews straight to your inbox SUBSCRIBE HERE.
Did you know I also vlog my trips? Make sure you subscribe to my YouTube channel so you get alerted when all my travel videos goes live… CHECK THEM OUT HERE
Thank you for reading and as always happy adventuring!
If you've enjoyed this post, please share it for me with all your friends and family!
Sophie X
Photo credits: from Pixabay