Of all the most Instagramable travel locations you can get to, Norway has to be one of the few hidden gems there still is. A land of stunning landscapes, cutting edge cultural venues and bustling cities, it can offer the whole package, whether you're seeking an abundance of natural wilds, picturesque village or high adventure.
Either immerse yourself in the buzzing culture of Oslo or lose yourself in snow-capped mountains, incredible hot springs or dramatic gorges – this is a landscape that takes no prisoners. Better known as the Land of The Midnight Sun, Norway has never ending days at certain points in the calendar where the sun never sets and if you're lucky enough to catch them, the Northern Lights will keep you glued to the skies with the most spectacular light show you'll ever see.
With great quality accommodation, fine dining, no shortage of adventure sports and landscapes to take your breath away, Norway could be just the destination you've been dreaming of. Knowing where to start is the hard part when there is just so much to see.
Top 10 reasons why visit Norway
The happiest country in the world
Visit a town more than 1000 years old
Churches you've never seen before
Visit the Lofoten Islands In Norway
Feel like standing on top of the world at Trolltunga
Go skiing all year round in Norway!
Witness the magnificent Aurora borealis
Stand in the "air" on Kjeragbolten
Visit the capital Oslo
You can meet real polar bears
How to get to Norway
Travelling to Norway has never been easier. No matter time of year, there are several travel options for you to choose from, with both international and domestic services available. There are direct flights to Norway from several cities around the world, and from numerous places in Europe, you also have the option of travelling by boat, train, bus, or even by car.
Oslo Airport, the main airport and hub for international traffic, has scheduled flights to and from more than 100 destinations. From the United Kingdom there are direct services to Oslo Airport from Manchester, Aberdeen, Edinburgh, London Heathrow, London Stansted and London Gatwick. However, be prepared to change planes at some point, in order to reach your final destination in Norway. Other airports with international flights can be found near the cities of Bergen, Kristiansand, Sandefjord, Stavanger, Tromsø, and Trondheim. Flights from London to Oslo, Norway: 2 hours 5 minutes. Flights from Manchester to Oslo, Norway: 2 hours. Flights from Birmingham to Oslo, Norway: 3 hours 40 minutes.
Or if you fancy taking a slower option there is also a ferry from Dover to Calais with DFDS which sails 10 times a day, takes 90 minutes and is an open ticket. Then, from there you drive up through Germany and Denmark to Hirtshals in northern Denmark.
When to travel to Norway
The best time to visit Norway is during the shoulder seasons, in spring (between May and June), and fall (between September and October), when the weather is amazing and there aren't that many tourists. The high season to visit Norway is between mid-June and August. July is the hottest month in Oslo with an average temperature of 64°F (18°C) and the coldest is January at 27°F (-3°C) with the most daily sunshine hours at 8 in June. The wettest month is August with an average of 90mm of rain. In winter, the months from October to March are the best time to see the Northern Lights in Norway, as there are more hours of darkness.
Where to stay in Norway
Top unique places to stay in Norway
Fishermen's huts
Cosy cabins
A mountain lodge
Scandi-style hotels
Pods to spot the Northern Lights
Basecamp in Svalbard
Radisson Blu Polar Hotel, Spitsbergen
Svinøya Rorbuer
Fishermens

Huts – BOOK HERE

Northern Norway's coast is dotted with pretty, restored rorbu, or fishermen's cabins. Looking out to sea, these charming huts are steeped in Norway's fishing tradition – they were where hardened fishermen rested between trips out to sea in winter to catch Arctic cod. But don't worry, you won't be roughing it at Svinøya Rorbuer, where 33 traditional and more modern cabins overlook Svolvær harbour, on the island of Austvågøya in the Lofoten archipelago. These retreats have up to three double bedrooms, look out to sea and are backed by mountains, but they are also within walking distance of the restaurants and art galleries of the town.
Maribell Sjøbuer in Kvaløyvågen – BOOK HERE
If fishing is your idea of heaven, head to Maribell Sjøbuer in Kvaløyvågen, just 30 minutes by car from Tromsø. Here, four well-equipped holiday homes, right on the water's edge with their own pontoon, are available to rent, as well as rental boats in different sizes and fishing trips with guides. Maribell sea bows can be found in scenic surroundings in Kvaløyvågen a short distance on the "outer surface" of Tromsø town. Here we offer for rent four modern and content-rich sea houses right down to the seafront. All the houses have an apartment with a living room, kitchen, bathroom and several bedrooms. There is plenty of patio, table and chairs and a barbecue hut for everyone to use. We have rental boats of various sizes and also offer boat trips or fishing trips with a guide. Kvaløyvågen is a great starting point for walks in forests, in the shoreline and in the mountains, hunting, fishing in mountain lakes and other activities.
Scandic Grand in Tromsø – BOOK HERE
At this wonderful hotel you can also join a whale safari, a fjord cruise, visit the Arctic Cathedral and go to the Polar Park to see wolves, brown bears, lynx, arctic foxes, elks, reindeer and other polar animals. You stay in the city centre here with the airport shuttle bus on your doorstep. An ideal base for all the adventures Tromso has to offer. Some evening dancing at Gründer by night tops off a sensational day. The comfortable hotel is centrally located in Tromso, a town surrounded by mountains, fjords and islands with a lot of culture and history to offer. The town is the starting point to go on northern light hunts, whale watching, fishing trips, cycling and much more. Don't miss a visit to the beautiful Arctic-Alpine Botanical Garden, the Polar Museum or a trip to the Kvaloya Island and Tromso Lapland.
Scandic Honningsvag – BOOK HERE
You can get really get close to nature, stay at the Scandic Honningsvag and you can join a convoy to the North Cape plateau in mid-winter – a spectacular journey that you will never forget in one of the most beautiful and wildest places on Earth. Stay in the centre, right by the quayside where the Hurtigruten ferry docks. Experience the spectacular nature, the world-famous North Cape and idyllic Honningsvag. The hotel is a perfect base to explore the destination and enjoy activities for young and old alike. Scandic Honningsvåg is a seasonal hotel, and is closed between medio September and medio May. Scandic Bryggen, a charming boutique hotel with 42 rooms, located by the Honningsvåg port is open for reservations all year.
Green Gold of Norway – BOOK HERE
Overlooking a fjord in the Lyngen Alps, right up in the north, this elegant lemon-yellow clapboard house welcomes guests on the hunt for the Northern Lights – or the midnight sun during summer. And if you really want an unusual experience, book to stay in one of the Crystal Lavvos; these cosy wooden huts are centred around a wood-burning stove and have glass ceilings, so that even as you bed down in the hotel-standard linen, you can keep one eye open to spot the aurora borealis.
Radisson Blu Polar Hotel in Spitsbergen – BOOK HERE
This is the world's northernmost full-service hotel in the heart of Longyearbyen, where you can enjoy panoramic views of snowy peaks and glaciers while savouring dishes from the excellent Arctic menu in the hotel's Restaurant Nansen designed by Polish architect Krystjan Dolatowski.Panoramic views: the Radisson Blu Polar Hotel CREDIT: SPITSBERGEN HOTEL / SHUTTERBIRD PRODUCTIONS
The 95-room hotel boasts a fantastic location with views across the Adventdalen, Hiorthfjellet and Adventfjorden mountains and is perfectly placed for activities such as skiing, snowmobile trips, kayaking, hiking and dog sledding.
Things to do in Norway
See The Country By Train
It may not be the first thing that springs to mind but crossing Norway by train is actually a brilliant way to see more of it's landscape of unparalleled beauty. The train service within the country is very clean and easy to use, and is in fact one of the best ways to do a multi-stop trip. You could opt to travel the Bergen Railway – this route takes in some incredible scenery such as the Hardangervidda Plateau that will take your breath away. Or you could plan a two-centre stay, hopping between your destinations with a leisurely train journey. Plan a three or five night stay taking in the culture of Oslo before a rail crossing to Trondheim where you can visit the Kristiansen Fortress, Nidaros Cathedral or try your hand at kayaking at Nidelva.
Become a local at the Fisherman's Cabins
Another collection of islands off the northern coast of Norway is the Lofoten Archipelago. These islands are considered to be among the most scenic spots in the country, but some of their most popular attractions are actually man made. Be sure not to miss the traditional red fishermen's cabins built right along the coastline. Some are built on stilts and called rorbu, and a few are even available to tour or stay in overnight. Not only are these cabins historic and beautiful, they are often located on remote, secluded and breathtaking beaches.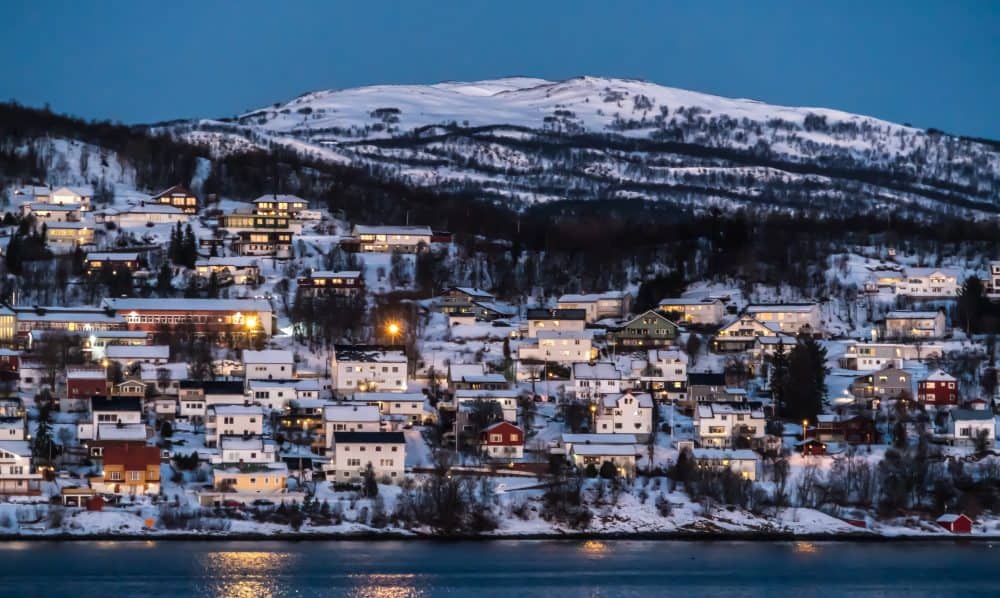 Get Wild At The Geirangerfjord
If you really want to get back to nature, then you won't find many landscapes more wild and spectacular than that of the Geirangerfjord region. A UNESCO World Heritage site, it's unspoilt natural beauty is simply breathtaking. Part of the Fjord Norway Network and stretching across many miles, it's crowning jewel is Alesund at the northernmost tip, which is known for its stunning icy scenery. If you want to set yourself a serious challenge, consider scaling the Dalsnibba summit which rises to 4,905 feet – only to be attempted by the fit! There are also a number of hiking tours around the area which will reward your effort with miles of completely unblemished landscape.
Visit The Arctic Circle
Lots of people aren't aware that a large portion of Norway is located within the Arctic Circle, so you can tread in the snowy footsteps of some legendary explorers. Go in search of the Northern Lights and if you do manage to see them you'll have the experience of a lifetime. These amazing natural illuminations have been capturing the imaginations of people since the dawn of time. Although we now understand more about the science of the Northern Lights, there are still certain mystery elements, such as why they are more active around the equinoxes. Travel by snowmobile into the rural depths of the Norwegian countryside, where specially built lodges let you relax, drink hot chocolate and toast some marshmallows as you're entertained with some local folklore whilst waiting for the lights to make an appearance. Late September to March is the best time of year to book to maximise your chances of seeing the multicoloured natural phenomena.
Get Your Ski On In The Lyngen Alps
No matter whether you're an experienced hand on the black runs or a nervous first time skier, Norway can offer you the winter adventure experience you want. Plan to spend some of your stay in the Lyngen Alps within the Arctic Circle and you'll find yourself at a mountain range which spans an impressive 90 kilometres, all the way to the Swedish border. With soaring peaks, deep gorges, snow-capped glaciers and scenic rivers and fjords, there are plenty of ski runs for every ability level, as well as activities like dog sledding, rock climbing and snow safaris. Skiing fans from all over the world flock to these pristine slopes, with the peak season in March and April. With all that activity, you have a free pass to indulge and refuel, as many of the region's farmers produce amazing artisan cheeses and meats which are used in the many restaurants around the resort.
Whether you're a frequent social media poster or a serious photographer, Norway boasts a staggering array of spectacular photo opportunities. Kjeragbolten, for instance, is an iconic boulder caught between two cliffs that you have to see to believe. At Pulpit Rock, you can take a selfie on a sheer cliff face that overlooks pristine blue water. At Trolltunga, snap a pic of the rocky outcropping perched hundreds of feet above a river. Each of these photo opportunities is unique, and there are dozens more than you can capture on film while in Norway.
Photo credit: Pexels