Many travellers may come to Siem Reap Cambodia solely to visit the temples of Angkor Wat, one of the most popular Siem Reap Attractions in Southeast Asia, and possibly one of the most magical. And whilst Angkor Wat is amazing, there are many other interesting things to do in Siem Reap.
Cambodia has long been an iconic Southeast Asia tourist destination. Mostly famous for their complex and challenged history, set against the most incredible temple complex of Angkor Wat. You can also find the stunning Tonle Sap Lake, where you feel very calm from the moment you arrive.
It's still fairly cheap to travel Cambodia, especially compared to their slightly more popular neighbours, Thailand and Vietnam. You can stay at hotels for $10 a night, eat street food for $2 and visit temples for free.
Visiting Angkor Wat is top of any travellers bucket list when in Cambodia. Angkor Wat is the largest religious monument in the world and was originally constructed as a Hindu temple for the Khmer Empire, gradually transforming into a Buddhist temple toward the end of the 12th century. In Khmer, Angkor Wat simply means City of Temples which basically explains the entirety of Angkor Wat from the entrance to the exit.
Originally constructed as a Hindu temple dedicated to the god Vishnu for the Khmer Empire, it was gradually transformed into a Buddhist temple towards the end of the 12th century. The area was also the centre of the Khmer empire that once ruled most of Southeast Asia but since the ruling of the Khmer the temples the buildings have become overrun by the jungle and are now Cambodia's most visited tourist attraction.
Every years over a million tourists visit the wonderful Cambodian town of Siem Reap, making it the fastest growing place in Cambodia outside of Phnom Penh, the capital city of Cambodia.
Here are my top things you must do in Siem Reap….
Visiting Siem Reap Cambodia
Top 7 Siem Reap Attractions
Angkor Wat
Kampong Phluk
Land Mine Museum
Angkor National Museum
Prek Toal Bird Sanctuary
Wat Thmei
Balloon Ride Over Angkor Wat
Visiting Siem Reap Cambodia
Angkor Wat
Four miles north of Siem Reap is Angkor Wat and despite so many other things to do in Siem Reap, the UNESCO World Heritage Site of Angkor Wat is still the primary draw for tourists. The temples, which not to be mistaken as one temple, were constructed in the 12th century by the Khmer people.
There are scores of temples, some restored and some still overgrown with jungle. The scale of Angkor Wat is overwhelming; a three-day pass (US $40) is necessary to enjoy even a fraction of the carved reliefs and ruins away from the main temple site.
Kampong Phluk
Only a handful of tourists make the 13 mile journey from Siem Reap by boat or bus to Kampong Phluk, which has helped the village retain much of its authenticity.
Kampong Phluk is a small fishing village constructed on stilts in the swamps around Tonle Sap Lake, the largest and most stunning lake in Cambodia. This is the place to go to see daily Khmer life away from the influence of heavy tourism.
Land Mine Museum
Since the Khmer Rouge in 1975 and the Vietnamese occupation in 1979, Cambodia has struggled to get life back to normal through their war-torn past and Siem Reap did not begin to stabilize even for tourists to visit until the 1990s.
However a devastating effect of the Khmer Rouge is the millions of land mines and unexploded objects left behind by decades of conflict. There are many legless beggars in the town who are a living testament to how dangerous these artefacts still are in the present day. Although devastating, the Land Mine Museum is a real piece of Cambodia away from the tourism glam.
Angkor National Museum
Visiting the Angkor National Museum before Angkor Wat will give you an insight into the history of the Khmer civilization and will enhance your visit to the temple ruins so make sure you do the two hour walk through the museum beforehand.
The museum houses thousands of artefacts recovered from Angkor Wat and the surrounding areas in an impressive building. This museum well worth the US $12 entrance.
Prek Toal Bird Sanctuary
The Prek Toal Bird Sanctuary has become one of the most important breeding grounds for endangered water birds in Southeast Asia. Located in the marshes of Tonle Sap Lake, one of the most beautiful lakes in Southeast Asia, this bird sanctuary provides a chance to tour by boat and see rare birds outside of captivity.
Wat Thmei
Siem Reap suffered horribly under the Khmer Rouge, and the area's victims are commemorated today in this monastery. A glass-walled stupa on the premises holds a mass of bones belonging to massacre victims. Like its counterpart Tuol Sleng in Phnom Penh, Wat Thmei provides a stark reminder of the insanity that ruled Cambodia in the 1970s. Wat Thmei can be found about 540 yards west of Angkor Wat.
Balloon Ride Over Angkor Wat
Now I didn't do this but I wish I had! Just west of Angkor Wat, a touring company offers an exciting and different way to appreciate Angkor Wat without fighting the hordes of tourists. Seeing the site from 600 feet in the air gives a new perspective on just how massive the temple complex really is. Balloon rides start at US $35 and prices go up for longer tours.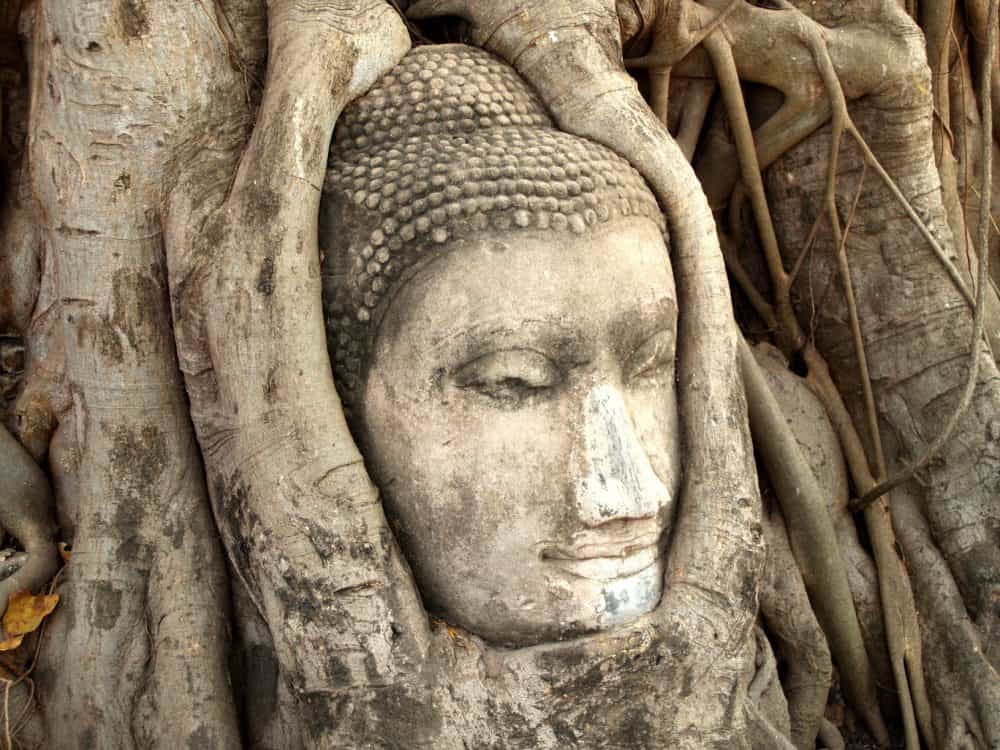 Visiting Siem Reap Cambodia
Where to stay in Siem Reap
Most travellers and backpackers stay in Siem Reap when you are visiting Angkor Wat. My suggested places are:
The Amazing Residence – Avg. price/night: £42
The Khmer House – Secret Oasis – Avg. price/night: £34
The Thirdfold Residence – Avg. price/night: £38
The Night Hotel – Avg. price/night: £46
Secondfold Residence – Avg. price/night: £42
Home Indochine D'angkor – Avg. price/night: £27
Visiting Siem Reap Cambodia
How to Get Around Siem Reap
There are two ways for you to and from Angkor Wat (and around the complex):
Cycling – If you are feeling fresh and fit, cycling around Angkor Wat is a great way to see the temples. You can find rentals for about $2USD/ per day but remember Angkor Wat is pretty big so you may get tired after hours of cycling in the heat.
Tuks-Tuks – We opted for hiring a tuk tuk when were visiting Angkor Wat, and we hired our tuk tuk for two days. They can be found all over Siem Reap and at the entrance to Angkor Wat. Your hostel or hotel should be able to help you find one if you can't and cost $20USD /per day.
What are your favourite things you must do in Siem Reap?
*Photos from Pexels
Other posts that may help you:
Festive Things to do in London at Christmas in December
Ultimate Guide to one week in Bali Itinerary
Visit Lisbon: 9 Day Trips from Lisbon
How to spend 5 days in Switzerland Itinerary: Basel, Zurich and Lucerne
Ultimate Guide to Honeymoon in The Maldives
Berlin City Break: How to spend a Weekend in Berlin Germany
Sign up to AirBnB with this link and receive a £23 off your first booking.
To receive my articles and reviews straight to your inbox SUBSCRIBE HERE.
Did you know I also vlog my trips? Make sure you subscribe to my YouTube channel so you get alerted when all my travel videos goes live… CHECK THEM OUT HERE
Thank you for reading and as always happy adventuring! If you have any questions about the destination please leave these in the comments below.
If you've enjoyed this post, please share it for me with all your friends and family!
Sophie X