This Koh Lipe Thailand travel guide tells you everything you need to know about this beautiful little paradise, from where to stay, eat, drink, snorkel or just relax. There are so many Things to do in Koh Lipe Thailand, so I have pulled together some of my favourites.
A trip to the Thai islands doesn't have to be beer pong and backpackers and is actually a beautiful place to escape at any age.
Of course, the most famous places in Thailand are Phuket, Koh Phi Phi or Koh Phangan, but head off the trail and you will find the amazing laidback island of Koh Lipe Thailand.
Known for being Thailand's southernmost island, Koh Lipe is an amazing place to come and relax. With clear waters and less developed than other islands, its the perfect retreat.
Keeping reading for everything you need to know about Koh Lipe Thailand…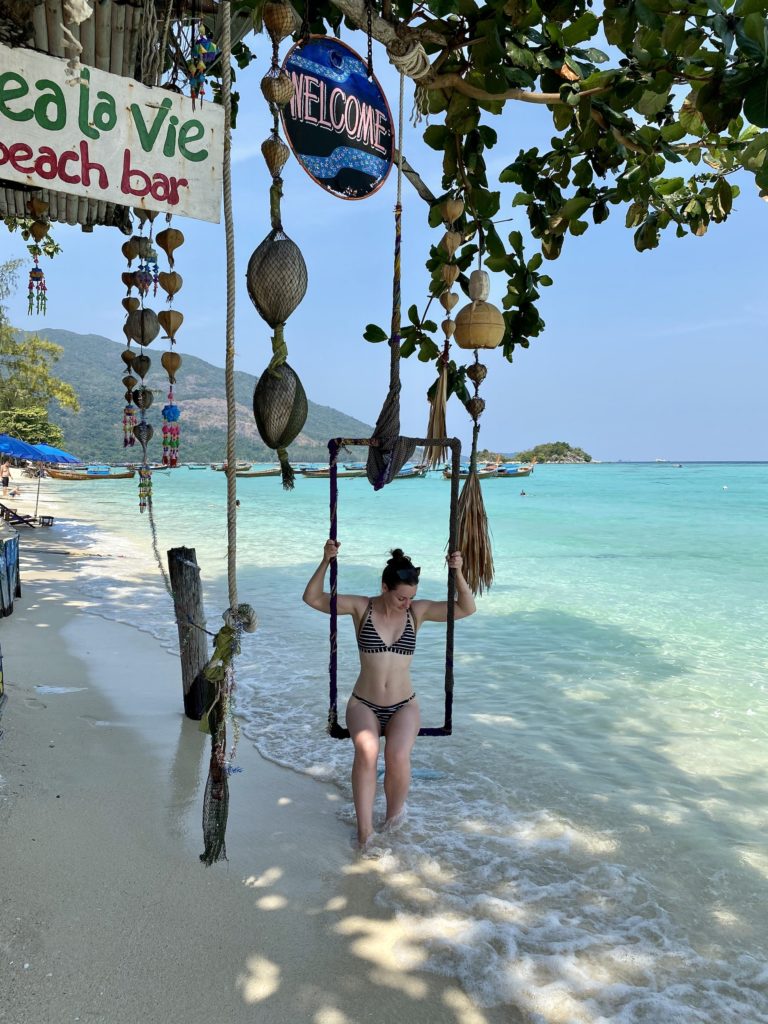 Koh Lipe Thailand // Island Guide
How to get to Koh Lipe
Koh Lipe is a tiny Thai island, located in southern Thailand's Satun Province near Malaysia's border.
The island is made up of white sand beaches, clear blue sea, tropical sea-life with dreamy diving spots and they have a population fewer than 1,000 people so you'll be sure to enjoy a relaxing stay.
There are so many things to do in Koh Lipe Thailand, including relaxing on the beach, diving, eating and much more.
---
Coronavirus Update: Thailand travel advice
Following a government meeting in Thailand on 26 March 2021, a plan has been announced to open up Thailand to vaccinated travellers without the need for quarantine. The plan will take place in phases. In the first phase, Phuket will lead the way for the reopening of Thailand.
From 1 July 2021, fully vaccinated travellers can visit Phuket without the need to quarantine on arrival. From 1 October 2021, fully vaccinated travellers can visit Chiang Mai, Ko Samui, Krabi, Pattaya, Phang Nga and Phuket without the need to quarantine on arrival. By the end of 2021/start of 2022, Thai authorities say that quarantine should be lifted entirely in all areas of Thailand for vaccinated visitors. The proposed date for this to happen is on or before 1 January, 2022.
*This information is subject to change and I will update this information box as often as possible.
---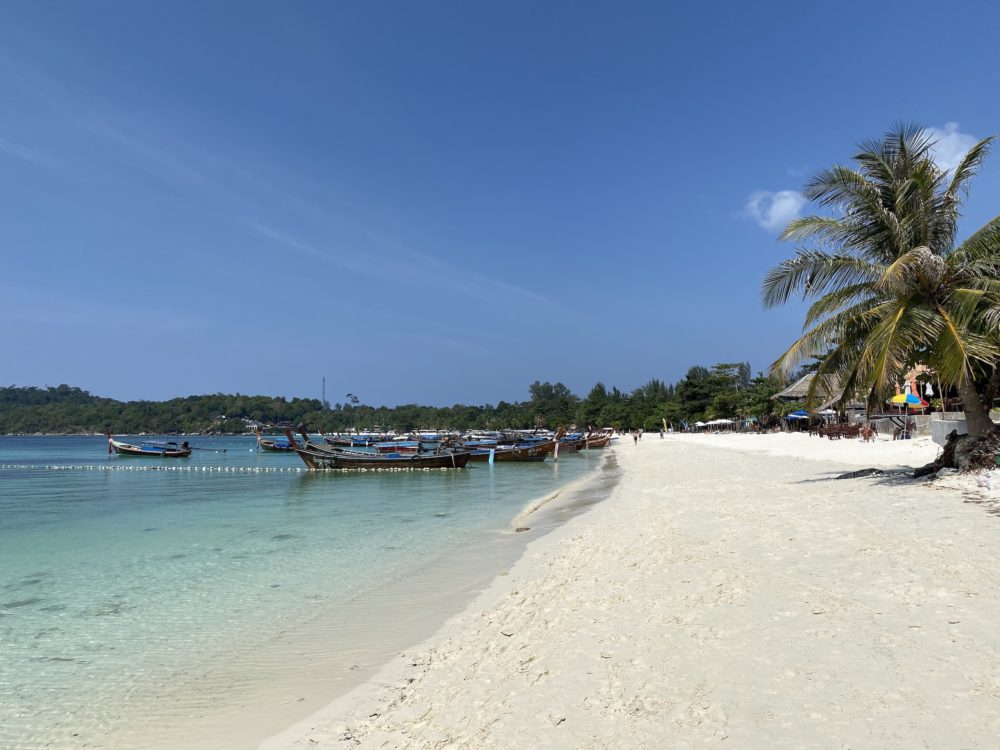 Best Beaches in Koh Lipe Thailand
The island has 3 main beaches: Pattaya Beach, Sunset Beach and Sunrise Beach.
Each beach offers you something a little different during your stay, but don't stress about choosing where to spend your time; the island is so small you can easily walk around the whole island each day.
Pattaya Beach
Pattaya Beach is the first beach you'll experience, as this is where the ferry arrives. You'll spend the first hour in passport control, but it's not so bad queuing with the sun on your face and toes in the sand.
If you're after a bit of island nightlife, then you'll want to stay at Pattaya Beach. This is the most popular beach and you'll have so many restaurants and bars to choose from. It also has the main entrance to Walking Street, with even more restaurants, bars and shops to go to. If you're planning on scuba diving, Pattaya Beach is where the diving boats depart from too.
Sunset Beach
It should go without saying, but Sunset Beach is where you can fall in love with the most beautiful sunsets each evening. Situated in the north of the Island, it gives you all the super peaceful, laidback island vibes. This is the smallest beach of the main three and is the most hidden away. The beach is busiest at happy hour and sunset, but it is definitely quieter at other times and fewer people around.
Sunrise Beach
You've guessed it… here is where you'll see the best sunrise in the early mornings. Sunrise Beach stretches across the entire east side of the island. It is quieter than Pattaya Beach, but you'll still have a good selection of places to stay and restaurants and bars to experience. Some of the best snorkelling spots are on the east side, which you can swim to from Sunrise Beach.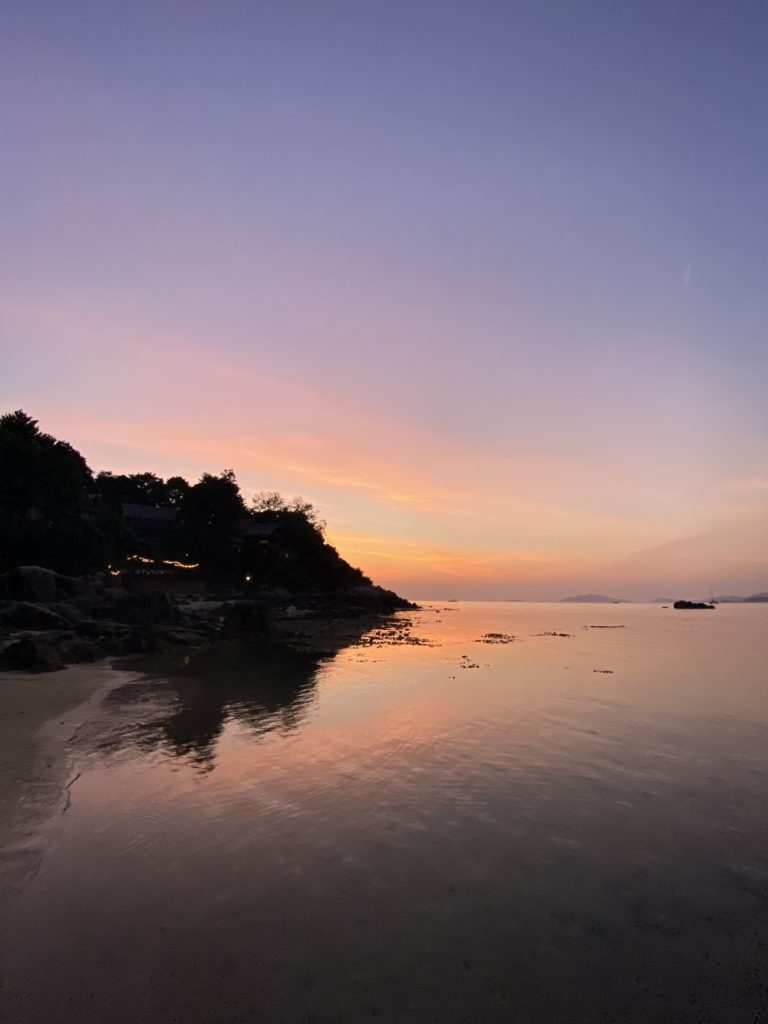 How to get to Koh Lipe Thailand?
The easiest way to get to Koh Lipe from London is probably via Kuala Lumpar to Langkawi. You can hop on a ferry from Kuah Jetty (Langkawi's harbour) and just 90 minutes later you will be arriving in paradise. If you're already travelling around Thailand, the closest airport to Koh Lipe is Hat Yai International Airport, which has flights from Bangkok Airport.
Where to stay in Koh Lipe Thailand
Situated on Sunset beach, this resort is filled with stilted bamboo-thatched bungalows. Bayview Sunset Resort offers aircon rooms and free wifi (both necessities for your accommodation). You'll be amongst the treetops with views of the sea. Wander down the steps to the beach bar and enjoy a few Changs while watching the sunset fire to the sky.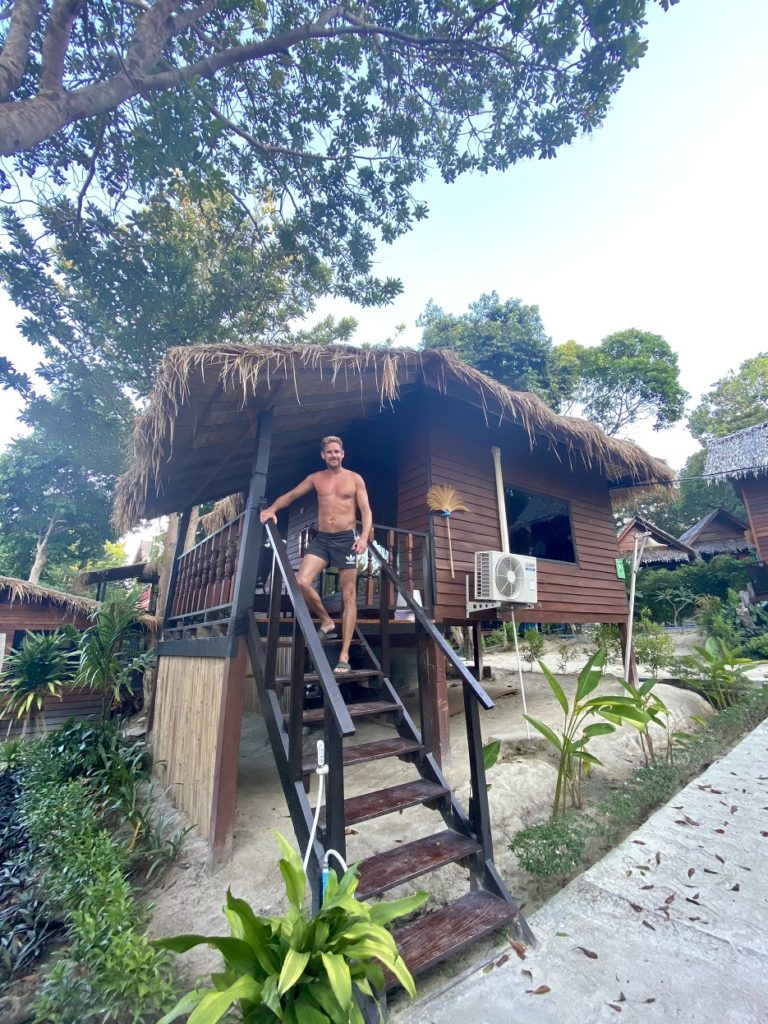 Another place to stay in Sunset Beach is the Sawan Resort. This tranquil resort has a complex of thatched-roof wooden cottages, offering more views of the Andaman Sea. Just a 2-minute walk to the beach, or a 12-minute walk from the pier on Pattaya Beach.
Bu-Nga Resort offers authentic bungalows on Pattaya Beach. It's far enough away from the Walking Street though so you'll still be able to get a quiet night sleep. These rooms also have aircon, free wifi and a fridge with bottled water included.
This resort is situated right on Pattaya beach. They have their own restaurant, although you'll be perfect walking distance to the other restaurants on Pattaya Beach and Walking Street. This resort is great for families: they offer daily housekeeping; a terrace and garden area; laundry service; cots or infant beds and extra rollaway beds.
Stay in one of these casual wooden bungalows on the hillside of Sunrise Beach. Wake up to the sea view from your room and enjoy breakfast in bed. This resort also has its own swimming pool so you can enjoy a secluded swim surrounded by the magnificent nature.
This idyllic resort is on Sunrise Beach, just a 13-minute walk from Pattaya Beach and the Pier. Stay in their upgraded two-story huts just steps away from the beach, and you'll be blessed with a view of the sunrise every morning. You can rent kayak and snorkelling gear from the resort too. Once you've had a day of adventure, come back to the resort for a massage on the beach.
Where to eat + drink in Koh Lipe Thailand
Sea La Vie Bar
This was my favourite bar on the whole island and I enjoyed many Pina Coladas there. The bar was fitted out with hammocks, beanbags, a treehouse cubby hole, seashell chains, dream catchers and beach decor hanging from every surface possible. The staff were so friendly and it was pure heaven to just chill out in.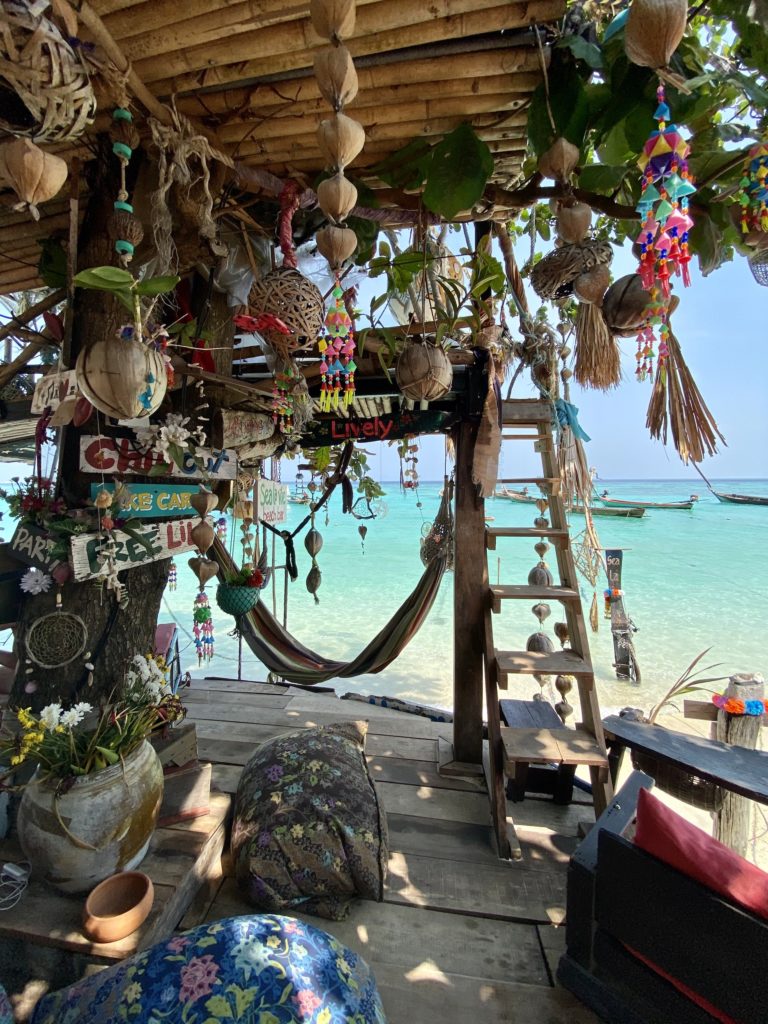 Akrika Lipe Hotel
I recommend the restaurant out front of Akira Lipe Hotel if you want to treat yourself. It is a little more expensive, but you definitely get top quality food and service here. Choose from a huge selection of fresh seafood caught that day from the ocean. They have tables on the beach, right next to the sea, and at night they have lanterns dotted around creating a very romantic setting.
Reggae Bar
After dinner, wander down to the Reggae Bar on Pattaya Beach and enjoy a few drinks on their beach mats on the shorefront. This bar has reggae music playing and fire performers to keep you entertained. It's the perfect relaxing end to your day.
The Steak House
The first restaurant on Walking Street: The Steak House, has a great rooftop bar to grab a few drinks in. It was such an idyllic spot to watch the sun go down as you are right on the beachfront. When I visited, I was treated to the most mesmerising sunset and it has to be my favourite sunset of all time. Yes.. this was the sunset on Pattaya Beach (you don't have to be on Sunset Beach to witness such beauty)
Walking Street
Walking Street is the heart of Koh Lipe Thailand. It is the hustle and bustle of the tiny island, starting from Pattaya beach and its narrow pathway connects you to the other beaches across the island. It is filled with restaurants, bars, shops, massage parlour's and you'll want to stop in every shop as you walk past so be prepared to spend quite a bit of time here… and eat a lot of food (I hope you have a big appetite!)
Just a few places I can recommend: The Heaven Bar; Rak-Lay Restaurant; Madame Yoohoo; Papaya Mom; Tonkow Restaurant; Café Tropical (Healthy & Vegan dishes); Elephant Café (Western dishes).
Diving in Koh Lipe Thailand
Koh Lipe is said to be home to 25% of the worlds tropical fish species, 3 species of turtles, dugongs, sperm whales and the most colourful reefs and rocky formations. So if you visit this little paradise, you absolutely must go diving!
The diving boats depart from Pattaya Beach, so if you're an avid diver, keep this in mind when booking your accommodation. The boats leave early in the morning and you'll be out for at least half the day.
The Dive Shop is a PADI centre, situated at the entrance of Walking Street. They'll take you out diving for the day and provide you with all the equipment you need. They're also stocked with equipment you can also buy yourself – particularly good if you're going to be doing a lot of diving in the future.
If diving isn't quite your thing but you still want to witness the beautiful marine life, there are good snorkelling spots near the island too. You can pick up your snorkelling gear from The Dive Shop.
If you have any questions about Koh Lipe Thailand or you want to recommend more great places on the island, please comment below!
If you on a bigger trip exploring more of Europe check out my guides to France, Germany, Greece, Iceland, Italy, Portugal, Spain and United Kingdom.
---
Author Bio: Hannah is a surrey-based blogger who loves travelling, writing and photographing everything in sight. Although Surrey (UK) is her home hub, her heart longs to explore more wonders of the world. She is passionate about sharing her travel tips in the hope to inspire and motivate you to visit your dream destinations too. Follow her journey on Instagram @thewanderingsurreygirl or find more holiday inspirations via her blog The Wandering Surrey Girl.
---
My Travel Tips and Recommendations
Flights
To book flights, I always use flight search engine Skyscanner, I regularly use the Everywhere tool to find the cheapest places to travel. It's how I get to travel so much all around the world. I find it the easiest way to compare flight prices across airlines and get the best deals.
Accommodation
For accommodation, I usually book most of my hotels or hostels through Booking.com. I love using this platform as it provides me with some amazing deals for accommodation all around the world. Or if you prefer, I also recommend using Airbnb. If you haven't signed up with Airbnb already, you can use this link to get £25 off your first visit!
Travel Insurance
Picking travel insurance that covers you in all eventualities is an essential part of planning a trip for every single person. If you can't afford travel insurance, you can't afford to travel. You never know what's around the corner.
Did you know I also vlog my trips? Make sure you subscribe to my YouTube channel so you get alerted when all my travel videos go live… CHECK THEM OUT HERE
Thank you for reading and as always happy adventuring! If you have any questions about the destination please leave these in the comments below.
If you've enjoyed this post, please share it for me with all your friends and family!
Sophie X