Remember Summer 2020? Lots of us desperate to head to Europe for a summer getaway, but not knowing where we stood with countries getting added and removed from the travel corridor list at the drop of a hat.
My friends and I were just some of these many people eager to have a beach holiday, and when Portugal was added to the travel corridor, we knew we had to get out there and get out there quick before it was removed again.
This part of the world is a wonderful place to visit, as there are so many things to do in Sagres. Keep reading, as below I have listed just a few of the best…
The main holiday spot in Portugal is The Algarve so that's where we wanted to head so that we could enjoy some of the best beaches and the best weather.
Now, when you think of The Algarve what is the first town the comes to mind? I'm going to hazard a guess and say Sagres probably isn't it. Like most, when I think of The Algarve, I think of all the tourist hotspot towns like Albuferia, Lagos and Vilamoura.
Understandably, we wanted to go somewhere that was a litter quieter than the usual hotspots of The Algarve, so this is when our research began. After a few internet searches and recommendations from friends and family, we made the decision to head to Sagres.
Before this moment, I'd always known Sagres as that famous Portuguese beer but never knew it was named after an actual place (shame on me), and an amazing place at that. I am SO glad that we found Sagres as I can honestly say I think it's one of the most magical places I have visited in Europe.
Once thought to be the end of the world (in the ancient world it was the last explored point on earth), Sagres is located on Portugal's most south-westerly point, where nothing but the Atlantic Ocean can be seen for miles.
The views in Sagres have a lot to offer; rugged coastlines and cliffs and beautiful pristine beaches. This place is most famous for its surf and other water sports like windsurfing and paddle-boarding. So, if you are up for adventure and exploration then Sagres will be for you!
Read on to see my top things to do in Sagres. I really hope this post inspires you to book a trip here as it really is worthwhile.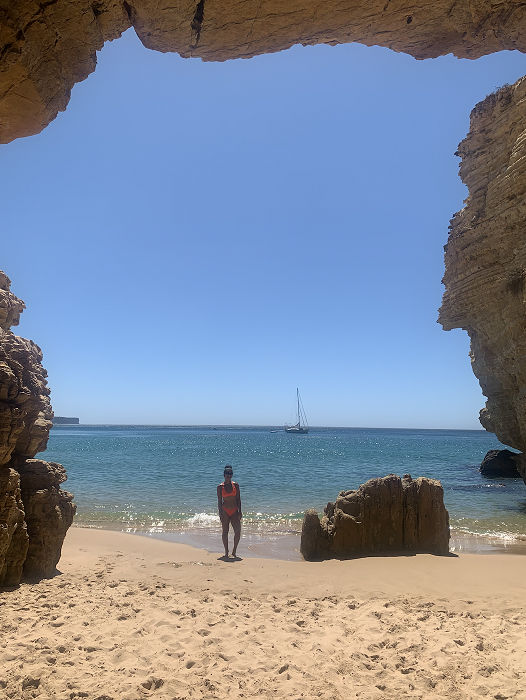 When is the best time to visit Sagres?
If you want to get the best of the sunny weather, it's best to visit during the summer season between May – October. Although, if you are coming during the summer months don't let the warm temperatures fool you.
The ocean is still cold and Sagres can get EXTREMELY windy. Make sure you bring a wetsuit if you want to spend extended time in the water and pack a little jacket for the evening when the wind can cause a chill.
How to get to Sagres
The airport that serves The Algarve is Faro Airport. You can fly into Faro from most British airports, and if you catch it at the right time you can get return flights for as little as £50.
From Faro airport, the journey to Sagres is roughly 90 minutes. An Uber will cost you around €90 and taxi's slightly more.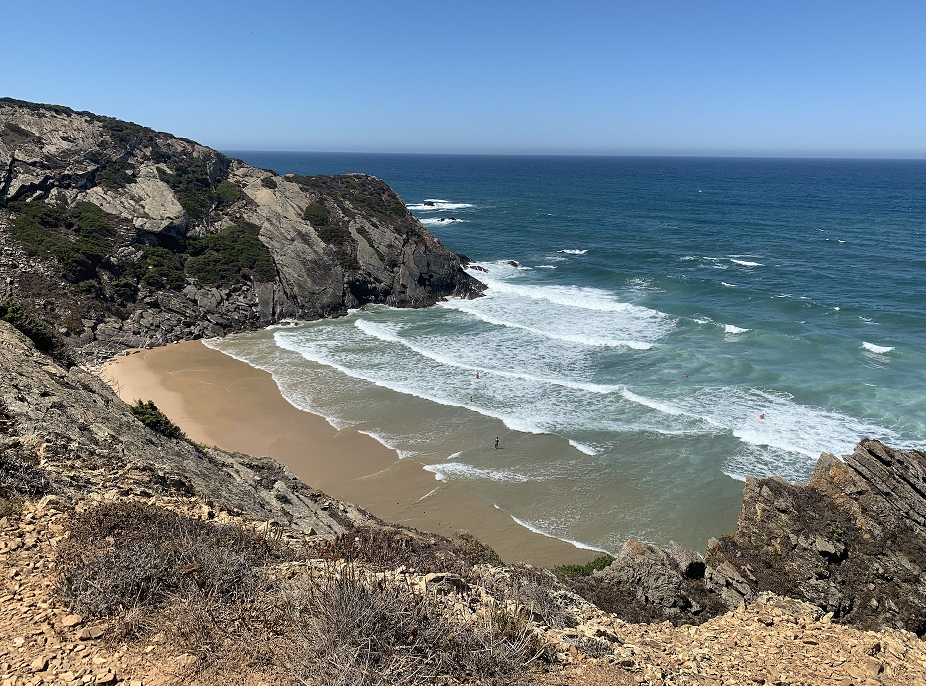 The best way to travel around Sagres
Walk: Sagres is quite a small town, so if you are planning on keeping it local and having a week of lazy beach days then walking will suit you. Most restaurants and beaches are in walking distance from the centre of town.
Bike/Scooter: If you fancy going slightly further afield or just not a fan of walking (especially in 30-degree heat), then renting a bike or scooter could be a better option for you. There are a couple of rental stores in Sagres to choose from.
Rent a car: This is probably the best option if you are more of an explorer and want to see not only Sagres but some of the neighbouring towns. Most car rentals are good value for money, and you can get a car from around +/- €200 for a week.
Uber: Uber is extremely popular and readily available across The Algarve. It's also super reasonably priced, so if you are not comfortable with renting a car then this is also a good option.
8 Best Things to do in Sagres
1. Praia De Mareta
This beach is located in the centre of town. If you stay at Pousada De Sagres, then this is the beach you will see in the view from your hotel room. I personally found the best time to visit this beach was just after sunrise.
It's a great place to catch some peace and quiet before the rest of the town has woken up. A must-do of things to do in Sagres.
2. Praia De Martinhal
This beach is absolutely stunning with white sand and turquoise-blue waters. It's mostly popular for its windsurfing but if you just want to enjoy a chilled out day, sunbathing and drinking copious amounts sangria then I'd suggest this beach for you. I loved surfing in Sagres!
3. Praia Do Tonel
This beach is great for surfers but not so much for the sunbather. As I mentioned before Sagres is particularly windy and this beach didn't provide us with many shelters from that. We ended up chasing our towels and with sand EVERYWHERE.
4. Praia De Beliche
This was definitely the most beautiful out all the beaches we visited in Sagres. The beach is located at the bottom of a clifftop, so when you arrive you get to first enjoy a birds-eye view before rambling down the steps on to the sand.
There are lots of hidden caves surrounding this beach, some of which you can walk to and others of which you will have to rent out a kayak. I also can't forget to mention that part of this beach is nudist so you might be in for a few little surprises.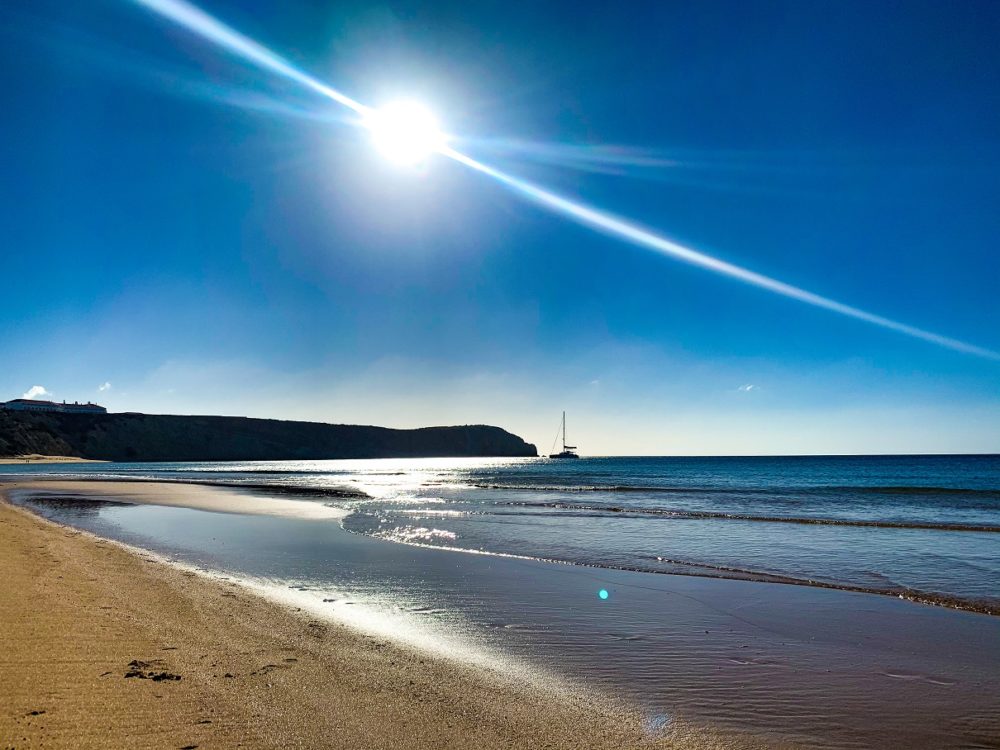 5. Go on a boat trip
To be completely honest there are not many tours that head out of Sagres. If you want to go on a boat trip my best advice would be to head to the neighbouring town of Lagos.
This is only a 30-minute drive away and will cost you roughly €30 in an Uber (you can also get a bus to Lagos for €6 but the bus schedule is quite limiting). We went on this boat trip and I cannot recommend it enough.
We had a fantastic day filled with music, cocktails, paddleboarding and even spotted a whole lot of dolphins along the way.
6. Go for a Surf Lesson
One of the best things to do in Sagres is to go surfing. As I mentioned earlier, Sagres is best known for its surf so it would be silly not to come here and get a lesson. Or if you are a bit of a pro then you can simply rent a surfboard.
There are a few places in town where you can do both. Alternatively, if surfing is not the thing that you can also hire a stand-up paddleboard. Surfing in Sagres is a must!
7. Watch the sunset at Cabo Sao Vincente
This is the headland where Portugal reaches it's the most south-westerly point. This is the best place to watch the sunset in Sagres and according to the locals the best place in all of Portugal. You could argue that they are slightly biased but after viewing it for myself it does make it up there on the list of top ten sunsets I've seen.
It's a pretty spectacular moment, feeling like you are on the edge of the world and watching the sun disappear over the Atlantic Ocean with the sound of crashing waves in the distance.
Top Tip: if you are going to come here to watch the sunset then please make sure you bring a jacket, this is also the windiest part of Sagres.
8. Do a road trip along the Costa Vincentina
The Vicentina coast starts in Burgau (just east of Sagres) and stretches to Odeceixe (just north of Sagres). Even if you don't want to rent a car for the duration of your holiday, I would suggest renting one for just one day to do this trip.
Some of the best spots to visit along the Costa Vincentina are:
Praia de Vale Figueira (this beach was our favourite)
Praia da Arrifana
Praia da Barradinha
Praia da Amoreira
Odeceixe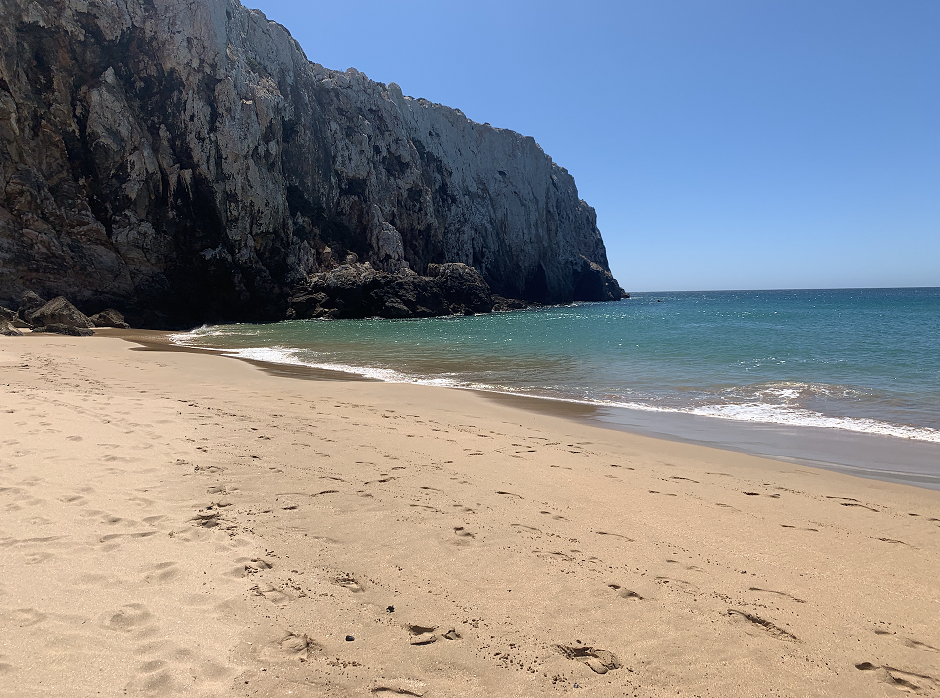 Where to stay in Sagres
Hotels
According to Trip Advisor, the best hotels to stay in, in Sagres are Pousada De Sagres, Sagres Good Time Apartments or Memmo Baleeria. We stayed at Pousada de Sagres. Although the décor was a little outdated, the views, location and super friendly staff made it the perfect place to stay.
Hostels
If you are backpacking, or are heading to Sagres specifically for a surfing trip you can stay at the following hostels, some of which double up as surf schools:
Camping
One of the best things to do in Sagres is to go camping. There were campervans in abundance around Sagres, and honestly, I was a little jealous of these people (#VANLIFE is the dream). You can park up at some wild camping spots, free car parks for book a pitch at a caravan park. Make sure you do one night camping in Sagres!
Best places to eat in Sagres
Unlike most holiday resorts, Sagres is not built up (which only adds to its charm), this does, however, mean that the best bars and restaurants and spread out over the town and nearby beaches. Nonetheless, there is A LOT of amazing food to be had here.
Telheiro Do Infante – This restaurant looks out over Praia de Mareta beach. I would recommend ordering some seafood here as well as grabbing a bottle of their 'Dory' wine to wash down your dinner. Make sure to book your table just before sunset as it's in the perfect location to watch the sunset over the beach.
A Tasca – Another great place to enjoy traditional Portuguese food whilst watching the sunset. This restaurant looks out over Porto da Baleeira.
The Hangout – This was one of our favourite restaurants in Sages (We came here at least four times) and is extremely popular with the backpacking and surfing crowd. For breakfast, I would recommend the 'Green Eggs' and for dinner, I would suggest ordering the pizza and the black pork.
Vila Velha – One of the top-rated restaurants in Sagres. The beef and chorizo skewers is the one to order here.
Dromedario Bistro Bar – This is one of the oldest bars in Sagres (35 years and still going strong). Come here for tasty snacks and delicious cocktails.
Pau De Pita – This bar Located next door to Dromedario. Head to the rooftop here to enjoy some cocktails with a view.
Chiringuito Last Chance – Looking out over Praia de Mareta beach, this is yet another spot where you can enjoy some cocktails whilst looking out at over spectacular sea view.
Has this post inspired you to go Sagres?! Comment below any things to do in Sagres that we have missed.
If you on a bigger trip exploring more of Europe check out my guides to France, Germany, Greece, Iceland, Italy, Portugal, Spain and United Kingdom.
---
Author Bio: Christina is 28 from Hertfordshire and runs the blog The Curly Commute. During the 9-5 Christina works in recruitment, but the rest of her time is spent doing, dreaming or reminiscing about all things travel. She makes it her mission to go on at least 7 a trips year and practice her amateur photography skills along the way. Her favourite country in the world has to be Sri Lanka; the food, the views, the wildlife and the people make it the perfect place to be. You can also find Christina on Instagram.

---
My Travel Tips and Recommendations
Flights
To book flights, I always use flight search engine Skyscanner, I regularly use the Everywhere tool to find the cheapest places to travel. It's how I get to travel so much all around the world. I find it the easiest way to compare flight prices across airlines and get the best deals.
Accommodation
For accommodation, I usually book most of my hotels or hostels through Booking.com. I love using this platform as it provides me with some amazing deals for accommodation all around the world. Or if you prefer, I also recommend using Airbnb. If you haven't signed up with Airbnb already, you can use this link to get £25 off your first visit!
Travel Insurance
Picking travel insurance that covers you in all eventualities is an essential part of planning a trip for every single person. If you can't afford travel insurance, you can't afford to travel. You never know what's around the corner.
Did you know I also vlog my trips? Make sure you subscribe to my YouTube channel so you get alerted when all my travel videos go live… CHECK THEM OUT HERE
Thank you for reading and as always happy adventuring! If you have any questions about the destination please leave these in the comments below.
If you've enjoyed this post, please share it for me with all your friends and family!
Sophie X