In London, art is all around you. This is particularly true in the streets of East London's trendy Shoreditch, where you can find some of the best street art all year round. The Shoreditch area in East London is world famous and rich in creativity when it comes to murals, stencils and styles. Brick Lane street art is the most famous, but you can also find interesting street art further out too.
Even though many of the murals are always changing, here is my guide to the best places to find street art in East London and beyond. There is so, so much to see in Shoreditch including: Eine, Dscreet, Stik, James Cochran to name only a few on the walls in this area of London…
Here is my DIY Shoreditch street art tour, all you have to do is use the map I have pulled together for you below and head off to explore London's best graffiti.
Use the map below to find the best places. Grab your camera and come along with me!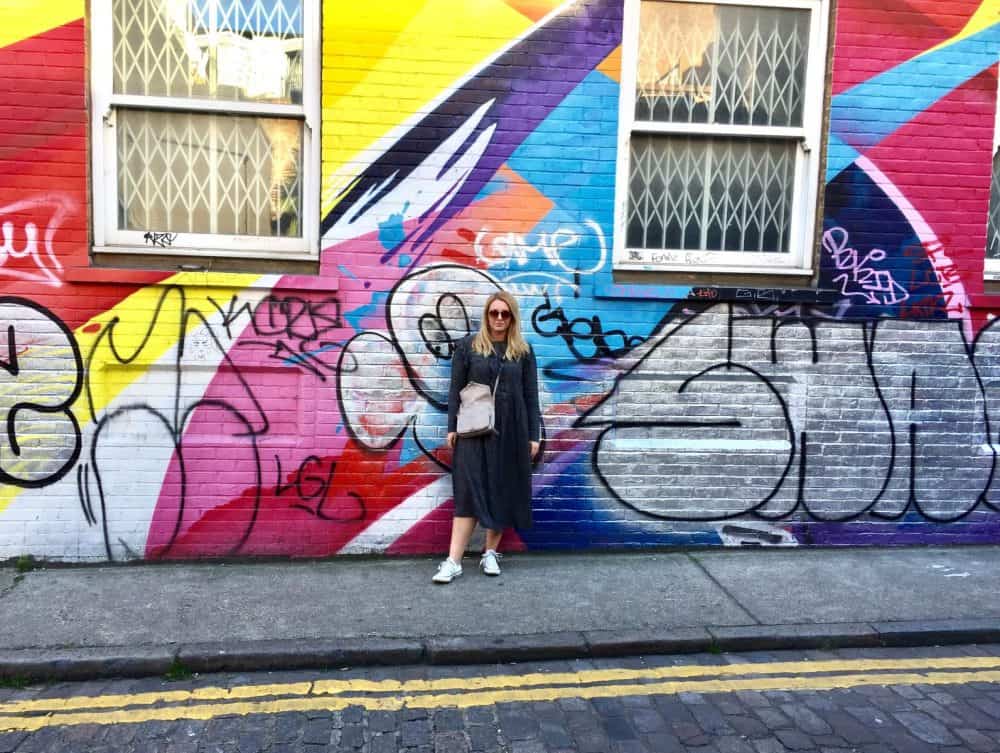 Exploring Shoreditch
Shoreditch is a gem in itself, based in East London and encompassing a large area of London including Hoxton, Spitalfields, Hackney, Old Street and Brick Lane. It is an arty area adjacent to the equally hip neighbourhood of Hoxton.
Shoreditch High Street, Great Eastern Street and Old Street are wonderful places to start. Make sure you add this Shoreditch Street art tour to your list of things to do in London, and refer to my post free things to do in London for even more suggestions.
Shoreditch is unique, with trendy restaurants, quirky gastropubs, artisan coffee shops, set alongside the iconic Box Park at Shoreditch High Street, the now world famous Cereal Café on Brick Lane, the historic market at Spitalfields and vintage shops galore in Brick Lane.
To check out what other areas of London you should explore or stay in, during your visit to London check out this amazing guide to where to stay in London.
Check out my Shoreditch street art tour…
10 Places to find street art in Shoreditch
Hanbury Street
Ravenscroft Street
Brick Lane
Princelet Street
Ebor Street
Grimsby Street
Sclater Street
Fournier Street
Chance Street
Whitby Street
CLICK HERE FOR MAP
Shoreditch Street Art Tour
Ravenscroft Street
Located just around the corner from Columbia Road Flower Market, I've included this one as it's one of my favourite walls to have photos at when I visit Shoreditch. On the external wall of Clutch Chicken café you will find an amazing black and white monochrome geometric wall, set against the café iconic bright yellow theme.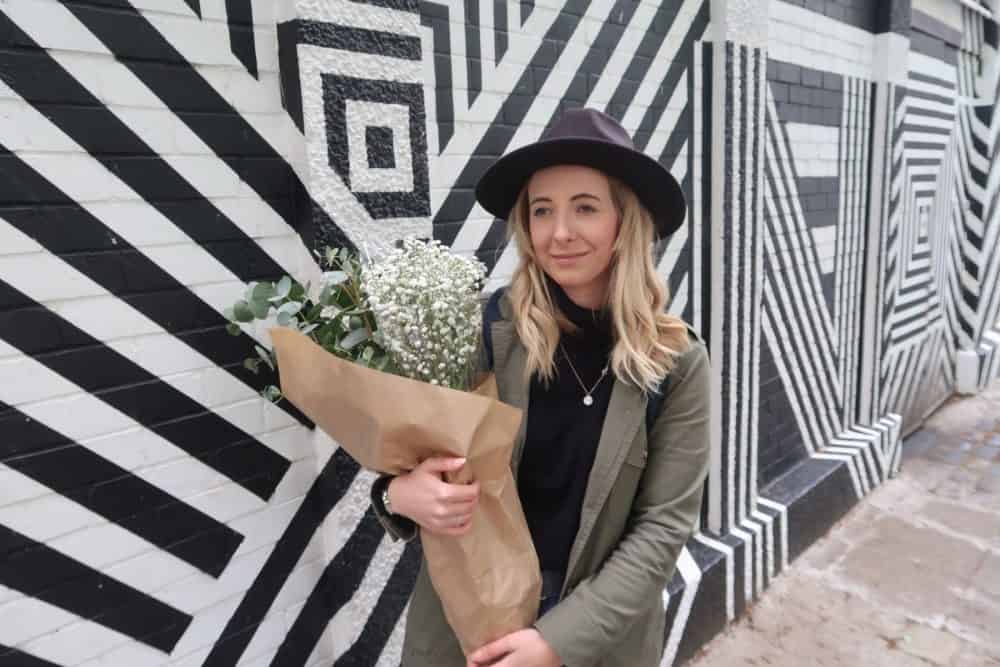 Fournier Street
Fournier Street has an array of pieces of street art to enjoy but I would say the best is on the front of a former shop, and other pieces such as Disney like birds by Neon Savage, a David Bowie mural by VOXX Romana and the iconic skull by Uberfubs. Most of these creations are done by an artist called the Street Jeweller, as he also goes on to adorn his artwork with sequins or pearls.
Princelet Street
One of the most iconic street art murals in London is here on Princelet Street: Stik's mural. The artist who was once homeless, started painting stick like figures and has since made a world-wide name for himself. In fact I've seen a few of his pieces of art all around the world, but the piece of street art on Princelet Street features a couple holding hands.
Ebor Street
This piece of street art by Ben Eine is characteristic of his unique circus-style typography set against a black wall, with bright colours and the letters are a quirky font, to stand out from the wall. The full message across the entire building reads 'Peace is Possible'.
Photo credit: London is Calling
Brick Lane
One of my favourite places in London, Brick Lane is the epicentre of Shoreditch with markets, curry houses, interesting buildings,vintage shops and more. Street art is synonymous in this area and holds a massive presence on the street and down adjoining alleyways.
Street art comes in all sizes and places here, including The Space Invader. I also found a cool wall, see below photo, for a quick snap, just near the street food vendors on Brick Lane. Stop at 178 Brick Lane to see Dscreet's signature owl and a variant of Banksy's famous Tesco can.
Grimsby Street
On Grimsby Street you will find another piece of street art by the iconic Stik, which is two people shouting at each other. It's become a favourite selfie place for tourists and locals alike, with visitors to the piece of art tending to stand between the two characters.
Sclater Street
There are tons of murals here, but they don't tend to stay for long, so you may find something different when you visit. Here you will also find funky sculptures on the street signs on Sclater Street, by street artist Jonesy. There is also a piece of art, which is often overlooked, on your way up to the Overground from Brick Lane, where a local lady has decorated a wall with anything she finds on her way to market e.g. necklaces, Christmas decorations, lace…
Chance Street
If you're going to go anywhere for street art in London, it's Chance Street. It's my favourite street in London for street art, because of the amazing murals and stencils, that adorn the walls. They also make the perfect photoshoot background, as you can see below.
The abstract, black and white one is Sue Webster and the colourful one was decorated by MADc. Since I last week, there has been some vandalism to the walls, and they are no longer looking great, but still worth a stop for that iconic Instagram photo.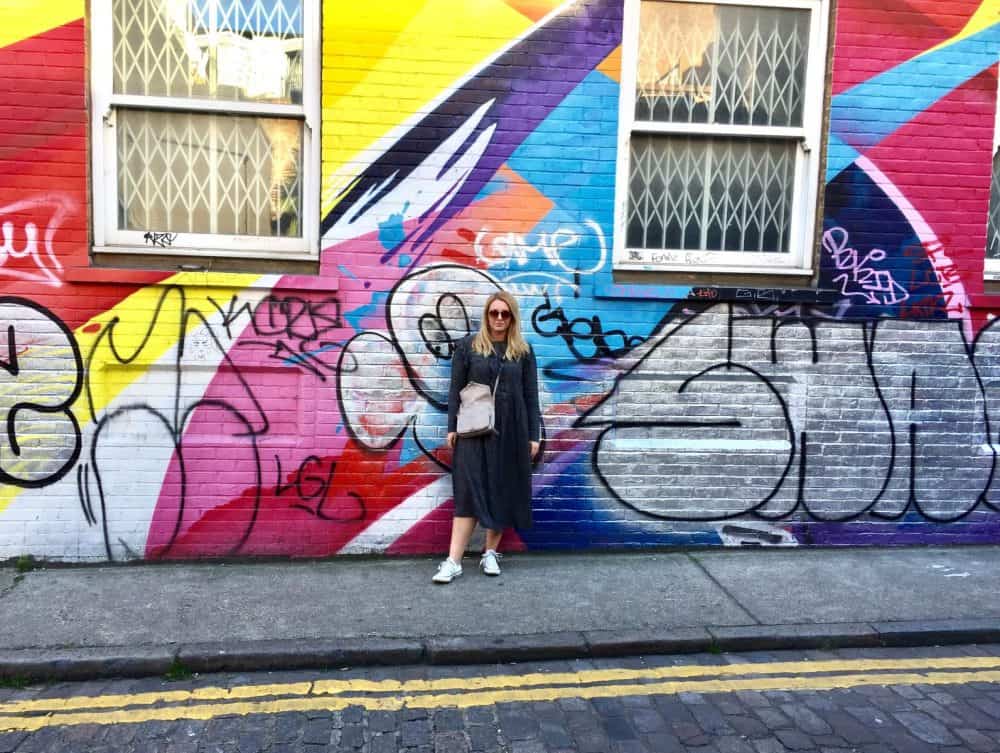 Whitby Street
Literally just around the corner from Chance Street, is a street which is often overlooked, because its so small. But two of my favourite pieces of street art are here so I had to include it. Not only can you find another piece by Wallala, but also an array of striking works by James Cochran using his iconic use of repeated patterns.
Rivington Street
Rivington Street is the home of Banksy with lots of art from the world-famous graffiti artist Banksy. This whole area is known for Banksy murals and it's a great way to see many of the iconic Banksy in a short period of time.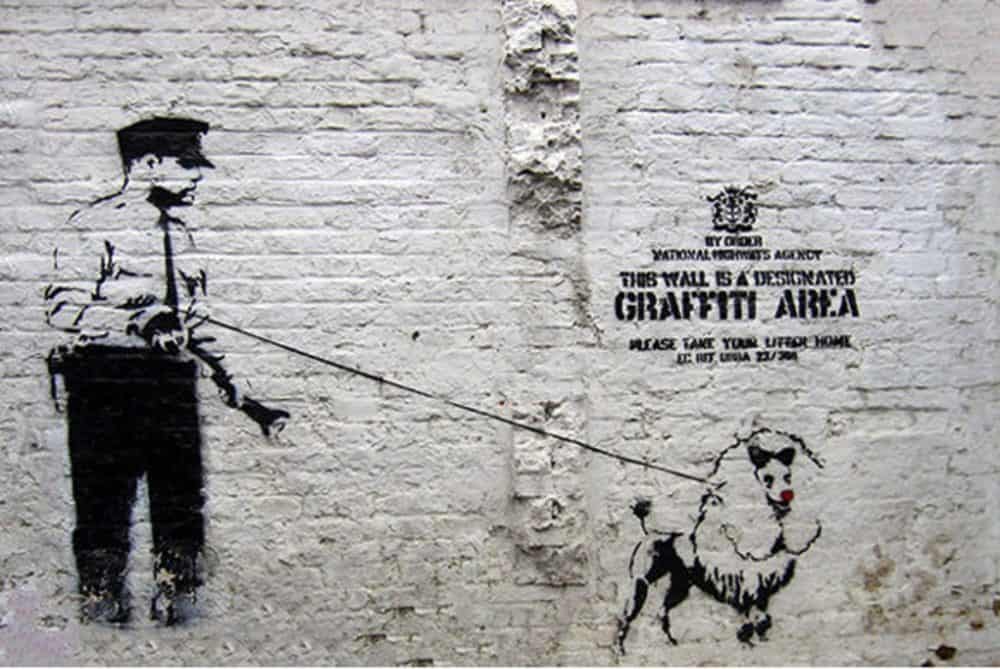 Photo credit: Atlas Obscura
St Matthew's Row
A recent addition to St Matthew's Row, just a few minutes walk from Brick Lane is the mural of David Attenborough. We first visited a few months ago the mural was like the one you see below, with David and a bird of paradise, much like you see in the TV programmes he does. When we returned last week, the mural had changed slightly and the bird was now a skeleton, presumably, to represent climate change, species going extinct and environmental challenges. Worth a visit if you are near Brick Lane!
Taking a Guided Shoreditch Street Art Tour
There are plenty of guided tours of the graffiti in Shoreditch. Obviously you get a lot more background and information on a guided tour – particularly if you book onto a private tour. Check these ones out for starters.
How Long Does it Take to Follow This Shoreditch Street Art Trail?
About two hours. I'd allow three so you can take your time and don't have to hurry. All of the spots are close together, so it's not too bad distance-wise.
Shoreditch Street Art Map
CLICK HERE FOR MAP
Any other suggestions? Let me know in the comments below and I'll add them to my Shoreditch street art guide.
---
Other posts that may help you:
Ultimate Guide to Bottomless Brunch (& prosecco) in London
10 of the Best places to eat Brunch in London
The Best Weekend Trips in the UK
Ultimate Guide to Columbia Road Flower Market London
Log cabins with hot tubs in the UK
Thank you for reading and as always happy adventuring!
If you've enjoyed this post, please share it for me with all your friends and family!
Sophie X