Last weekend I went and stayed at the boutique 4 AA star hotel, The Woburn Hotel. Some of you may be thinking, Soph you only live 10 miles away, and you may be correct, but when I was offered a stay at this hotel I couldn't refuse. I had heard great things about the hotel and after seeing photos I knew it was exactly what I needed in the run up to Christmas; a festive weekend away exploring Woburn, Woburn Abbey and the surrounding area.
Noted as one of Bedfordshire's finest country hotels, The Woburn Hotel proudly stands in the small town of Woburn, only 20 minutes from Milton Keynes and 45 minutes from London. The hotel sits within the 3000 acre deer park of Woburn Abbey Estate and has it's own 2 AA star restaurant Oliviers, relaxed seating areas, contemporary bar and multitude of bedrooms.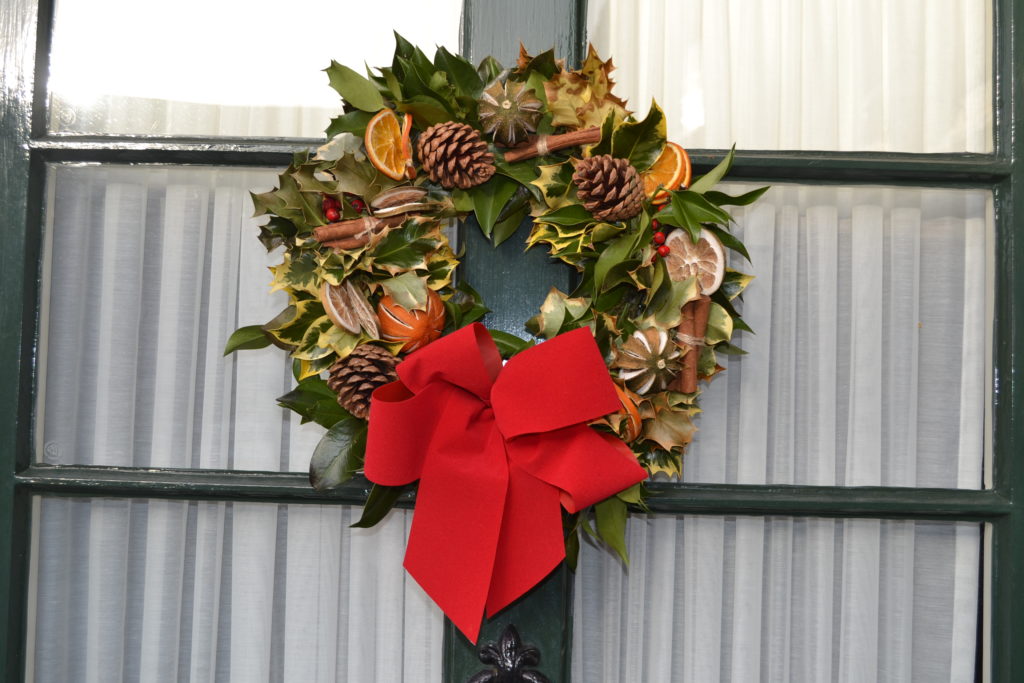 When we arrived we checked in at main reception and we were welcomed by a festive atmosphere of decorations, sparkling Christmas tree and lots of lights. As we were shown to our room I was very pleased at our abode for the night; our own cottage on site with living area and bedroom on split level. I was more than happy with this as it gave us a unique way to stay!
The cottages at The Woburn Hotel are all unique and sit adjacent to the main hotel building with a lovely country style brickwork and 300-year old wooden beams inside. They have seven cottages, alongside other bedrooms inside the main hotel, and our was called Cairnsmore Cottage.

Like the others, our cottage was stylish and spacious with seating areas and quirky features throughout. Cairnsmore Cottage is designed in a 'game lodge' style, with an amazing split level area and large seating area on its upper level as you enter through the main door. The super comfy bed sits at the bottom of the room next to the all-white bathroom with stag sculpture. Our room was perfect, and a great way to spend an evening in Bedfordshire.
Then once we had relaxed and got ready we headed back inside the main hotel for dinner at the award-winning Olivier's Restaurant. As the winner of 'The Foodie Guides' Restaurant of the Year in Bedfordshire, Buckinghamshire, Hertfordshire and Northamptonshire, on three occasions, we knew we were in for a treat as we scoured the menu in the bar whilst sipping on our wine.
The food was to die for, a taste sensation from beginning to end. I began with 'Wobbly Bottom' Goat's Cheese and Sun Blushed Tomato Pithivier with a black olive and basil salsa, whilst Theo opted for the Panfried Scallops and King Prawns with garlic butter and crispy Brickhill streaky bacon. My dish was lovely and the olive and basil salsa completed the dish!
For the main I went for the Loin of Venison with Wild Mushroom Sauce with swede mash, snow peas and fondant potato which was so incredibly tasty and I was glad I had gone for something a little different. I have to say Theo was very jealous as he had opted for the Sirloin Steak, served with chunky chips, tomato and mushroom, and even though this was good, I could tell he was jealous.
Then as if that wasn't enough, we finished with pudding; a Chocolate Bombe with "Crème de Marron" and a Twice Baked Banana and Custard Soufflé with toffee ice cream. This souffle was like nothing I had ever eaten and had an incredible texture and flavour, topped up by the tang of the toffee ice cream.
The following day we then headed off into Woburn village to explore some of the shops, and then with our room card we could get access to Woburn Abbey and Gardens for free, so we went for a wander around the gardens, grabbed a coffee in the tea room on site, and then went for a walk looking for deer.
Me and T left The Woburn House feeling very relaxed and happy. It was lovely to visit a hotel and feel right at home from the moment we arrived, and we were impressed by the location, offering and overall feel of the place. We will be back!

The Woburn Hote, 1 George St, Woburn, Milton Keynes MK17 9PX
*Thank you to The Woburn Hotel who invited me to stay for one night at the hotel. Of course, as always, all opinions are my own and I wanted to write about this and share my experience with you!
Follow me on
Twitter | Instagram | YouTube | BlogLovin | Pinterest | Facebook