Nestled on the south coast of the wonderful island of Cyprus, Aphrodite Hills Resort in Cyprus is the perfect place to spend a holiday with your loved ones. Overlooking the Mediterranean sea, Aphrodite Hills is an award-winning 5-star resort with breath-taking views across the countryside and their iconic Championship PGA Golf Course.
The resort is also only around the corner from the legendary birthplace of Aphrodite, the Greek goddess of love, as well as ideally located to Paphos, Coral Bay and beyond.
The idyllic resort offers its guests a diverse and varied range of experiences, dining options and first-class facilities, including state-of-the-art villas, fine dining, luxury spa and entertainment. On a trip to Aphrodite's Hills you can opt for an array of accommodation options, including apartments, hotel rooms, private villas and both short and long term options.
And for each time we've visited Cyprus we've stayed at the exclusive Aphrodite Hills Resort.
Elite Villa 309
If you're looking for the WOW factor I'd definitely recommend getting an 'Elite' villa when staying at Aphrodite Hills in Cyprus. We were so pleased with our villa from the moment we arrived and walked through the door. The property offers a high-level of luxury, alongside providing a great space for families or groups of friends, the perfect base for a week exploring Cyprus. All elite villas come with their own private pool, and can host between 4-10 people.
On both of our trips to Aphrodite Hills Resort we have stayed in their Elite Villas. One our first trip to the resort we stayed in a villa on the eastern plateau of the resort, overlooking the canyon and the golf course, as well as other magnificent villas. And the villa slept six adults, and we had Arabella on a z-bed in our master bedroom on the top floor. Downstairs there was a spacious lounge-come-dining room, with a well-equipped kitchen and outdoor seating on the terrace.
On the terrace, there were sofas, dining spaces and a BBQ, with all the utensils we needed for a feast after a day of activities. The master bedroom was on the top floor with its own wrap-around balcony and en-suite bathroom, with lots of wardrobe space for a week or more. The other two bedrooms are twin rooms, with en-suites and located on the ground and first floor. The villa also had air-con throughout so keeping cool wasn't a problem in the 30-degree heat we got in May!
We generally cooked at the villa, having breakfast, lunch and dinner there, using the kitchen and the outdoor terrace areas. We didn't eat inside at all, and instead opted for the al-fresco dining option, making full use of the expansive seating areas. I loved grabbing breakfast in the morning and sitting outside looking out across the pool, and hole 5 of the golf course beyond.
The first bedroom is found on this floor, being a double bedded room with shuttered French doors leading out to the terrace, and an en-suite shower room with WC and sink in a marble vanity unit. Adjacent to this is a guest cloakroom, completing the ground floor facilities.
The staircase leads up to two further bedrooms, set on split levels. The first is a twin bedded room with delightful pitched wooden ceiling and parquet flooring. Immediately adjacent is a shower room with WC and sink in a marble vanity unit.
Finally, the master bedroom was on the top floor with its own wrap-around balcony and en-suite bathroom, with lots of wardrobe space for a week or more. The other two bedrooms are twin rooms, with en-suites and located on the ground and first floor. The villa also had air con throughout so keeping cool wasn't a problem in the 30 degree heat we got in May! This luxuriously furnished room offers a beautiful king-size bed, attractive high wooden ceiling and parquet floor.
Sets of French doors around 2 sides of the room make it wonderfully bright and airy and give access to the large private terrace from where views over the Resort can be enjoyed. The master bedroom is complete with en-suite bathroom featuring both bathtub and shower cubicle, WC and 'his and hers' sinks in a marble vanity unit.
The finishing touch to this luxurious and elegant property is a 10m x 5m overflow swimming pool* with walk-in corner steps. The large patio around the pool area is set with sunbeds, and is in turn surrounded by a garden featuring lawned areas as well as mature trees, fragrant shrubs, plants and flowers, which create a great sense of privacy.
Overlooking the pool area is a shaded dining terrace set with table and chairs and a purpose built barbeque area together with handy sink. A cushioned sofa set with matching coffee table is the ideal place for relaxing after dinner with a drink and taking in the picturesque and peaceful surroundings.
We were also treated like royalty from the moment we arrived, with a welcome pack inside the villa, with all the essentials to get our holiday off to a great start, guest services, robes and slippers, sparkling wine on ice, and much more.
Elite Junior Villa UJ01
And then on my recent trip in autumn 2021, we stayed in one of their Junior villas, which slept six people on the main drive up in to the resort, in Grand Poseidon complex. The brand new Villa is furnished beautifully and equipped to a very high standard overlooking the resort main entrance, offering views of the dramatic ravine.
The interior of the villa is stylish offering a light and airy open plan living area, with living room, dining space and kitchen, all leading out to the private pool terrace with sun-loungers. Upstairs, the spacious master bedroom suite is beautiful with a king size bed, and private balcony offering side sea views and en-suite.
The second and third bedrooms are equally stylish, both with twin beds one with a side sea-view facing balcony and the other towards the back of the villa.
It was a beautiful villa and we loved the location of the villa within the resort, as it was an easy walk in to the resort village, meaning we didn't have to drive to dinner when we ate there.
Aphrodite Hills Resort
Facilities and activities
At Aphrodite Hills in Cyprus there is no shortage of activities, facilities and experiences, in fact you could spend your entire week on the resort there's so much to do.
From the luxury spa The Retreat, to the resort village and multiple dining options, to the Tennis Academy and the PGA Golf Course, Aphrodite Hills is the only resort of its kind in Cyprus. It's quickly established itself as one of the few resorts on the island, offering such an expansive array of activities and experiences for it's guests, making it stand out from the crowd and draw in thousands of guests each year.
The resort boasts an 18-hole championships PGA National golf course, 9 floodlit Tennis Courts, Soccer School, swimming pools, and more.
And there is also a Horse Riding School, magnificent nature trails, mountain biking, outdoor entertainment in the village square, and a secluded beach club down the road affiliated with the resort. If that's not enough, there's also a diverse range of shops and restaurants in the village square including Costa Coffee, Haagen-Dazs, supermarket, medical centre, gift shops, and many places to grab some lunch.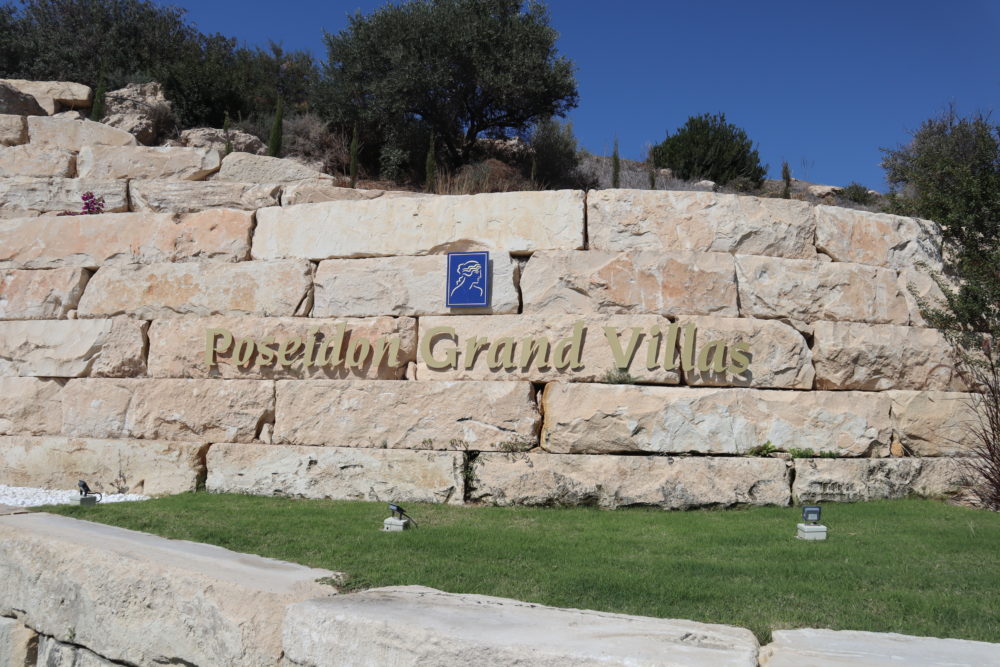 The Tennis Academy
The Tennis Academy hosts lessons, tournaments and all-day play for both adults and children. Enjoy the use of our professional courts and excellent facilities, in a beautiful Mediterranean environment.
Aphrodite Hills Tennis Academy features 9 professional courts, of which 5 are plexicushion hard courts and 4 European red clay courts – designed to offer players of all standards a surface that is of the highest quality. At the centre of the Tennis Academy is the Pro Shop where our highly experienced and dedicated team of tennis professionals are available to discuss your game and offer advice.
PGA Championship Golf Course
Featuring a magnificent championship golf course, a dedicated 3-hole Golf Academy, a magnificent Clubhouse and surrounded by breath-taking scenery; it is the perfect place for golfers of all standards and ages.
My mum, dad and brother headed out early one morning before the heat caught up with them, to put their skills to the test on the 6,289 squared meters course and overlooking the site where Aphrodite, the Greek goddess of love, is said to have emerged from the sea.
The award-winning golf course was designed by the acclaimed architect, Cabell Robinson. Robinson has designed Aphrodite Hills to be the perfect mix of challenging pot bunkers, manicured fairways of lush Bermuda grass and generous tiered greens.
There are also an extensive practice facility area with two large putting greens and short game area at Aphrodite Hills Golf .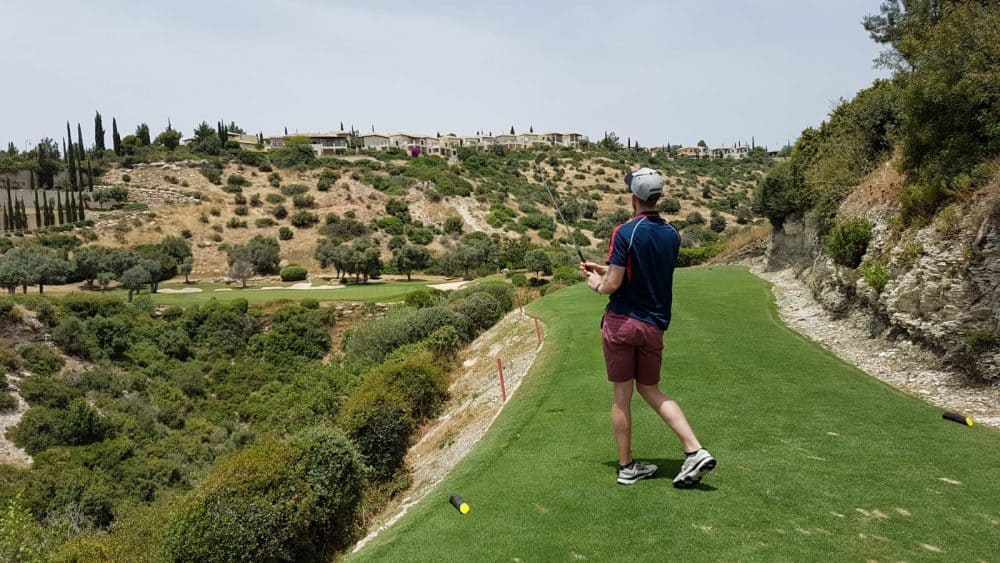 Horse Riding
The Aphrodite Hills Riding Club offers horse riding experiences in the forestry land of Lakkos Tou Frangou, which is adjacent to the north end of the Resort. Located in an area of outstanding beauty, the horse riding facilities are available for all ages and abilities.
The stable facilities include private lessons for beginners or experienced riders; trail riding off-road in stunning countryside; a Pony Club where children visit the stables to learn about riding and pony care, and a large outdoor arena.
Arabella and my mum headed up to the stables on a sunny morning for Arabella to try a pony ride with the excellent instructors they've got at the stables. Here they've got 11 working horses, one mule and a pony called Pixie! It was such a lovely addition to the holiday and something we never imagined Arabella could experience in Cyprus!
Soccer School
The Stunning Aphrodite Hills 5-star Resort in association with the Dream Team Soccer School, a UK based professional soccer and sports coaching organisation, are delighted to offer kids the opportunity to develop their soccer skills as part of their holiday at Aphrodite Hills Resort. The Dream Team Soccer School offers professional training for Boys & Girls of all ages and abilities.
Hiking and cycling
The terrain varies from relatively easy roads with some hills within the Resort, to miles of flat easy routes around Aphrodite's Rock, plus challenging off-road routes and some serious gradients in the hills surrounding the Resort. The area makes excellent walking and jogging routes with well-marked paths and incredible views.
Eating and drinking
Ladi & Rigani – This traditional Cypriot Kebab House, situated in the Village Square is a family-friendly outdoor restaurant offering Cypriot Souvlaki and a selection of Doner Kebabs.
Anoi Pub – The Anoi Pub & Bar boasts a cosy atmosphere with indoor and outdoor seating facilities and a terraced area with a spectacular panoramic view. Anoi serves an extensive variety of draft and bottled beers and a selection of 'new world' wines.
Pithari Tavern – Located in the Village Square, this traditional Greek Cypriot Tavern offers authentic island cuisine. Guests can enjoy island cooking and classic tavern-type food, choosing either a customary meze or delicious à la carte options. Enjoy themed evenings such as 'Cyprus Meze Night' with live music.
Zimi Trattoria – Located in the Village Square this restaurant is based on a traditional Italian dining concept. An assorted medley of salads, pizzas, fresh pasta and traditional homemade Italian dishes are available, made with only the freshest of ingredients.
Gate to India – Gate to India Restaurant offers a unique dining experience, serving innovative Indian cuisine in an elegant and stylish setting. Food is sourced from superior quality ingredients, ensuring the highest level of freshness.
Golf Clubhouse Restaurant -The Golf Clubhouse Restaurant offers an elegant dining experience. Open to golfers and visitors alike, authentic Cypriot cuisine and selected international dishes are accompanied by a range of fine wines.
Beer Garden – Situated outdoors in the Village Square, offering a selection of international beers and soft drinks. Relax and unwind, whilst sipping a thirst-quenching ice cold beer and savouring the delights of delicious nibbles. Closed for the winter season.
Relaxation
Whilst we were on holiday at Aphrodite Hills in Cyprus, we also made sure we took a visit to the resort's own luxury spa called The Retreat. With a magnificent view of the Mediterranean and the surrounding fragranced gardens, the detox session starts here where you can surrender to the magic sensations that the best Spa in Europe has to offer.
The Retreat Spa by Atlantica offers a variety of indulgent, pampering Treatments & Packages. In collaboration with the world-renowned spa brand – 'ELEMIS', our treatment journeys are designed to deliver true luxury and escapism.
Utilising only the most natural and effective products; treatments include Facials, Body Wraps, Exfoliations, Massages, Hydrotherapy, Stone Therapy, Manicures and Pedi­cures. All Spa Treatments can be prepared as a beautiful gift-wrapped voucher… making the perfect gift for all occasions.
Me and Theo head to The Retreat on one of our last days at the resort, visiting late afternoon to enjoy a 30-minute Couples Swedish Massage. The massage combines light-to-medium pressure which releases tension, improves circulation and eases aching muscles.
It involves the use of hands, forearms or elbows to manipulate the superficial layers of the muscles to improve mental and physical health. We both felt incredibly relaxed after we left our treatment room, and headed for the terrace outside to relax in the sunshine with a glass of Jasmine Tea.
Once we had awoken from our massage, we jumped in the infinity pool, and the hydrotherapy pool in the spa, before heading downstairs to the sunad and steam room.
Other posts that may help you:
10 Hygge Things to do in Copenhagen
The Ultimate Guide to the Christmas Markets in Copenhagen
Copenhagen Chic at the Andersen Hotel
Ultimate Guide to 48 Hours in Malmö
Best Vegan Restaurants in Malmo
Thank you for reading and as always happy adventuring!
If you've enjoyed this post, please share it for me with all your friends and family!
Sophie X
*Some content was provided by the accommodation to ensure accuracy.