St James's Club Morgan Bay Saint Lucia
As we walked out of arrivals at Hewanorra International Airport, the 32 degree heat hit us in the face, but after being stuck on a plane for 8 hours I couldn't be happier to breath fresh air. We got picked up from the airport by a wonderful driver called Chris, who really went out of his way to make us feel welcome. The drive is around 90 minutes but is breath-taking with panoramic vistas from the hill-side highway as you pass through the heart of the rainforest. Chris got the holiday off to a great start, giving us a low down on the island throughout our journey from the airport to the hotel in the north.
As we arrived at the hotel we were greeted by a lovely lady who served us a strong rum punch and a wet towel, before we were quickly checked in. The reception area to the resort was airy with sofas and chairs in aqua and orange colour dotted around the space. Once we had finished our drink we were transported by one of the resort's golf buggies up to our sea-view room, on the northern side to the bay.
Nestled around a secluded beach at Choc Bay in the northern region of Saint Lucia, St James's Club Morgan Bay really encapsulates everything you expect from the Caribbean. From it's white sand beach, to the steel pans playing, to the friendly staff, and the incredible fusion of cuisines, this resort really had it all. It had everything you wanted from a hotel including an array of restaurants, to an amazing array of on-site activities such as paddleboarding, and even boasts a fitness centre with classes including pilates and two pools with swim-up bar and volleyball net. If that wasn't enough, there's even a spa at the resort, with a selection of treatments to enjoy during your trip.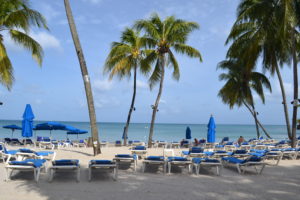 St James's Club Morgan Bay Saint Lucia
THE ROOM
Theo and my home for the week was a Deluxe Ocean View Room which consisted of a living room area, bedroom and bathroom, alongside a stunning balcony overlooking the resort, beach and Castries. As soon as we opened the door we felt at home; there were flowers dotted around the room, a well-needed coffee station and the best bit, freshly-baked cookies. It was lovely to have a large space, using the living room as a place to relax and watch TV, as well as unpack our 20 pairs of shoes. And the best bit was the view from our bed, we often left the curtains open at night so in the morning as the sun came up it was the first thing we would see. Struggling to get over the jet lag in the first few days we tended to get up early with the sunrise, and then have an early night in the room with a drink on the balcony, overlooking the bay and watching the planes come in to land at Castries airport.
St James's Club Morgan Bay Saint Lucia
THE RESTAURANTS
St James's Club Morgan Bay offers five restaurants including Bambou, Morgan's Pier, Palms, Plum Tree Bar & Grill and Tree Tops which are all included within your stay, as well as the Choc Bay Cafe and the multiple bars dotted around the resort. The only restaurant not included in your stay is the 5* Le Jardin, which offers fine-dining romantic experience. We dined here on one of the nights and were treated to exceptional service and incredible food – it is definitely worth the surcharge for dining here and it adds a little extra sparkle to your stay.
All of the other restaurants have varied menus, including an array of cuisines. The Palms is the main restaurant which serves a different international buffet each day, then you've got Bambou which is on the beach serving local cuisine, you can grab a pizza or some pasta at Tree Tops, or if it's a burger and chips you are after, best bet is to head to Plum Tree Grill by the family pool. Our favourite place to eat was seafood restaurant Morgan's Pier, which juts out into the water and serves an amazing array of dishes whilst you look out across the water. There was just so much choice and it took us half an hour each day deciding where we wanted to eat and what cuisine we fancied.
On our penultimate night at St James's Club, we joined the party on the beach for the resort's 'Fete bor la Mere' which is basically a party on the beach. They had really put on a show, with staff dressed in an array of costumes, fire-breathers, BBQ's lined up against palm trees down the beach and seating as far as the eye could see. Me and Theo loved the atmosphere grabbing a beer and some burgers, salad and BBQ ribs before sitting down to watch the show.
St James's Club Morgan Bay Saint Lucia
THE ACTIVITIES
This place has got it all – from the four swimming pools, to the watersports, and the fitness classes to the spa. You could honestly spend the whole holiday on the resort and not get bored. There is an extensive list of activities available during your stay, and we certainly made the most of them, joining or trying out water volleyball, aqua aerobics, pilates, bootcamp, kayaking, paddleboarding and tennis. When I say we tried everything, we really did… I particularly enjoyed aqua aerobics at 11am each morning, which filled all the ladies in the pool with giggles, and we tried to do one watersports for each day we spent at the resort.
At the watersports hut you can reserve time for windsurfing, sailing, kayaking, Hobie cat sailing, water-skiing and paddle boarding, or if staying on land is more your thing you can try out volleyball, tennis, pilates and bootcamp which takes place on the beach every morning. It's super easy to book in and you simply pop back at a time which suits you – easy peasy! And it's all included within your stay!
St James's Club Morgan Bay Saint Lucia
THE SPA
The Tranquility Body and Soul Spa has 8 treatment rooms and a hair salon offering a range of treatments including massages, facials and pedicures. Booked in for the day after our arrival at St James's Club, we were both treated to a Bamboo Full-Body Massage. I have been to quite a few spas, but there is something extraordinarily serene when you can overlook a glistening Caribbean ocean, with nothing but the sounds of birds, the sea and the wind blowing through the palm trees. This was paradise!
Our Bamboo Massage lasted about 90 minutes and was one of the best massages I've ever had. He used hot stones and bamboo sticks during the treatment, rolling the bamboo across my muscles. I am sure I fell asleep twice during the massage it was that good, and that never happens. Waking up from a deep sleep, I felt dazed, but incredible. I felt limp in all the right places, and felt like I had shed a mountain of stress from my body and shoulders.
St James's Club Morgan Bay Saint Lucia
THE EXCURSIONS
Despite the resort offering everything we could have needed from a holiday in the Caribbean, we couldn't fly 8 hours to stay on resort so we also booked an array of excursions through the hotel for our trip in Saint Lucia. These included zip-lining through the jungle with Rainforest Adventures, bathing in mud at the Sulphur Spring, taking a drip at Latille Waterfall, taking a road trip to the south stopping off at Hotel Chocolat for a chocolate cooking class, and if that wasn't enough we also jumped on a catamaran for the day, sailing down the west coast of the island towards the Pitons. Having such knowledgeable staff able to organise these activites for us made the excursion-side to our trip super simple and stress-free. I will be doing another blog post about our adventures across the island later on this week, plus I've also got my video diary from the trip going live on my YouTube tomorrow – subscribe here!
Overall, St James's Club Morgan Bay, is one of the best hotels we've ever stayed at. It was typically Caribbean, with the right balance of relaxation and adventure. This trip is truly one to remember and that is ultimately down to this resort. We felt relaxed, we felt fed and we felt re-energised when we left for the airport after a week of pure bliss at the wonderful resort. The hotel has a lovely atmosphere, and the staff are even friendlier, who wave, sing and smile at you throughout your stay. If you're heading to Saint Lucia make sure you add this beauty to your booking tab.
Thank you to St James's Club Morgan Bay and Travel St Lucia for hosting such a wonderful stay on the island paradise of Saint Lucia!
TO BOOK: St James's Club, Morgan Bay – Saint Lucia – www.eliteislandholidays.com – 01245 459 906