At the start of May Katie and I headed down to Southampton for one of the most unique and fun trips I've had in awhile. We boarded Celebrity Cruises European Premiere for three days, to celebrate the launch of their new ship Celebrity Edge. And what a ship it is…. Here a little run down of the Celebrity Edge Cruise Ship Tour.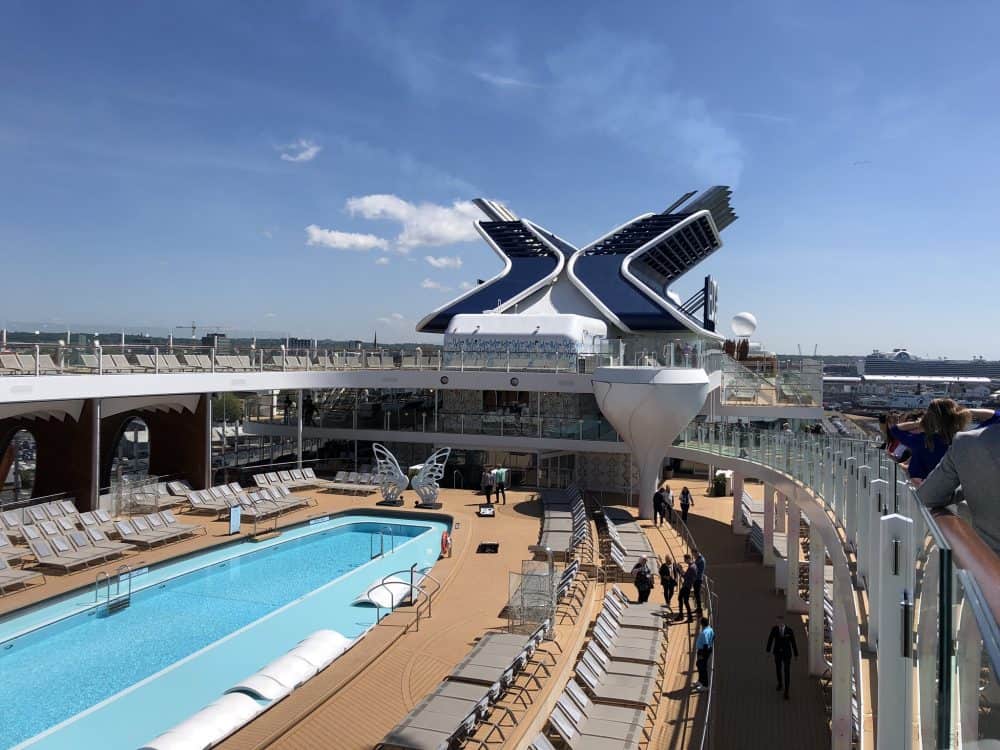 Introducing Celebrity Edge…
From the moment we arrived to the welcoming staff in the port entrance, to the theatrical entrance, with white balloons and music playing, and that was before we had even boarded the Edge. After we'd checked in, had our security photo taken and then boarded the ship we were in shock at the magnitude of this incredible ship. It didn't take us long to feel right at home, after being given a glass of prosecco as we stepped in to the lobby, and were shown to our Veranda Stateroom on Deck 12.
Celebrity Edge was constructed at the STX shipyard in France with a reported cost of $ 1 billion (apparently the first ship ever to be built at a cost of 1 billion!) with the vessel being delivered to Celebrity Cruises in October 2018, and made her maiden voyage on 9 December 2018 in the caribbean, before coming over to Southampton for this European Premiere.
Whilst in the caribbean on her maiden voyage Nobel Peace Prize winner Malala Yousafzai "became the first Nobel laureate to christen a cruise ship" when she helped to formally name the ship.
Celerity Edge was largely designed by the interior designer Kelly Hoppen MBE, and has a capacity for over 3,900 guests, with innovative features around every  corner, fun elements to usually boring environments and blends luxury decor, with playful concepts throughout the entire ship.
The advanced technology is interwoven into all elements of the ship, from the spa, to the staterooms, the bars and restaurants. In each stateroom there is a control pad, where you can change the lighting, set the mood, adjust the temperature and order food. And Forbes magazine recently branded her "the coolest cruise ship at sea". Now that's a statement….
Built in a way no other ship has ever been built before, and designed by a team who had never set foot on a cruise ship, let alone designed one, Celebrity Edge® redefines the ships of the future with a plethora of firsts onboard. Using a pioneering outward-facing concept, Edge represents a new frontier not just in cruising, but in luxury travel as a whole.
And the ships most notable advancement is the Magic Curtain, a tennis court sized movable platform on the starboard side which can be positioned to aid tender embarkation and disembarkation or used as extra entertainment space on other decks, such as the resort deck and various restaurants. This ship was just incredible!

10 Reasons Why I Loved Celebrity Edge
1. The decor is INSANE!
Everything is brand new and perfect, with an array of design elements throughout the ship. In the staterooms, in the bars, in the restaurants, in the spa, in the pool, in the suites. You name it, this ship has it.
The floating Magic Carpet, which moves up and down the boat
Rooftop Garden with live plants, palms and fauna
Views for dayzzz (we stayed in the English Channel, so I can only imagine the views in Italy, Norway or Australia)
Immaculate decor throughout the ship
Two-story martini hot tubs on the top deck
Multi-level running track which winds itself around the entire ship
Inspired walkways, including one that seems to lean
2. The floating Magic Carpet is one not to be missed
Reaching heights of 13 storeys above sea level, the extraordinary Magic Carpet℠ is the highlight of Celebrity Edge's® starboard side. This spectacular space opens to several decks of the ship, transforming to a new venue depending on where it is positioned – experience incredible sky-high views on Deck 16, a brand new way to embark/disembark the ship on Deck 2, and exciting extensions to our restaurants and bars in between.
3. The Celebrity Cruises app provides you with all the information you need
The technology just keeps on coming aboard this ship, and using the app, you download before you board, you can unlock your door, book classes, make dinner reservations and much more.
4. There is a state-of-the-art Spa, with extensive treatment list
Step inside The Spa, where you can experience the latest in spa innovation including an MLX Quartz treatment table. We spent only 10 minutes there, and it was incredible to see the amazing array of treatments on offer to guests!
5. They have Meditation Classes onboard, as well as yoga and pilates!
The Fitness Centre on Edge Class will have you looking for any excuse to work out. The latest, state-of-the-art Technogym® weight machines and cardio equipment will challenge you to take your fitness game to the next level. With floor-to-ceiling windows that keep you connected to the sea at all times, you couldn't ask for more refreshing views as you work up a sweat.
HOT YOGA
RYDE
PULSE BARRE
THE CONTENDER
FITNESS ON DEMAND
PELOTON
6. The food choices are endless!
Every one of the 29 visionary restaurants and bars onboard Celebrity Edge® has been designed to enchant, delight and inspire – from nature-inspired flavours in Eden, to sky-high dining on the Magic Carpet℠. Each restaurant offers mouthwatering menus featuring an incredible array of international cuisine, curated by Michelin Star chef Cornelius Gallagher.
Our most revolutionary ships had to boast a main dining experience to match, so we have created not one but four complimentary main restaurants, each inspired by the destinations we visit. Each restaurant will feature regionally inspired wines, cocktails, and dishes served nowhere else onboard, and a rotating selection of Signature dishes that changes every evening as well as our most popular Classic dishes available every evening.
7. You can live the healthy lifestyle
Cruise ships are now offering an array of healthy options too including juices, fitness classes, smoothies, vegan options, dairy-free, meditation classes. Cruises needn't be indulgent any longer, and can now provide you with a retreat from the outside world.
8. Sit amongst Foliage And Sculptures at the Rooftop Garden
On Celebrity Edge, the Rooftop Garden is full of unexpected pleasures day and night. Find a cozy chair, sink in, and get lost in a good book. The Rooftop Garden is a living urban playscape inspired by childhood playgrounds and designed to awaken the inner-child in all of us.
It's a lively, spacious environment at the top of the ship that's perfect for slowing down, wandering, and daydreaming—and satisfying your cravings for mouthwatering backyard BBQ. Nestled perfectly in its own delicious corner of the Rooftop Garden, the Rooftop Garden Grill serves up gourmet backyard favorites.
9. A balcony that becomes part of your room
Onboard Celebrity Edge with the touch a button and your entire living space becomes the balcony, letting you walk right out to the water's edge.
There's a reason the staterooms onboard Celebrity Edge feel so bright, modern and airy – at the click of a button, they extend to the water's edge, making them 20% bigger, as the balcony becomes part of your room, with floor to ceiling windows, allowing the sea breeze to enter your room, both day and night.
Designed by Kelly Hoppen, Celebrity Edge® staterooms and suites are a luxurious sanctuary for the modern traveller, with over 90% of them offering ocean views and balconies. Learn more about your stylish new home on Celebrity Edge.
And if you want to push the boat out (literally….)
Discover limitless luxury in one of our suites, and exclusive access to The Retreat. Celebrity Edge has introduced two revolutionary new classes of suite: Iconic Suites and Edge Villas, which are draped elegantly over two floors to create your very own floating apartment.
10. And there's EDEN…..
Eden was my favourite place on the ship. Here you are taken on a sensory adventure of fine dining and performance with the three storey Eden, which is draped over three floors, and includes a lounge, restaurant and bar. This is a place where boundaries are broken and expectations are defied. With immersive evening experiences, shows and silent discos, this place has everything!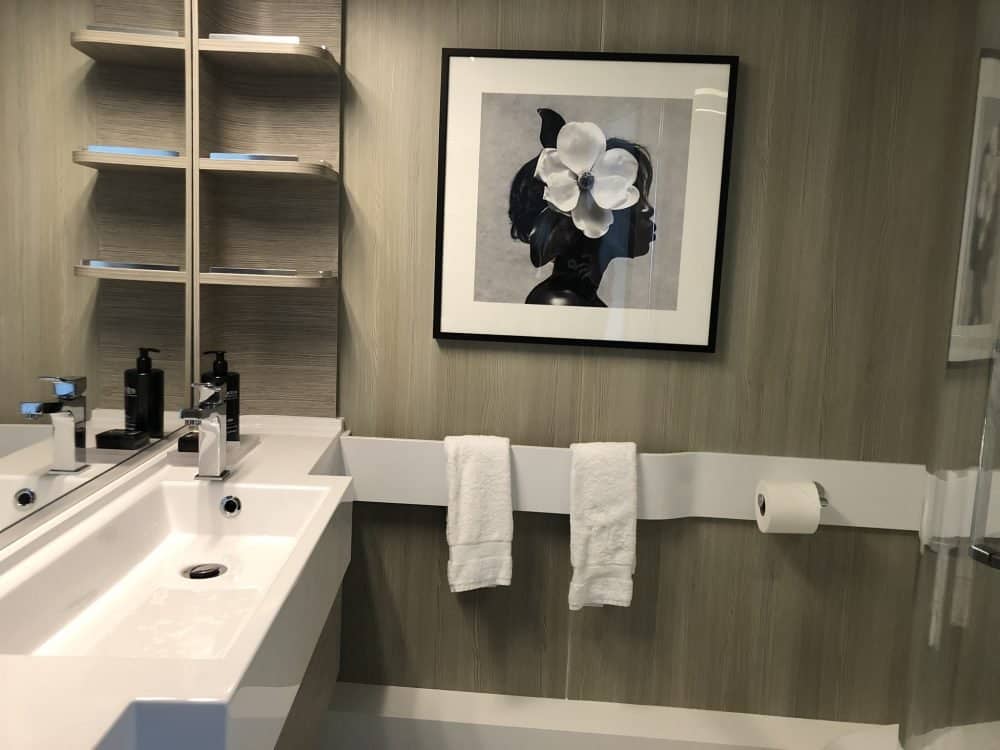 Celebrity Edge Destinations
Onboard Celebrity Edge®, you'll discover ancient European cities, the balmy islands of the Caribbean and so much more. And when you've had enough of exploring, there's your decadent floating hotel to return to every night.
From November-March Celebrity Edge® calls the white sand beaches of the Caribbean home. Lose yourself in the eternally carefree vibe of the Caribbean islands. Discover the British Virgin Islands, the Cayman Islands and more, sailing from our brand new cruise terminal T25 in Fort Lauderdale. From April-October sail onboard Celebrity Edge® to the ancient cities and idyllic beaches of the Mediterranean. Set sail from Rome or Barcelona and explore the peaceful islands of Greece and Spain's bustling cultural hubs.
Other posts that may help you:
10 Hygge Things to do in Copenhagen
Ultimate Guide to 48 Hours in Malmö
The Best Weekend Trips in the UK
A Guide to a Weekend in The Gili Islands
10 Things You Can Only Do in Australia
Thank you for reading and as always happy adventuring! 
If you've enjoyed this post, please share it for me with all your friends and family!
Sophie X