I love Italy, and despite never having been to Rome, the capital, I constantly find myself exploring lesser known Italian cities. I visited the wonderful city of Ravenna in 2016, but never wrote about my trip. Then this spring, with an upcoming trip to Pisa and Siena, I decided to reminisce about my time in Ravenna in Italy. Ravenna is only one hour from Bologna and also fairly close to San Marino, two places I am eager to also visit, so no doubt I will return to this quaint Italian city soon.
Ravenna is a city in Emilia-Romagna, Italy and it's most well-known for the Christian and Byzantine colorful mosaics on the Basilica di San Vitale, Basilica di Sant'Apollinare Nuovo and Mausoleo di Galla Placidia. The mosaics date back to the time when Ravenna was the capital of the Western Empire, then under Ostrogoth and Byzantine rule and more recently, the town's greatest mosaics have been given UNESCO World Heritage status. I would highly recommend a weekend in Ravenna in Italy.
In the modern day however, Ravenna is quaint and colourful, offering tourists the perfect destination to spend time in Ravenna. There are many things to do in Ravenna and although Ravenna does not appear on the top of most people's stop off for Italy, it is a city to be enjoyed. It is not one of Italy's most obvious tourist destinations, and appeals mostly to those who have specialised interests or want to know the country in greater depth. This means that the streets are not over-crowded with tourists or souvenir stalls, and there is a real 'local' feel. It's a n art-lovers dream and is most famous for their iconic mosaics.
You can combine a trip to Ravenna with other Emilia Romagna destinations including the gorgeous towns Bologna and Cervia. It's really worth exploring the full richness of the region. So let's explore the 10 best things to do in Ravenna in Italy…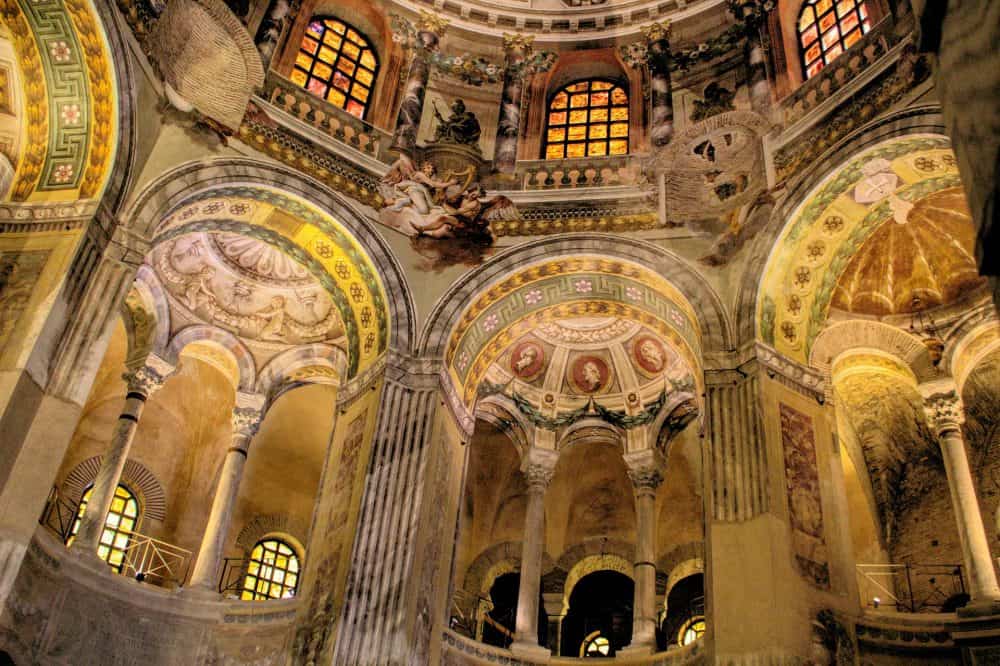 Visit Ravenna
10 Things to do in Ravenna
Mausoleum of Galla Placidia
Battistero Neoniano
Mausoleum of Theodoric
Visit Ravenna Mirabilandia
Zona Del Silenzio
Visit Ravenna San Marino
Visit Ravenna Cesenatico
Piazza Del Popolo
Dine at Trattoria La Rustica
Marina Di Ravenna
Visit Ravenna
When to visit Ravenna in Italy
I would recommend a visit to Ravenna in the spring or autumn, just outside peak season. The best time to go to Italy is in the spring between April and June or autumn between September and October when there is good weather, but a lot fewer tourists, and lower prices. The summer months can be crowded and expensive, so it's best to avoid. This is the same across most of Italy.
Visit Ravenna
How to get to Ravenna in Italy
Ravenna in Italy is located in Northern Italy and Bologna is the closest airport. Bologna has daily flights from the UK and the rest of the world including most European airports, but Florence is also fairly close. Ryanair operates flights to Bologna Forlì, from the UK. The distance between Florence and Ravenna in Italy is 104 km.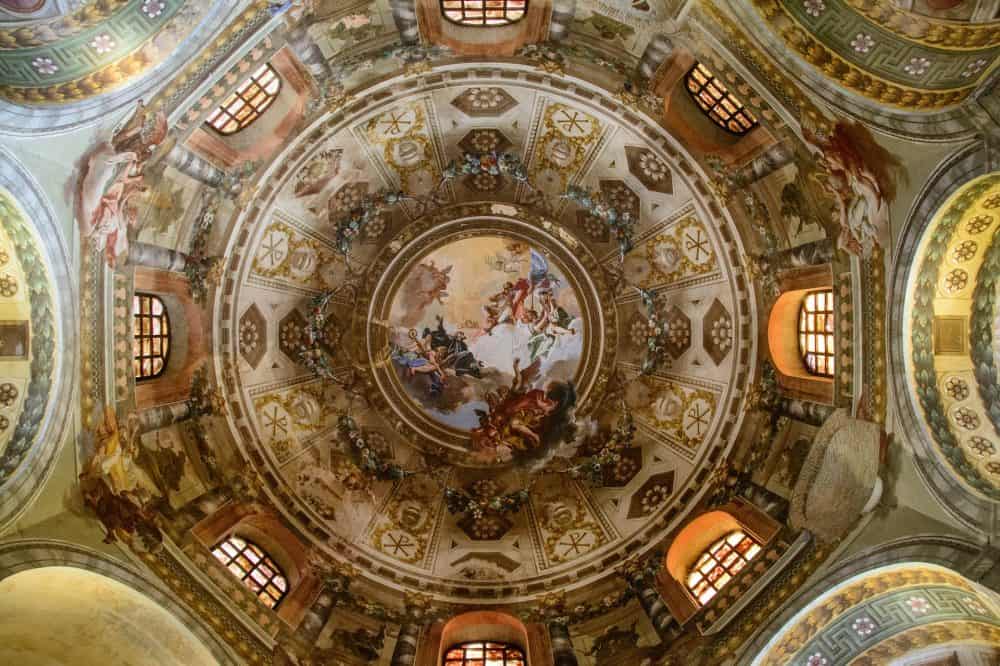 Visit Ravenna
Where to stay in Ravenna in Italy
Luxury
Cappello Hotel – 0.3 miles to City centre – £122
A la Maison – 0.4 miles to City centre – £130
Mid-Range
Hotel NH Ravenna – 0.5 miles to City centre – £67
Hotel Palazzo Bezzi – 0.4 miles to City centre – £72
Budget
Hotel Mosaico – 0.7 miles to City centre – £35
Palazzo Galletti Abbiosi – 0.4 miles to City centre – £54
Visit Ravenna
10 Things to do in Ravenna
Many people visit Ravenna Italy out of the awe of Ravenna mosaics. However, the city has much more to offer than just the highly attractive Ravenna Italy mosaics. By the end of this guide, you will have more reasons to visit Ravenna, have a virtual Ravenna Italy map, and know how to get to and enjoy Ravenna beach.
You will also have a couple of ideas of areas within the province of Ravenna in Italy, where you can tour for free. If you are looking for an Italian city break, here are ten things that will help you unwind, learn and recharge. You will no longer just be looking forward to the Ravenna mosaics for your trip to Ravenna Italy…..
Things to Do in Ravenna #1
Mausoleum of Galla Placidia
One of the best attractions in Ravenna Italy is this UNESCO Heritage site that was dedicated to Emperor Theodosius' daughter, a Roman emperor. It gives the perfect Italian city break, and you will still find the Basilica Di San Vitale on the same ground. You can view a few of Ravenna mosaics at the Basilica and then explore some cultural knowledge at this Mausoleum. The place attracts several tourists throughout the year, both from the province of Ravenna in Italy and beyond. You can find it on Ravenna Italy map while looking for how to get to Ravenna in Italy. You will find iconic designs here with art like the ceiling, which resembles the biblical garden of Eden.
Things to Do in Ravenna #2
Battistero Neoniano
This is another UNESCO pride found in the north of Ravenna Italy. It also contains Ravenna mosaics, and you can view a fantastic interior décor of this cathedral. The site carried a huge historical importance which is still cherished to date. It is among the oldest cathedrals in Ravenna Italy, which was constructed in the 5th century AD. You can find a few Ravenna Italy hotels nearby for people planning to spend several days on this side of the city.
Things to Do in Ravenna #3
Mausoleum of Theodoric
This attraction site may not be as old as the Battistero Neoniano, but it will give you one of the biggest reasons to visit Ravenna. As the name illustrates, it was constructed by Theodoric as a man's burial site. It is a massive building made of Istrian and covered by a monolithic dome. Twelve square arches made the dome. Its environment is beautifully green, providing a lovely Italian city break destination. It reminds the people of Ravenna in Italy of how great of a leader Theodoric was. It is a commonly visited area, and you can easily find it on the Ravenna in Italy map. If you are tired of viewing Ravenna Italy mosaics, then this is a site that will help you take a break from them.
Things to Do in Ravenna #4
Visit Ravenna Mirabilandia
You can't visit Ravenna and fail to pass by the Mirabilandia park. This is the biggest park in Ravenna Italy and offers a relaxing place to rest after a long day's tour. It is a few meters away from some of the exotic Ravenna Italy hotels and is one of the main landmarks when finding out how to get to Ravenna Italy. It covers around 850,000 square meters of land, and its atmosphere is enthralling. You can find amazing rides to participate in.
Things to Do in Ravenna #5
Zona Del Silenzio
This is where the remains of the significant leader, Dante Alighieri, were stored. Though a small building, its classic look plus a small dome on the top makes it unique. Near the building, you will find Quadrarco Di Braccioforte, a tomb that carries a historical significance as well. The Basilica Di San Francesco is not far where you can get great Ravenna mosaics views. The Basilica has held several important services and burials in the province of Ravenna including the bard's funeral in 1321. It is a major Ravenna Italy mosaics destination as well as a historical artefact.
Things to Do in Ravenna #6
Visit Ravenna San Marino
Another one of the reasons to visit Ravenna is the city's, San Marino. This is termed as the smallest country in the world, and you can easily find it in the south of the province of Ravenna before you look for how to get to Ravenna Italy. It is a land-locked country with a small population of about 33,000 people. It serves as a fantastic Italian city break, and you can find amazing sites to view from the mountain. Its San Marino cathedral is a historical site that contains a few Ravenna mosaics and others that are significant to the country.
Things to Do in Ravenna #7
Visit Ravenna Cesenatico
This is an excellent site for people looking forward to having a fantastic time at the Ravenna beach. It is a resort town on the south of the province of Ravenna in Italy. You can enjoy a Ravenna beach experience as well as great Ravenna Italy hotels. The coastline offers a perfect sunset viewing site, and it's a romantic getaway place for couples, giving you one of the best reasons to visit Ravenna. You will find a few outdoor pools to help you enjoy the water both during the day and at night. Make sure you visit the Grand Hotel Cesenatico as you sample other Ravenna in Italy hotels in the region.
Things to Do in Ravenna #8
Piazza Del Popolo
As you walk away from the famous Basilica Di San Francesco or the Basilia Di Sant'Apollinare, where you can get exotic views of Ravenna mosaics, you will come across this amazingly constructed square. It is right at the centre of the town when searched using the Ravenna Italy map. From here you can explore significant parts of the city such as the Ravenna territorial building for the government and Comune Di Ravenna. You can find several eating places from this location as well before you get back to viewing more Ravenna Italy mosaics.
Things to Do in Ravenna #9
Dine at Trattoria La Rustica
As you visit Ravenna or come to see Ravenna mosaics, a great place to dine at is the Trattoria La Rustica. Though it is not really the right place for an Italian city break, its food and service delivery can be one of the reasons to visit Ravenna. From here, it is easy to locate several places to view and learn about Revenna mosaics. You cannot visit Ravenna and miss to taste some local Italian delicacies. You will also get several wine selections in addition to your pasta. The menu has a lot of meals you can explore plus the atmosphere is very homely.
Things to Do in Ravenna #10
Marina Di Ravenna
If you are searching how to get to Ravenna in Italy, to the northeast you will see the Adriatic coast that provides a fantastic Ravenna beach. It is a great city escape site and a good break from Ravenna mosaics. This Ravenna beach has a fascinating harbour that is used for fishing and a resting point for boat sailing. You can quickly locate it on the Ravenna Italy map and find time to stop by as you visit Ravenna. Along its stretch, you will find several cosy beach bars and hotels which is available for overnight bookings. Apart from Ravenna mosaics, this is another reason why most people from neighbouring provinces visit Ravenna Italy.
Visit Ravenna
Where to eat in Ravenna
La Cucina del Condominio
Osteria L'Acciuga
Ca' de Vèn
Osteria dei Battibecchi
La Piadina del Melarancio
Mercato Coperto
La Gardela
Ravenna mosaics attract both the locals and foreign tourists throughout the year. The city's historical importance keeps spreading, making it easy for people looking for how to get to Ravenna in Italy, to locate the place. The above locations will give you a head start on what to expect. So what are you waiting for? You'd better get that flight booked!
Have you had Ravenna in Italy on your bucket list for some time? I'd recommend a visit to Ravenna ASAP, before the tourists really find out how beautiful the city is!
---
Fancy extending your trip and heading in to Tuscany? Check out my travel guide to Tuscany!
A trip to Italy is one of my favourite types of weekend break, so I've pulled together my ultimate Tuscany itinerary. Tuscany is one of the most expensive regions in Italy, despite the fact that more people visit cities like Rome, Naples, Florence and Venice. Therefore I would 100% go on a road trip around this stunning region.
There are many reasons why I love Italy; the people the pizza and the piazzas. Italian life often involves around family, and a lot of the time in Italian villages and towns the piazza is the local meeting point. The piazza is the hub of urban life and she's were both locals and tourists today when visiting visiting Italy come to relax or a cappuccino or people watch from their seat. You will of course also find the elderly local men here playing card games and smoking a cigar.
This guide covers all the information you need to plan a holiday to Tuscany. You can use this information to make the most of your holiday, and plan some amazing activities and experiences in advance of your trip. A trip to Italy can be an expensive if it isn't done right as it is one of the most expensive country in Europe but it can be done on a budget.
Tuscany is also where me and Theo will be getting married Next year and therefore it's become a special special place to both of us. Our wedding venue is very much a traditional Tuscan villa with farmhouse buildings white stone and vineyards and olive groves in the background.
---
Other posts that may help you:
The Best City Breaks for Couples
Beginner's Guide to Europe Interrail Routes
Copenhagen Chic at the Andersen Hotel
Best Vegan Restaurants in Malmo
Ultimate Guide to a Weekend Break in York
10 of the Best places to eat Brunch in London
The Best Weekend Trips in the UK
Sign up to AirBnB with this link and receive a £23 off your first booking.
To receive my articles and reviews straight to your inbox SUBSCRIBE HERE.
Did you know I also vlog my trips? Make sure you subscribe to my YouTube channel so you get alerted when all my travel videos goes live… CHECK THEM OUT HERE
Thank you for reading and as always happy adventuring!
If you've enjoyed this post, please share it for me with all your friends and family!
Sophie X
Photo credits: from Pixabay