This year we were lucky enough to have been invited to Lapland UK. I have read about this magical place before, and have wanted to go for years, so I was beyond excited. Christmas is an important time of the year to me, and our families, and this was the perfect way to kick off the festive season.
If you do not want to get on a plane to visit Lapland, there is a UK alternative two hours away. Tucked away in the heart of The Crown Estate in Ascot, LaplandUK is the 'secret in the forest' that delights both children and adults. They opened their doors once again this November for the tenth year. Get your Elf Passports at the ready, we are off to Lapland.
We visited LaplandUK with Arabella's mum, her step-dad and brother, as one big group, as we thought it was really important for Arabella to spend time with us all together. It was a great day, and a really lovely way to bond as a family. Leading the way for modern families….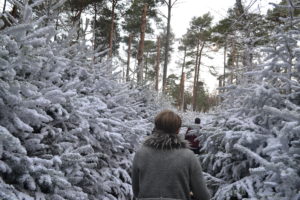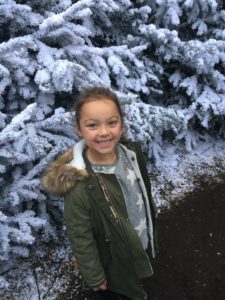 LaplandUK started over 10 years ago, born out of a tiny village is now an all-encompassing immersive experience, with fake snow, and the real Father Christmas. Founded by Mike and Alison, parents to four children, LaplandUK is simply an offering from parent to parent. A way of engaging the children of today with the magical world of the North Pole. It's an experience like no other in the UK!
Before you even arrive, these guys make the small things matter, sending a personalised invite to your child, asking them to join Santa in Lapland for a special visit. And the magic does not stop there.
Throughout the four-hour immersive experience, the kids (small folk) travel through the winter wonderland, stumbling across characters along the way, including Eeko the Elf and her many helpers.
When the big wooden door to the Enchanted Forest swung open, there was an instant buzz of excitement and as you make your way down the snowy path towards the Elf workshop, Arabella's eyes beamed open.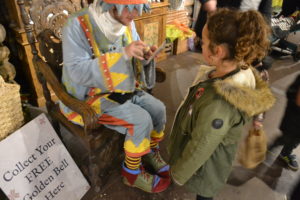 Kids and adults make their way through the organised tour and stop off along the way at different spots. Kids can make toys, decorate gingerbread with Mother Christmas, go ice skating, meet huskies and reindeer, write letters at the Elves post office and just as the day draws to a close, they can enjoy a personalised meeting with Father Christmas in his snowy woodland home.
In the distance, hidden amongst the trees and magical wooden bridges we could see tiny elf houses dotted around the twisty turns. Finally, it was a time to enter Father Christmas' home!
Arabella's mind was blown when it came to meeting Santa. She sat there very patiently as Santa himself asked her about her trip to Disneyland, and her little baby brother. He did not need to ask any questions, he just seemed to know it already!
She took a seat on a furry rug right next to him where he showed us the list… and luckily, Arabella was on the good list, meaning she got a wonderful husky toy to take home. The whole family left grinning from ear to ear.
But is it worth the money I hear you shout! To put it simply yes. It's expensive don't get me wrong, but if you've got kids aged 5-10 it's perfect, and a wonderful way to spend the day together as a family. The memories that you take away goes above and beyond the price of the day.
LaplandUK opens its magical pathway on 15th November, and is open on selected dates until Christmas Eve. Tours begin at 10am with the final tour starting at 5pm. Invitations to visit LaplandUK start from £49pp. For more information visit: www.laplanduk.co.uk
LaplandUK, Whitmoor Forest, Swinley Rd, Ascot SL5 8BD
*Thanks to Lapland UK for inviting us along to review the experience.