Amsterdam is a great place to visit on a long weekend, and considering we are so close to much of Europe here in England it means we have no excuse to explore the neighbouring countries like Amsterdam. Here is how I would spend a Weekend in Amsterdam.
I had never been to the Netherlands before, but my god did I fall in love with this wonderful little country. The people are welcoming, their culture is intriguing and their cuisine is to die for.
There is also a lot to see and most of them are within walking distance of each other. I actually did a walking tour whilst in Amsterdam with an app called Cities Talking as this was the best and most efficient way of exploring the city (a review to come later). However, if you don't fancy walking, bikes come as standard with a lot of hotels, hostels or apartments. They are the best way to get around and you can get a lot done in a small amount of time! Here is the low down of what I got up to during a long weekend in Amsterdam a few weekends ago.


Day 1
It was Friday evening and we rushed over to Stansted airport after work! We parked the car in Jet Parks which we booked with APH Parking through their online booking site. It is such an easy process with them. APH always give me the best deal and just make sure the process is so easy – book it here. We were flying at 7pm so it gave me the opportunity to get my nails done in the departures terminal with Cloud Spa. If you are anything like me preparing for a holiday is always a rush, and getting my nails done is never top priority, so having a nail bar in the airport is such a great idea. I had my nails done and felt really relaxed before we jumped on our flight.
As we arrived in Amsterdam at 9pm we jumped in a cab to our hostel, Ecomama. We were placed in one of their Superior Rooms with our own ensuite bathroom and double bed. Honestly, the room was incredible. And the hostel was just amazing too, with such a unique and friendly atmosphere throughout the building. It had an open plan kitchen-eating area, swings in the lounge, and even a huge bell tent!
After we had chucked our bags in the room we popped out for dinner and grabbed a burger from Burgerfabriek, an amazing little burger joint near Rembrandt Square. It was divine and just what we needed after a stressful week and late flight.
Day 2
In the morning we had a lovely lie in and then checked out of Ecomama. Unfortunately, because I had booked the accommodation so late Ecomama were fully booked on the Saturday and Sunday night. This doesn't surprise me – it's a dream!
Then we headed off in to the city to explore Jordaan, and walked through the small streets admiring the beautiful shops and wonderful food on display. We also bought a 24-hour canal boat cruise ticket with Hop On Hop Off Amsterdam and headed over to our accommodation for the rest of the trip – Yays!
Yays is a great new travel concept that reroutes urban tourism offering concierged boutique apartments in historical buildings, restored with respect for the neighbourhood and hosted by local personnel. All of their buildings are situated close to the city centre and offer a unique way of exploring your favourite cities. Me and Theo stayed in one of their one-bedroom apartment in Yays Zoutkeetsgracht.
Later in the afternoon we headed out to a shop to buy food for the next few days and had an early night by cooking dinner in our apartment kitchen with a bottle of wine!
Day 3
Our second full day in the city begun with us turning on our Cities Talking App. The app helped us navigate Amsterdam, taking us from the Red Light District, to Jordaan, to the Anne Frank House, and then across the southern area of the city, before taking us back up towards the centre and Dam Square. It was a great way to see the city and get tips and secrets from someone without going off on a tour where you have to wait for everyone and stop every five seconds.
During the morning we stopped at the Anne Frank House. If there's one place you really should see when you visit Amsterdam, it's the house where Anne Frank and her family hid from Nazi persecution during World War II. It's a wonderful insight in to the terror that Amsterdam had to deal with and it's a great way to learn about the war and what happened. Take the tour up in to attic and walk in the footsteps of Anne and her family. Tickets are €17 but make sure you arrive early as we arrived at 10am and there was already a three-hour queue!!!
After wandering further and then jumping on the Hop On Hop Off canal cruise before our tickets expired, we then walked over the Red Light District for dinner and to grab a couple of drinks.
It is difficult to ignore Amsterdam's seedier side after dark but you have to remember prostitution is legal in Amsterdam and it is not uncommon to see women moving provocatively in window along the canals. Just skip out this bit if you might find it uncomfortable!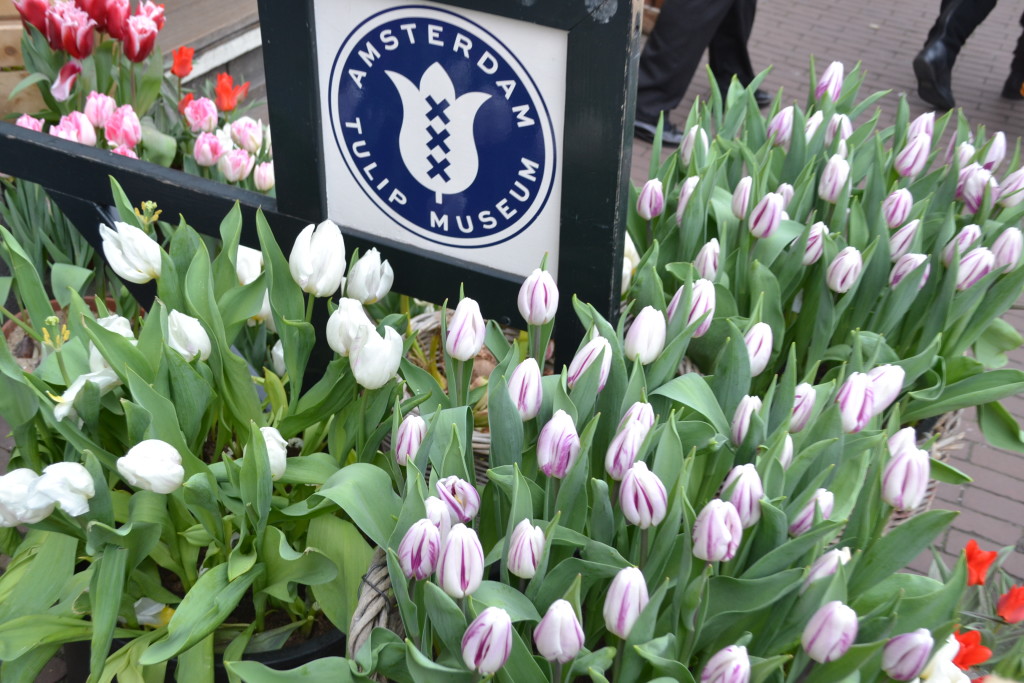 Day 4
After a lovely lie in we jumped back on the bikes and headed over to the Amsterdam Flower market at Singel down in the south of the city. We tied the bikes up and wandered around the market looking at all of the tulips, bulbs and various flowers propped up in baskets and vases.
As time then passed by we realised we were running late for our VIP Tour at the Heineken Brewery. We decided on the VIP tour of the brewery as we wanted to truly experience the way in which the brewery came to be Heineken and the history of the beer.
The Heineken Experience is located in Heineken's first built brewery in Amsterdam's city centre. In 1988 the brewery stopped producing beer when it became unable to meet the high production demand. Now the Heineken Experience welcomes over 800,000 visitors yearly from all over the world.
The guided Heineken Experience tour takes you on a 90-minute tour through the old brewery in the heart of Amsterdam, including an exclusive behind the scenes look. After they take you upstairs in a small group and there is time to enjoy a private beer tasting with your own guide consisting of five selected premium beers with matching Dutch cheeses. This was a brilliant experience and we left feeling full and tipsy! Adult tickets are €49 per person for the VIP tour.
As we left we were given a special personalised gift with our names on a bottle of Heineken!
After we had finished nearly six pints of beer we biked down to the iamsterdam sign round the back of the Rijksmuseum. You can bike through the middle of the museum in to the green square at the back where the hordes of people crowd around wanting a photo on the famous lettered-monument. I would spend only five minutes here, grab your photo and be off – its manic and also a hotspot for pickpocketers!
After scoffing a hotdog priced at ten euros we then headed to the incredible Brouwerij 't IJ; a brewery under a windmill with an incredible array of beers, tasty food and good times. We met a couple we had gotten friends with at Heineken and spent the afternoon drinking good beer and eating saucisson in their traditional Dutch pub – the best!!
It was a great end to a wonderful trip in Amsterdam, and it really made me fall in love with such an incredible city.