After three gruelling flights from London Heathrow we finally hopped onto a speed boat at Dharavandhoo Island and hurtled towards our Maldives accommodation, the beautiful Reethi Faru Resort. Due to our flight arriving in to Male mid-afternoon, we ended up arriving at the resort after sunset. From the moment we stepped onto the jetty, all we could hear was the sound of the waves and our guides friendly voice, as they welcomed us to the resort with fresh coconut water. We knew we had chosen the right Maldives Accommodation for our dream trip.
Situated in the Raa Atoll, the magical Maldives Accommodation of Reethi Faru boasts a beautifully set 600-meter island fortified by the impressive coral reef that circles the surrounding beaches. A larger resort in The Maldives, they offer guests a choice of over 150 rooms, with many located on the beach or over the water.
Reethi Faru is a one of a kind resort, located on a tropical paradise island, where crystal clear waters and their incredible house reef, set the standard for an amazing visit to The Maldives. The lush island is full of tropical foliage, surrounded by coconut groves and palm trees.
Priding itself on being a bio-luxury island paradise, Reethi Faru is unassuming and isolated, where natural beauty shines through. The stunning lagoon and house reef offers guests the opportunity to swim with an array of marine life, including eagle rays, sharks and fish.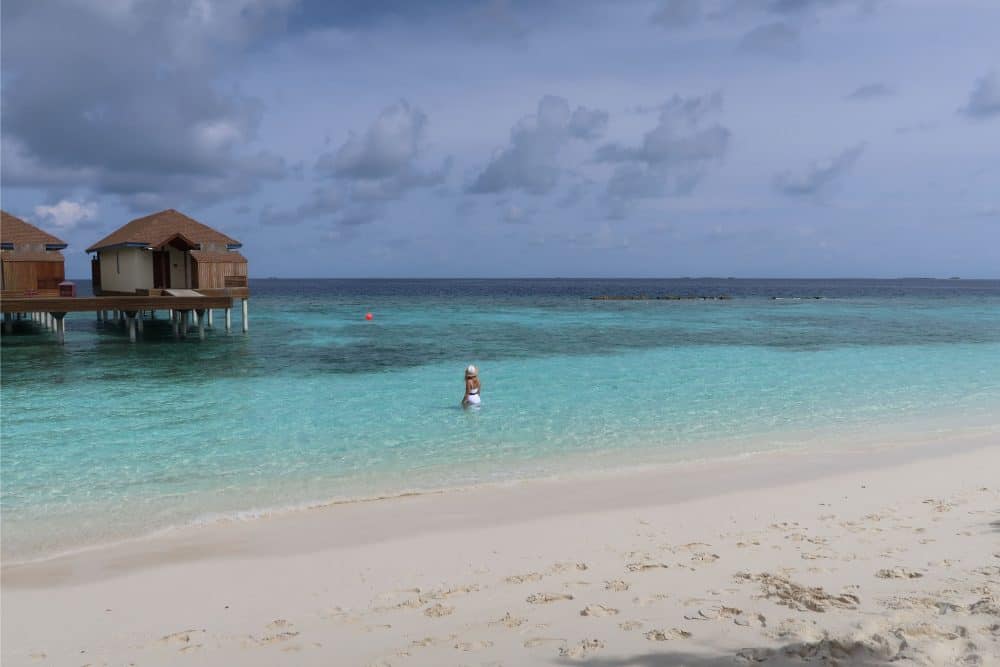 Of course Maldives accommodation is easy to come by these days, but choosing where to stay in The Maldives can prove difficult as you need to really focus on those personalised experiences when booking a Maldives holiday. A Maldives resort can offer everything from under water activities, restaurant, paddle boarding, diving, cookery classes and more.
It is of course possible to book a Maldives all-inclusive holiday and be done with it, but I would recommend opting for the more authentic stays where you can, by choosing what you eat, what you do and how much of the resort is based around traditional values. Make sure when you spend a week in The Maldives that its the best holiday you ever have, especially if you're on a Maldives honeymoon.
On our first morning after catching up on sleep, Theo headed out straight from bed to the beach for a paddle in the warm blue sea whilst I had a few for minutes in bed. After we settled in, we took a short walk around the island to check out what was on offer, immediately opting to hire some snorkelling equipment is a must here. The array of sea life around the island is truly astonishing and we spent hours back to the sky scanning the sea floor and coral areas (Note to wear a t-shirt as we realised quickly it's easy to burn this way).
On most mornings we ventured to the pool and enjoyed the views from this side of the island. We then spent the afternoon watching the sea planes come and go, whilst lounging and swimming in the idyllic infinity pool. And there are activities galore on this tropical island, including windsurfing, canoeing, kitesurfing and jet skiing. You can head further out on a sailing trip to nearby islands, or dive deeper underwater on a PADI course.
It is more than possible to spend a week in Maldives here and booking a Maldives tour package can be done through tour operators, or you can simply go direct to the resort. There are many resorts offering Maldives all inclusive holiday packages but this isn't always the best way to experience The Maldives. Instead really get to know the people, their culture and their customs by going to a more local-orientated resort for your Maldives vacation. And cheap Maldives holidays are also now possible, but again you then don't get to experience the hospitality you get at a resort like Reethi Faru Resort.
Keep reading this guide for everything you need to know about one of my favourite Maldives accommodation: Reethi Faru Resort.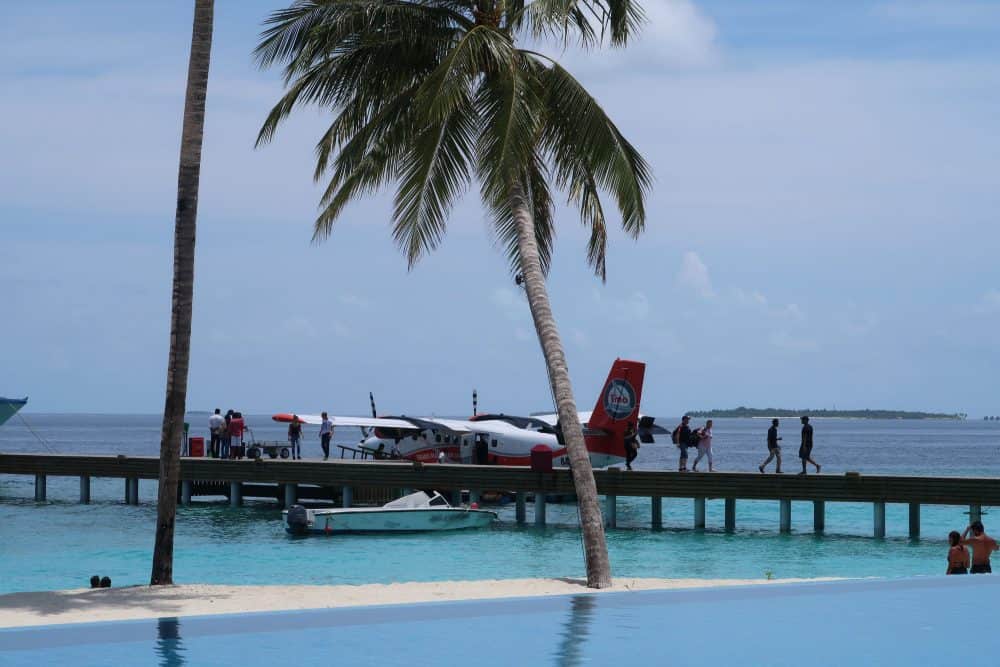 Maldives Accommodation
Maldives Accommodation: Reethi Faru Resort
Location
In the northern Raa Atoll, Reethi Faru is a 45-minute seaplane transfer, or a 20-minute domestic flight followed by a 30-minute speedboat transfer, from Malé airport. The teardrop-shaped island is cast adrift in the relatively undeveloped Raa Atoll, but where the marine life is incredible, due to it's isolated location.
Maldives Accommodation
Maldives Accommodation: Reethi Faru Resort
Bedrooms
The island offers guests a choice of different Maldives accommodation spread across 150 rooms, located all around the island. Many are concealed within the jungle, perched on stilts above the water or dotted along the beach.
Garden Villas are set back from the beach so we recommend the Deluxe Beach Villas or Deluxe Jacuzzi Beach Villas for a bed-to-beach location and a private hot tub – perfect for honeymooners. Or opt for a Water Villa for laid-back lagoon living at its best; you can dive straight into the crystalline waters from your deck.
Garden Beach Villa
We first stayed in a beach villa on the south of island, located directly on the beach, surrounded by jungle. The villa was beautiful and boasted all the amenities we needed and was nestled into the greenery hidden from view from the beach. A small sand path guides you from the apartment doors right to the beach with unspoilt views to the horizon.
Situated just a few steps away from the shiny white beach with a view of the lush greenery of the aquamarine lagoon, these lavish villas offer the ideal tranquillity and seclusion you seek. The room included an outdoor shower and deck area with access to the beach only meters away. All designed tastefully and with everything needed for a comfortable and minimalistic stay.
The interiors are rooted in their surroundings, many with private terraces and outdoor rain showers, and island-inspired decor – think coastal wall prints, cushions the colour of the sea and jungle, and natural wood furnishings.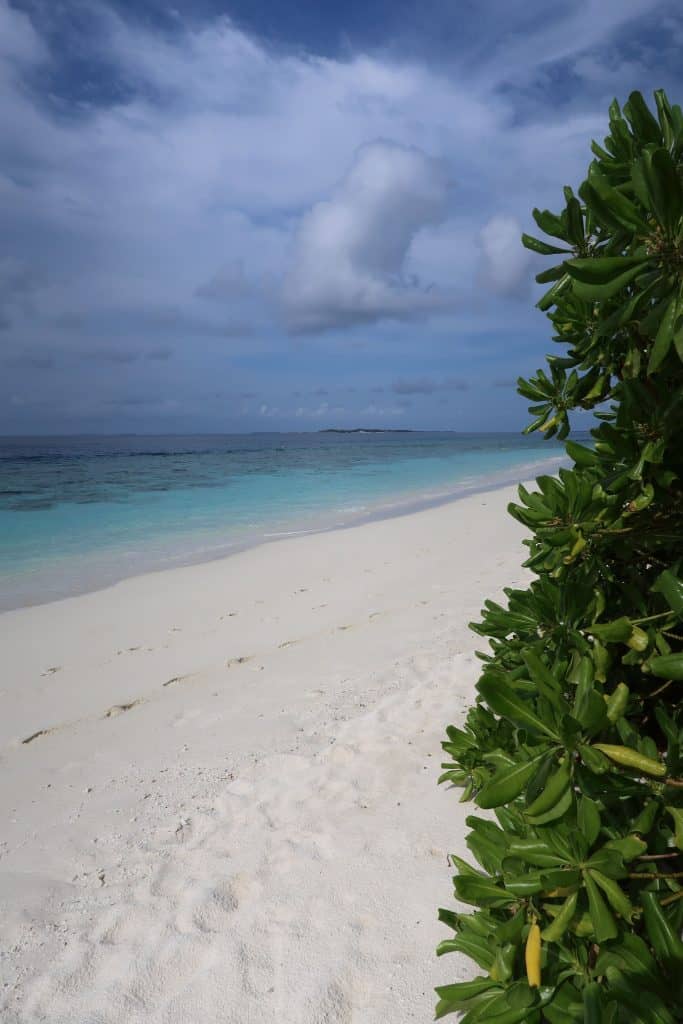 Overwater Villa
Then after a few nights, we moved from our Garden Beach Villa to one of the islands Overwater Villas. Perched above the turquoise waters of the Indian Ocean, the overwater bungalows offer privacy, spectacular views and phenomenal experience of stepping into the crystal clear waters from your own deck.
Whilst we relaxed poolside on our third morning on the island, our bags were being taken from our beach villa and on to our second villa on the resort, an overwater bungalow!
After some sunbathing we ventured to our new sea villa on the other side of the island. The approach to the sea Villa's was incredible enough, walking along a 60-meter wooden platform over the sea to the palm shaped layout of the 20 or so villas lined up perfectly. Entering the villa, the main view straight through the main room was the open doors at the back boasting the unspoilt sea view stretching as far as we could see!
The room again had bathroom with extended out to a shower under the sky. The room had a Nespresso machine in one corner and TV in the other (not that it was switched on in this room!) the balcony was situated over two tiers. One had deck chairs and outdoor shower, and the jetty on the bottom has some seating and ladder down to the ocean, for easy access to dive into the deep blue. Around the villa was a stunning coral reef with abundant sea life and it's here we saw brightly coloured fish, including eagle rays and sharks!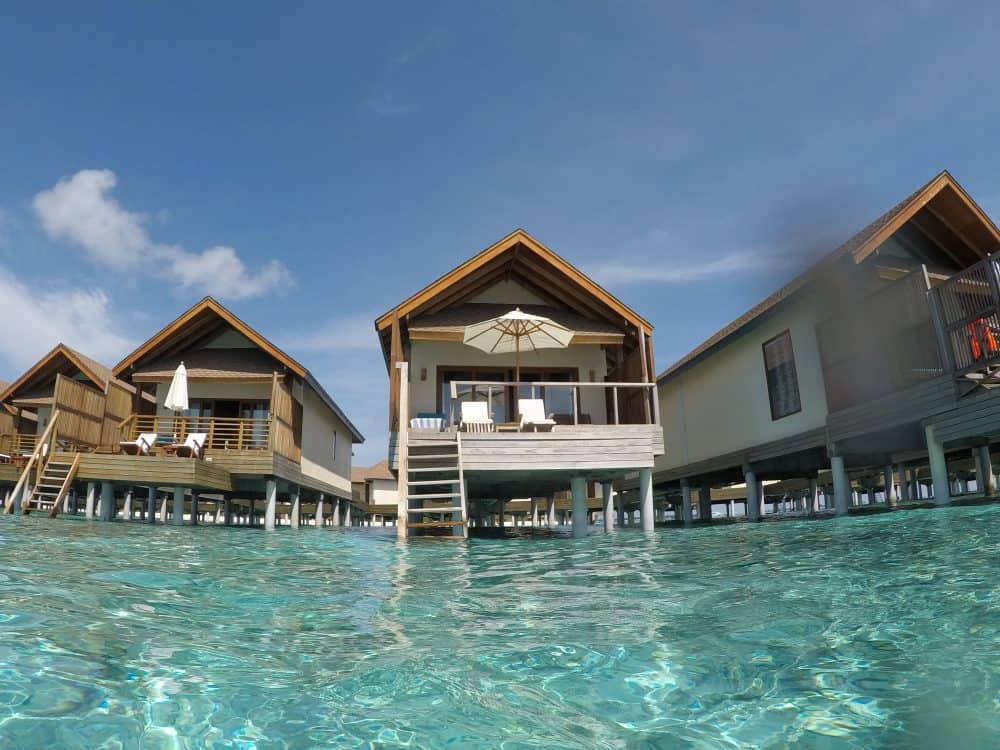 Maldives Accommodation
Maldives Accommodation: Reethi Faru Resort
Facilities
The facilities at our Maldives accommodation was super important for our stay, and we opted for a stay at Reethi Faru due to the extensive activities and facilities they had on the island. At Reethi Faru you can take a dolphin safari, get involved in Reethi Faru's marine conservation programme, head out on a catamaran sailing trip, go snorkelling, head to the spa for a massage, relax in the infinity pool and much more.
This Maldives accommodation has one of the leading Water Sports Centre's in the Maldives, offering something for everyone. The team of internationally certified instructors can assist you in finding an activity you fancy, whether it's diving 30-metres down or heading out on a paddleboard.
Or if you fancy relaxing instead, the Coconut Spa at Reethi Faru Resort is designed to provide you with a relaxing ambience and comfortable interiors and provides rejuvenation for everyone who enters. I didn't get a massage here, but Theo did, and he said it was one of the best massages he's ever had. So, he said it, now you know it's really good.
There is also tennis courts, badminton courts, games room and much more located on the island, so you will never get bored here.
Maldives Accommodation
Maldives Accommodation: Reethi Faru Resort
Food & Drink
This resort is much bigger than some other Maldives accommodation, and it was much bigger than the other resort we stayed at during our trip.
Reethi Faru has six restaurants and six bars, all offering a range of cuisines, drinks, views and experiences. There is the main restaurant Vakaru, where you can eat breakfast, lunch and dinner, if you are on the half board or full board package, and then there are an array of speciality restaurants dotted around the island.
Restaurants and bars all have one thing in common: incredible locations – feast on fresh seafood at the overwater Dhiyavaru Restaurant or sample Maldivian fine dining in a torch-lit thatched beach cabana at Huvandhu Garden.
Vakaru
Breakfast at the resort was amazing and located in the main buffet restaurant where a feast was laid out. A mix of freshly prepared cuisines were available with no shortage of options. Everyday multiple staff prepare an array of fresh dishes including breads, meats, salads and fruits.
We sat enjoying our breakfast looking out on the ocean was perfect whilst eating freshly cut fruit and sipping on a coffee, to try and beat the jet lag. Most nights we headed over to the main restaurant for dinner which was incredible. They had a great variety and different cuisines each night. Every night they had a fresh meal area which had pastas and other freshly prepared pan dishes. Also, they would have a local cuisine section too so we could try various Maldivian dishes. The fish they had on offer was fresh and delicious.
After dinner we generally ventured across to the main bar and sat in the low light watching the waves with a Gin & Tonic taking in the sounds. One of the small but liberating aspects we loved about this resort is everyone roaming around with no shoes on just enjoying the sand between their toes, this bohemian outlook was lovely and gave such a sense of freedom and relaxation.
Dhiyavaru Restaurant
Located out in the ocean and designed to embrace the environment, Dhiyavaru Restaurant in Maldives is designed to work in harmony with the natural world; with a two-tiered deck to appreciate the panoramic views of the turquoise waters in the Indian Ocean. We headed here one morning to get our daily caffeine dose- 24/7.
The Sunset Bar
Most nights before dinner we dropped into the sunset bar and sat on deck chairs, drinks in hand watching the sunset over the horizon. The intimate round bar situated on the south-west beach offers a selection of cocktails at sundown and throughout the day. It was the perfect place to grab a drink and have a stroll before dinner. The Sunset bar has BBQ snacks through the day and the chef brings around fresh grilled fish aperitifs to the guests whilst enjoying the view
Reethi Grill
This thrilling Maldives dining experience consists of an open-air grill which provides you with the chance to admire the showmanship of the resorts chefs as they cook your meal live! You sit on tables with the sand beneath your feet and the stars above you. It's one of the most romantic places we ate during our trip.
Faruge Bar
The social hub of Reethi Faru, the Faruge Bar is constructed with coconut timber and thatch offers you both shade and an area to relax in the evening post-dinner. They've also got an extensive games room for you and the family to enjoy, evening themes and 55″ big screen TV.
Maldives Accommodation
Maldives Accommodation: Reethi Faru Resort
Underwater Activities
Reethi Faru has been mindful of importance of coral conservation since the beginning of construction of the resort. They have built the resort, with the island's natural habitat in mind throughout, with design efforts focused on creating a luxurious tropical Maldives accommodation experience, whilst also ensuring they uphold the standards required of an eco-resort in Maldives.
They have even created artificial reefs around the island, to salvage the corals that were damaged by coral bleaching and natural storms over the past decade and most are located in the coral garden if you want to check out how they're doing.
On the reefs we were lucky enough to see some amazing marine life including spotted eagle rays, Reef Sharks and various fish in amazing different colours. The resort also has sports equipment for hire such as kayaks and canoes in addition to the trips they offer from the water sports centre. we took full advantage and grabbed a kayak for a couple of hours and headed further out to a couple of the coral reefs.
Coral reefs are the heart of life in the Maldivian waters and restoration of this ecosystem is of paramount importance now. Their goal is to have multiple 'reethi gardens' around the island and to create a sustainable long-term project to help preserve and conserve the coral reefs at Reethi Faru Resort.
Whilst staying in our overwater bungalow, we spent hours with our backs to the sky trawling the seabed looking at the amazing coral and fish! We were lucky enough to see some amazing fish of all sizes and the moment we caught a Spotted Eagle Ray on GoPro was incredible. We followed it for around 15 minutes as it went about its daily routine, feeding and flipping rocks on the ocean floor and under our villa.
Maldives is known to be home to one of the elegant and mesmerising creatures underwater, manta rays and whilst we didn't see any during our stay, this island is one of the best to see them. The South Asian Monsoon brings in copious amounts of plankton that the manta rays seek out and feed on mass. The resort protect these creatures and creates ideal and safe homes for them to breed, unwind and eat.
In collaboration with Manta Trust, Reethi Faru Resort has started a Manta ID Project. Each manta has unique spots on the underside, the ventral side, which is used to identify the individual. These photos are sent to the Manta Trust, who then provide us with information on that particular individual (for example, sex, small scale movement patterns, migratory patterns etc.). This is our effort to contribute to the larger mission of the Manta Trust to drive global conservation of manta rays and their habitat.
Maldives Accommodation
Maldives Accommodation: Reethi Faru Resort
Overall
Our entire trip to Reethi Faru was about setting our own pace – waking up when we wanted, dining when we wanted, swimming when we wanted, sleeping when we wanted and unwinding with a massage when we wanted.
If it's rest and recuperation you need, then this resort is the perfect place to relax and unwind. I would highly recommend this wonderful island, so whether you are heading here for your honeymoon in The Maldives or simply for a holiday of a lifetime, I would recommend this wonderful resort.
---
Are you wanting to go on a multi-resort trip to The Maldives?
Make sure you check out my other blog posts on visiting The Maldives and check out where else I stayed!
Fushifaru
Located in the quiet and low-key Lhaviyani Atoll, only 40 minutes away from Male by seaplane, Fushifaru is the perfect place for a Maldives holiday. The Maldives accommodation is surrounded by healthy reefs, and the underwater world here is second to none.
The resort is based upon a Maldivian village, with coconut palms and sandy paths leading to peaked-roofed villas and common areas, with the heart of the island in the middle and the sandy paths leading out to their amazing white beach.
At Fushifaru resort there are 49 villas tightly woven around the small intimate island, including five water villas on the sunrise side of the island, offering something unique for guests to experience. At Fushifaru there are four types of accommodation available: Water Villa, Sunrise Pool Villa, Sunset Pool Villa and Beach Villa. We stayed in one of their gorgeous Sunrise Pool Villas, with our very own private pool in the garden area, leading straight down to the beautiful beach.
Facilities on-site include a small fitness centre, spa, infinity pool, dive centre, water sports tent as well as restaurants and a bar next to the pool. The island is tiny so there isn't much, but as long as you know what you are getting yourself in for: intimate island life, then this is more than enough.
I was incredibly impressed with the standard of food and drink available on the island, considering they are such a small resort and located in a very isolated atoll. All of their restaurants face the water and I think that's a gorgeous touch. The dining experiences are mostly based around their main restaurant Korakali, which is included on all half and full-board packages, for both breakfast, lunch and dinner.
We had such a wonderful Maldives holiday and despite knowing we could do a trip to The Maldives on a budget, we decided if we were visiting this amazing region, we wanted to do it right and splash out on one of the best resorts we had heard of, Fushifaru. They offer guests the ultimate Maldives vacation, with water bungalow, dolphins and Maldives accommodation worth splashing the cash for.
---
Honeymoon in The Maldives
Maldives Honeymoon Prices
And of course, the costs. What does it cost to go on honeymoon to The Maldives?
That answer I am afraid is endless, and it's much better to work it around your own budget, than the other way around. The Maldives is even more affordable these days and it's still possible to have the most amazing adventure to The Maldives on a budget.
The cost of a honeymoon in the Maldives is going to vary based on which Maldives resort you stay t, what package you go for and how many excursions you want to do whilst at your resort.
If you are trying to take a honeymoon in the Maldives on a budget, don't be afraid of the Maldives, it is possible to do it cheap but be aware the resorts you stay on won't be as amazing. Also another option is to go in off peak season too.
We worked out is cost us around £4,000 for two people with flights, half board, activities, seaplane, transfers, and any additional extras.
One Week Maldives Honeymoon Cost Estimate:
£1,200+ return flights to the Maldives from London (similar from USA)
£200-£800 transportation to Maldives resort island depending on domestic or seaplane transfers
£500+ activities and excursions in the Maldives (snorkelling, kayaking, turtle quest, local village trip, diving, special dinners)
£,1500+ accommodation in the Maldives
AND REMEMBER – DON'T FORGET INSURANCE! I always get my travel insurance with World Nomads which covers which medical, trip cancellation, theft or damage, baggage, car rental coverage, and more.
A honeymoon in the Maldives is easily the best place in the world to take a honeymoon. So what are you waiting for? Get those flights booked and use this guide as your go-to travel companion.
---
Other epic honeymoon destinations
If a Maldives honeymoon isn't for you make sure to check out some of my other favourite honeymoon destinations.
---
So has that made up your decision on your Maldives Accommodation?
For further information on the Maldives, visit www.visitmaldives.com.
Other posts that may help you:
The Best City Breaks for Couples
10 of the Best places to eat Brunch in London
Ultimate Guide to one week in Bali Itinerary
Gili Islands Accommodation: Backpacker Hostels to 5* Luxury
10 Things You Can Only Do in Australia
Sign up to AirBnB with this link and receive a £23 off your first booking.
To receive my articles and reviews straight to your inbox SUBSCRIBE HERE.
Did you know I also vlog my trips? Make sure you subscribe to my YouTube channel so you get alerted when all my travel videos goes live… CHECK THEM OUT HERE
Thank you for reading and as always happy adventuring! If you have any questions about the destination please leave these in the comments below.
If you've enjoyed this post, please share it for me with all your friends and family!
Sophie X
*I was a guest of this hotel but as always opinions are my own.