Is there anything better in life than good Lisbon food and good company? Well throw in some delicious cocktails and incredible sunset views across one of Europe's most beautiful capital cities and you're definitely on to a winner.
During a recent weekend break in Lisbon, my friend Sophie and I (Sophie's on tour!) headed to the glamorous Tivoli Lisboa Hotel near Avenida metro stop in the city centre to experience what their rooftop bar and restaurant had to offer. We of course went to Lisbon for the sunshine, culture and views, but we also came to the city for the world famous Lisbon Food….
Arriving at around 7pm, we took the lift straight to the 9th floor and followed the walkway to arguably one of the best rooftop bars in Lisbon – Sky Bar Tivoli Lisboa. Descending the stairs to the bar, we were met by stunning views across the colourful streets of Lisbon and out to sea. The timing couldn't have been more perfect – still basked in warm sun but out of the daytime heat.
Once seated, our lovely server introduced himself and playfully suggested he would select our cocktails – not something we were overly comfortable with initially – but we threw caution to the wind and agreed. The first round of cocktails arrived and we kicked back, enjoying the killer throwback soundtrack served up by the DJ and watching as the bar filled with revellers in search of a tasty tipple with a view.
We swapped drinks and, though potentially not what we'd normally order, it was fun to try something new and sample some of Portugal's alcoholic offerings.
As the sun began to set we took in the beautiful pink sky and ordered some more cocktails, this time accompanied by a delicious appetiser – the SEEN Taco, with Alaskan king crab, mango, guacamole, red cabbage, tobiko roe, mayonnaise and pomegranate.
Fun fact, I'm actually allergic to fish, so Sophie tackled this one on my behalf, but it looked incredible. Not the easiest thing to eat, but what's a splodge of guac on your face amongst friends? Tummies now rumbling after the teaser of what awaited us at SEEN, we headed inside for dinner. Lisbon Food really is amazing!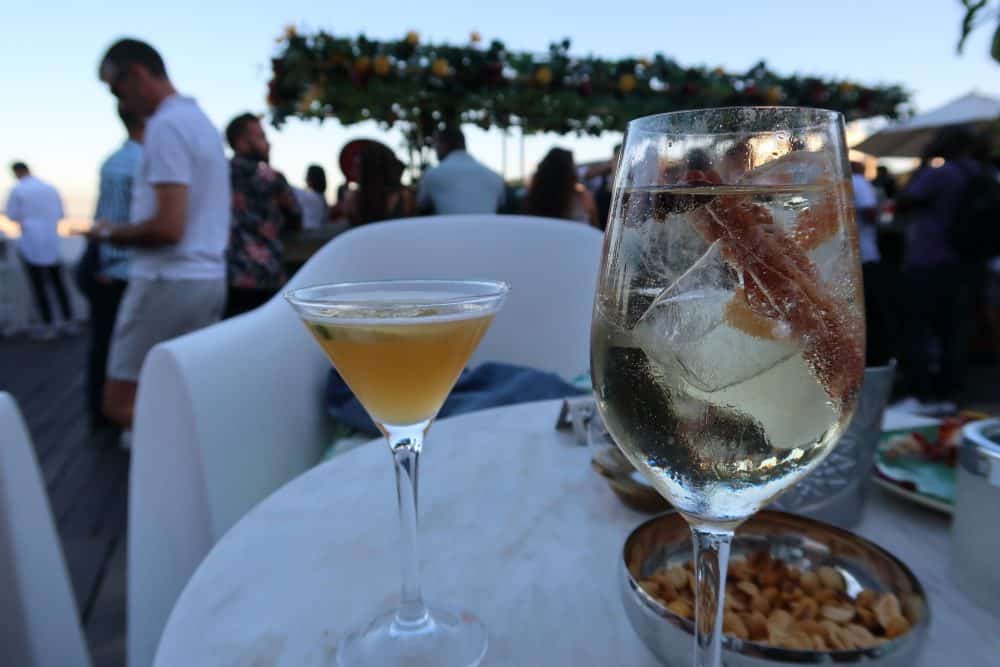 Sitting alongside SkyBar, SEEN is the new spot to 'sin and be seen'. A cosmopolitan yet intimate vibe is complemented with 30s aesthetics and the restaurant's Art Deco style was designed by the architect Sidney Quintela, who utilised classical materials from the era such as wood, brass, velvet and unique patterned fabrics.
Entering through heavy velvet curtains, there's definitely a private-dining feel to the place and our table was nestled into a jungle of plants that adorned the walls. We were again treated to breath-taking sunset views through the wide aspect windows before meeting our wonderful server.
Inspired by both Portuguese and Brazilian cuisine, the SEEN menu – created by Chef Olivier – features authentic, high-quality ingredients from Wagyu beef to locally sourced seafood and traditional Brazilian palm hearts. In addition, for lovers of Japanese cuisine, there's a Sushi Bar led by Chef Thalles Boniatti dos Santos and an Oyster Bar allows you to dine on the freshest oysters in town.
In fact, it must be said that if you're a fish lover, you'll be spoilt for choice at SEEN with everything from truffled lobster salad to black cod with tamarind sauce and sushi rolls. Unfortunately, both myself and other Sophie aren't huge fish fans, so our server guided us through the menu and we opted for lamb croquettes with Dijon mustard, mango and honey to share as a starter.
To follow, on the server's recommendation, we chose the chef's special demoniac rib eye steak for two with sides of confit vegetables and gratin artichoke. I'm a rare steak kinda gal and Sophie preferred medium-rare, but this wasn't a problem and the chef simply split the steak in two to ensure it was cooked just how we liked it.
The steak was amazing and the confited veg were so full of flavour. Accompanied by a Super Bock beer and a nice deep Portuguese red, both courses disappeared pretty quickly.
Finding a spare centimetre of volume left in our stomachs, we perused the desserts menu. Struggling to decide as they all sounded incredible, we again went on our server's recommendation (he'd done well so far!) and chose two incredible puds – coco loco (basically a mountain of chocolatey, coconutty goodness) and banana & peanuts (a divine, nutty banana cake with coconut sorbet). Both desserts had popping candy incorporated and we giggled as our mouths snapped, crackled and popped.
Now well and truly stuffed, we rolled our way out of the restaurant (after making use of their gorgeous bathrooms) and decided to take a leisurely evening stroll back to our hotel to walk off some of the food.
If you're in Lisbon for a weekend break, or longer, I'd definitely recommend a trip to SkyBar for a yummy cocktail with insane views, and if you're in the mood for some delicious cuisine (let's face it, who isn't?) then SEEN is the place for you.
NB: Lisbon in general is a really affordable city and this venue is on the more up-market side of things, but if you were to have a similar meal in London you could find yourself paying double the price – so in my eyes it's worth a visit
Where to stay in Lisbon
The best place to stay in Lisbon
Located in the heart of Lisbon, the Four Seasons Hotel Ritz Lisbon sets the standard in luxury five-star accommodation in the city and is the best place to stay in Lisbon. The hotel was built in 1959 by the Dictator Salazar, and designed by award-winning architect Pardal Monteiro, to prove that Lisbon could do luxury as well as any other European capital and he certainly proved himself with this stunning building, and its interior.
Locals still call the hotel the Ritz Hotel, but it was taken over by the Four Seasons group and entirely refurbished. It's also got a great location, with Lisbon's narrow streets making traffic a problem, the hotel's location near the main Avenida de Liberdade provides easy access for guests around the capital.
The iconic hotel wears the soul of Portugal on it's sleeve, with art-deco interiors, set against a collection of important contemporary local artwork, and outside from the bedrooms and the rooftop fitness centre you can view the city's rolling hills, brown roofs and even the sea beyond. A huge marble lobby area, which leads into a formal lounge area, where guests can relax before and after dining in the Varanda Restaurant.
The décor throughout the hotel is grand, there are chandeliers and huge flower displays on gilded furniture, as well as collections of modern Portuguese art, from tapestries to sculptures and paintings. You can also dine on the terrace at the Varanda Bar is you want the alfresco style of dining, or you can head to the luxury spa in the basement, where you will find a 18-metre pool, with spa and sauna rooms.
Other posts that may help you:
The Best City Breaks for Couples
Beginner's Guide to Europe Interrail Routes
Copenhagen Chic at the Andersen Hotel
Best Vegan Restaurants in Malmo
Ultimate Guide to a Weekend Break in York
10 of the Best places to eat Brunch in London
The Best Weekend Trips in the UK
Not booked your hotel yet? Sign up to AirBnB with this link and receive a £23 off your first booking.
Thank you for reading and as always happy adventuring!
If you've enjoyed this post, please share it for me with all your friends and family!
Sophie X