Have you been to Mallorca? If you haven't get that flight booked, as you need to start planning your Mallorca Itinerary NOW!
Mallorca, otherwise known as Majorca, is one of Spain's Balearic Islands in the Mediterranean. The island is known for its beautiful beaches, stunning sheltered coves, limestone mountains and Roman remains.
The capital of Mallorca Palma has nightlife, the Moorish Almudaina royal palace and 13th-century Santa María Cathedral.
Here you can see stone-built villages include Pollença, with its art galleries and music festival, and hillside Fornalutx, surrounded by citrus plantations.
I would recommend this Mallorca itinerary as it gives you all the hot spots and some of the best off-the-beaten-track destinations on the island.
Mallorca is the crown jewel of Spain's Balearic Islands and the most popular destination in the Mediterranean.
I spent most of my time during the week based in our villa close to Alcudia and Pollenca, but having a car meant we could explore this amazing island further.
After a long journey, it's worth simply unpacking your suitcases and opening a glass of wine. Depending on what time you arrive you could have a dip in the pool, head for lunch or nip to the local supermarket.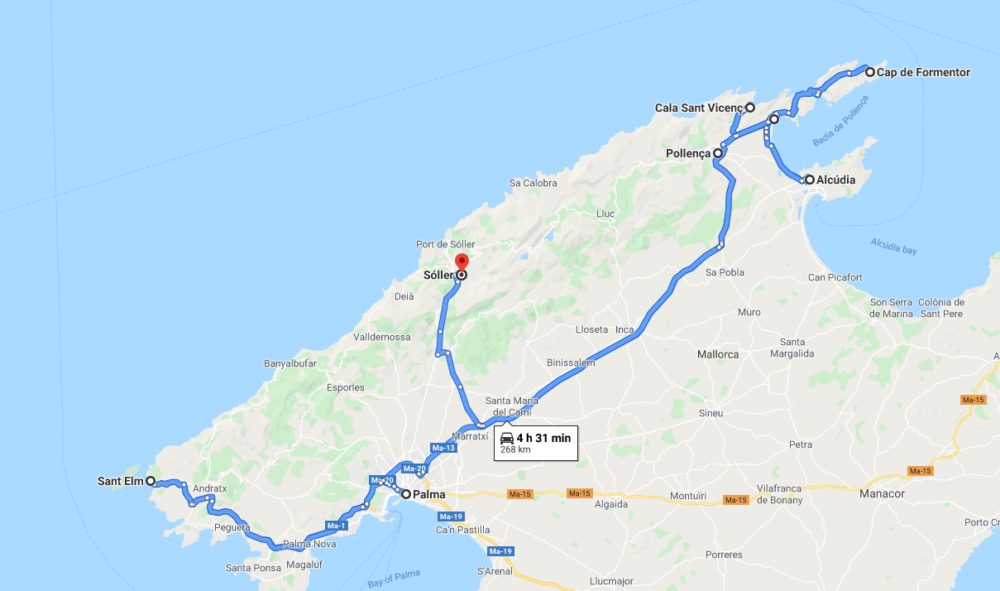 How to get to Mallorca
If you are flying into Mallorca you will arrive at Palma airport, also known as Son Sant Joan Airport. The airport is situated 8 kilometres east of Palma so it's easy to get from Mallorca airport to Palma. It's a large international airport which has hundreds of flights a day from countries all across Europe.
And did you know, you can also arrive by boat! You can get a ferry from Barcelona and Valencia, and it takes around 8 hours. Or you can take the Trasmediterranea car ferry between the Balearics and Spanish mainland, which takes 3 hours from Valencia to Palma and 2 hours from Ibiza to Palma.
When to go to Mallorca
I would recommend that the best time to visit Mallorca is in the months between the busy summer period. I travelled to Mallorca in June and I found this a great time to visit. The best time to visit is April–May and September–October, as you avoid the crowds, but get the warmer weather.
Weather in Mallorca
The Mediterranean climate means the island is hot and sunny most of the year, but it can rain during the months of September to November.
Weather in Mallorca in January Min. temperature: 8º C | Max. temperature: 15º C
Weather in Mallorca in February Min. temperature: 9º C | Max. temperature: 16º C
Weather in Mallorca in March Min. temperature: 10º C | Max. temperature: 17º C
Weather in Mallorca in April Min. temperature: 11º C | Max. temperature: 19º C
Weather in Mallorca in May Min. temperature: 15º C | Max. temperature: 22º C
Weather in Mallorca in June Min. temperature: 18º C | Max. temperature: 26º C
Weather in Mallorca in July Min. temperature: 21º C | Max. temperature: 29º C
Weather in Mallorca in August Min. temperature: 22º C | Max. temperature: 30º C
Weather in Mallorca in September Min. temperature: 20º C | Max. temperature: 27º C
Weather in Mallorca in October Min. temperature: 16º C | Max. temperature: 23º C
Weather in Mallorca in November Min. temperature: 12º C | Max. temperature: 19º C
Weather in Mallorca in December Min. temperature: 10º C | Max. temperature: 17º C
Mallorca Itinerary
Day One – One Week in Mallorca Itinerary

Palma
The best way to start your Mallorca itinerary is in the capital Palma. Palma is a resort city and capital of the Spanish island of Mallorca and is most famous for the massive Santa María cathedral, a Gothic landmark begun in the 13th century, which overlooks the Bay of Palma.
Also worth a visit is seeing the adjacent Almudaina is a Moorish-style Arab fortress converted to a royal residence. Then if you have more time, head to the west of the city, to the hilltop Bellver Castle, a medieval fortress with a distinctive circular shape which offers some amazing views.
Sant Elm
After lunch head to the wonderful town of Sant Elm, on the south-west coast of Majorca in the Balearic Islands of Spain. It lies in the municipality of Andratx. It is a picturesque fishing village at the far Southwest corner of Majorca, only a short drive from Andratx and Port D'Andratx. Although a sleepy village, with a variety of apartments and villas, there are also several restaurants of excellent quality.
Mallorca Itinerary
Day Two – One Week in Mallorca Itinerary
Sunday market in Pollenca
The old town in Pollenca has a great Sunday market from 10am to 2pm every week. It winds itself through the streets of the old town across the market places and up to the square at the bottom of the 365 Calvari Steps.
The market has 300 stalls where we can find food, crafts, shoes, clothes, plants. It takes place between the Plaça Major (main square) and Ca Les Monnares Square and surroundings; nowadays, in addition to these, you can also find all kinds of typical products from the island of Majorca, such as fresh produce.
After a long walk through the streets, you can take a short walk up to the top of the hill where a monastery called the Calvari church has sit for hundreds of years. There are some great views from up here, including views of Puig de Maria, so it is well worth the walk, and also you will burn off all the calories you ate and drank last night.
Afternoon in Alcudia and Port de Alcudia
After lunch on the second-day head over to Alcudia for an afternoon of exploring everything Alcudia has to offer. There are lots of boutique shops, cafes and souvenir shops so you can shop to your heart's content. There is also a market every Tuesday and Sunday.
And one the sun starts to dim head down to the port for dinner by the sea. Port d'Alcudia, neighbours the town of Alcúdia and has many hotels and tourist venues located within the town. Port d'Alcudia has a large beach which links up to nearby Muro Beach and it is lovely to spend an evening here.
I would recommend eating at AQUA at the far end of the port is a beautiful restaurant with an array of dishes on the menu ranging from seafood to steak. You can sit right on the water edge as you enjoy dinner with a lovely glass of wine!
Mallorca Itinerary
Day Three – One Week in Mallorca Itinerary
A day out at Cala San Vicente
If you want to explore the quieter areas of Mallorca, Cala San Vincente is the perfect day out. It is an un-spoilt Majorcan fishing port and one of the least touristy places on the island. There are only a few hotels and private holiday apartments meaning you can explore the little town at ease.
Cala Sant Vicenç is a small resort town in north-eastern Majorca, Spain. It consists of three small beaches, plus a few bars and restaurants catering to tourists. Located at one end of the town is the hypogeum of Cala Sant Vicenç, perhaps the most spectacular hypogeum on Mallorca.
It's set on the northern tip of the island, built into the rocky coastline at the edge of the Sierra de Tramuntana mountain range with beautiful views across the ocean. There are also three wonderful beaches here so remember to bring the bucket and space!
Then in the afternoon head to the prehistoric man-made caves. The caves are the remnants of a much larger burial complex that was gradually destroyed over the years, with the most dramatic destruction occurring since the beginning of the 20th century. Today there are just 7 caves remaining and only a few in good condition.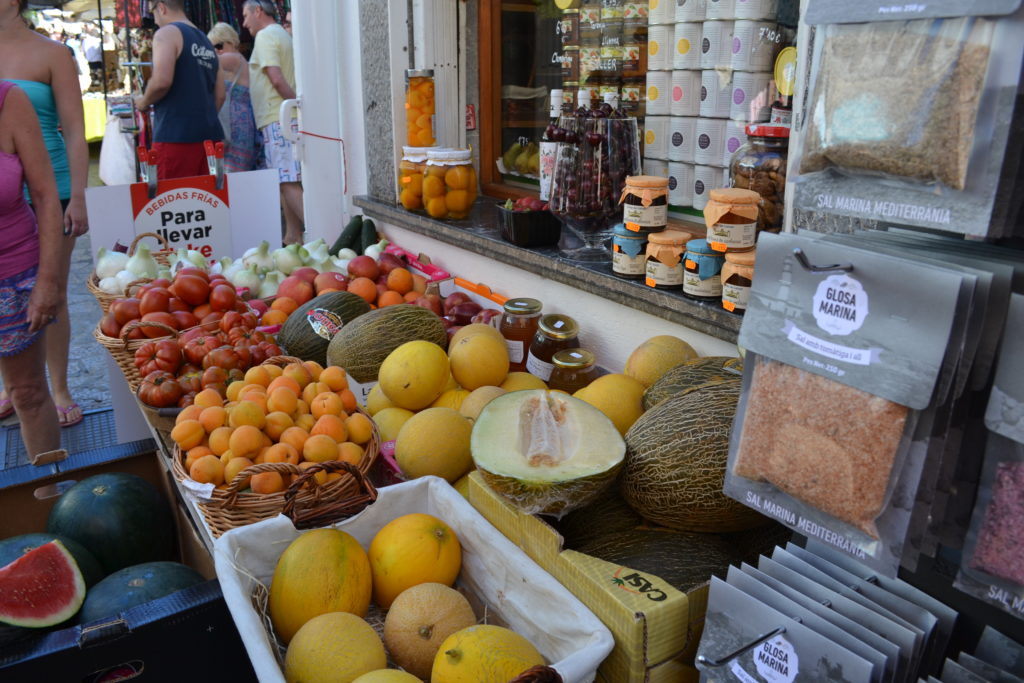 Mallorca Itinerary
Day Four – One Week in Mallorca Itinerary
Morning at Cap de Formentor
Cap de Formentor is a spectacular place, located on the northernmost point of the Balaeric Island Mallorca in Spain and the headland has quite a few lookout points with spectacular views of the coast and beyond. Its highest point, Fumart, is 384m above sea level and the only way in is along the so-called 'snake road' from Port De Pollença to Cap de Formentor.
It's a great spot to watch the sunset in the evenings so grab a few beers and some friends and head over to this unique spot in Mallorca for one of the best sunsets I have ever seen!
After this, you can head to the viewpoint of Cap Formentor. Only six kilometres from Port de Pollenca at the Mirador des Colomer. It's a fairly easy hike to the top, up a few steps for views across to the rocky island. The path opposite the steps leads to an old watchtower from which you can see the whole of the peninsula, as well as the bays of Pollenca and Alcudia.
On your way back from the viewpoint, make a stop at Cala Figuera, a district of Santanyí. The town is around 60km to the south-east of Palma and a great place to grab a drink and sit on the beach. The traditional town was first mentioned in records in 1306 but it was not until the end of the 19th century that the first houses were built in the area.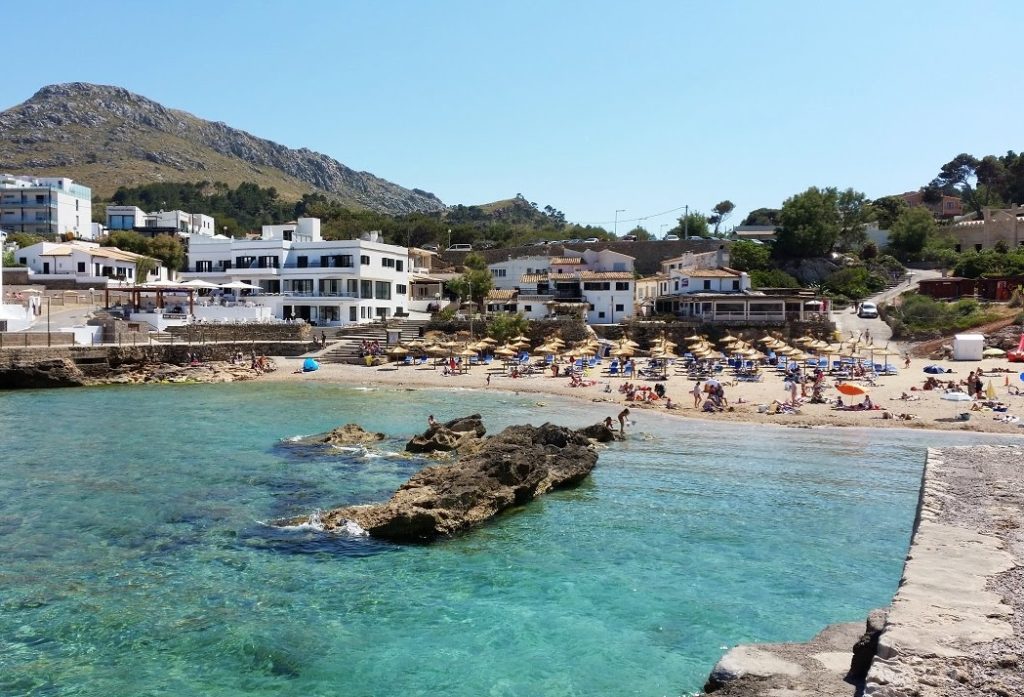 Mallorca Itinerary
Day Five – One Week in Mallorca Itinerary
Morning relaxing at your accommodation
I loved spending mornings relaxing at our villa. I would have a coffee, eat breakfast, workout and then go for a swim for a bit, then read my book for a few hours before heading for lunch.
Lunch at Port de Pollenca
Port de Pollença is located about 6 km east of the inland town of Pollença and two kilometres southeast of Cala Sant Vicenç. The small port of Pollenca is a great place to head for lunch by the beach and indulge in some tasty seafood.
I would recommend a lot of the lovely restaurants by the side of the beach which serves food all day and has an array of dishes on the menu. The steak at Restaurante Celler la Parra was incredible!
Then after you've filled up, head on down to the beach where there is lots of space and time to relax. There are deck chairs for rental or if you'd rather be spontaneous just take your towel and pitch up by the water.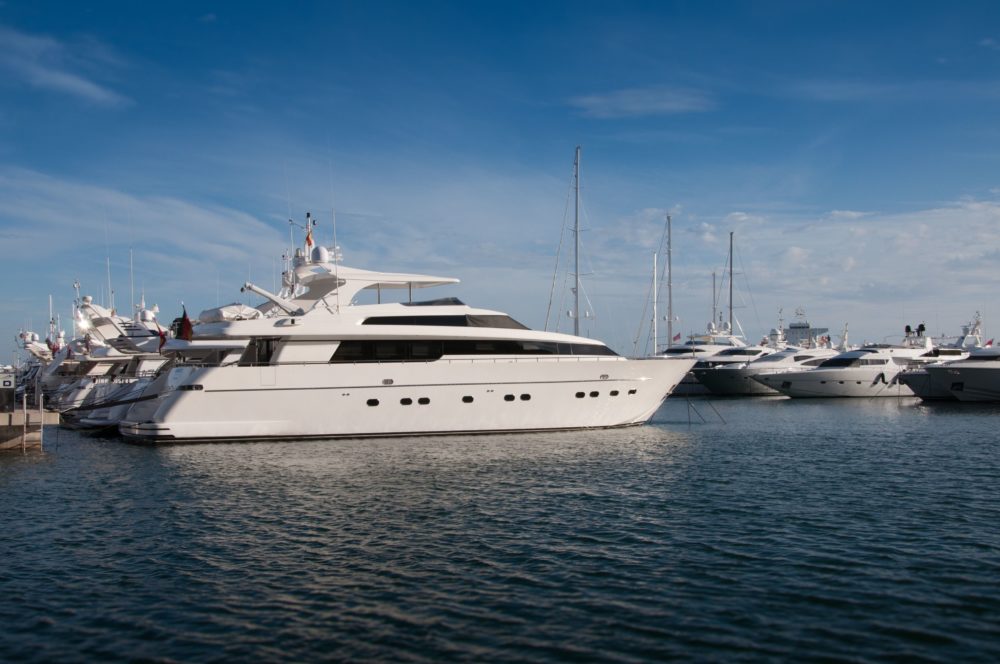 Mallorca Itinerary
Day Six – One Week in Mallorca Itinerary
Spend the morning in Soller
Sóller is a town and municipality near the north-west coast of Mallorca. The town is only 3km inland from the Port de Sóller, in a large, bowl-shaped valley that also includes the village of Fornalutx and, and the hamlets of Biniaraix and Binibassi.
The main centre of the town is the Plaça Constitució which is surrounded by cafés and has plane trees and a fountain in its centre. The tram passes through the Plaça on its way to and from the main station which has been restored to incorporate a museum of Picasso and Joan Miró.
After the morning in Soller, you could head to the Mirador del Pujol de'n Banya.
Afternoon in Alcúdia
After lunch, an afternoon in Alcúdia is an amazing way to spend your last full day. Alcúdia is known for its Mediterranean beaches, which include the busy Platja d'Alcúdia and Platja de Muro on the sweeping Alcúdia Bay.
The neo-Gothic Sant Jaume church is built into the town's restored medieval walls and these walls encircle the well-preserved old town, which has narrow streets and centuries-old buildings. Alcúdia celebrates the festival of St. Jaume every summer. It goes on for nine days at the beginning of July. Before the festival starts the town is decorated and each street picks out a theme for that year's look.
Alcúdia is home to one of Europe's largest hotel complexes, Bellevue. With 8 swimming pools and 17 apartment blocks, the complex is set in 150,000 square meters of gardens.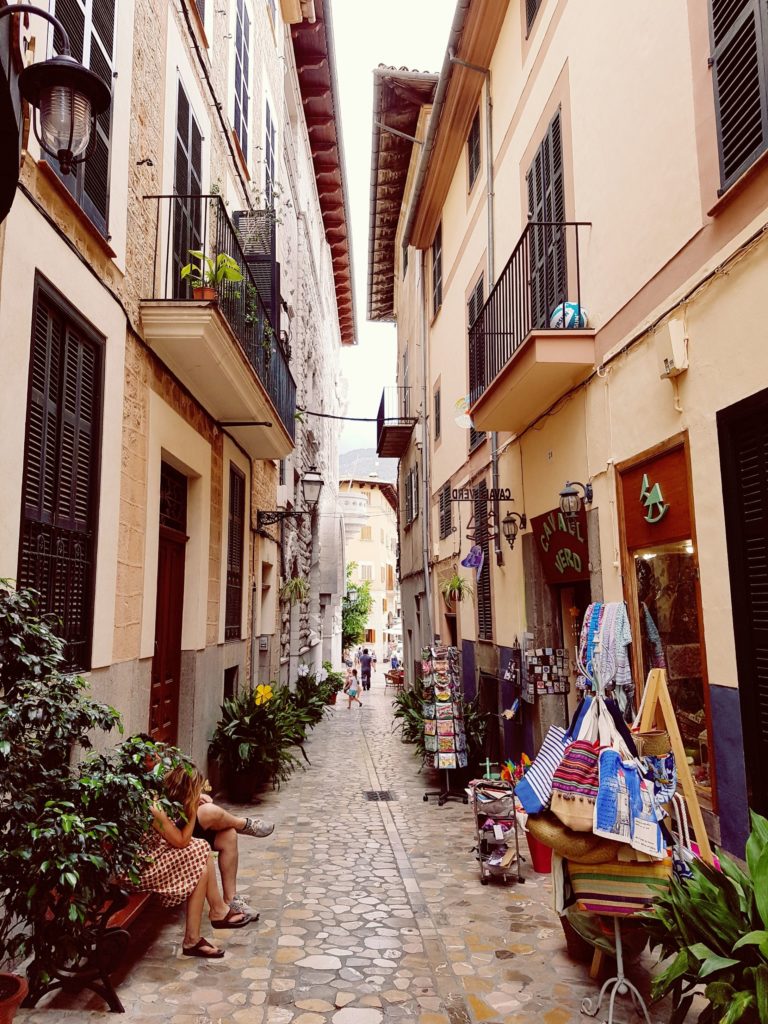 Mallorca Itinerary
Day Seven – One Week in Mallorca Itinerary
A morning in Palma and then fly home
Depending on when your flight home is, why not drive over to Palma a few hours before you need to be at the airport and explore a little of Palma.
Palma is the economic and cultural hub of Majorca and is a delightful base for exploring the island's many gold and white beaches alongside the walled city, Palma's Old Town which is an appealing maze of narrow streets.
Or if you have more time on your hands, hop on the Soller Railway for a 17-mile scenic trip, visit 14th-century Bellver Castle and the museum of contemporary art, and check out the nightlife.
Have you been to Mallorca? Where would you recommend this Mallorca itinerary?
Let me know in the comments!
Photo credit: Pexels
---
My Travel Tips and Recommendations
Flights
To book flights, I always use flight search engine, Skyscanner, I regularly use the Everywhere tool to find the cheapest places to travel. It's how I get to travel so much all around the world. I find it the easiest way to compare flight prices across airlines and get the best deals.
Accommodation
For accommodation, I usually book most of my hotels or hostels through Booking.com. I love using this platform as it provides me with some amazing deals for accommodation all around the world. Or if you prefer, I also recommend using Airbnb. If you haven't signed up with Airbnb already, you can use this link to get £25 off your first visit!
Photography and Technology
Here is a list of the technology I always travel with:
Travel Insurance
Picking travel insurance that covers you in all eventualities is an essential part of planning a trip for every single person. If you can't afford travel insurance, you can't afford to travel. You never know what's around the corner. World Nomads is an affordable option that I personally recommend. BOOK HERE
Sign up to AirBnB with this link and receive a £23 off your first booking.
To receive my articles and reviews straight to your inbox SUBSCRIBE HERE.
Did you know I also vlog my trips? Make sure you subscribe to my YouTube channel so you get alerted when all my travel videos goes live… CHECK THEM OUT HERE
Thank you for reading and as always happy adventuring! If you have any questions about the destination please leave these in the comments below.
If you've enjoyed this post, please share it for me with all your friends and family!
Sophie X