In this month's INSPIRED interview is one I have been looking forward to for ages! This girl is an inspiration to female travellers all over the world and she has inspired me to travel more and be confident whilst doing so. I spoke to female traveller Alyssa Alyssa from My Life is a Movie about her incredible blog, upcoming trips and a background to her life so far, warts and all. She is an inspirational solo female traveller and one I admire for her hard work, fun loving attitude and take on life.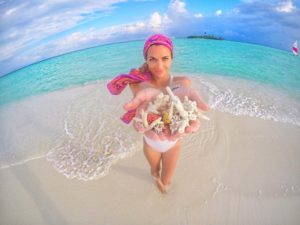 How did you start My Life is a Movie?
I actually had "accidentally" moved to LA in 2012 and for two years was just working freelance writing gigs for other people and living this seemingly awesome Hollywood life even though I had 0 desire to be an actress or model or anything. Then one day, a friend I had made who was actually a CAA Literary Agent (one of the biggest agencies in Hollywood) said to me, "You're a really good writer, and you're like cool, and you do fun stuff…you should write about that."
So I started writing about my escapades in Hollywood as a random girl from Florida who knew nothing about the entertainment industry (nor did she care) yet somehow got thrown into the "LA scene", hence the name, "My Life's A Movie". But the plot twisted when I went on a solo trip around the world a few months later, and the theme of my blog shifted from cynical Hollywood tales, to tales from abroad!
What was your background before starting your blog?
Oh ya know, pretty much everything. If resumes could be printed on scrolls, I'd definitely need one. I have a Bachelor of Science degree in Biology with a minor in Chemistry and Psychology from Florida State University (Go 'Noles), and after college I worked as a veterinary technician and was supposed to go to Vet school.
After I decided that I felt like I was as trapped in a cage as the animals were, I pursued anything else I was good at, which at the time, was planning charity events. Somehow I got hired to be a corporate philanthropy planner in Palm Beach, where I also learned from the girl in my office how to do PR and marketing stuff, which further peaked my interest.
When I accidentally moved to LA, I took every job skill I had ever acquired, plus a ton of Google-ing and "fake it till you make it"-ing, and applied it towards tons of freelance online jobs. Within four years in LA I had been a freelance content writer, social media consultant, social media planner, junior publicist to c-list celebrities, and a virtual assistant.
What made you follow the path of travel? Did someone or something inspire you to travel the world?
In all honesty, I go through these spurts where I feel like there's more to life than what I'm currently doing. Two years ago I literally woke up one day and said, "I feel like I should go volunteer in Africa" without having the slightest clue about Africa, or traveling internationally for that matter. I remember telling my mom my idea, thinking she'd be like "B*tch hell no, are you crazy?!", but instead she said, "So go." …so I did.
You are always on the go! Where will your trip next trip be taking you?
I am beyond proud to say this, and I'll try to make it as humblebraggy as possible….BUT after probably a year of staying on my A-game dedication to GoPro, I'm finally getting flown in by them to their launch event of the new GoPro Karma drone in Northern California next week! Squeals with excitement.
After that I'm also #humblebrag proud to say I'm getting shipped right back out four days later to Indonesia with Skyscanner, where I'll be exploring one of the Natural World Wonders; Komodo Island! Then I'm going to some more World Wonders on my bucket list after that, including Petra, and the Pyramids of Egypt!
Where is your favourite place to truly relax?
My definition of relaxing is sitting somewhere with an amazing view where there's great wifi, my laptop, and endless amounts of white wine. I don't care where in the world it is as long as it fits that criteria. At this exact moment, that place is an AirBnB I have in Bangkok (lol).
What is your favourite gadget when you are on your travels?
My GoPro Hero 4 Black. Is that a gadget? If not I also have this magical electrical outlet converter that's been a lifesaver, and also a travel backpack that's waterproof and strong AF, and can fold up to the size of my palm.
What is your preferred mode of transportation and why?
Any mode. Just get me there. Although I did fall in love with the scenic train routes in Sri Lanka and India….
Are you a coffee or a tea kind of girl?
Tea! And I drink A LOT of it! Usually it's just regular black English Breakfast, but after India I've become obsessed with Masala Tea. Of course now that I'm in Thailand I'm also obsessed with the Thai pink tea too…
When you are on the road, where do you lay your head?
Usually a last minute booking on booking.com or an AirBnB. At least that's when I plan my trips; these days I'm (very grateful to be) booked with hotels or tours that want to collaborate, so sometimes I'll get a fancy hotel, but I typically try to steer clear of staying places that are too far out of the budget of my audience, because I only want to honestly recommend places they'd want to and be able to stay at.
What are your five top travel experiences to date?
Oh boy…I've never been given the top 5 option! Ok here they are but in no particular order:
1. Going on my first ever paid writing trip to Cuba where my assignment was a story on "Discovering my Roots"; I got to go to the tiny town my grandparents were from, and meet some of my relatives for the first time.
2. Solo traveling in Iceland; it was my first self-acquired sponsored trip, and also my first 100% full solo trip and road trip(s).
3. Roadtripping around AZ and UT; not only did I get some of my most popular photos to date on this trip, but the results helped me a lot considering I was roadtripping and camping in order to AirBnB my apartment in LA out in order to pay rent.
4. Hiking the Inca Trail to Machu Picchu; I didn't even know I could hike massive summits, or hike four days straight in general…but I did!
5. Svalbard; One of my personal biggest achievements that is massively overlooked by everyone! I am one of the very few (maybe only!) solo female travelers of this generation to go to Svalbard – the Northernmost inhabited place in the world! It's an arctic archipelago in between the North Pole and Norway!
If someone reading this wanted to book a flight but doesn't have the confidence, what advice would you give them?
You will never ever find someone who said, "Ugh, I totally regret travelling". But that's kind of generic so I'll go with; Imagine if I never booked my first flight, and look at where I am now. Click. Confirm. And. GO.
What's next for Alyssa?!
Haha! Who knows! No but in all honesty, I'm still so humbly grateful that my pieces are coming together the way they are right now, so first and foremost I'm going to continue working my ass off to provide real, useful, and honest travelling information for people, and quality content for my clients. I've also just launched my very own "travel savings and makings program" called The Wanderlust Workers, which I've just accepted my first group of people for and I"m super excited about. The goal is to teach people everything I did when I initially started saving and making money to travel (NOT through my blog at all), and to provide an interactive atmosphere where everyone helps motivate each other. Oh and coffee table books…that's happening too…
And finally, who is your ultimate travel partner?
Giiirrrrllll, you know I'm a solo traveller! No but seriously, believe it or not, everyone who comments on my posts are pretty much my ultimate travel partners, because they are what keeps me motivated to keep going, and doing what I'm doing! I feel like I wouldn't really have a purpose in doing all of this if it weren't for the people who say that I've helped or inspired them to travel.
Thank you to Alyssa Ramos for the interview, you are an incredible inspiration to thousands of female travellers I know, including me! Keep up the good work girl, and keep representing… Check out her blog here, all photos are from Alyssa's blog.
Who would you like to see being interviewed here? Let me know in the comments!