Swing through the trees this summer at Go Ape Wendover. Set in Britain's woods and forests, Go Ape centres are fantastic places for monkeying around in the treetops.
Days out with Go Ape are about living life a little more adventurously, having fun with friends and family and getting in touch with your inner Tarzan (he's in there, I promise!)
There are 28 Go Ape adventures around the country, all set in some of Britain's most spectacular forests so whether it is staff or corporate days out of between 15 to 280 they can guarantee your office a day out they'll never forget.
The classic Go Ape experience is the 2–3 hour Tree Top Adventure. The high rope courses offer adrenaline-packed aerial adventures and you can swing, scramble, climb and slide to your heart's content amid the rope bridges, trapezes and zip slides.
I chose to visit the Wendover Woods centre in Buckinghamshire. On arrival we signed our lives away on a disclaimer that said if we were silly enough not to listen to safety instructions and fall and/or die that it was our own fault. Climbers are fitted with sturdy safety harnesses, so there's no need for the gripping skills of an actual ape and to the amusement of everyone struggling to find a comfort with the harnesses on we got start with a safety brief.
We had a lovely woman who gave us our safety tuition. After 20 minutes of looking at a yellow warning triangle with a picture of someone falling I grasped that 'stay attached' would be the mantra of the day.
After our safety demonstration we were led us to Site 1 where our experience began… three feet off the floor, site 1 is more like a children's playground. We conquered this site and were then let off the reins and told to roam free.
Site 2 was a little scary, from the children's playground to being 30 feet up was quite a difference and I slowly waddled my way across the crossings too scared to look down. However, as we worked our way through the sites, each one more difficult and higher than the next, I seemed to forget about the height and really got into it.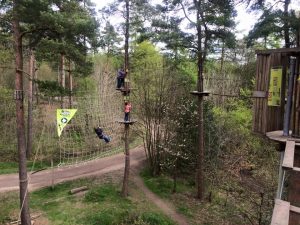 We also laughed heartily, when someone landed badly (usually me), and sniggered when the girls from the group behind us got stuck halfway across one of the crossings.
I had heard reports of people having to queue at each site on really busy days, but apart from the very early stages when we were still getting to grips with our harnesses and conquering our fear of heights (3 feet from the ground) we set a good pace and didn't have to hang around.
When I landed after the last zip wire I felt exhilarated and even though I was exhausted I was so glad that I'd completed the course and felt a real sense of achievement (You get a certificate at the end too just in case you need proof!)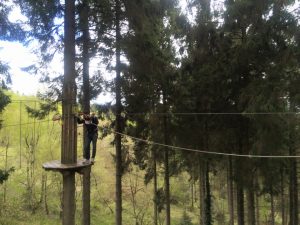 On all five zip wires I managed to land like a dead animal, as everyone watched me do several rollie pollies before I came to a stop covered in mud, wood chip and leaves.
The following day I was completely and utterly dead, I was aching all over in my arms, legs, bum and abs and by day two I was just exhausted and felt like my stomach has been stamped on.
I know I am not physically fit, but even for me, I found it tough! It was intense at times and you do have to have some kind of upper body strength.
However, it does prove that as long as you can pull yourself up a rope ladder you can do Go Ape.
I would definitely recommend Go Ape to anyone wanting an adventure, something a bit different, challenging and exhilarating.  It was a great experience for me and Theo and one I am looking to repeat in only two weeks at Go Ape Woburn for my best friend's birthday with all the girls. Bring it on!
I found my inner Gorilla at Go Ape … I also found half of the Wendover Wood wood chip reserves when I took my trousers off that afternoon.
Book now at goape.co.uk or call 0845 838 5498. #DiscoverAdventure
Or go to this link to find your nearest Go Ape!