Los Amigos Beach Club, Costa Mijas
After seven months of working full time as a PR executive, a holiday was on the cards. I was after a relaxing break with sun, swimming and good food and that is exactly what I got when I visited Los Amigos Beach Club, located on the Mijas coast, close to Malaga. It goes without saying that Spain has been a traditional favourite with us Brits and Los Amigos Beach Club offered us everything we needed for our summer break in the sun!
Remarkably refreshing with an ideal location, Los Amigos Beach Club offers a Spanish retreat amid a tapestry of lush green foliage and well-manicured gardens. A simple layout, this resort is almost an Andalusian village in itself providing peaceful seclusion for ultimate relaxation. The resort is home to some incredible views towards the hills and the serene Spanish coast, and suits both family holidays and a romantic getaway. If you are looking for one of the best hotels in the Malaga region, this is it! Los Amigos is part of the Diamond Resorts roster, you can read about that here.
The resort
Nestled in impressive surroundings on the Costa del Sol, the resort boasts a great location and situated not too far away, guests can explore the charming nearby villages and visit nearby Puerto Banus, the world's best known Marina. Only a short taxi ride away and you hit the nearby towns of Fuengirola, Ronda, Marbella, Mijas, and many others.
The range of facilities includes a stylish indoor pool and two outdoor pools, tennis courts, mini-golf, a clubhouse with a restaurant and even a bowling green. On site they are also home to beautifully landscaped gardens which you can simply stroll around in the mid-afternoon sun as other hotels guests play a game of tennis or basketball on the Astroturf pitches.
In addition to the many services offered at Los Amigos Beach Club, you will find that you can get everything you need within eight km of the resort. Whether you are looking to get your hair or nails done, need to get cash at the bank, get dry cleaning done, or even pick up medications, you can do it all here within the local area. And if you don't fancy eating out every night at the nearby restaurants or hotel restaurant a small supermarket is on site or the nearest large supermarket is only down the road in Fuengirola where you can do your weekly shop.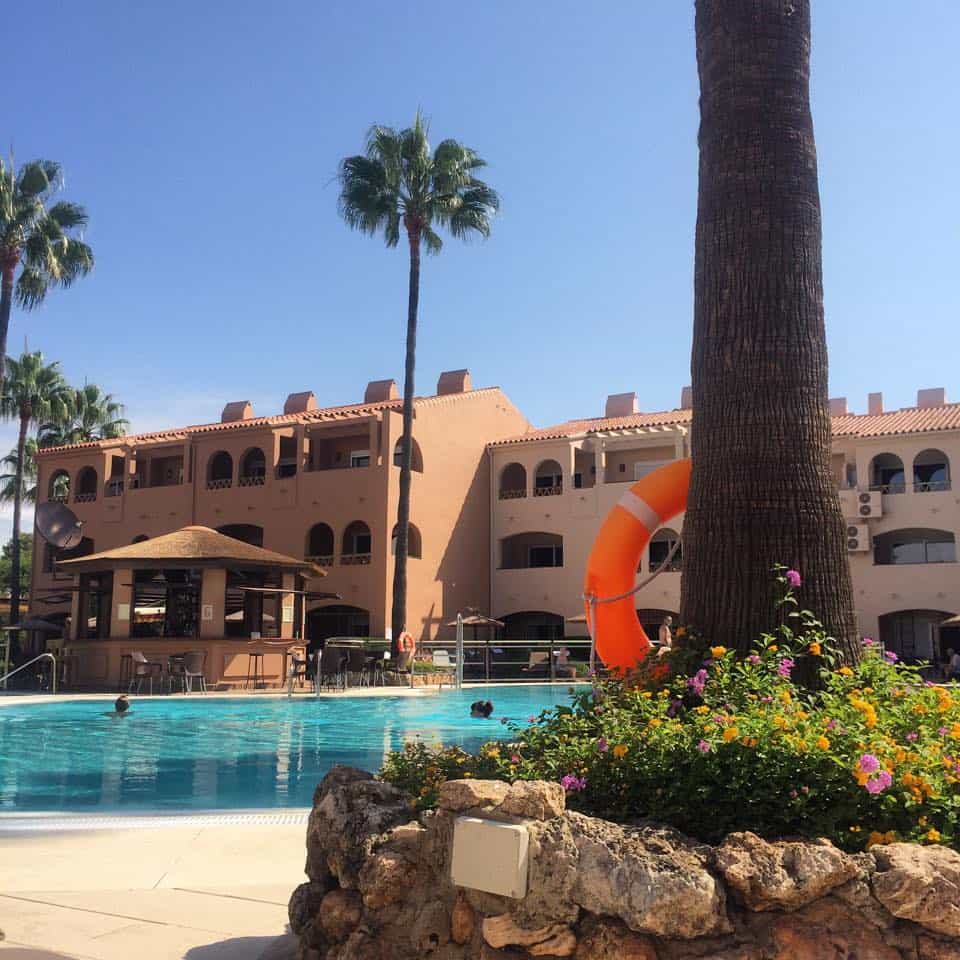 The apartments
For our stay we decided on a studio suite, as for the two of us we only need something compact. We knew we wouldn't spend much time in the room anyway so we were happy with a smaller room. The well-equipped studio suite featured a spacious bathroom, well equipped kitchen and compact living space with flat screen TV, iPod dock and DVD player.
Our studio suite also benefit from a lovely balcony that looked over the pool out the back and tennis courts. When we arrived I instantly said 'let's play tennis!' did we play tennis? No we did not, I was so content sleeping in late, sitting by the pool and relaxing in the restaurant in the evenings.
We also cooked in our apartment some nights and we benefit from an oven, kettle, microwave, dishwasher and a full kitchen with all the basic appliances you could need to make a few dishes of pasta.
Our room also had air conditioning which was totally needed as even in September it was hitting the high twenties. Although is it just me but your too hot when the air con isn't on and then once it's on I am then too cold. I can never find a happy medium!
Nearby Malaga
Only a 10 minute walk from Playa Naturista de Playamarina beach, Los Amigos Beach Club is a colourful resort close to nearby Malaga and Marbella. The resort is also only 5 km from Bioparc Fuengirola (zoo) and 8 km from Miraflores Golf Club.
Ideally located on the Mediterranean Sea, you can also enjoy the beautiful harbour town Marbella, a lovely coastal destination with world-class restaurants, fashion boutiques and lots of entertainment. Malaga and Marbella beckon visitors to experience the exuberant nightlife, play at the casinos, or dine out and enjoy the distinctive Spanish flavour of extraordinary culinary delights.
And if you flew in to Malaga, why not take a quick trip there too. Boasting centuries-old monuments, cultural museums and a rich architectural and artistic heritage, Malaga offers the best of the Old World and the new. It is also surprisingly a wonderful place with pristine beaches and idyllic sea views.
Overall we had a wonderful stay and despite being poorly for most of our trip I did find time to sit back, relax and get a tan by the pool. It is the perfect resort to visit in September, after the hoards of children have started back at school and you can really immerse yourself in to the resort and leave all your worries at home.
LOS AMIGOS BEACH CLUB
Urb Playamarina, Carretera de Cádiz (N-340), km 204, 29647, Mijas Costa, Málaga, Spain
* This visit to Los Amigos Beach Club was complimentary however all opinions are my own and are always honest. Thank you Diamond Resorts for the opportunity to stay at one of your resorts.