These days you haven't been to London if you haven't been to the Wizarding World of Harry Potter London.
I have been to Wizarding World of Harry Potter London two times now, once to attend the opening of Privet Drive and the other to see the Hogwarts Express launch.
The last time I went to Wizarding World of Harry Potter London was for the press launch of Privet Drive at the Warner Bros Studio Tour London in Leavesden, Hertfordshire. My friend Kara and I headed on down to the studios after work last night to attend the launch with members of the press and other avid fans.
What is Wizarding World of Harry Potter London
Warner Bros. Studios Tour London – The Making of Harry Potter is a public attraction in Leavesden in southeastern England. Not to be confused with the Wizarding World of Harry Potter of Universal Studios theme parks, it is a permanent exhibit offering an authentic behind-the-scenes glimpse of the Harry Potter films.
Where is Harry Potter World London?
The Studio Tour is located 20 miles north-west of London and less than three miles from the M1 and M25 motorways.
Warner Bros. Studio Tour London
Studio Tour Drive
Leavesden
WD25 7LR
Shuttle Bus from Watford
Regular shuttle buses, operated by Mullany's Coaches, run from Watford Junction to the Studio Tour with a journey time of around 15 minutes. Buses run every 20 minutes from 9.20 am (with additional services available from 8.15 am when the first tour is at 9 am).
Please note, the last return Shuttle Bus back to Watford Junction will depart the Studio Tour when the Tour closes. For more information regarding this, please see the opening times calendar.
Both cash and contactless card payments are accepted onboard the shuttle bus service. You will need a valid Studio Tour ticket or booking confirmation for the date of travel to use this service. Please have this ready to show the driver when boarding.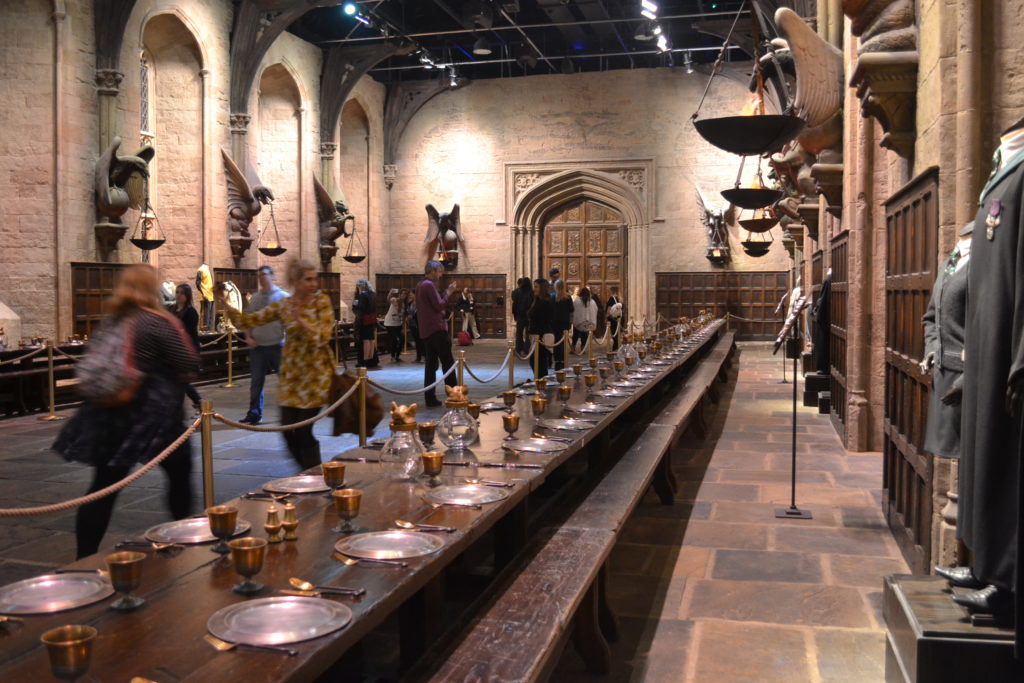 How much does it cost to go to Harry Potter World London?
Adult 16+ years
TICKET PRICE: £47.00
Child 5-15 years and must be accompanied by an adult
TICKET PRICE: £38.00
Family 2 adults & 2 children OR 1 adult & 3 children
TICKET PRICE: £150.00
0 – 4 Years Tickets are required for children aged 4 and under
TICKET PRICE: FREE
Adult Complete Studio Tour Package, Studio Tour Ticket, Digital Guide & Paperback Souvenir Guidebook, saving £4.95
TICKET PRICE: £56.95
Child Complete Studio Tour Package, Studio Tour Ticket, Digital Guide & Paperback Souvenir Guidebook, saving £4.95
TICKET PRICE: £47.95
Carer, Added to a booking by contacting the Visitor Services Team on 0800 640 4550
TICKET PRICE: FREE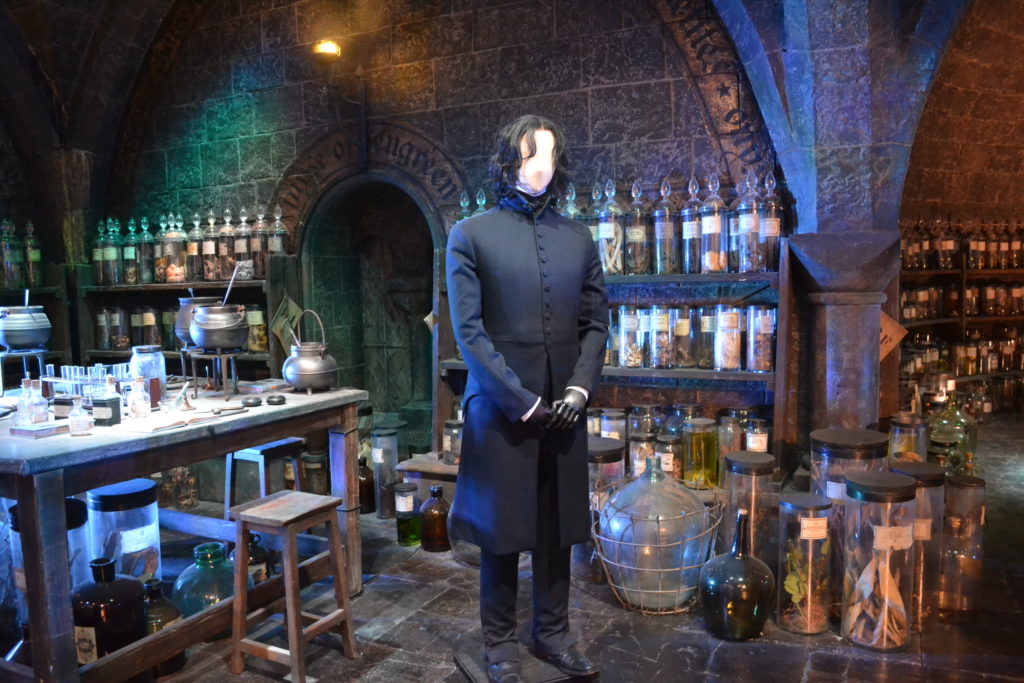 Top 15 Things to See at Harry Potter Studios London
1. GREAT HALL
Serving as the backdrop to some of the film series' most iconic scenes such as the Yule Ball and the Battle of Hogwarts, the Great Hall was first built for Harry Potter and the Philosopher's Stone in 2000 and was used as a key set for six more films.
The spectacular Great Hall includes the costumes of students from each Hogwarts house plus two large tables which are set for dinner; at the top of the room is the teachers' table where the Hogwarts Professors sat.
The Great Hall is home to some of the beautifully handcrafted props created for the Harry Potter film series including Professor Dumbledore's lectern and the House Points Counter. Though rarely seen on screen, it is rumoured that when the House Points Counter was first built it caused a national shortage of Indian glass beads.
2. FORBIDDEN FOREST
The Forbidden Forest seen in Harry Potter and the Philosopher's Stone was a combination of location and studio shooting. This moved entirely to the Studio for Harry Potter and the Chamber of Secrets in order to house Aragog's lair and continued to grow throughout the film series.
While shooting for Harry Potter and the Deathly Hallows, scenic artists created backdrops that were up to six hundred feet in length. The Forbidden Forest seen at the Studio Tour is filled with 19 trees each with a diameter of over 12 feet.
3. PLATFORM 9¾
The Hogwarts Express locomotive transported hundreds of students from Platform 9¾ to Hogwarts School of Witchcraft and Wizardry. Most of the scenes that take place on Platform 9¾ were actually shot on location at King's Cross Station in London, however, during Harry Potter and the Deathly Hallows – Part 2, part of the station platform was recreated on a soundstage here at Leavesden, complete with the track and the train.
The Hogwarts Express provided the background for the very first shot ever captured for Harry Potter and the Philosopher's Stone and then, ten years later, for the very last shot of the entire series in Harry Potter and the Deathly Hallows – Part 2.
The real locomotive and passenger carriages were used on locations throughout the United Kingdom to create the exterior views of the train while a special interior carriage set (built on the soundstages at Leavesden) was used for all of the scenes that take place inside the train.
Visual effects artists replaced the green screen background in the windows with moving backdrops and special effects like hopping Chocolate Frogs and flying Dementors.
4. DIAGON ALLEY
The Diagon Alley set constantly changed throughout the film series. Since its construction, walls have shifted, shop fronts have moved and entire buildings have been carefully tweaked, leaning just slightly, to create the street that is seen in the films. Many of the Diagon Alley set pieces were also re-dressed for use in the village of Hogsmeade for Harry Potter and the Prisoner of Azkaban.
The original design of the street combined the rich details from the Harry Potter books with inspiration from the streets described in the works of Charles Dickens. Diagon Alley is home to not only Gringotts Bank, Flourish and Blotts and Mr Mulpepper's Apothecary but also the dusty Ollivanders wand shop, where Harry's wand famously chose him.
The shop was home to more than 17,000 individually labelled wand boxes during filming.
5. POTIONS CLASSROOM
Over 950 potion jars line the walls of the classroom, each with unique props kept inside them including baked animal bones from a local butcher shop, dried leaves, herbs and shrunken heads made by the props department. Each jar features a label hand-designed by Graphic Design duo MinaLima.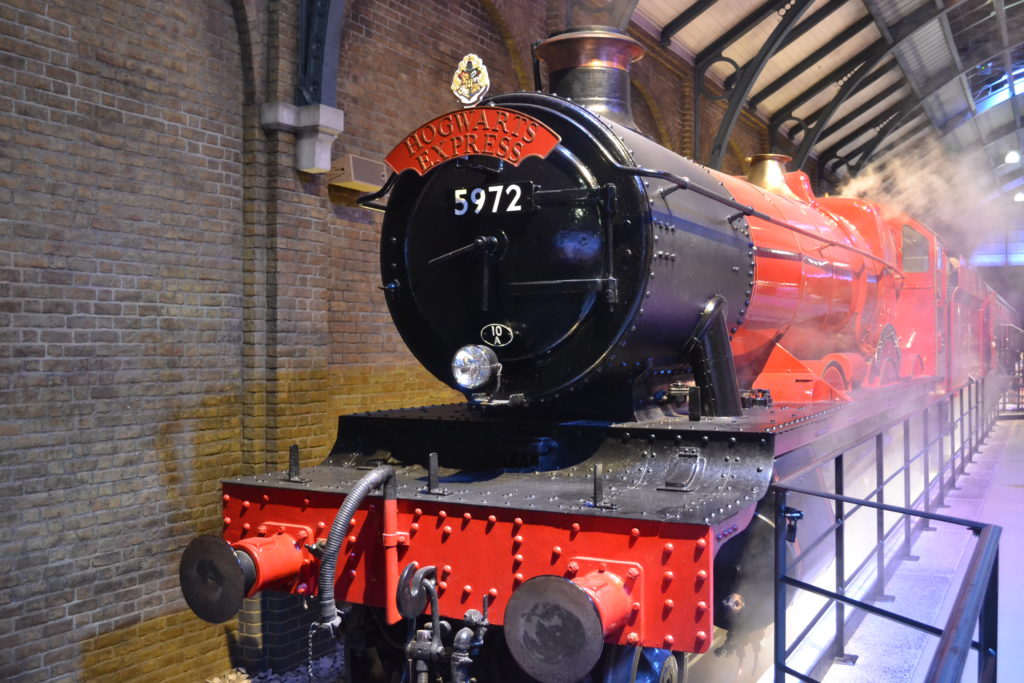 6. MEMORY CABINET
Nearly 900 memory vials and labels were created for the cabinet that can be found in Professor Dumbledore's office. Each label was hand-designed by the Graphics Department before being sent to the Props team who would put the label into place on each vial. Some of the memories seen in the cabinet feature familiar character names such as Argus Filch and Professor McGonagall.
7. PROFESSOR UMBRIDGE'S OFFICE
Great attention was paid to the inside of the only pink office in the Ministry of Magic, belonging to Professor Dolores Umbridge, including her collection of plates featuring various moving kittens. Over 130 plates were created for the office which involved filmmakers having to photograph and film real kittens with crystal balls, witches hats and balls of wool.
8. PUKING PASTILLES
Stocking everything from Extendable Ears to fireworks, Weasleys' Wizard Wheezes was designed to look like an 18th-century storefront and took more than three months to build — and much of that time was spent constructing the 20- foot mannequin above the main entrance.
120 different products were designed by concept artists, each with nods to Fred and George's mischievous sense of humour. The Puking Pastilles dispenser that can be seen at the Studio Tour was created by Head Propmaker Pierre Bohanna and was designed to be funny and disgusting at the same time.
9. CHAMBER OF SECRETS DOOR
Often mistaken for a Visual Effect, the Chamber of Secrets door is actually a fully operational door created by the Special Effects team based upon sketches provided by the Art Department. The articulated snakes slither along slotted tracks and are powered by an electric motor hidden behind the door.
Each snake was individually cast in resin and painted before being attached to the door with careful thought so that each snake would retract at the precise time avoiding a collision.
10. INVISIBILITY CLOAK
Gifted to Harry in Harry Potter and the Philosopher's Stone, the Invisibility Cloak features prominently in the films. Several different cloaks were made, including a version with a green fabric lining which allowed the Visual Effects Department to make Harry and his friends invisible in post-production.
The cloak that can be seen at the Studio Tour was created from special velvet fabric and printed Celtic symbols and ancient runes onto it by the Costume Department.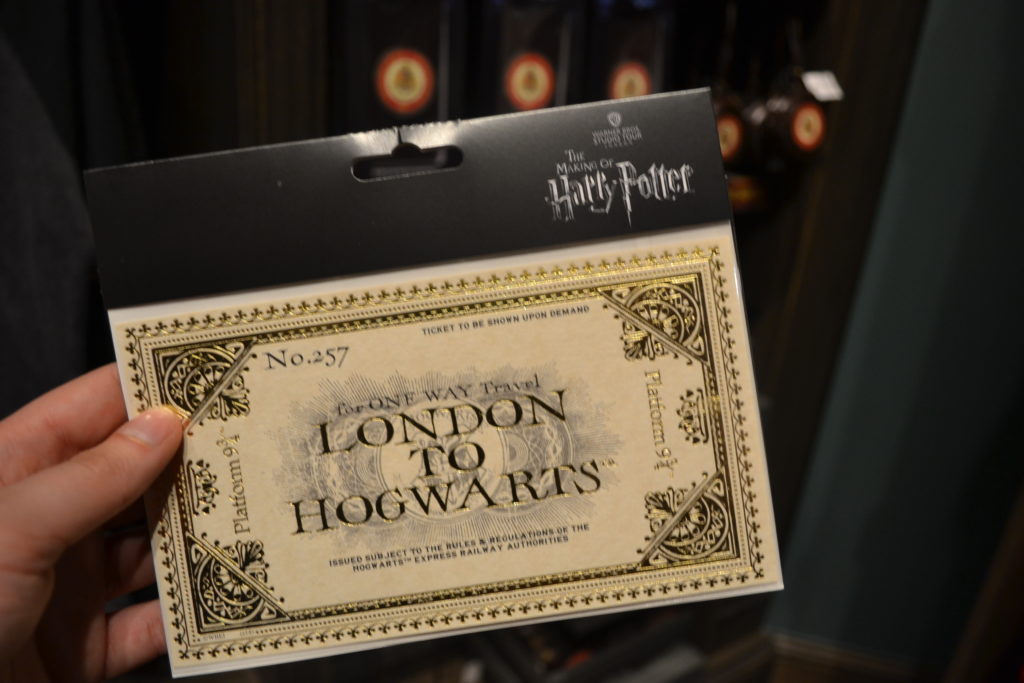 11. WHOMPING WILLOW
The temperamental tree began as a sketch from the Art Department which then had to be made into a real Whomping Willow for Harry Potter and the Chamber of Secrets. Special Effects Supervisor John Richardson and his team set about creating mechanically operated branches that would 'whomp' Mr. Weasley's flying car.
A full-sized tree trunk was built on set for the Whomping Willow's appearance in Harry Potter and the Prisoner of Azkaban, with branches added digitally in post-production.
12. GREEN SCREEN
Filmmakers often shoot visual effects scenes on a green screen, which allows them to replace the green colours with a completely different background or computer-generated set. Don't miss out on the opportunity to take part in our green screen experience and fly a broomstick over London just like the cast did during filming.
13. QUIDDITCH
Filmmakers faced a huge challenge when turning the wizarding sport of Quidditch into a real sport they could capture on film. Quidditch uniforms evolved throughout the film series, going from thick robes in the first two films to lighter, sportier robes with the players name and number on the back in the later films.
In Harry Potter and the Half-Blood Prince, the Quidditch players were given modern tracksuit-style clothes for training sessions and elbow, knee pads and helmets were added to their match gear to reflect the violent nature of the sport.
14. 19 YEARS LATER
The final scene of Harry Potter and the Deathly Hallows – Part 2 called for an older Harry, Ginny, Ron and Hermione to bring their children to King's Cross station to send them off to Hogwarts School of Witchcraft and Wizardry, nineteen years later.
When tasked with creating outfits for the scene Costume Designer, Jany Temime wanted to keep to a similar palette of pinks, oranges, blues and browns seen throughout the film series. Draco Malfoy and his family also feature in the scene and fans will notice that he is wearing his father's ring and tie pin to show that he had taken over his father's role within the family.
15. BASILISK
The Basilisk that lives deep below Hogwarts in Harry Potter and the Chamber of Secrets was created through a mixture of Practical and Visual effects. A full-size practical Basilisk mouth was created by the Creature Shop to fight against in the final battle scene measuring up at 30ft long with jaws 3ft deep. The aquatronic model created was able to move to allow for less to be created via CGI. The model could even slither up a track to get close to Harry in the fight scenes.
Have you been to the Wizarding World of Harry Potter London?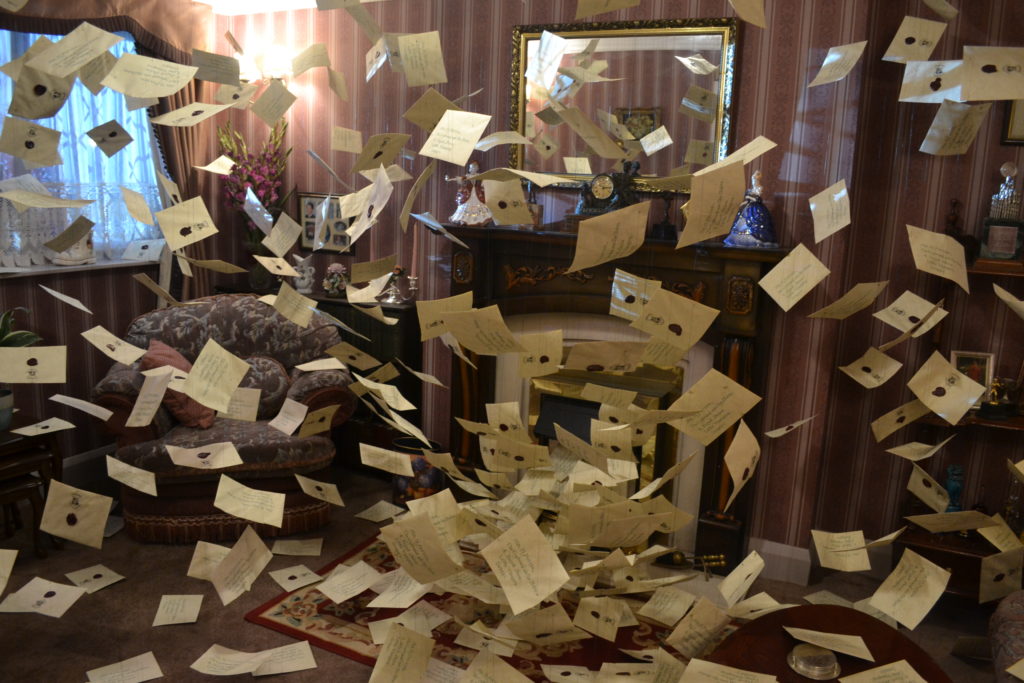 ---
My Travel Tips and Recommendations
Flights
To book flights, I always use flight search engine, Skyscanner, I regularly use the Everywhere tool to find the cheapest places to travel. It's how I get to travel so much all around the world. I find it the easiest way to compare flight prices across airlines and get the best deals.
Accommodation
For accommodation, I usually book most of my hotels or hostels through Booking.com. I love using this platform as it provides me with some amazing deals for accommodation all around the world. Or if you prefer, I also recommend using Airbnb. If you haven't signed up with Airbnb already, you can use this link to get £25 off your first visit!
Photography and Technology
Here is a list of the technology I always travel with:
Travel Insurance
Picking travel insurance that covers you in all eventualities is an essential part of planning a trip for every single person. If you can't afford travel insurance, you can't afford to travel. You never know what's around the corner. World Nomads is an affordable option that I personally recommend. BOOK HERE
Sign up to AirBnB with this link and receive a £23 off your first booking.
To receive my articles and reviews straight to your inbox SUBSCRIBE HERE.
Did you know I also vlog my trips? Make sure you subscribe to my YouTube channel so you get alerted when all my travel videos goes live… CHECK THEM OUT HERE
Thank you for reading and as always happy adventuring! If you have any questions about the destination please leave these in the comments below.
If you've enjoyed this post, please share it for me with all your friends and family!
Sophie X