As part of our four-day trip to Iceland, we decided to hire a car and drive The Golden Circle. We hired a car from Geysir and decided to take the laid back approach to explore Iceland. During our trip, we saw over 15 top tourist hot spots along our route and we really loved driving The Golden Circle.
Our trip in Iceland was magical, and despite only being there for around 4 days in Iceland. We explored a lot. Driving the Golden Circle Iceland is one of the best road trips I have ever done. This post is all about the day we travelled from our hotel, just outside Reykjavik to The Golden Circle and back. If you want to see the Northern Lights, Iceland is the perfect place.
We rented a car and drove around the Golden Circle during our trip, however I am desperate to go back to Iceland and rent a campervan and see Iceland from a different perspective. I have been recommend Cozy Campers, a family-run camper rental company that offer a wide selection of quality, hand-designed campervans that are comfortable and well equipped with all the essentials you need to enjoy your vacation to the fullest. And they've also pulled together this first-timer's guide to the Northern Lights.
---
Iceland Road Trip: The Golden Circle
The Golden Circle – Return from Reykjavik
Distance: 200 km
Time: 4 h 30 minutes including stops
Kerið Crater
Kerið is a volcanic crater lake in Grímsnes, South Iceland, and is a great addition along Iceland's world-famous Golden Circle route. Kerið is normally visited as an extra, and we hadn't planned originally on stopping here, in addition to the famous Thingvellir National Park, Haukadalur Geothermal Valley and Gullfoss waterfall.
Kerið is a striking volcanic crater lake filled with milky blue-green water amid stark black and deep red slopes. Once believed to be an explosion crater formed 3,000 years ago, and last had a volcanic eruption more than 6,000 years ago. Kerid is 55 meters deep.
There is a path lining the rim for visitors to walk around and view the red and black slopes contrasting with the striking aquamarine water contributing to the otherworldly landscape. We visited here early morning around 9am and it was super quiet, only us and another couple here walking.
Gullfoss
Gullfoss, another famous waterfall, is located in the canyon of Hvítá river in southwest Iceland. Gullfoss is one of the most popular tourist attractions in Iceland with millions visiting this expansive waterfall each year.
The wide Hvítá river rushes southward, and about a kilometre above the falls it turns sharply to the right and flows down into a wide curved three-step "staircase" and then abruptly plunges in two stages (11 metres or 36 feet, and 21 metres or 69 feet) into a crevice 32 metres (105 ft) deep.
Together with Þingvellir and the geysers of Haukadalur, Gullfoss forms part of the Golden Circle, a popular day excursion for tourists in Iceland.
Geysir Hot Spring Area
Don't be fooled by the Instagram photos, the great Geysir is not the only geyser in the Geysir hot spring area.
The most active geyser in the area is called Strokkur as it sprouts hot water as high as 30 meters into the air every few minutes or so, but the area as a whole is pretty cool, with small spring rivers running down the valley, smaller pools with bubbling brooks and an array of natural phenomena for you to see. I would try and miss the crowds by visiting early morning or late afternoon as it gets busy.
I'd recommend staying at a hotel with a wake-up call or heading out into the Golden Circle, where can you see the northern lights in Europe.
Laugarvatn Fontana
An alternative version to The Blue Lagoon, if you're not bothered or you've done it before, is Laugarvatn Fontana. Here you can soak in the warm geothermal pools and get energized in the natural steam rooms, with the hot spring bubbling right below you.
Laugarvatn Fontana is located only one hour drive from Reykjavik, in the middle of the Golden Circle, on the black beach of beautiful Laugarvatn Lake.
Þingvellir National Park
Thingvellir is a favourite stop among travellers along the Golden Circle route and has been one of Iceland's most popular National Parks since 1930. It has also been named a World Heritage site by UNESCO in 2004.
It is said that Viking settlers arrived in the 10th century it was the site they chose as the meeting place of Althing. The Alþingi is the oldest surviving parliament in the world.
The park lies in a rift valley that marks the crest of the Mid-Atlantic Ridge and the boundary between the North American tectonic plate and the Eurasian. To its south lies Þingvallavatn, the largest natural lake in Iceland.
This is where tours for 'Diving in Silfra' take place. Diving is permitted in two submerged rifts in the National Park, Silfra and Davíðsgjá. Silfra is one of the best spots for diving in Iceland and many people find the rift unique on an international scale.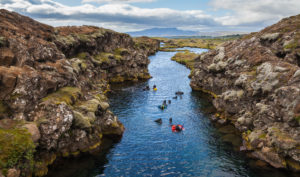 Driving the Golden Circle Iceland
Tips for car rental in Iceland in winter
Check and then check again that you have the right insurance cover that you need

Take a GPS navigation system or a phone which is good enough to guide you through Iceland

Take a Marco Polo Travel Guide as a backup map just incase…

Wind damage is not covered a lot of the time so be careful or add it on

Check weather conditions in Iceland as they can change in seconds, so if you are not a confident driver then you may need to rethink hiring a car

Going 'off-road' or onto gravel is not covered a lot of the time either but there are car parks that are all gravel. Check you are covered in car parks or get better cover…

The underneath and chassis are not covered by insurance if you damage the car

You must always have your lights on!

If you hit an animal and damage the car this is not covered either

With our hire company, we got a card that gave us a discount at some stations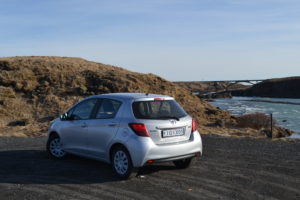 We loved driving around Iceland and I would recommend it to anyone! Read my top 15 places to visit in Iceland here. Driving the Golden Circle Iceland.
If you're planning your own trip to Iceland, feel free to ask me any questions by tweeting me @sophiessuitcse or use the Google Map I created for our trip here.
---
My Travel Tips and Recommendations
Flights
To book flights, I always use flight search engine, Skyscanner, I regularly use the Everywhere tool to find the cheapest places to travel. It's how I get to travel so much all around the world. I find it the easiest way to compare flight prices across airlines and get the best deals.
Accommodation
For accommodation, I usually book most of my hotels or hostels through Booking.com. I love using this platform as it provides me with some amazing deals for accommodation all around the world. Or if you prefer, I also recommend using Airbnb. If you haven't signed up with Airbnb already, you can use this link to get £25 off your first visit!
Photography and Technology
Here is a list of the technology I always travel with:
Travel Insurance
Picking travel insurance that covers you in all eventualities is an essential part of planning a trip for every single person. If you can't afford travel insurance, you can't afford to travel. You never know what's around the corner. World Nomads is an affordable option that I personally recommend. BOOK HERE
Sign up to AirBnB with this link and receive a £23 off your first booking.
To receive my articles and reviews straight to your inbox SUBSCRIBE HERE.
Did you know I also vlog my trips? Make sure you subscribe to my YouTube channel so you get alerted when all my travel videos goes live… CHECK THEM OUT HERE
Thank you for reading and as always happy adventuring! If you have any questions about the destination please leave these in the comments below.
If you've enjoyed this post, please share it for me with all your friends and family!
Sophie X