If you love hiking, then you're probably already thinking about climbing Scafell Pike. Known as England's highest mountain, Scafell Pike is a force to be reckoned with.
Standing at an impressive elevation of 978 metres above sea level, Scafell Pike is situated in the stunning surroundings of the Southern Fells in the Lake District National Park, climbing it is a rite of passage for anyone who loves walking.
The second-highest mountain in England is Helvellyn also located close to Scafell Pike.
The highest mountain in England, Scafell Pike is an amazing hiking route, offering walkers some impressive views and great challenges. The largest mountain in England is one to add to the UK bucket list!
I was lucky enough to climb this absolute beast a couple of years ago as part of the world's highest high tea – a memorable event to celebrate afternoon tea week.
If you'd like to join the 100,000 people that climb Scafell Pike annually then read on for my experience.
In this post, I cover everything from the different routes up Scafell Pike, what to expect at the Scafell Pike summit and what to pack etc. I don't know if there's the easiest route up Scafell Pike, but this one is definitely the most fun!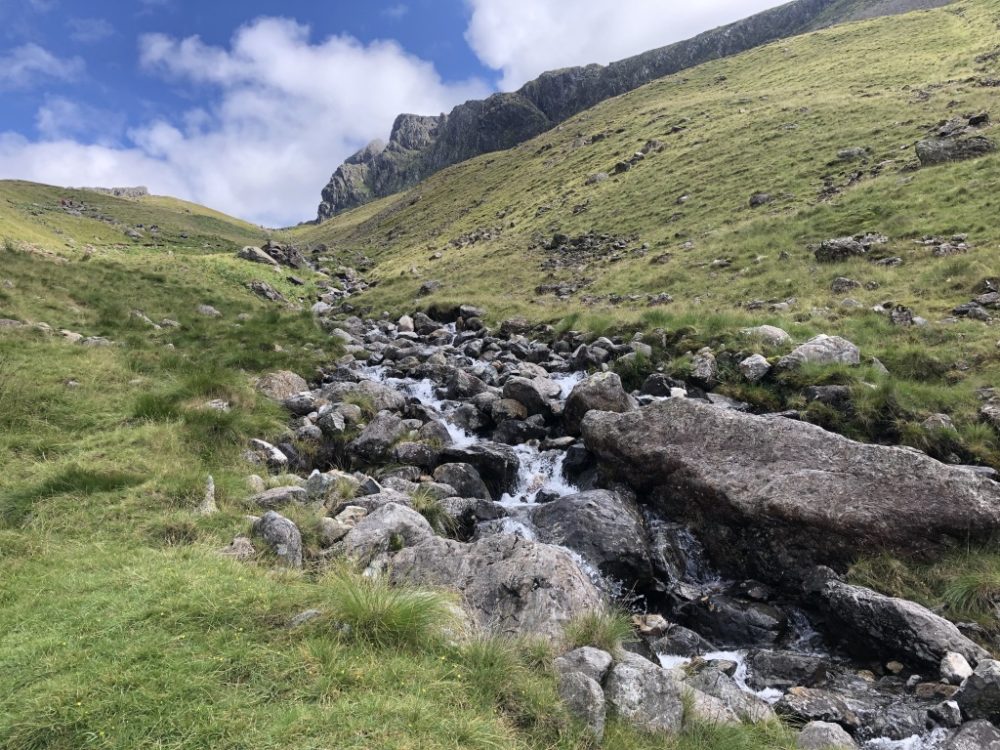 Climbing Scafell Pike – England's highest mountain
Route Planning for Scafell Pike
There are three routes up Scafell Pike – the Brown Tongue/Hollowstones route, Mickledore and the Corridor route. The routes aren't waymarked or signposted and so you will need a map or a route planning app with you at all times.
An Ordnance Survey map is one of the best options as you'll need to be able to pick out all of the paths, streams, cliffs and contours in order to not get lost. Make sure you bring a waterproof version or a bag to put it in too, in case of adverse weather.
There are different options of routes up Scafell Pike but we did the Hollowstones route. The easiest route up Scafell Pike is Brown Tongue route, as it traverses the same route back, but they are all of varying difficulty.
We were walking as a group with a couple of professional mountain guides which meant that not only did I not have to plan the route beforehand but I could also just relax on the way up, rather than having to navigate. Which was great because navigating is definitely not my strong point!
We took the Brown Tongue/Hollowstones route up the mountain, descending back the same way. This is the most straightforward and shortest route and maybe the easiest route up Scafell Pike, as well as being the most popular – probably for both of those reasons!
It's also a very popular route for participants in the Three Peaks Challenge where you climb the highest peaks in England, Scotland and Wales (Scafell Pike, Ben Nevis and Snowdon) in just 24 hours.
The Corridor route starts at Borrowdale and isn't much longer than this one. However, it's a traverse path with steep rocky sections and gully crossings which is a bit more difficult and one for the more experienced amongst us.
Parking for Scafell Pike
The main climbing Scafell Pike route starts at the National Trust Lakehead pay and displays car park which is in Wasdale. Mobile signal for Google maps around here isn't great, so just be sure you know where you're heading beforehand.
The car park has lots of facilities including toilets (always go before you set off on a walk!) and a place to get a coffee. So it's a great place when planning your routes up Scafell Pike.
Timings and distance
The time that it takes to climb Scafell Pike using the Brown Tongue route really depends on your ability and the number of stops you have on the way. I think it took us between five and six hours to get up and down the mountain at a moderate pace.
We also spent quite a while at the Scafell pike summit as our high tea was prepared. The route can be done in as little as four hours depending on fitness.
The route is around 9km in total and there's no scrambling or anything too difficult – anyone with moderate fitness levels should be able to manage climbing Scafell Pike.
The Ascent
From the car park, you cross over a stream and begin your ascent climbing Scafell Pike.
The beginning of the climb is quite steep and it's quite hard going at a good pace. Also, we were quite unlucky with the weather. We did Scafell Pike in August and whilst it was quite warm it was literally chucking it down with rain and so I had my waterproofs on over my clothes.
This meant the temperature was quite muggy and I ended up soaking wet on the outside and a bit sweaty on the inside!
I brought my boyfriend along with me and, although he does like the occasional walk, he probably isn't into it as much as I am. After around 20 minutes of steep climbing, he gave me a look like he wanted to kill me!
The terrain is rocky and the route continues to be steep for the entire way but once I got used to the pace I really enjoyed the walk. It seemed like no time until before our guides told us we were only 10 minutes from the top.
There's nothing like the view of the Scafell pike summit to really spur you on…that and a couple of fizzy sweets for an energy burst whilst climbing Scafell Pike!
And before long you'll reach the Scafell pike summit…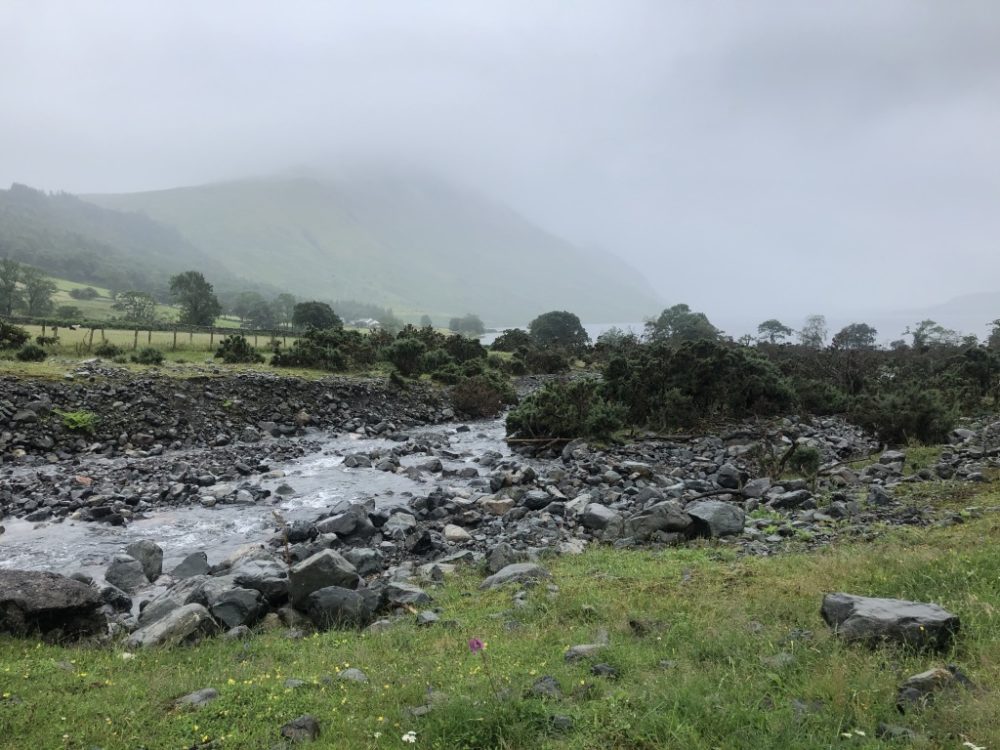 The Scafell Pike Summit
Despite it being the height of summer, it was super windy at the Scafell pike summit and when you've been walking your body temperature often drops really quickly as soon as you stop. Make sure you pack a bobble hat to pop on here, no matter what the weather is like on the ground.
The Scafell pike summit is covered in stones and boulders and there is a sort of shelter there too which has been built from these. This means you can have a little sit-down, rest and recovery and tuck into some carbs before you head back down.
Unfortunately on the day, we climbed it, there were absolutely no views from the Scafell pike summit as we were surrounded by cloud. I was told by the guide that the weather is quite often like that up there so we weren't just unlucky.
On a clear day, you can apparently see peaks in Scotland, Wales, Northern Ireland and the Isle of Man.
If you're planning your own walk up Scafell Pike, be sure to check the weather beforehand. Make sure you pack suitable clothing including layers and waterproofs and be prepared to change your plans if the weather looks like it could turn, especially during the winter months.
Between October and May, it's not unusual to find snow at the top of Scafell Pike too so make sure you're prepared for snow and ice.
It was definitely easy to lose your bearings at the top and be unsure of which way to go back down as it was so foggy so make sure you make a mental note of which way you came up as this will help you find your way back down.
The Descent
I actually found the way back down more difficult than the way up! It was super steep on the way down and the track is covered in lots of loose stones which made it a bit slippery. I actually lost my footing a couple of times and even hit the deck once before jumping up super quick and full of embarrassment!
However, on the way down the clouds cleared, the sun came out and we were rewarded with some spectacular views of Wasdale and Wastwater lake which made all of the exertions more than worth it.
When we got back to the car, our legs were like jelly but we felt such a massive sense of achievement knowing that we'd climbing England's highest peak. You couldn't wipe the smile off my face!
On the drive home, you get to see some more of the Lakes' spectacular scenery and the mountains and lakes that it is famous for – it never seems real to me, it looks just like It does in the photos!
I really enjoyed climbing Scafell Pike and I can't wait to do it again and discover some of the other peaks in the Lake District.
Where to stay in the Lake District
There are so many places to stay in the Lake District. For the ultimate weekend away I would recommend a staying in a Lake District hot tub lodge.
Have you climbed Scafell Pike? Let me know in the comments!
---
Author Bio: Samantha blogs at CocoTravels.co.uk about travel and adventure. She especially loves exploring more of the UK and is a passionate advocate for travel here as there is just so much to see. You'll most likely find her hiking near her home in the Peak District with her King Charles Spaniel, swimming in the sea, or taking in the sunset with a glass of fizz!
---
My Travel Tips and Recommendations
Flights
To book flights, I always use flight search engine Skyscanner, I regularly use the Everywhere tool to find the cheapest places to travel. It's how I get to travel so much all around the world. I find it the easiest way to compare flight prices across airlines and get the best deals.
Accommodation
For accommodation, I usually book most of my hotels or hostels through Booking.com. I love using this platform as it provides me with some amazing deals for accommodation all around the world. Or if you prefer, I also recommend using Airbnb. If you haven't signed up with Airbnb already, you can use this link to get £25 off your first visit!
Travel Insurance
Picking travel insurance that covers you in all eventualities is an essential part of planning a trip for every single person. If you can't afford travel insurance, you can't afford to travel. You never know what's around the corner.
Did you know I also vlog my trips? Make sure you subscribe to my YouTube channel so you get alerted when all my travel videos go live… CHECK THEM OUT HERE
Thank you for reading and as always happy adventuring! If you have any questions about the destination please leave these in the comments below.
If you've enjoyed this post, please share it for me with all your friends and family!
Sophie X