Last January I took a trip to Berlin Germany for a short weekend break with my boyfriend for his birthday. We only had two full days and two night but we were determined to make the most of the short time we had and see as much as we could in 48 Hours in Berlin. We stayed in Generator Hostel Berlin Mitte and had a great stay. The staff were great, the service was quick and the décor/facilities in the hostel were brilliant. The decor echoed an IKEA home bedroom with wooden walls and stylish lighting. The hostel is centrally located on Orianburger Straße.
My first visit to Berlin was in January of this year with the boyfriend. I stayed at Generator Hostel in Mitte, just north of the city centre in a lovely area. The hostel was great and it was a good location too for all the tourist stops. Here are 12 reasons why I love Berlin Germany.
Whether you want to go shopping in at Markethalle 9, take a walk around the Jewish Holocaust Memorial or visit the Brandenburg Gate, all are within a twenty minute walk or U-bahn journey of the hostel! Read my review of Generator Berlin Mitte here. Keep reading for my tips on how to spend 48 Hours in Berlin Germany.
Berlin in Germany is an amazing city with so much going on, from trendy bars, to cool cafes, and historic monuments, the city has it all. Berlin's combo of glamour and grit is bound to mesmerise all those keen to explore its vibrant culture, cutting-edge architecture, fabulous food, intense parties and tangible history.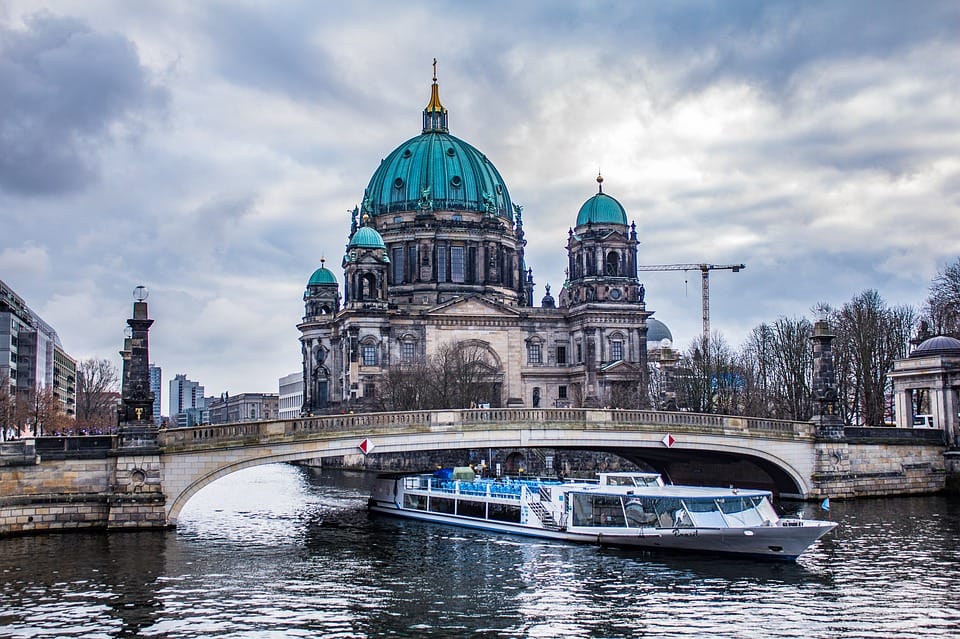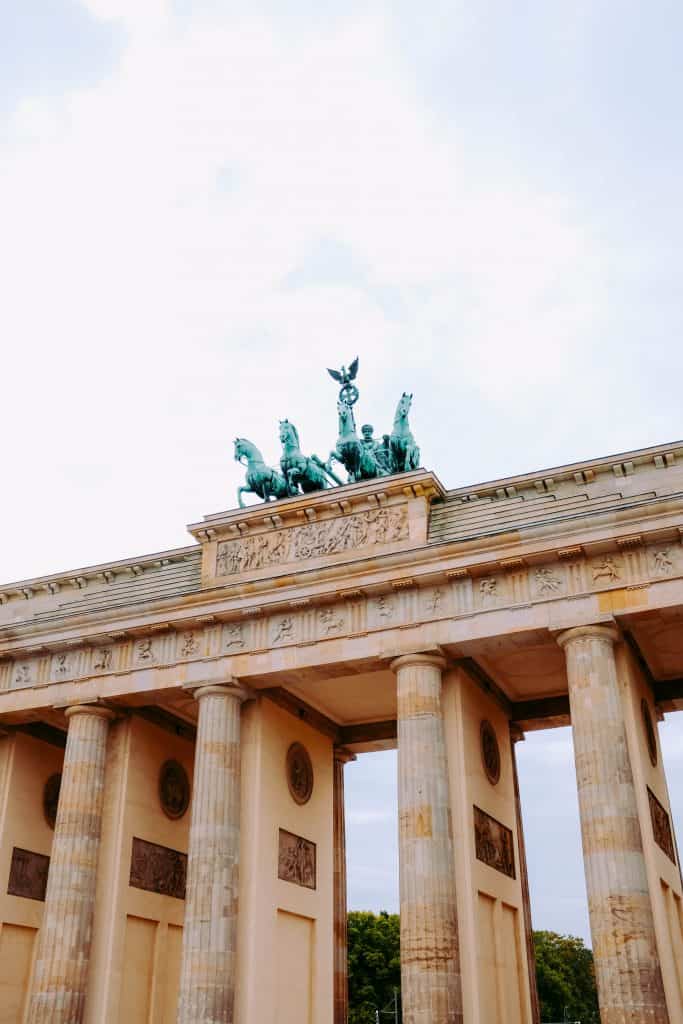 15 Things to do in Berlin Germany
Berlin Wall at East Side Gallery
Ramones Museum
Berlin's Museum Island
DDR Museum
Markthalle 9
Charlottenburg Palace
Bellevue Palace
Checkpoint Charlie
The Reichstag
Berlin Cathedral
Berlin Zoo
Brandenburg Gate
Holocaust Memorial
Berlin TV Tower
Victory Column
10 Reasons why I love Berlin Germany
Biergartens
There are biergartens all over Germany, but Berlin happens to be where the best are situated. Berlin is really good at doing beer, gardens and friendly locals so it makes the perfect match for a summer days. There's no better way to pass a warm summer evening than drinking good beer with friends.
Street Art
I am a huge fan of street art and truly believe Berlin Germany has the best street art in the world. Walk through any neighbourhood, you'll see it everywhere. Visit the Berlin Wall at the Eastside Gallery for some of the most artistic and amazing graffiti work.
Drinking in Public
No one cares if you drink in public and I love this! There's such freedom in being able to drink where you want and when you want without worry of getting fined or arrested by the police.
Rent a Tram
No seriously, you can rent a tram. Sometimes at night as tram approach you might notice they don't stop. To your surprise you will see a bunch of people having a party on the tram! There are often DJ's, people drinking and dancing the night away.
Bier Bikes
Someone must have been drunk when they came up with this idea. Want to tour Berlin Germany in a unique fashion? Take a beer bike tour where you get a chance to drink and drive while drunkenly experiencing the most notable tourist attractions in Berlin.
Schlosspark Biesdorf Berlin Germany
Surrounded by an idyllic and enchanted park, Schloss Biesdorf – freshly renovated since autumn 2016 and extended by one floor – offers art, culture, relaxation and culinary delights. Schloss Biesdorf Berlin (Biesdorf Palace)
Recycling
The Germans recycle with a vengeance. It's a bit intimidating as an outsider to learn their system but once you get the hang of it you'll feel like one of the locals. Do some good for the environment.
Long Days
In England it gets dark around 9pm in the summer but in Berlin Germany it stays light until about 11pm. I'm not even sure why as it's only two hours away by plane but it just seems lighter, later. It's great sitting outside in a biergarten or in the park with friends, enjoying life.
Culture
Berlin is jam packed with people from all over the world. The people are nice and friendly and you get amazing service. There is also so much to do from the museums, the markets, the canals, the tourist spots and the shopping. It can take a few days to really experience Berlin Germany.
Food
I wasn't too excited about the food in Berlin before I visited, but I was really impressed when I left. One night we had Thai-Singapore, the other we had currywurst and the other night we had the most amazing steak I have ever eaten. Some of the best food I've ever had was in Berlin Germany. Now that is some pretty good going.
Shopping
I said it above but I'll say it again, as it really is spectacular. Surprisingly Berlin Germany is actually a fashion capital, you just don't think it at first. I loved shopping in Berlin Germany because you can come across a lot more designs and variation of clothing, unlike the usual stuff you would buy in a normal shopping centre.
The history and sightseeing
There is a lot to see in Berlin Germany – if History is your cup of tea. Brandenburg Gate, the Jewish Holocaust Museum, the Berliner Dom, the Eastside Gallery, the DLR museum, the Anne Frank Museum, Charlie's Checkpoint and much, much more. What used to symbolize a divided city is now the symbol of unity, the Berlin Wall and it's great on a summers day to stroll down the wall from beginning to end.
It's affordable
The prices in Berlin Germany is relatively cheap compared to other capital cities I've been to. It is cheaper than London and a lot cheaper than many other cities. The public transport (S-Bahn/U-Bahn) have reasonably priced tickets and the entire city is so well connected by these trains that you won't really need a taxi or a car. Food in Berlin is inexpensive: a regular meal will set you back approximately 10 Euros and beer prices are 2.50 Euros upwards.
There really is so much to do in this beautiful city I'm simply highlighting a few of the best options. The next time you are looking for a place to visit, do consider Berlin. I'll be back someday, hopefully sooner rather than later.
10 Things to do in Berline Germany
Berlin Wall at
East Side

Gallery

This best part of the weekend was taking a two hour stroll down the Eastside Gallery. The East Side Gallery is an international memorial for freedom across a 1.3 km long section of the Berlin Wall, located near the centre of Berlin Germany on Mühlenstraße in Friedrichshain-Kreuzberg. The wall means a lot to many different people and as well as a memorial, it is a great art exhibition with some amazing grafitti and paintings.
Ramones Museum
Do you know that in Berlin there's a museum just for the Ramones? The museum was first opened on 15 September 2005 in the district of Kreuzberg and is the world's first and only Ramones museum. It shows more than 300 memorabilia of the Ramones from the years 1975 to 1996. The exhibitions show previously unpublished photos, autographed posters, clothing of the musicians, signed first editions of various publications and many more.
Museum Island
Not far from our hotel was Museum Island, an island including five world-renowned museums collated in a unique ensemble in the centre of Berlin Germany. Museum Island is the northern tip of the Spree Island. The museum collective has been the only architectural and cultural ensemble that is considered part of UNESCO world heritage. The five museums include: Pergamonmuseum, Bode-Museum, Neues Museum, Alte Nationalgalerie and Altes Museum.
DDR Museum
Literally around the corner from Berliner Dom and Museum Island is the DDR Museum. I wasn't sure about it initially but once we stepped inside I realised we had made a good choice. The DDR Museum in Berlin shows the life in GDR, not just ostalgia and is one of the most interactive museums Germany. It also gives you the chance to learn about the dividing of Germany from the beginning right to the end.
Markthalle 9
Berlin use to have 13 market halls, but only 2 are remaining today. In Kreuzberg you can find the No. 9 and every Thursday they have a Street Food Festival, so if your visit falls on a on a Thursday, make sure you head on over to the market. Markthalle 9 was built in 1891 but it was recently renewed with a vivid farmer's market, if you're not here for the Street Food Fest, just visit for the fresh regional food.
Brandenburg Gate
If you've seen or researched anything about Germany, then 100% you will have stumbled across one of the best known landmarks in Germany, the Brandenburg Gate. The Brandenburg Gate is an 18th-century neoclassical triumphal arch in Berlin and it is built on the site of a former city gate that marked the start of the road from Berlin Germany to the town of Brandenburg an der Havel.
During the post-war Partition of Germany, the gate was isolated and inaccessible immediately next to the Berlin Wall, and the area around the gate was featured most prominently in the media coverage of the tearing down of the wall in 1989. You don't spend much time here, unless you grab a coffee from one of the hundreds of coffee shops, but be sure to grab a selfie, just like I did!
Holocaust Museum
Also known as the Memorial to the Murdered Jews of Europe, the museum exists on ground level and then there is also an underground museum inside. The memorial is to commemorate the Jewish victims of the Holocaust, designed by architect Peter Eisenman and engineer Buro Happold. It consists of a 4.7-acre site covered with 2,711 concrete slabs arranged in a grid pattern on a sloping field. They are organized in rows, 54 of them going north–south, and 87 heading east–west at right angles but set slightly askew. In the museum underground you can then find the all of the names of all known Jewish Holocaust victims, obtained from the Israeli museum Yad Vashem.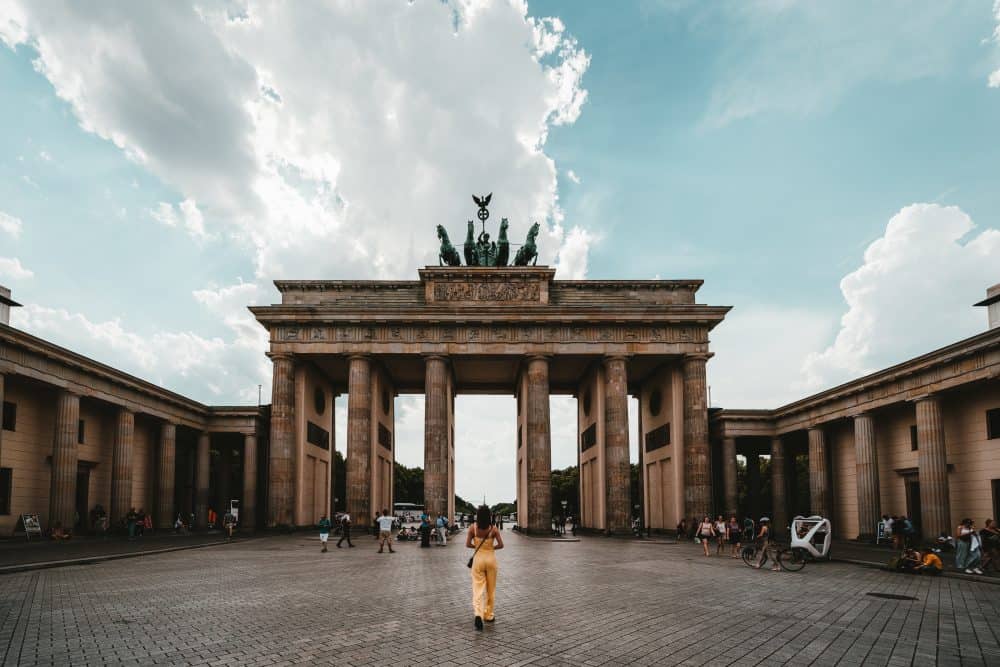 Berlin Germany Itinerary
Day One
Day one was extremely tiring. We were up at 4am to go to the airport in London and then we jumped on a plane to Berlin Germany, landing at 10am in Berlin. We then made our way over to the city centre and checked our bags in to our hostel, Generator Hostel Mitte. As we couldn't check in till 3pm we put our bags in the storage room downstairs and decided to go and check out Berlin for a few hours.
At first we wandered down towards Alexanderplatz and grabbed a Starbucks. After that we decided to go in search of a flea market called Markethalle 9. This however ended up being a disaster as we wandered around Kreuzberg not being able to find this market in the middle of nowhere.
As we were tired and getting grouchy we decided to head back in to the city instead and look at some of the artwork that lines the streets there. Some of the art work was incredible and even though there is some graffiti around the city that looks messy and dirty, the majority is artistic and portrays a message of the city, its history and the people that live within the area. We then went down to the hostel to check in and had a lovely afternoon nap.
After a lovely day of wandering we decided to go to a Thai/Singapore restaurant on Oranienburger Strasse which was incredible. I can't remember the name of the restaurant off the top of my head but if anyone wants the name I will be more than happy to look it up. The food was incredible, there was plenty of it and the bill came to under £30!
Day Two
Day two arrived and we decided to make it a big one. We decided to wander over the Eastside Gallery to look at the Berlin Wall and then make our way back over to Alexanderplatz. We then visited Museum Island, the DDR Museum and finally the Anne Frank Museum. It was a tiring but great day and mean't we managed to get a lot done in a short amount of time.
Day Three
We had a nice lie in after such a tiring day on Sunday and then had to pop over to the Bright Fashion Trade Show over near Mitte. The week we were in Berlin Germany we had arrived at the beginning of Berlin Fashion Week so there was lots going on and we could tell it was slightly busier than any other week in winter may have been. My boyfriend works for a fashion company in the UK so we planned to visit Bright whilst we were in Berlin. It was a great day and it was really interesting for me as I have no idea about fashion!
Day Four
Our last day in Berlin Germany. Massive sad face but also quite cold in Berlin so happy to be going back to the UK, even if it is possibly just as cold there. I also had work the day after we return so I need to mentally prepare for that…. We paid for a late check out so we could keep our room till 1pm, instead of 10am.
It helped a lot as it mean't we could go out early do some more tourist attractions and then return at lunch time for a quick rest before we headed on over to the airport. We headed on over to the Brandenburg Gate, the Jewish Holocaust Memorial and Checkpoint Charlie. We then headed on over to the airport and flew back to the UK! A really great trip and the boyfriend had a wonderful birthday surprise trip away! BEST-GIRLFRIEND-EVER.
Where to stay in Berlin
Generator Hostel Berlin Mitte is perfect for everyone who is looking for a good but also cheap stay in Berlin's busy city centre. The hostel is centrally located on Orianburger Straße. Whether you want to go shopping in at Markethalle 9, take a walk around the Jewish Holocaust Memorial or visit the Brandenburg Gate, all are within a twenty minute walk or U-bahn journey of the hostel!
The hostel is superb but original urban space with a sleek modern interior throughout the hostel. The unique character can be found across the hostel from the rooms to the common areas. In reception it is beautifully fitted with wooden panels and a sculptural string art installation by French artist Sebastian Preschoux. There is also a bar and cafe for guests of the hostel, where you can grab drinks and food at brilliant prices. We grabbed a few coffees's priced around €2-3, sandwiches around €4-6 and a currywurst was around €5.
They have a variety of rooms including dorms, twins and double privates and the prices are also just as good with dorm rooms priced at €18 and private and twins from €30. We didn't get to see the dorm rooms however considering the quality of the hostel and the communal areas I assume backpackers would be impressed with the bedrooms.
The rooms at Generator Hostel Berlin Mitte are comfortable and have all the things you need. This unique budget hotel in Berlin is perfect for everyone who's looking for a clean and comfy hotel for a cheap rate with a central location and well-priced food and drink. Our room was a twin private en-suite room and we a really nice place to lay our heads after a tiring day walking around Berlin Germany. We were also provided with our own towels and some toiletries in the shower room.
So all this in 48 hours you say?! Yes, I know it was tiring but we had so much fun and I felt like we had truly used our time wisely.
Where are your favourite spots in Berlin Germany?
Photos credit: All images found on Unsplash and Pexels.
Other posts that may help you:
Copenhagen Chic at the Andersen Hotel
Best Vegan Restaurants in Malmo
Ultimate Guide to a Weekend Break in York
10 of the Best places to eat Brunch in London
The Best Weekend Trips in the UK
Thank you for reading and as always happy adventuring!
If you've enjoyed this post, please share it for me with all your friends and family!
Sophie X