With its millennia-old history, world-renowned gastronomy, culture and natural beauties, Turkey are among the countries that appeal to the most diverse variety of tastes in the world. Here are some of the most beautiful places to visit in Turkey.
With views, each more beautiful than the other, Turkey provides both photography enthusiasts and travellers with an unforgettable experience.
Located in the Mediterranean and connecting Asia and Europe continents that are separated by the famous Bosphorus, Turkey is a unique destination that welcomed last year about 51.7 million tourists.
The country that has always been a hub for cultural interaction and home to varying climates inspires the visitors today with its history, nature, and gastronomy that reflect the diversity of civilizations for centuries.
Located at the crossroads of cultures, Turkey has a distinctive understanding of art & fashion which is the synthesis of tradition and modernity and its extremely dynamic shopping & entertainment life also attracts visitors from all over the world. Check out this Turkey itinerary for the best guide to this amazing country.
Here are my favourite 21 of the most beautiful places to visit in Turkey…
1. Maiden's Tower, Istanbul
One of the best-known symbols of İstanbul with its history of 2,500 years, the Maiden's Tower has also been the source of inspiration for many poems. Built on a small islet off the coast of İstanbul's Asian side, the Maiden's Tower is accessible by boat on specific times of the day, and continues to dazzle people with its magnificent view of the sunset as well as the history it contains. One of the most iconic Turkey sightseeing!
Got more time here? Check out some of the best hidden gems in Istanbul!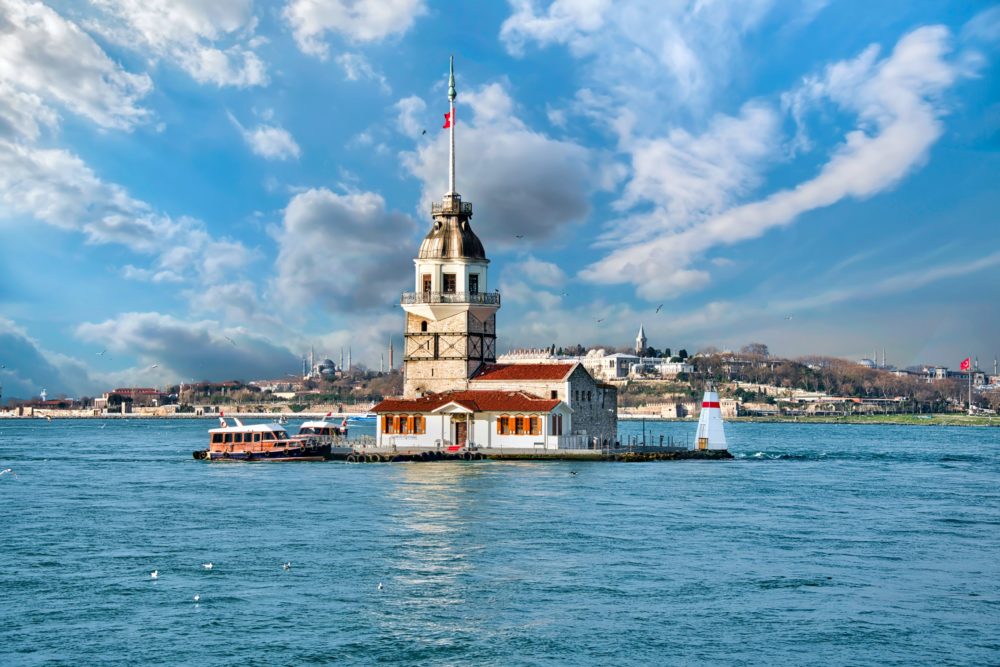 2. Mount Nemrut, Adıyaman
Listed as a UNESCO World Heritage Site in 1987, Mount Nemrut is located in the Kahta district of Adıyaman. With statues as high as 10 meters and meters-long inscriptions, Mount Nemrut was considered a sacred site by the Kingdom of Commagene. Statues of Mount Nemrut are particularly reminiscent of a movie scene with the glorious harmony of colors particularly during sunrise and the sunset. One of the of the most beautiful places to visit in Turkey!
3. Pamukkale Travertines, Denizli
Dubbed the "White Paradise", Pamukkale Travertines entered UNESCO's World Heritage List as a natural beauty that came to existence when several geological events coincided. Having served as a thermal spring for nearly a millennium, the area embraces both those in search of a cure for their ailments and those who do not wish to miss on this "White Paradise." Another great Turkey sightseeing spot!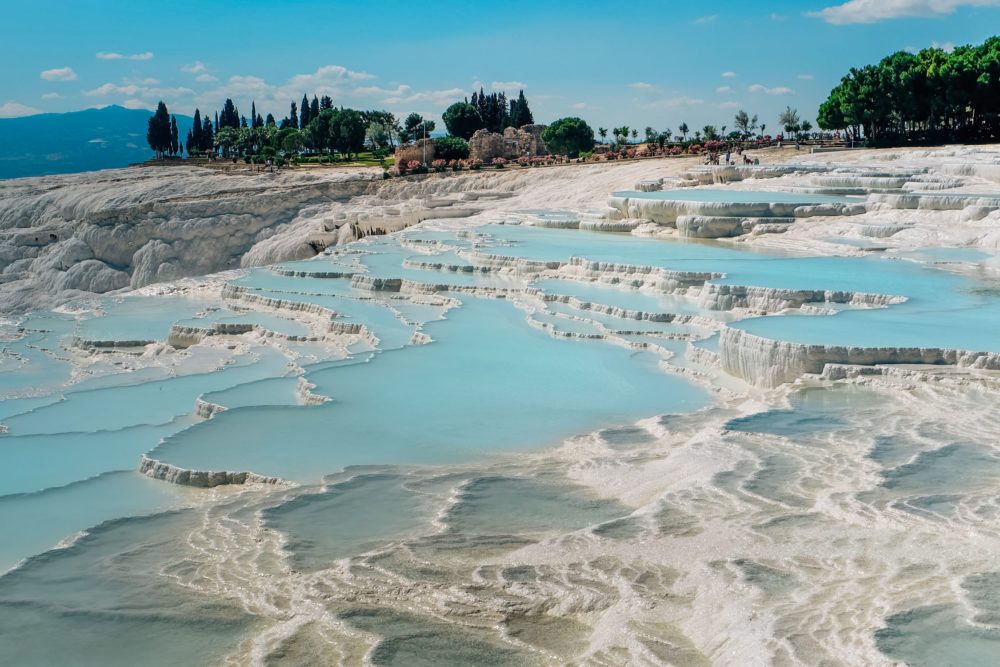 4. Houses of Mardin, Mardin
Built on the Mount Mazı, Mardin Houses mesmerize visitors of all ages with their breathtaking architecture. Built on an area 2,500 meters long and 500 meters wide, the houses were designed in such way that no building's shadow falls on another.
5. Soumela Monastery, Trabzon
Built on a steep cliff in the Maçka district of the Black Sea province of Trabzon, Soumela Monastery is also called "Virgin Mary" by the locals. It really is one of the most beautiful places to visit in Turkey. Included in the UNESCO World Heritage Temporary List in 2000, the Soumela Monastery is built on an elevation of 300 meters from the plain.
6. Rock Tombs of the Kings of Pontus, Amasya
Ancient tombs of the kings were carved into the rocks on the southern hillside of Mount Harşena in Amasya. The city was the capital of the Kingdom of Pontus, and the area where the tombs of the five great kings is located was included in the UNESCO World Heritage Temporary List in 2015.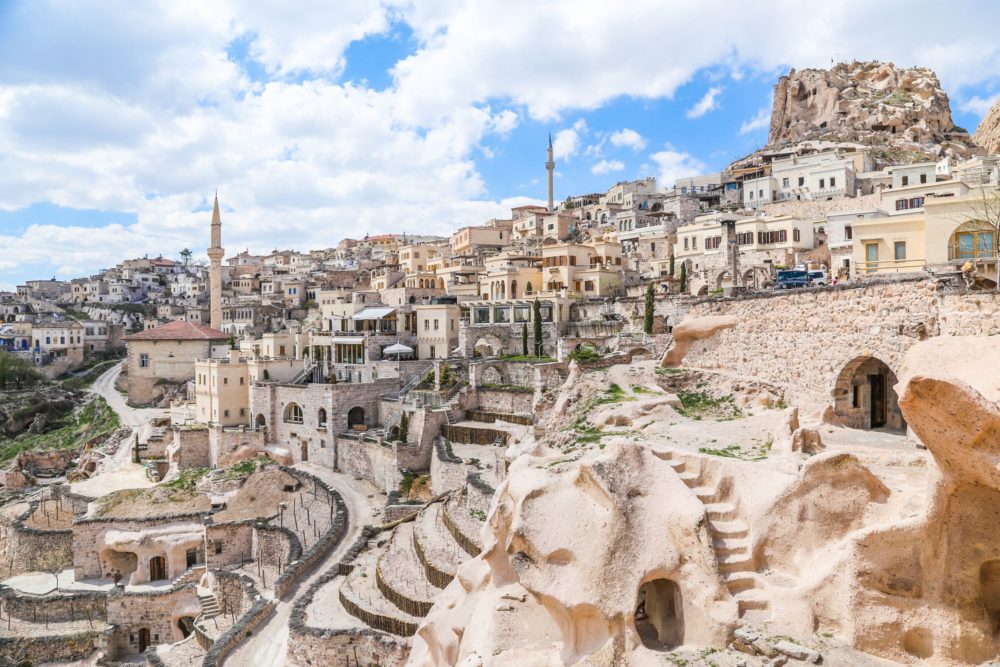 7. Uçhisar Castle, Cappadocia
Situated 5 kilometres away from Nevşehir, the Uçhisar Castle is the biggest fairy chimney that is visible from anywhere in Cappadocia. Uçhisar Castle is actually comprised of two massive fairy chimneys in close proximity to one another. Locals call the bigger one the "Castle of the Master" and the smaller one the "Castle of the Guard." Another wonderful Turkey sightseeing spot! This place is well worth a visit due to it being one of the most beautiful places to visit in Turkey.
8. Maiden's Castle, Mersin
The most commonly known structure of the ancient city of Korykos, the Maiden's Castle is 600 meters off the cost of Erdemli, Mersin, offering a magnificent view with its unique structure. Maiden's Castle is accessible by swimming thanks to the special beach, offering both the natural beauties and history to its visitors.
9. Tekirova, Antalya
Situated on the foothills of Beydağları mountain range 60 kilometers from Antalya, Tekirova is nothing short of a true paradise on earth with its approximately 6-kilometre-long blue flag beach. With a verdant forest behind it and a turquoise sea as far as the eye can see in front, Tekirova is also home to a magnificent historical heritage with its ancient cities it as well as its amazing nature.
10. Ayder Plateau, Rize
An upland with an elevation of 1,350 meters, the Ayder Plateau is situated in Çamlıhemşin, Rize on the Black Sea coastline. Resting on the Kaçkar Mountains, the Ayder Plateau welcomes its guests with its pastures that are lush green in summer and fully white in winter.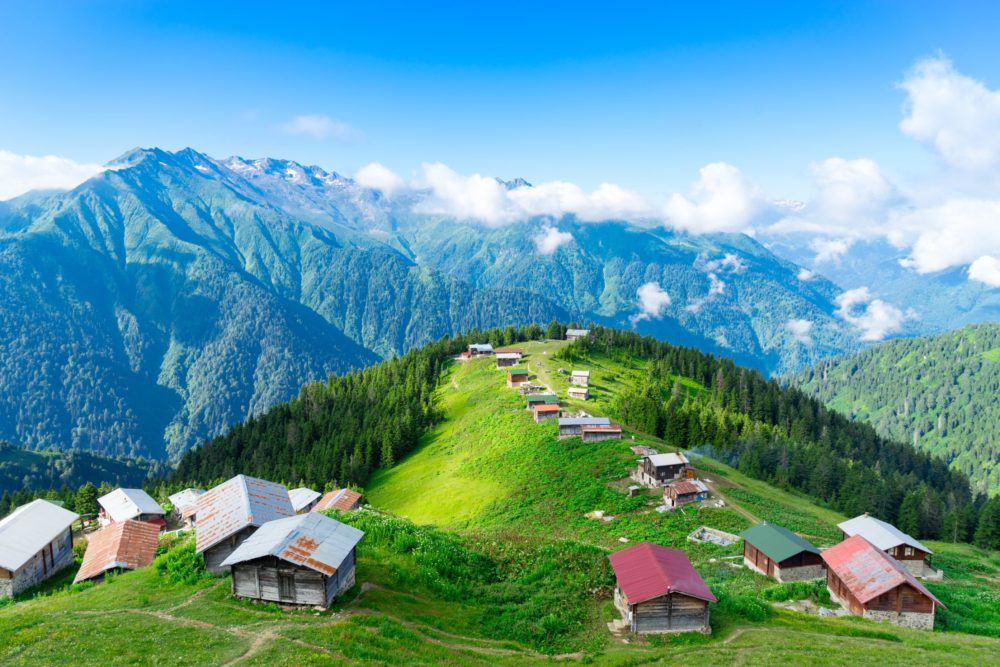 11. Karagöl, Artvin
Bringing together a different set of colors every season, Karagöl National Park is situated in Artvin's Şavşat district, which is designated a "Cittaslow". Karagöl is covered with green in summer and yellow, orange and red in fall, and in addition to daily excursions, the forests surrounding it are great for a camping trip and rowboating to take in the glorious view of the area. A stunning place and one of the most beautiful places to visit in Turkey.
12. Olympos, Çıralı
Another great Turkey sightseeing spot is situated in the Kumluca district of Antalya, Olympos offers all the shades of both green and blue along its shore on the Mediterranean coastline. The area north of the beach is the breeding ground of the loggerhead sea turtles (Caretta Caretta), which is an endangered species. A colorful paradise with its pristine shore and wildlife conservation areas in the heart of nature, Olympos is also an important part of the historical Lycian Way.
13- Myra Rock Tombs, Demre
The history of the ancient city of Myra and Lycian rock tombs, which are in the Demre district of Antalya, dates back to the 5th century B.C. Situated on the Lycian Way, the ancient city of Myra is known as the city where St. Nicholas, a.k.a. Santa Claus, served as a bishop. Both its historic fabric and natural beauties give the spot a captivating view.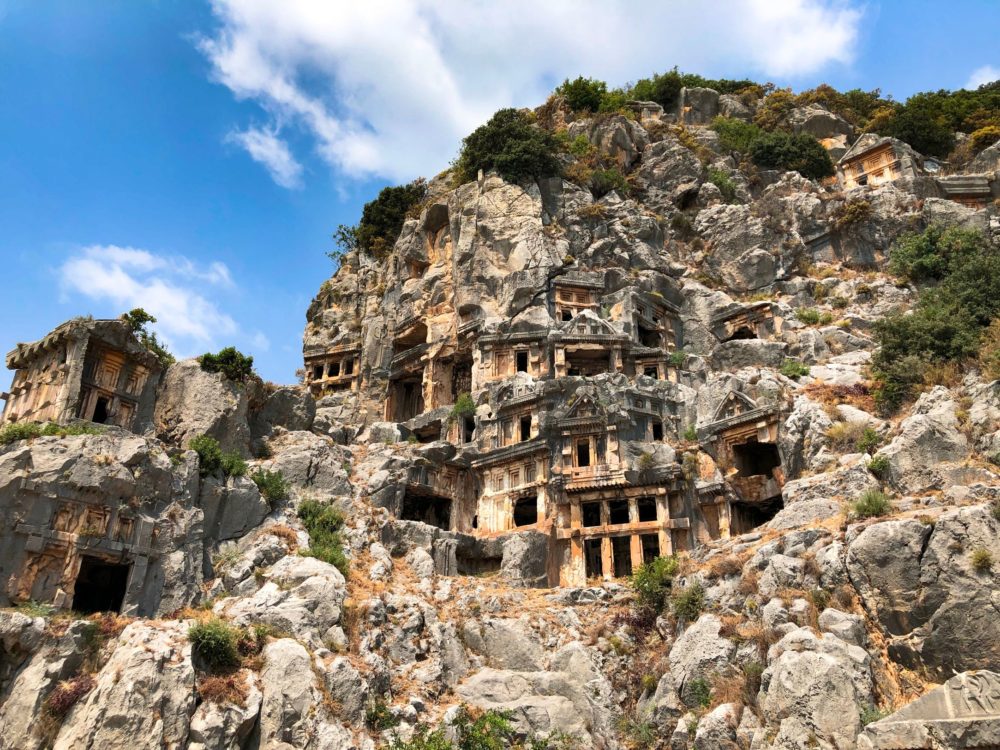 14. Kapuzbaşı Falls, Kayseri
Located in Yahyalı, Kayseri, Kapuzbaşı Falls are the world's second-tallest fall. Fusing green with blue, the falls not only offer an amazing view but also a calming symphony for their visitors with the sound of the flowing water.
15. Seven Lakes, Bolu
Situated in the province of Bolu, the Seven Lakes (Yedigöller) is a green paradise with its natural beauty. The area is home to seven lakes in varying sizes formed by landslides and dazzle its visitors with its colors that change in each season.
16. Ölüdeniz, Fethiye
Ölüdeniz is in Fethiye, Muğla, enticing tourists with all colours of nature across its white-sand beaches, deep blue sea and lush green forests… You can also enjoy the breathtaking view of Ölüdeniz thanks to its weather conditions suitable for paragliding year-round as well as its natural beauties. A stunning summer Turkey sightseeing destination!
17. Manyas Bird Paradise, Balıkesir
Situated in the province of Balıkesir, on the main migration routes of aquatic birds from Africa to Europe and Asia, Manyas Bird Paradise is home to breeding colonies of thousands of birds including Dalmatian Pelicans, White Pelicans, Herons, Spoonbills, Cormorants, Greylag Geese, Wild Ducks, and Songbirds that build their nests on the trees and reeds.
Manyas Bird Paradise ensure magnificent views for wildlife both with its wonderful nature and its wildlife. If you love wildlife, this really is one of the most beautiful places to visit in Turkey.
18. Lake Çıldır, Ardahan
Located on the borderline between the provinces of Kars and Ardahan, Lake Çıldır offers a different visual feast every season. Best known particularly for its white scenery and tours on horse sleighs in winters, December is considered as the best time to visit Lake Çıldır.
19. Köprülü Canyon, Antalya
80 kilometers away from Antalya, Köprülü Canyon is one of the most important and productive spots in Turkey for rafting. Furthermore, visitors to Köprülü Canyon may also appreciate the different natural and historical beauties of of the area but also the ancient city of Selge, which is 11 kilometers away. A great day trip when Turkey sightseeing.
20. Kekova, Antalya
Kekova is only a few nautical miles away from the shore near Demre, Antalya, right across the villages of Kaleköy and Üçağız. One of the features that makes Kekova unique is that the majority of the ancient ruins here is submerged due to the water levels that have been rising up since Antiquity. Together with Myra, one of the most important settlements of the Lycian League, the ancient city of Dolichiste also lies submerged due to earthquakes in the 2nd century A.D. to the north of Kekova.
21. Yenice, Karabük
Located in the province of Karabük, Yenice welcomes its visitors as an "Open Air Forest Museum" with trees of various species and its natural beauties. You can also go trekking in Yenice to appreciate all shades of green. A great day trip when Turkey sightseeing.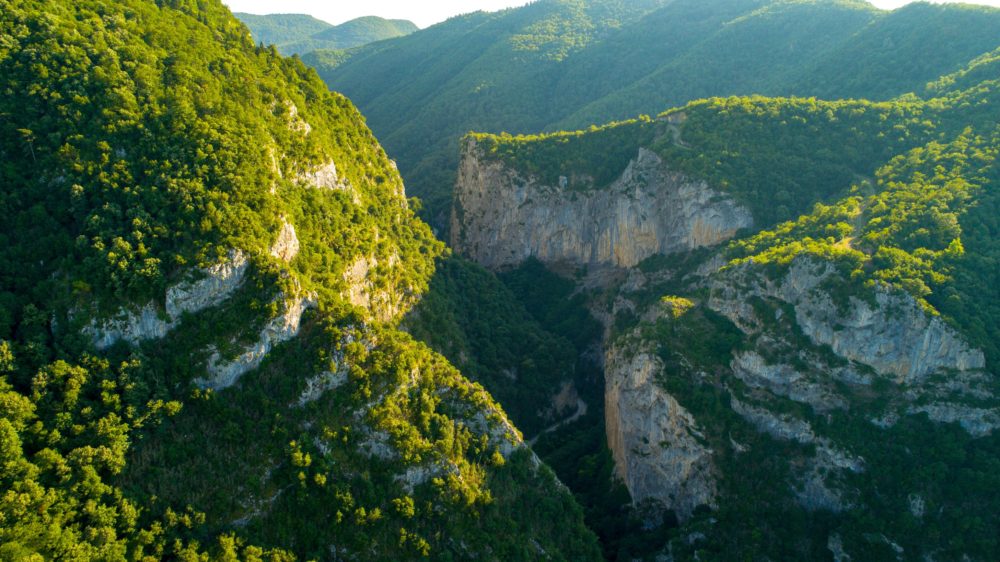 ---
Did you know I also vlog my trips? Make sure you subscribe to my YouTube channel so you get alerted when all my travel videos go live… CHECK THEM OUT HERE
Thank you for reading and as always happy adventuring! If you have any questions about the destination please leave these in the comments below.
If you've enjoyed this post, please share it for me with all your friends and family!
Sophie X