If you are visiting Malta, you've got to visit the countries capital city Valletta at least once. This stunning, yet small city is memorable and exceptional, from the cafes dotted along it's white stone streets, to the views from the Upper Barrakka Gardens, everything about the capital of Malta is stunning and it's a must visit if you are in the country.
Since visiting Malta in July it has quickly crept up my 'favourites' list. There is simply so much to see and do in this wonderfully historic country, from it's beautiful cliff edges, to stunning architecture, and friendly locals to clear waters, it is an island with many sides. Me and Theo flew out to Malta at the beginning of the summer holidays with the little one to spend a week here, and we were delighted with what we found. Another wonderful country added to my list…
Exploring Valletta Malta's Capital City
Top places to visit in Valletta, Malta Capital City
• Saint John's Co-Cathedral
• Marsamxett Harbour
• Grandmaster's Palace
• Upper Barrakka Gardens
• Triton Fountain
• Grand Harbour
• Fort Saint Elmo
• National Museum of Archaeology, Malta
• The Malta Experience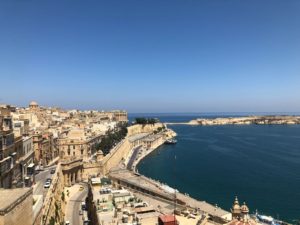 Exploring Valletta Malta's Capital City
The walled capital city of Malta was established in the 1500s on a peninsula by the Knights of St. John, a Roman Catholic order. Valletta is well known for museums, palaces and grand churches, including baroque landmarks such as St. John's Co-Cathedral, whose opulent interior is home to the Caravaggio masterpiece "The Beheading of Saint John."
In Valletta you can find the terraced Barrakka Gardens offering views over the Grand Harbour and the refurbished Vittoriosa waterfront of Birgu. And when parliament's not in session visitors can tour 16th-century Grandmaster's Palace, currently the office of Malta's president. In Malta's capital city, Valletta you can also find The National Museum of Archaeology which is housed in the Mannerist-style Auberge de Provence, as well as The National Museum of Fine Arts, in a rococo palace, which displays works by Maltese, Italian and other European artists.
Exploring Valletta Malta's Capital City
Valletta has also been named as 2018's European Capital of Culture, so there's never been a better time to visit Malta's capital city.
Here are all the top things to do in Valletta including my favourite places, which have helped it become a UNESCO World Heritage site. You can find below a list of historical and cultural tourist hot spots which make Malta's capital city a real gem in the European holiday scene.
My Favourite Places in Valletta
Upper Barrakka Gardens
The Upper Barrakka Gardens are a public garden in Valletta, Malta's capital city. Along with the Lower Barrakka Gardens in the same city, they offer a panoramic view of the Grand Harbour, the only natural harbour in the Mediterranean with the Three Cities as its backdrop. It is the place which attracts so many Maltese and tourists all year round and it was so stunning, we actually visited twice. Sitting on a bench overlooking the view is something that cannot be missed and keeps you coming back for more.
The Malta Experience
The Malta Experience is an audio-visual show that tells the dramatic story of the islands' 7000 year history. Educational, informative and entertaining, the show runs through the turbulent history of a small island nation that has overcome almost unimaginable odds to survive and prosper. Situated in a purpose-built panoramic auditorium, the show chronicles Malta's unique history in just 45 minutes.
Triton Fountain
The Triton Fountain is a fountain located on the periphery of the City Gate of Valletta, Malta. It consists of three bronze Tritons holding up a huge basin, balanced on a concentric base built out of concrete and clad in travertine slabs. The fountain is one of Malta's most important Modernist landmarks.
Marsamxett Harbour
Marsamxett Harbour is a natural harbour on the island of Malta. It is located to the north of the larger Grand Harbour. The harbour is generally more dedicated to leisure use than the Grand Harbour, with an array of bars, restaurants and cafes dotted around the edges of the Harbour. The harbour mouth faces north east and is bounded to the north by Dragut Point and Tigné Point. Its northwest shore is made up of the towns of Sliema, Gżira and Ta' Xbiex.
Grandmaster's Palace
The Grandmaster's Palace is a palace in Valletta, Malta, built between the 16th and 18th centuries as the palace of the Grand Master of the Order of St. John, who ruled Malta, and was also known as the Magisterial Palace. It eventually became the Governor's Palace, and it currently houses the Office of the President of Malta. Parts of the building, namely the Palace State Rooms and the Palace Armoury, are open to the public as a museum run by Heritage Malta.
Remember, this city is small, and there isn't a huge amount to do. You can do everything in a day, so I have attached a map below which outlines where best to start and where to go afterwards. Obviously with a stop off somewhere for lunch and a glass of Aperol around midday…
Exploring Valletta Malta's Capital City
Where to stay in Valletta
If you're dreaming of an exquisite hotel experience in one of the finest 5* luxury hotels in Valletta, look no further than The Phoenicia Malta. Despite actually staying at Maritim Antonine Hotel in Mellieha, we headed over to Valletta to visit The Phoenicia, as I had been invited for lunch and an afternoon by their infinity pool. If you're visiting Valletta, make sure you pop in to the The Phoenicia Valletta for an unforgettable experience.
Steeped in history and boasting magnificent décor matched only by the stunning views, our hotel has been recognised as one of the Valletta's best luxury hotel since it opened in 1947. A visit to The Phoenicia Malta is nothing short of perfection; bringing together tradition, warm Maltese hospitality, modern amenities and all of life's comforts. And located just a stone's throw from Valletta's most coveted attractions, including the Upper Barrakka Gardens, Saint John's Co-Cathedral and Grand Harbour.


Exploring Valletta Malta's Capital City
What to pack for a weekend in Malta's capital city Valletta
You guys have been loving my outfits posts on Instagram over the past month, and I've had so many messages from you asking where the outfits I wore whilst on my recent trip to Malta are from. I've tried to reply to you all separately and where possible send links to the items, but to make things easier, and so you can see everything I wore in Malta and go and buy it yourself, I thought I would pull together a blog post dedicated to my Malta wardrobe. I have split the blog posts in to individual outs, with the sizing I opted for, and the link to where you can buy the item. Read the full post of what I wore in Malta here…
Outfit #1 – Red Herring Leopard Print Midi Dress – BUY HERE: Red Herring Leopard Print Midi Dress
Outfit #2 – Womens Holiday V-Neck Button Through Midi Dress – BUY HERE: White Midi Dress
Outfit #3 – Marks & Spencers Black Tummy Control Swimsuit – BUY HERE: M&S Swimsuit
Outfit #4 – ASOS Shirred Sleeve Polka Dot Midi Dress – BUY HERE: ASOS Dress
Outfit #5 – Pull & Bear Red Striped Tee, New Look Denim Shorts + Converse – BUY HERE: Red Stripe Tee, shorts old, Converse
Outfit #6 – Fat Face Lily Vintage Flora Maxi Dress – BUY HERE: Fat Face Maxi Dress
Outfit #7 – New Look Bardot Frill Red Top – BUY HERE: Similar top here
I flew to Malta with the wonderful team at Jet2 Holidays on a package holiday, including flights, accommodation and transfers. We stayed at the lovely Maritim Antonine Hotel in Mellieha Bay. For more information and to book your own trip to Malta visit Jet2 Holidays. Thanks for reading my guide to Malta's capital city Valletta!
Other posts that may help you:
10 Hygge Things to do in Copenhagen
Copenhagen Chic at the Andersen Hotel
Ultimate Guide to 48 Hours in Malmö
Best Vegan Restaurants in Malmo
Ultimate Guide to Columbia Road Flower Market London
Thank you for reading and as always happy adventuring!
If you've enjoyed this post, please share it for me with all your friends and family!
Sophie X