Ready for Eurocamp Holidays?! When I visited La Croix du Vieux Pont, I was completely surprised by how quickly we managed to get from door-to-door with no stress and no missed check-ins. And it made travelling with a small child even easier too!
I would highly recommend Eurocamp Holiday! We had such a fun week and loved having our own space!
We did home to Eurocamp via Calais in just over 6 hours, including 2 hours from home to Dover, 1 ½ hour on the Ferry and then 2 hours from Calais to La Croix du Vieux Pont (with a break or two in the middle).
We started the holiday happy, smiling and not sleep-deprived! Something flying doesn't always do…so I thought, what other sites do Eurocamp have that are as quick and easy at La Croix du Vieux Pont.
Here are 5 Eurocamp Holidays within 2 hours of Calais…
15 Eurocamp Holidays near Calais
1. Château Le Brevedent Campsite Pont L'Evêque, Normandy
Imagine taking a leisurely morning swim, surrounded by lush, green woodland, and overlooked by a handsome château. That's the way you could start your day at Le Brevedent.
With its split-level water park featuring pretty herbaceous borders, the accent here is on a relaxing and quintessentially French experience. Nestling in orchards that surround a lake and overlooked by a château, this is a glorious and authentic parc, within easy reach of Le Havre.
Set amid mile after mile of the thriving countryside, there's a host of super Normandy beaches to be discovered. Back on parc, you'll find a range of facilities and a warm welcome from the friendly Anglo-French owners. A great Eurocamp Holidays!
2. Château Lez Eaux Campsite, St Pair-sur-mer, Normandy
In the beautiful grounds of a manor house, the calming Château Lez Eaux awaits. Head down the main route of the Cherbourg peninsula and step onto Château de Lez Eaux, a quiet and friendly parc set in the grounds of a primrose-coloured manor house.
There are excellent facilities here, including an indoor water park which has been completely remodelled and updated for 2020 with the addition of two huge new indoor/outdoor waterslides! Don't forget your fishing rod either, as you're welcome to try your luck on the little lake, free of charge. If you're visiting over July and August, you'll enjoy a unique chance to visit the local market that is held on parc every Tuesday.
3. Domaine des Ormes Campsite Dol-de-Bretagne, Brittany
Set in 400 acres of wooded parkland, Domaine des Ormes is a hub of adventure
Brittany's coast and countryside combine to create a backdrop to holidays where new adventures are delivered, fresh, each morning.
Safe to say, whatever your day brings, it will begin and end in the tranquil setting at Domaine des Ormes – a beautiful parc set in 400 acres of wooded parkland. This family-run parc unfolds across wildflower meadows and a large lake to create a perfect setting for generously spaced tents and mobile home pitches.
For the golf fanatics in the family, the parc has its own 18-hole course and exclusive clubhouse. Add a horse riding school that offers rides or treks for all ages and abilities, and an impressive pool complex (complete with wave pool), and you're on your way to one memorable holiday! A great Eurocamp Holidays!
4. La Croix du Vieux Pont Campsite, Berny-Rivière, Paris
I had heard great things about the Aisne Valley, and having visited the champagne region a decade ago with my own parents, I knew it was a good location. The site has a great location; it is only 2 ½ hours from Calais, 90 minutes outside of Paris and 90 minutes from Disneyland Paris. It was super easy to find from Calais, following more or less two roads straight from the port and as you approach there are a couple of signs along the roads.
We stayed in one of Eurocamp's Vista Two bed + One Bathroom cabins, which could sleep up to five people including two adults and three kids. The kitchen was small but well-equipped with cooker, fridge, freezer, microwave and all the basic kit you need for a self-catering holiday e.g. bowls, mugs etc.
Storage was a bit limited, and we ended up bunging everything in together in the two cupboards that weren't taken up by utensils, but these cabins are huge so it's expected. There's plenty to do and more at La Croix du Vieux Pont for the kids!
There are two lakes, lagoon with white beach, fishing, kayaking, bowling, biking, archery, trampolines and more. Plus an indoor swimming pool, with outdoor section, including two slides, and a toddler pool. The outdoor pools were a little cold when the sun wasn't shining. Read my full review here. A great Eurocamp Holidays!
5. Les Alicourts Resort Pierrefitte, Loire
Activities await at Les Alicourts, a fun-packed parc with its own beachside lake.
Located just outside the sleepy village of Pierrefitte, Alicourts Resort enjoys spacious grounds, with tons of organised activities for kids, as well as an imaginative adventure play area, overlooked by the bar terrace.
Dive into an excellent pool complex that is ideal for any weather thanks to its retractable roof, or watch the kids whizz down one of four waterslides. Adults are well catered for too, with an indoor Balneotherapy wellness centre, including sauna, massage, Turkish bath and hydro-massage.
6. Le Parc de Fierbois Campsite Tours, Loire
With its own lake, Parc de Fierbois combines outdoor enjoyment with entertainment aplenty.
During the day, take a few laps around the parc's very own lake, which offers great views of the French countryside. Or maybe you've got a taste for a culture that won't be satisfied until you've ticked those châteaux off your sightseeing list?
You'll be close to the town of Tours, which is great for your very own tour, too. Back on parc, you'll find tons of high season activities, from team sports to evening entertainment.
There's a stage in the large bar area and here you'll find themed nights, including talent shows and quizzes. When it's time to make a splash, head to the two pool complexes and see the kids whizz down all five waterslides. A great Eurocamp Holidays!
7. Domaine de la Brèche Campsite Saumur, Loire
Set in acres of woodland, take a deep breath and relax at Domaine de la Brèche.
But it's not just the incredible backdrop that will draw you to this parc, you'll be made to feel welcome and at ease by the friendly parc owner. Try your luck at fishing or pony trekking (perhaps into the spectacular Loire countryside). And the best part? Whatever you plump for, you'll have acres and acres to do it in!
The facilities closer at hand is excellent too, including an impressive pool complex with waterslides, a separate pool for youngsters and a superb play area. The attractive bar and restaurant add that all-important finishing (and tasty) touch.
8. Le Ranolien Campsite Perros-Guirec, Brittany
Discover Le Ranolien, a lively, landscaped parc set on the stunning pink granite coast. For your slice of pink granite coast, head straight to Le Ranolien, a perfectly landscaped parc that is lined with colourful hedges and trees.
This means you'll also get the chance to relax on one of the parc's highly individual pitches. If you're feeling energetic, see which of the two pool complexes you can swim across in one session. Take our advice, and take a shortcut via the twisting and turning water chutes!
If you're visiting in low season, have no fear about dipping into the covered pool as it's always heated. When evening arrives, grab dinner in the bar, pizzeria or crêperie (all are housed in the original stone buildings). You can also enjoy late-night underground discos in high season. A great Eurocamp Holidays!
9. Roompot Beach Resort, Kamperland, Holland
Located right on the beach – and what a beach – Roompot Beach Resort is a bright, modern and extremely well-equipped parc nestled along the Dutch coast. So, what will it be today? Perhaps diving into the parc's subtropical swimming pool, complete with waterslide, indulging in a treatment at the parc's spa, or watching your kids getting arty and crafty in the Koos Kids' Club. With a buffet restaurant and snack bar on site, you don't have to cook at your place – but that's an option too, of course.
In the immediate vicinity of the park, historic towns such as Veere and Zierikzee offer friendly restaurants, shops and attractions to explore. The nearby beaches are Blue Flag certified, meaning they're safe and clean: ranking among the Top 10 cleanest beaches in the Netherlands. And the parc – it's reassuringly spic and span, too! A great Eurocamp Holidays!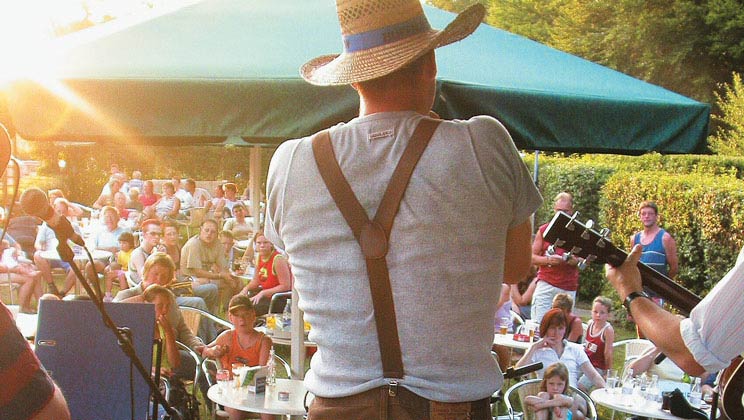 10. La Vallée Campsite Houlgate, Normandy
Activity-packed and close to the action, there's always something fun to do at La Vallée
With broad sandy beaches, fascinating history and chic seaside towns, Normandy proves you don't have to travel far to enjoy an out-of-this-world holiday.
And at La Vallée, one of Normandy's premier parks, you can enjoy a glorious rural setting not far from one of those magnificent sandy beaches, too. The parc is scattered with flowering hedges and fruit trees, with some of the excellent facilities housed in a beautifully converted Norman building. There are two pool complexes and fantastic waterslides, including the awesome space bowl slide.
For kids looking for non-stop activity, La Vallée has everything you could wish for with our great Kids' Clubs. Children of all ages can make new friends and develop new skills, but most of all have loads of fun. Parents can even get involved too at the Family Fun sessions.
11. Birkelt Campsite Larochette, Luxembourg
OK this one is four hours away, but it's so beautiful it's worth including…. The moment you arrive in Larochette, you'll realise why they call it Little Switzerland. And you'll understand why this beautiful location makes Birkelt parc such a great idea for a holiday.
For a start, there are meadows, woodlands and peaceful rivers all around; on parc you'll find an impressive pool complex featuring an outdoor paddling pool (open from the end of June) and a domed, all-weather swimming pool with a retractable roof that opens when the sun arrives. Although it's a municipal pool, you can use it free of charge.
The pool complex is only one of a long list of impressive facilities, which includes free Wi-Fi, horse riding, kids' disco, play area, plus an excellent bar, restaurant and take-away. Little Switzerland is a big surprise… A great Eurocamp Holidays!
12. Château de Galinée Campsite St Cast, Brittany
At Château de Galinée, the spacious setting makes for a relaxed and peaceful parc experience
Stroll along the blissful beach at St. Cast and you'll discover the one thing that sets holidays in northern France apart: space. There are endless broad beaches and roomy, well-designed parks.
Château de Galinée is an authentic, family-run parc close to the charming resort of St. Cast, offering a genuinely relaxed and peaceful atmosphere. The pulse quickens somewhat at the complex of pools and chutes, but above all, it's the acres of gardens to play, to sit and to savour that will linger in your memory.
As well as the play area, there's on-parc entertainment during July and August in the bar. Settle inside the restaurant and you'll overlook the indoor pool, or unwind on the outdoor terrace with a view of the outside water complex.
13. Domaine de Drancourt Campsite St Valéry, Picardy
The château just across the Channel. Fancy staying in the grounds of a French château? Then why not make the most of a short hop over the Channel and settle into Domaine de Drancourt, a relaxing parc nestled in the gardens of a château.
The area surrounding the parc was made to be explored, so if you're a keen walker or cyclist be prepared to get out and discover authentic French countryside. Alternatively, if you've got a thirst for history, make your way to the First World War battlefields that you'll find nearby.
Back on parc, there's a mini-golf course and a great pool complex with indoor and outdoor pools and a super-wide waterslide. Or why not spend the evening in the stables? Don't worry, these have been specially converted into a small bar. A great Eurocamp Holidays!
14. La Bien Assise Campsite Guines, Picardy
Peaceful stay or perfect stopover. Whether you're on a short stopover from Calais or planning a longer stay, there's plenty to explore at La Bien-Assise, a peaceful parc that's set in the grounds of a French château.
Unleash the explorer within and discover the parc's wooded grounds and spacious pitches, or venture into the rural setting beyond (the parc actually organises walks in the surrounding woods). If you fancy testing your water wings, take a trip to nearby Lac d'Ardres to try out some water sports or head to the coast to enjoy beaches and bustling resorts.
Back on this small parc, you'll find all the facilities you need, including a welcoming restaurant, a covered pool, and a water slide for the kids.
15. Paris Est-Champigny Campsite Paris Est-Champigny, Paris
Stay at Paris Est and sprinkle your next family holiday with a little magic – Disneyland Paris is just 30 minutes away by car.
You'll need at least a day at the magic castle and this riverside parc is the perfect base to stop at in-between visits. It's set within wooded parkland and offers great road routes to Disney and Paris itself; the capital city is just 12.6 km away and you can catch a bus from the outside parc.
Facilities on parc are simple, including a basic shop and snack bar, but it's all about location here. If you want to keep active with the kids, head 100 metres down the road to Tremblay Leisure Park, which has lots of sporting facilities on offer. Please note, due to its urban location, some noise from a nearby motorway can be heard from the parc.
Which one is your favourite? I am looking to visit another park this summer, I will let you know when I decide!
---
If you on a bigger trip exploring more of Europe check out my guides to France, Germany, Greece, Iceland, Italy, Portugal, Spain and United Kingdom.
My Travel Tips and Recommendations
Flights
To book flights, I always use flight search engine, Skyscanner, I regularly use the Everywhere tool to find the cheapest places to travel. It's how I get to travel so much all around the world. I find it the easiest way to compare flight prices across airlines and get the best deals.
Accommodation
For accommodation, I usually book most of my hotels or hostels through Booking.com. I love using this platform as it provides me with some amazing deals for accommodation all around the world. Or if you prefer, I also recommend using Airbnb. If you haven't signed up with Airbnb already, you can use this link to get £25 off your first visit!
Photography and Technology
Here is a list of the technology I always travel with:
Travel Insurance
Picking travel insurance that covers you in all eventualities is an essential part of planning a trip for every single person. If you can't afford travel insurance, you can't afford to travel. You never know what's around the corner. World Nomads is an affordable option that I personally recommend. BOOK HERE
To receive my articles and reviews straight to your inbox SUBSCRIBE HERE.
Did you know I also vlog my trips? Make sure you subscribe to my YouTube channel so you get alerted when all my travel videos goes live… CHECK THEM OUT HERE
Thank you for reading and as always happy adventuring! If you have any questions about the destination please leave these in the comments below.
If you've enjoyed this post, please share it for me with all your friends and family!
Sophie X