Brunch is Manchester is a thing to be added to the bucket list, especially when you are eating in the sky.
One of my favourite things to do in Manchester is to go for brunch at 20 Stories Manchester. And the 20 Stories Manchester Menu doesn't disappoint either.
Breakfast has arrived at 20 Stories Manchester and it's amazing! Open every Friday-Sunday 10.30 am-12.00 pm for breakfast dishes and homemade smoothies, it's the perfect place to kick off your weekend with friends or your partner.
Situated on the 19th floor of No.1 Spinningfields, 20 Stories is composed of a beautiful restaurant, lively bar and expansive rooftop terrace with unparalleled 360-degree views of the Manchester skyline.
The 20 Storied kitchens have created menus that showcase the best of the Northwest, with an aim to source ingredients locally.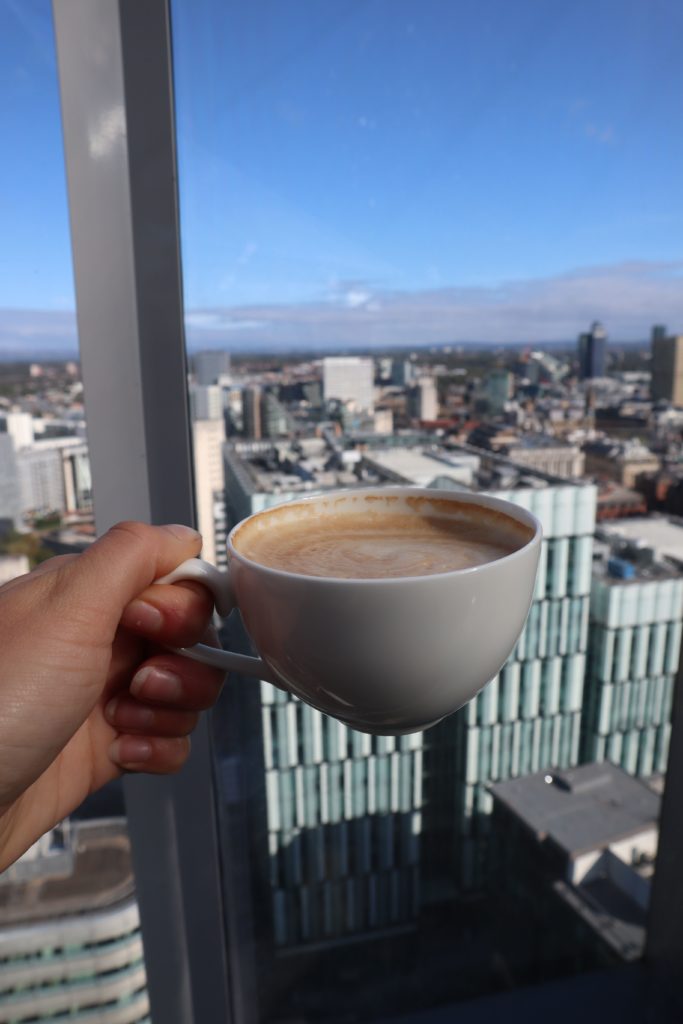 The bar is headed up by Bar Manager Stuart McLachlan, serves Signature Cocktails, Craft Beer and experiments with local ingredients to provide the most unique tastes in the city and there's an extensive wine list, created by the 20 Stories Head Sommelier.
The terrace is my favourite place, and we always opt for drinks or dinner out there, and for brunch was no different. They change the decor on the terrace every season, and this season, they have put up a Quintessential English Garden in partnership with Nyetimber.
For brunch we both enjoyed an oat latte to begin, and then I opted for the Shakshuka with a side plate of avocado, and Theo opted for the 20 Stories Full English, and then we both had a glass of champagne to celebrate our would have been wedding day.
We love coming to 20 Stories Manchester and I can't wait to come back again next time we are in Manchester!
---
My Travel Tips and Recommendations
Flights
To book flights, I always use flight search engine Skyscanner, I regularly use the Everywhere tool to find the cheapest places to travel. It's how I get to travel so much all around the world. I find it the easiest way to compare flight prices across airlines and get the best deals.
Accommodation
For accommodation, I usually book most of my hotels or hostels through Booking.com. I love using this platform as it provides me with some amazing deals for accommodation all around the world. Or if you prefer, I also recommend using Airbnb. If you haven't signed up with Airbnb already, you can use this link to get £25 off your first visit!
Travel Insurance
Picking travel insurance that covers you in all eventualities is an essential part of planning a trip for every single person. If you can't afford travel insurance, you can't afford to travel. You never know what's around the corner.
Did you know I also vlog my trips? Make sure you subscribe to my YouTube channel so you get alerted when all my travel videos go live… CHECK THEM OUT HERE
Thank you for reading and as always happy adventuring! If you have any questions about the destination please leave these in the comments below.
If you've enjoyed this post, please share it for me with all your friends and family!
Sophie X