I've reached an age now where pre-drinks, a full night of dancing and a McDonalds on the way home is just all too much for me. And if that wasn't bad enough it is then quickly follow by a five day hangover…
When Forest Holidays invited me to visit Thetford Forest and stay in one of their cabins I jumped at the chance, this was me – a log cabin in the woods, cycling, canoeing, eating lots of food and drinking lots of wine. A log cabin retreat is better than any pills or relaxation techniques and if you're feeling stressed or you are just in need of a break from everything life throws at you then get yourself to a log cabin in the woods, pop open some wine and truly relax.
About a month ago, Theo, I and our two friends headed down to Thetford Forest in Norfolk to spend a long weekend with Forest Holidays. We were joined by our two friends who were also after a fun weekend of watching films, pub lunches, lazy mornings and cycling around the forest.
Forest Holidays have luxurious cabins in nine woodland locations around the UK. They focus on 'simple luxury' which is a concept I place my own blog in – smart but simple luxury travel. The simple is the log cabin, wilderness stuff and the luxury is the private hot tub, state of the art facilities and a great multimedia centre.
We stayed in a Silver Birch cabin which is described as 'affordable quality' with the Copper Cabins that are more basic and Golden Oak which are the luxury cabins. The Silver Birch ticked the affordable quality boxes perfectly and was a great unique way to do a staycation in the UK. All the cabins are self-serving (you can order food in) but if you do forget anything there is a fully stocked shop in the main reception building and they sell everything from milk to biscuits, to pizza and cottage pie. Whatever it is, they will have it!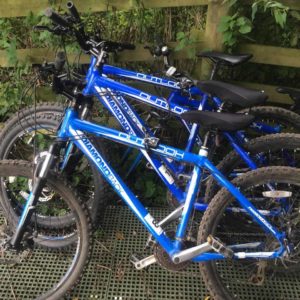 On the Friday we checked in and were sat down at reception by a lovely man who talked us through everything we needed to know for the weekend. We headed over to the cabin and unpacked before walking over to the bike hire hut and getting our bikes fitted. The man at the bike shop was a little odd but he sorted us out quickly and we didn't have to wait long before we headed off in to the forest for a quick ride.
On the Saturday after a late night drinking wine on the Friday we had a lovely lie in and the boys went to the shops to get in food to make a fry up. We then had canoeing booked in for the afternoon from 2-4 so we headed on down on our bikes to the river side and jumped (not literally) in to our canoe. The canoeing was great, really good fun but tiring – not quite a hangover activity. I let Theo do most of the paddling as I sit back and enjoyed the beautiful Norfolk countryside. As the day drew to a close we popped on the hot tub, got dinner ready and sat back in to relax for the evening.
Once the sun sets, the forest completely changes and it becomes a magical wonderland. You feel like you are the only people out in the forest minus the odd dimmed light from the cabins across the way. I did try to gaze up at the stars but there were so many trees (not a bad thing) I couldn't quite star gaze from the hot tub.
Then on the Sunday we grabbed our bikes and headed off on a 20 mile bike ride around the forest and in to the Norfolk countryside. We checked in at the reception building before we left and they provided us with some wonderful maps of the local area and pre-planned routes for you to follow. They include various different routes for different timings and difficulties.
Overall we had a wonderful weekend and we felt truly relaxed when we returned to work on the Tuesday after bank holiday Monday. The cabin was wonderful, especially with the addition of the hot tub (apparently there is a proven medical benefit of hot tubs – who knew!?), the staff were friendly, the location was on point and the activities on offer were just enough.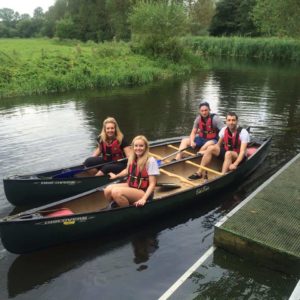 The only cons we experienced were check in and check out times. You can't check in till 4pm and you have to check out at 10am so even though it is sold as a long weekend it doesn't actually feel like it. We arrived at 5pm after work and left at 10am on Monday morning. I think if it hadn't been a bank holiday I wouldn't have booked the Monday off work as it just wouldn't be worth it if you have to check out at 10am. I believe that because this isn't a cheap break the check in and check out times should be extended (without having to pay even more to stay longer). Other than that, it was brilliant!
Big thanks to Forest Holidays for inviting me to their Thetford Forest location.
To find out more, see a gallery and book a stay visit their website here.
http://www.forestholidays.co.uk/