Located in West London, Kew Gardens is one of the world's most prestigious gardens. It has an extraordinary diversity of plants, over 14,000 trees and it is all set within a vast and beautiful landscape layered with history and heritage.
It is also where the Royal Family would come to escape the chaos of the city. It is one of the best Gardens of London.
From the Kew Gardens treetop walkway to the Kew Gardens Orangery, and the Kew Gardens Pagoda, or the Kew Gardens Hive, there is so much to see at this magnificent attraction in London.
If you are visiting London, you must take a trip to the botanical Kew Gardens.
Keep reading for 10 Things to see at Kew Gardens…
Kew Palace
The Pagoda
King William's Temple
The Waterlily House
Lake and Sackler Crossing
The Temperate House
The Hive
The Arboretum
Davies Alpine House
The Princess of Wales Conservatory
The Treetop Walkway
The Palm House
Where is Kew Gardens
Richmond – Royal Botanic Gardens, Kew, London, UK
How to get to Kew Gardens from London
It's easy to walk, cycle or drive to Kew Gardens – but note that parking is very limited at Kew Gardens.
Bus to Kew Gardens
If you are travelling by bus, take Route 65 which stops close to Lion Gate, Elizabeth Gate and Victoria Gate. Route 391 stops near Kew Gardens station and Elizabeth Gate. Routes 237 and 267 stop at Kew Bridge station.
Train to Kew Gardens
Kew Bridge station is 800m from Elizabeth Gate, via Kew Bridge. South West Trains run services from Waterloo, via Vauxhall and Clapham Junction. There is no level access at Kew Bridge. Richmond station has a lift and level access. Take 65 bus (in the direction of Ealing Broadway) to Lion or Victoria Gate.
Tube to Kew Gardens
Kew Gardens station is 500m from Victoria Gate. It is in Zone 3 and is served by the District Line (Richmond branch) and London Overground. There is no level access from the westbound platform. It is possible to continue one-stop to Richmond and catch a tube back to use the eastbound platform which does have level access.
Drive to Kew Gardens
Ferry Lane, near Brentford Gate
Limited parking available in the car park
Parking costs £7 per day
Blue badge holders park for free in disabled access parking spaces or other spaces if full
*Information provided by Kew Gardens
Kew Gardens Opening Times
Opening and closing times are seasonal and vary throughout the year.
Monday to Friday: 10am–7pm (last entry 6pm)
Saturday and Sunday: 8am*–8pm (last entry 7pm)
*Entry via Victoria Gate only. All other entry gates will open from 10am.
How much are Kew Gardens Tickets?
Entry to the Gardens is advance booking only. Remember you will need to pre-book your time slot.
Adult: £17.50
Child (4-15 years) £5.50
Under 4: FreeYoung person: £9.00
Family ticket for 3: £25.00
Family ticket for 4: £40.00
Disabled person: £15.50
Senior: £15.50
Jobseeker: £9.00
Student: £9.00
Visiting during coronavirus
Kew Gardens are delighted to reopen, but you'll notice they have made some changes. You will need to book a time slot in advance, and you might need to queue to enter some of the indoor attractions. With acres of green space, thousands of plants and secret corners, you can roam all day in our botanic gardens safely and at ease.
To limit and monitor the number of visitors, they have established prebooked entry time slots for the first time in their history. You must book your time slot online before you visit, otherwise, unfortunately, you will be turned away at the gate, even if you're a member.
10 Things to see at Kew Gardens
There is so much to see and do on a visit to Kew Gardens
1. Kew Palace
A rich history spanning nearly 400 years, it is also here that the original botanic gardens at Kew began. Kew Palace is iconic and sometimes forgotten by visitors coming to Kew. But this building is stunning and its bright orange hue stands out next to the array of trees.
The Royal Family used to spend many happy summers at Kew Palace, the King and with his wife Queen Charlotte and their 15 children. However, these periods of relaxation were shadowed by King George's struggles with mental illness. After Queen Charlotte died in 1818, Kew Palace was closed off.
2. The Pagoda
Built-in 1762 for Princess Augusta, the Pagoda is open to the public the first time in eight years. Following a major restoration project, you can now reach the heights of the Great Pagoda and marvel at spectacular views across London.
Kew's Pagoda was completed in 1762 as a gift for Princess Augusta, the founder of the Gardens. It was one of several Chinese buildings designed for Kew by Sir William Chambers, who had spent time travelling and studying the architecture of East Asia. A popular 'folly' of the age, it offered one of the earliest and finest bird's eye views of London – which you can enjoy today.
3. King William's Temple
In the centre of the Mediterranean Garden stands King William's Temple, built-in 1837 for Queen Victoria, in memory of William IV. It was designed by William IV's architect Sir Jeffry Wyatville, to complement Chambers' Temple of Victory (no longer standing). Its Tuscan porticos contain iron plaques commemorating British military victories from 1760 to 1815.
4. The Waterlily House
Designed and built-in 1852 by Richard Turner, this small, square glasshouse was designed specifically to showcase the giant Amazon waterlily – a natural wonder of the age. It was completed in 1852 and is now a listed building, brimming with aquatic plants and tropical fruit.
Its circular pond spans over 10 metres and there is also the star in here is the Victoria cruziana, the leaves of which can grow to 1 metre across. Inside the house, there is also the smallest waterlily in the world which no longer exists in the wild saving it from extinction.
5. Lake and Sackler Crossing
The Lake covers five acres of water, studded with four islands that provide vibrant colours, enhanced by their reflection in the lake. Particularly stunning in autumn, Chinese tupelo trees turn deep red, while black tupelo trees glow red, orange and yellow.
The Sackler Crossing, installed in 2006, gives easy access to some of Kew's less-visited areas. The black granite walkway leads you over the water along a curving path that mimics the Lake's rounded banks. On approaching the bridge, its walls appear to form a solid boundary that gradually begins to disappear when viewed sideways on.
6. The Temperate House
Travel the world in this glittering cathedral – home to 1,500 species of plants from Africa, Australia, New Zealand, the Americas, Asia and the Pacific Islands. Following a major five-year renovation process, the Temperate House re-opened in 2018 to showcase the splendour of the world's temperate zones.
As temperate plants, all the species contained within its walls need to live in conditions above 10oC to survive. Despite being the foundation of much life on Earth, many of these plants are under threat. The Temperate House tells the story of how Kew and partners all around the world are working to rescue plants that are rare or already extinct in the wild.
7. The Hive
At a towering 17 metres tall, The Hive is a striking installation in the heart of a wildflower meadow that recreates life inside a beehive. A stunning piece of contemporary art, it's one of the most photographed spots in the Gardens.
Walk into this larger-than-life enclosure and you'll immediately enter the whirring world of a real beehive at Kew. One thousand LED lights glow according to the vibrations of bees that live in the Gardens.
In the background, a musical symphony responds to this activity. You might (or might not) notice that every sound is performed in the key of C – the very key that bees buzz in! Exploring the secret life of bees on a human scale, the Hive is a space to celebrate their powerful role in sustaining life as we know it.
8. The Arboretum
Stretching across two-thirds of the Gardens, the Arboretum surrounds our glasshouses in a leafy enclave for you to walk, wander and discover.
The 14,000 trees rooted here represent more than 2,000 species, including rare and ancient varieties. This great collection contains trees as old as the Gardens themselves, many that cannot be found anywhere else in Britain.
Meaning 'a place with trees' in Latin, the Arboretum is not only a striking landscape but a scientific treasure trove, vital to our botanical and conservation research.
Every tree planted here is a source of knowledge, helping us conserve the habitats of beloved native trees and protect some of the world's most fascinating species at risk from deforestation.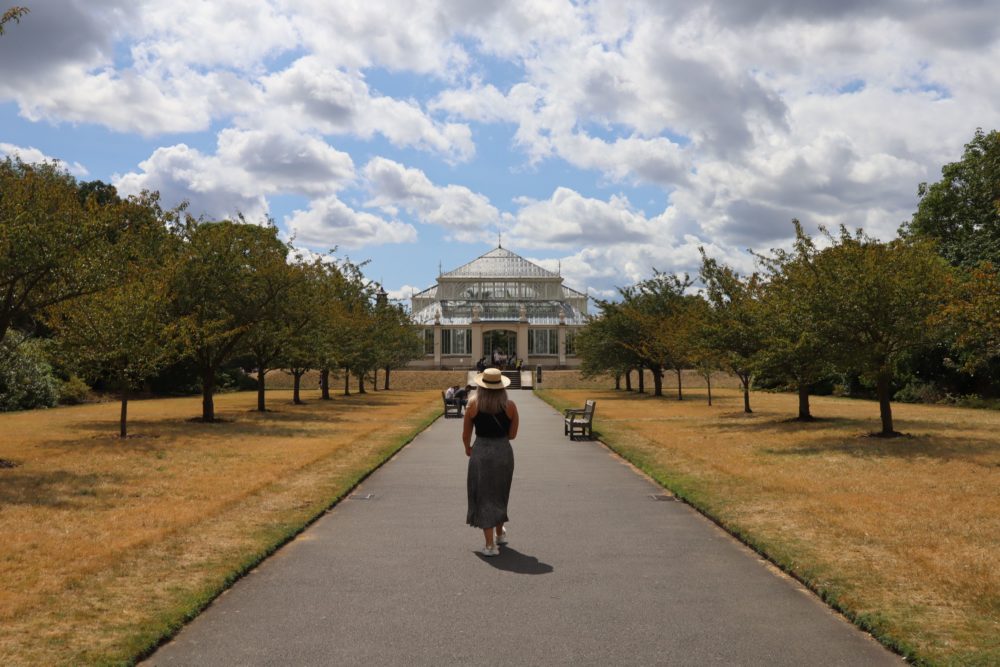 9. Davies Alpine House
Alpines are some of the world's most resilient plants – able to grow above the altitude at which trees can survive.
These plants have adapted to endure the severe conditions of the Earth's poles or mountaintops, from the Arctic to the Alps or the Andes.
In the wild, alpines spend the winter dormant, dry and protected from extreme temperatures by a blanket of snow. Melting snow in spring provides moisture and exposes the plants to light. The short growing season means plants must flower and set seed quickly. They require plenty of light and cool, constantly moving air.
10. The Princess of Wales Conservatory
With ten computer-controlled climate zones, the Princess of Wales Conservatory is a glassy labyrinth leading you through a series of fascinating ecosystems. In our zone dedicated to carnivorous plants, you'll discover the conditions that helped predatory species like Venus flytraps or pitcher plants evolve to swallow their prey in less than half a second.
There's a new surprise at every corner of this winding glasshouse. Take in spiky cacti and succulents as you travel through the dry tropics and emerge into the dense, steamy zones where tropical orchids and bright bromeliads come alive.
There's plenty of beauty on display too. The celebrated giant waterlily Victoria amazonica floats in the wet tropical zone, where its spectacular white flowers open at sunset, filling the air with a strong perfume before they are pollinated and turn bright pink by the morning.
11. The Treetop Walkway
At 18m high, you can walk 100m through the tops of the canopies, experiencing the smells and sounds, and getting a bird's eye view right across the Gardens. From its heights you can observe the complex ecosystem of the trees' uppermost branches, a world teeming with birds and insects, lichen and fungi.
At ground level, sculptures carved from tree trunks illustrate microscopic elements of trees to explain how they grow. A path leads you below ground to the Rhizotron, an underground lab constructed to study the soil.
12. The Palm House
One of the world's most extraordinary glasshouse structures! The Palm House was built in the 1840s and constructed in a way that meant no supporting columns were needed. You can wander through and you'll discover rainforest treasures like the oldest pot plant in the world or the disease-fighting periwinkle. Many plants in this collection are endangered in the wild, some even extinct.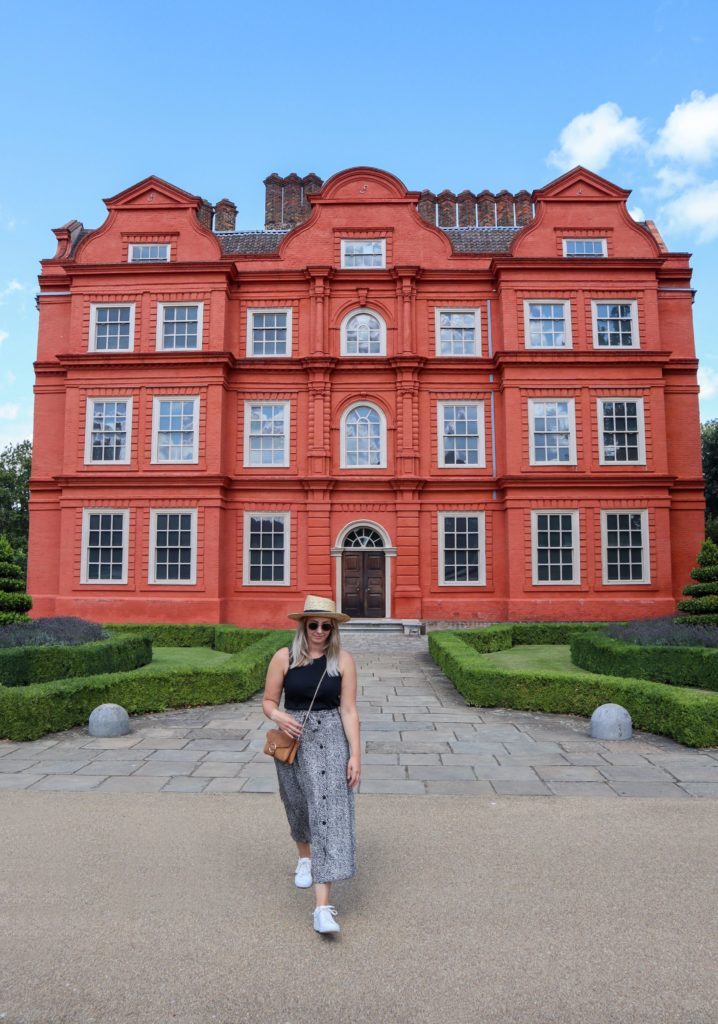 Travel the World at Kew
Take a one-day trip around the world by exploring Kew Gardens' breathtaking botanical landscapes. In a year when many travel plans have had to change, Kew Gardens invites visitors to satisfy their wanderlust by making a trip around the world in one day.
Travel the World at Kew will guide visitors across six continents, through designated locations set within our UNESCO World Heritage landscape. By highlighting beautiful plants from 10 countries and regions, visitors will be transported to these parts of the world through sights, smells, and spirit of place.
By taking a journey through our global collections, visitors will discover landscapes, plants and architecture that can transport them from the Mediterranean to a Japanese Garden of Peace; from South African mountaintops to the forests of California – all within a few hours. At the most biodiverse postcode on the planet, visitors can reconnect with nature and discover a whole world of natural wonder.
22 August – 16 October 2020
From 22 August, visitors to Kew Gardens are invited to travel the world through our global collections
Kew will guide visitors on a journey with specially commissioned pieces of poetry, prose and illustrations by exciting talent from around the world
Visitors will be transported across six continents, from the tranquil Japanese Landscape to the fragrant Mediterranean Garden and towering Californian Redwood Grove
A unique large-scale botanical sculpture in the form of a magnificent humpback whale, created by the winners of Netflix series 'The Big Flower Fight', will be exhibited from 22 August – 18 September. FIND OUT MORE.
So are you going to plan a visit to Kew Gardens? It'll be worth it, I promise.
*Thank you to the botanical Kew Gardens for hosting me.
---
If you on a bigger trip exploring more of Europe check out my guides to France, Germany,Greece,Iceland, Italy, Portugal, Spain and United Kingdom.
My Travel Tips and Recommendations
Flights
To book flights, I always use flight search engine, Skyscanner, I regularly use the Everywhere tool to find the cheapest places to travel. It's how I get to travel so much all around the world. I find it the easiest way to compare flight prices across airlines and get the best deals.
Accommodation
For accommodation, I usually book most of my hotels or hostels through Booking.com. I love using this platform as it provides me with some amazing deals for accommodation all around the world. Or if you prefer, I also recommend using Airbnb. If you haven't signed up with Airbnb already, you can use this link to get £25 off your first visit!
Photography and Technology
Here is a list of the technology I always travel with:
To receive my articles and reviews straight to your inbox SUBSCRIBE HERE.
Did you know I also vlog my trips? Make sure you subscribe to my YouTube channel so you get alerted when all my travel videos goes live… CHECK THEM OUT HERE
Thank you for reading and as always happy adventuring! If you have any questions about the destination please leave these in the comments below.
If you've enjoyed this post, please share it for me with all your friends and family!
Sophie X