If you didn't know already – I GOT ENGAGED! Make sure you check out this post from January to read all about the proposal, but also keep an eye on more posts like this one called THE WEDDING DIARIES, if you are engaged or getting married soon.
I will be documenting my entire journey throughout this mad process, from the engagement right up the honeymoon. Starting with choosing my wedding stationery with Atelier Rosemood.
One of my favourite things to do in life is organise, so wedding planning is one of my favourite activities at the moment. From excel spreadsheets, to venue visits, and from wedding dresses to choosing my stationery supplier, I am in my element.
I have been so excited to start planning my colour schemes, fonts, stationery and decorations, and choosing my wedding stationery has been something I have been excited about since the beginning.
Now that we have booked our venue, agreed on our guest list and established a basic theme, me and Theo have started the task of choosing our wedding stationery and we've opted to go with the wonderful team at Atelier Rosemood!
Deciding on your wedding stationery is an exciting job. It's one of the first things you will do, and it sets the style and tone for your big day. Whether it be a large affair or a simple event, careful planning of your wedding is a must and will help alleviate any undue stress.
Before you start looking, create your guest list in an organised Excel document so you know exactly how many you are going to need and you can tick off names as you send wedding invitations and receive RSVPs. This will save you time and costly errors further down the line. Have you heard of Atelier Rosemood?
Colour or plain, sophisticated or unconventional, civil or religious, there are so many types of weddings these days and an overwhelming variety of stationery to suit every style and budget.
Atelier Rosemood
Choosing my Wedding Stationery Supplier
Rosemood is a young French company specialised in the creation and production of personalised stationery on Rosemood.co.uk and their company goal is simple yet ambitious, to make sure that every single customer is absolutely delighted with their order of custom cards, treating each save the date, invitation and thank you card as if it were their own. The personalised service I have already received has made me even more sure I have chosen the right stationery supplier to suit my own personality and needs.
Rosemood grew out of a need of its three French co-founders Hélène, Grégoire and Antoine to find beautiful personalised cards to announce the arrivals of their little ones. When they couldn't find the perfect cards to suit their needs and realised they weren't alone, and therefore Rosemood.fr was born in 2010. Since then, a lot has changed but Rosemood stays true to its founding principles of carefully crafted personalised stationery and extraordinary customer service. Rosemood is now based in Nantes, just two hours from Paris, with an in-house printing studio.
Each member of the team puts their heart into perfecting each customers personalised stationery. Their "secret sauce" (and worst kept secret) is their full design review, which gives all customers the opportunity to take advantage of their proofreading service, and graphic designers who ensure that each photo looks its best and that each card is perfectly balanced.
Atelier Rosemood
Elements of Wedding Stationery
Once the design has been agreed and numbers priced, you should consider when to order and what to order, to keep the cost at a minimum and also so that any other items you order can be created using the same theme. This is where Atelier Rosemood are great, as you can choose a theme and then they pull together a full package including everything mentioned below.
Save The Dates
Wedding Invitations
Menu
RSVP cards
Order of service
Name places
Table numbers
Seating plan
Thank you Notes
Stickers
Cutlery Wraps
Atelier Rosemood
Timings
1 year before – Send save the dates as soon as you book your venue!
9-12 months before – Send the wedding invitations with guest information cards and RSVPs
On the day – Menu, table plan, name places, table numbers, stickers, cutlery wraps
One month after – Send those thank you cards
Atelier Rosemood
Ask the experts
Don't be afraid to ask your supplier to help you with wording and wedding etiquette. It is most likely the first time you've ordered stationery, but a good supplier will have worked with thousands of brides and grooms. Use their knowledge, experience and expertise to your advantage.
Budget
Buying all of your stationery from one supplier enables you to agree a single package price and will mean continuity throughout all your stationery. This is also why we are using Atelier Rosemood, not just because they create the most amazing designs, offer an incredible personalised service, but by doing everything together – it will mean everything 'comes together' better than trying to dip in and out of suppliers. We have also agreed a timeline with them, so that we know exactly when we need to supply the information they need for the save the date, wedding invitations and guest information cards. Depending on our budget you can also do save the date and RSVP cards designed as postcards, which will save you money on expensive envelopes.
Samples
The reason I loved Atelier Rosemood so much is the package they sent me when I first got in touch with them about wanting to go with them for all my wedding stationery. They sent me a lovely package, with an array of samples to look through with Theo, and also provided us with all the information we needed for timelines, wording, special touches etc. Most companies are happy to provide samples for a small cost, but I'd check this out before opting for a supplier – it's great to see the way they set up the designs, the finish and the quality close up before committing to the full order. It can also help you understand why some wedding invitations cost more once you've seen the finished piece.
Quantities
Remember when ordering your wedding invitations, be careful not to make the common mistake of ordering for each individual guest if some of these guests will be arriving as a couple or family. So, if you have 80 guests, check how many of these fall in that category. Children under the age of sixteen can be added to a family invite. Don't forget to send invites to the wedding party, including your mum and dad!
It's recommended that you order a few additional cards on top of your required number. This allows for any mistakes that may happen when writing the invites and also for the extra people who you may have forgotten to add to your original list. And don't forget you will probably want to keep one as a reminder of the day!
Wording
Do your research to get inspiration and ideas of what to write in your wedding invitations. You can stick to the more traditional wording, where the bride's father invites people to the wedding, go a little more modern day, or even go quirky by adding a more personal touch. Depending on the design you choose, at Atelier Rosemood all the wording is pre-populated with the most commonly used wording but it is fully editable for you to personalise later down the line.
Design
Your stationery will give your guests a clue of what your wedding is going to be like, so think about your colour-scheme, style and theme. Atelier Rosemood suggests keeping all stationery in one design, and producing wedding invitations with RSVP cards and guest information cards, in a wallet-style design, which keeps all the information in one place for your guests, and allows you to have additional pieces printed for the extra details you will need to give, such as directions to the venue.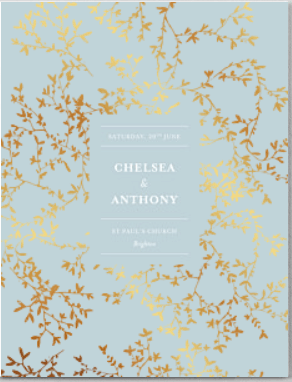 Key Information to Provide Atelier Rosemood
Your wedding date, time and place
Wedding reception venue and timings
Parent's names / name of hosts
Full names of the bride and groom (including middle names)
Atelier Rosemood
RSVPs
Allow your guests time to receive your invite, plan for it and accept it. Send your wedding invitations at least two to three months before the big day. Plan extra time for guests living further afield to receive theirs and where possible, add extra time for any impending postal strikes that may impact on deliveries!
Stay tuned for more updates as we get our wedding invitations delivered, I go wedding dress shopping and we begin to get more involved in the structure of the day. I will keep using this series as a way to document my journey and I hope my experience can go on to help someone else too, in the same situation!
And if you are also a bride, or engaged, please also send me all of your top tips!!! I AM GOING TO NEED THEM!
*This blog post is in collaboration with Atelier Rosemood.
Other posts that may help you:
The Best City Breaks for Couples
Beginner's Guide to Europe Interrail Routes
Copenhagen Chic at the Andersen Hotel
Best Vegan Restaurants in Malmo
Ultimate Guide to a Weekend Break in York
10 of the Best places to eat Brunch in London
The Best Weekend Trips in the UK
Sign up to AirBnB with this link and receive a £23 off your first booking.
To receive my articles and reviews straight to your inbox SUBSCRIBE HERE.
Did you know I also vlog my trips? Make sure you subscribe to my YouTube channel so you get alerted when all my travel videos goes live… CHECK THEM OUT HERE
Thank you for reading and as always happy adventuring!
If you've enjoyed this post, please share it for me with all your friends and family!
Sophie X