Last month me and Theo decided to mix our adventures up a little and took an eight hour long-haul flight to the wonderful isle of Saint Lucia in search of sea, sunshine and lots of rum. Here is my ultimate guide to Saint Lucia, including my top things to do in Saint Lucia.
What we found was a lot more exciting than we imagined with activities galore spread across this tiny 24-mile long island in the West Antilles. There was so much to do, from snorkelling to zip-lining and spa treatments to chocolate making – seven days on this wonderful island was not enough. We stayed at the luxurious St James' Club, Morgan Bay, took many road trips up and down the country, jumped on a catamaran boat for the day, visited the Toraille Waterfall and Sulphur Springs and if that wasn't enough, we also made our own chocolate bars at The Rabot Estate, Hotel Chocolat.
To wrap it all up in to one big blog post I have pulled together my ultimate guide to a week in Saint Lucia.
Read some of my other destination guides here.
TOP THINGS TO DO IN SAINT LUCIA
Ultimate Guide to a week in Saint Lucia
HOW TO GET TO SAINT LUCIA
St Lucia receives direct long-haul flights from the US, UK and Europe. It also has regional connections to Antigua, Martinique, Trinidad and Tobago, Barbados and St Vincent. Hewanorra International Airport in Vieux Fort is at the remote southern tip of the island. It handles flights from North America, the UK and Europe plus a few regional flights.
We flew British Airways from Gatwick to Hewanorra which took eight hours and was a fairly easy flight. We had a pain with BA on the way out, with us not being seated together and then Theo's audio not working but other than that – easy peasy! Have a look at flights for yourself here.
Ultimate Guide to a week in Saint Lucia
WHEN TO GO TO SAINT LUCIA
As with most Caribbean destinations the winter season is the most popular time to visit St Lucia. The weather brings the crowds and jacks up the prices, especially during the driest period from December to March. Winter weather is sublime with average temperatures around 81°F (27°C). Summer is quiet and hot with the July temperatures averaging 85°F (29°C). Hurricane season falls between June and October – expect more rain this time of year and maybe the odd storm.
We visited in May and I thought that was the best time to visit, the weather was brilliant, with a few showers each day but nothing major. And the sunshine was always out with a temperature of around 28-30 degrees each day!
Ultimate Guide to a week in Saint Lucia
WHERE TO STAY IN SAINT LUCIA
There is only one place I'd recommend and that's St James's Club – Morgan Bay!
As we walked out of arrivals at Hewanorra International Airport, the 32 degree heat hit us in the face, but after being stuck on a plane for 8 hours I couldn't be happier to breath fresh air. We got picked up from the airport by a wonderful driver called Chris, who really went out of his way to make us feel welcome. The drive is around 90 minutes but is breath-taking with panoramic vistas from the hill-side highway as you pass through the heart of the rainforest. Chris got the holiday off to a great start, giving us a low down on the island throughout our journey from the airport to the hotel in the north.
As we arrived at the hotel we were greeted by a lovely lady who served us a strong rum punch and a wet towel, before we were quickly checked in. The reception area to the resort was airy with sofas and chairs in aqua and orange colour dotted around the space. Once we had finished our drink we were transported by one of the resort's golf buggies up to our sea-view room, on the northern side to the bay.
Nestled around a secluded beach at Choc Bay in the northern region of Saint Lucia, St James's Club Morgan Bay really encapsulates everything you expect from the Caribbean. From it's white sand beach, to the steel pans playing, to the friendly staff, and the incredible fusion of cuisines, this resort really had it all. It had everything you wanted from a hotel including an array of restaurants, to an amazing array of on-site activities such as paddleboarding, and even boasts a fitness centre with classes including pilates and two pools with swim-up bar and volleyball net. If that wasn't enough, there's even a spa at the resort, with a selection of treatments to enjoy during your trip. Read more here.
Ultimate Guide to a week in Saint Lucia
TOP THINGS TO DO IN SAINT LUCIA
1. Making our own chocolate at The Rabot Estate, Hotel Chocolat, St Lucia
The 140-acre Rabot Estate is situated in the South West of Saint Lucia, near Soufriere – the original French capital and divided up into 16 different côtes or areas of terroir, with evocative names steeped in history, such as L'Hermitage, Ti Jardin, Marcial, Mathilde and Rameau. The rich and fertile volcanic soil, high altitude (c.1000ft above sea level) and rainforest water all combine to create a unique environment (terroir) that is perfectly suited to growing Hotel Chocolat's fine and rare strains of cocoa.
Unique to the Rabot Estate, and drawing on our expertise as a chocolatier and as a grower, the estate offers an exclusive opportunity to discover cocoa like never before, as well as create your own chocolate. The experience starts with a walk through the estate's cocoa groves selecting ripe cocoa pods to harvest from the tree, and ends with crafting your own chocolate bar. The tour includes all the fascinating stages in-between – from the cocoa seedling nursery, fermenting room and sun-drying station to grinding, mixing and lots of tasting! Read more here.
2. Spending the day sailing around St Lucia
On another day in Saint Lucia, we grabbed our beach bags and a couple of towels and went sailing in St Lucia. We headed to Rodney Bay to jump on the Tout Bagay Catamaran Day Tour with Seaspray Cruises as they stop at St Lucia's best tourist hot spots including Toraille waterfalls, Marigot Bay, Sulphur Springs, ziplining and the drive-in volcano.
On our tour Tout Bagay, we sailed down the West Coast and admired the famous Pitons as they rose majestically out of the sea. As we approached Soufriere we were given two options – to visit the bubbling Drive-In Volcano to learn how the island was formed or visiting Toraille Waterfalls and the Sulphur Springs – we opted for the latter. Read more here.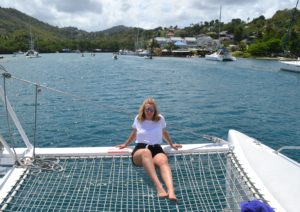 3. Finding my inner jungle Jane in the rainforest
On our third day in Saint Lucia we jumped in a taxi and headed 30 minutes from St James's Club to Rainforest Adventures to go zip-lining! In the UK I've spent a lot of time at GoApe swinging from the trees, but always in a forest or park, such as the one at Woburn Safari Park. I knew that this style of zip-lining was going to be completely different!
Situated in the highland community of Chassin, in Babonneau, Rainforest Adventures offers visitors a unique opportunity for full immersion in the island vibrant rainforest life. Guests can choose to amble along different things to do in St. Lucia, such as eavesdropping on nature's conversations along the nature trail, soaring up and away through the forest canopy on gondolas, or thrill-seeking on a zip line, gliding from platform to platform, high on the stoic trunks of the ancient sentries of the rainforest. The unique and memorable adventure inspires a sustainable use of the environment and appreciation of the local culture while making a positive impact on our communities.
We opted for a little bit of both, taking the gondola from the bottom of the rainforest, through the five layers of the canopy, before heading off to do some zip-lining. The Rainforest gondola transports guests up and away from the heat and bustle of the lowlands to an ecological park located in the heights of St. Lucia's forest reserve, with views across the rainforest and as further afield as Martinique, the next island along. Read more here.
4. Relaxing with a Bamboo Massage at St James's Club Morgan Bay
The Tranquility Body and Soul Spa has 8 treatment rooms and a hair salon offering a range of treatments including massages, facials and pedicures. Booked in for the day after our arrival at St James's Club, we were both treated to a Bamboo Full-Body Massage. I have been to quite a few spas, but there is something extraordinarily serene when you can overlook a glistening Caribbean ocean, with nothing but the sounds of birds, the sea and the wind blowing through the palm trees. This was paradise! Our Bamboo Massage lasted about 90 minutes and was one of the best massages I've ever had. He used hot stones and bamboo sticks during the treatment, rolling the bamboo across my muscles. I am sure I fell asleep twice during the massage it was that good, and that never happens. Waking up from a deep sleep, I felt dazed, but incredible. I felt limp in all the right places, and felt like I had shed a mountain of stress from my body and shoulders. Read more here.
5. Hitting the water for kayaking and paddleboarding
St James's Club Morgan Bay really did have it all – from the four swimming pools, to the watersports, and the fitness classes to the spa. You could honestly spend the whole holiday on the resort and not get bored. There is an extensive list of activities available during your stay, and we certainly made the most of them, joining or trying out water volleyball, aqua aerobics, pilates, bootcamp, kayaking, paddleboarding and tennis. When I say we tried everything, we really did… I particularly enjoyed aqua aerobics at 11am each morning, which filled all the ladies in the pool with giggles, and we tried to do one watersports for each day we spent at the resort. At the watersports hut you can reserve time for windsurfing, sailing, kayaking, Hobie cat sailing, water-skiing and paddle boarding, or if staying on land is more your thing you can try out volleyball, tennis, pilates and bootcamp which takes place on the beach every morning. It's super easy to book in and you simply pop back at a time which suits you – easy peasy! And it's all included within your stay! Read more here.
6. Visit Toraille Waterfall and take a dip!
On our catamaran tour of the island, we stopped off at Toraille Waterfalls. As soon as we arrived it was a race to quickly undress and jump on in. Toraille is one of the better waterfalls on the island, with a high-volume cascade falling into a large pool surrounded by greenery. You could visit here by car or by tour like we did!
7. Soak in the Sulphur Springs of Soufriere
Next we headed to the famous Sulphur Springs which last erupted in the 1700's – over 200 years! It originated from a weak spot in the crust of a collapsed volcanic crater, and is considered to be a dormant volcano – unlike the active Soufriere Hills Volcano in the island of Montserrat. One of the best features of the volcano is the ability to dive into the mud baths, and if that doesn't take your fancy instead you can have a swim, and cover your body in the rich mineral mud and waters. It'll leave your skin feeling silky smooth!
8. Snorkeling at Anse Cochon
On our journey home from our Tout Bagay tour with Seaspray Cruises we stopped off for 45 minutes snorkelling in one of St Lucia's protected bays, Anse Cochon. The calm water and adjacent reefs, part of the National Marine Reserve, are superb for swimming, diving, and snorkeling. In fact, most catamaran cruises to Soufrière stop here for day-trippers to take a quick swim on the northbound leg. Moorings are free, and boaters and swimmers can enjoy refreshments at Ti Kaye's beach bar. Snorkeling equipment is available ($11) at the dive shop on the beach. Even though it was a super quick stop-off it was one of my favourite activities from our time in St Lucia!
Ultimate Guide to a week in Saint Lucia
WHAT TO PACK FOR A WEEK IN SAINT LUCIA
1. Boden Wrap Jumpsuit – BUY HERE
2. New Look Black Strappy Sandals – Last season similar BUY HERE
3. Boden Ruth Heels Brown – BUY HERE
4. Very Blue Polka Dot Bardot Midi Dress – Last season similar BUY HERE
4. Boden Jump In Swimsuit – BUY HERE
5. Kanken Backpack – Essential to keep your mobile phone, camera, water bottle, sun cream etc. – BUY HERE
Thank you to St James's Club Morgan Bay and Travel St Lucia for hosting such a wonderful stay on the island paradise of Saint Lucia!
TO BOOK: St James Club, Morgan Bay – Saint Lucia – www.eliteislandholidays.com – 01245 459 906 – [email protected]