Heraklion is the capital city of Crete, the biggest of Greece's many islands and personally I think one of the best in Greece. I have been to Crete twice already and I love returning each time, so I;ve pulled together my favourite things to do in Heraklion, in addition to my previous guide to Ag Nik! Visiting Crete in general is recommended for the bucket list of any travel lover, but Heraklion in particular is an interesting metropolis, boasting culture, history, and really delicious food, all rolled into one. Still not convinced that this stunning port city, with enough history to keep you busy for a good few weeks, is for you?
Heraklion, also known as Iraklio, is a port city and the capital of the Greek island of Crete. It's known for the Palace of Knossos, just outside the city. The huge archaeological site dates back thousands of years to the Minoan civilization, and includes frescoes and baths. Guarding the city's Venetian port is the 16th-century Koules fortress. Heraklion Archaeological Museum has a large collection of Minoan art. I've put together a list of seven things to do in Heraklion, and why you should book those flights, and head to this wonderful city ASAP. And make sure you check out my posts from my previous trip to this magical island at the bottom of the post…..
Knossos
Koules Fortress
Agios Minas Cathedral
The Old Venetian Harbour
Museum of Visual Arts
Morosini Lions Fountain
Wineries and vineyards
Here is my ultimate guide to things to do in Heraklion….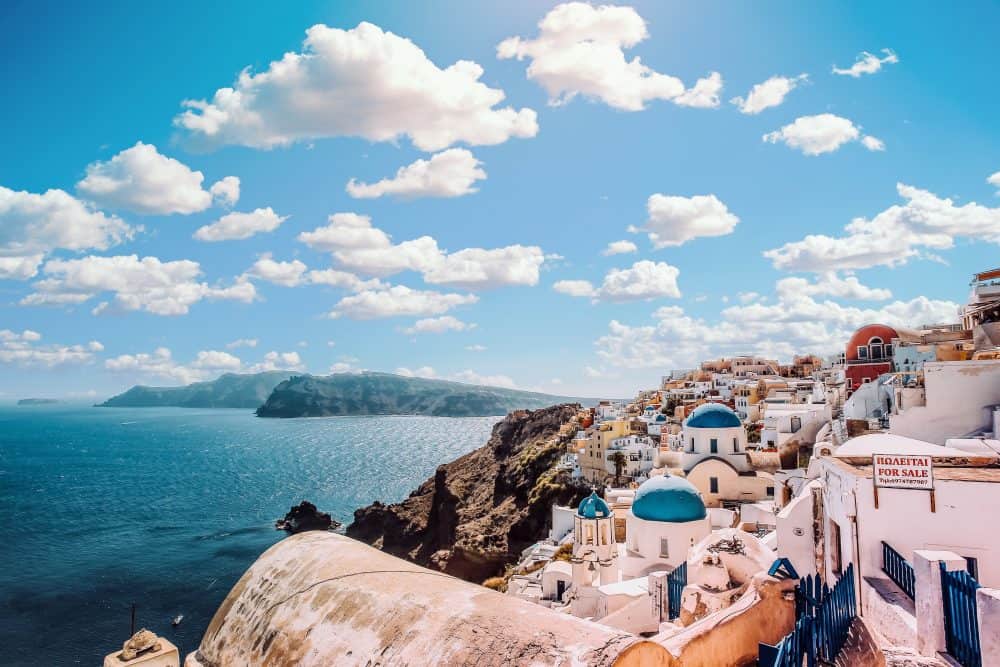 HOW TO GET TO HERAKLION
Heraklion airport is home to plenty of incoming and outgoing direct UK flights via Viking Airlines. You can also fly indirect from the UK with Aegean Airlines, Olympic Air, Lufthansa and Athens Airways. Plus Delta, Cyprus Airways, Brussels Airlines and Belleair. There's direct flights to Heraklion from Bristol, Gatwick and Manchester airports.
There are direct cheap flights to Heraklion from a range of UK airports, including:
London to Heraklion – 3 hours 45 minutes
Manchester to Heraklion – 4 hours 5 minutes
Birmingham to Heraklion – 4 hours
Glasgow to Heraklion – 4 hours 20 minutes
Edinburgh to Heraklion – 4 hours 25 minutes
WHEN TO GO TO HERAKLION
The best and warmest weather is between May and October, with the months of June, July and August being the real high season. Flights and accommodation are more expensive at this time and crowds for major attractions can get fairly large. Towards the end of summer, from September onwards, things start to calm down a little and the weather can still be warm enough for a sea swim until late October. This is also a great time to find cheap flights to Heraklion.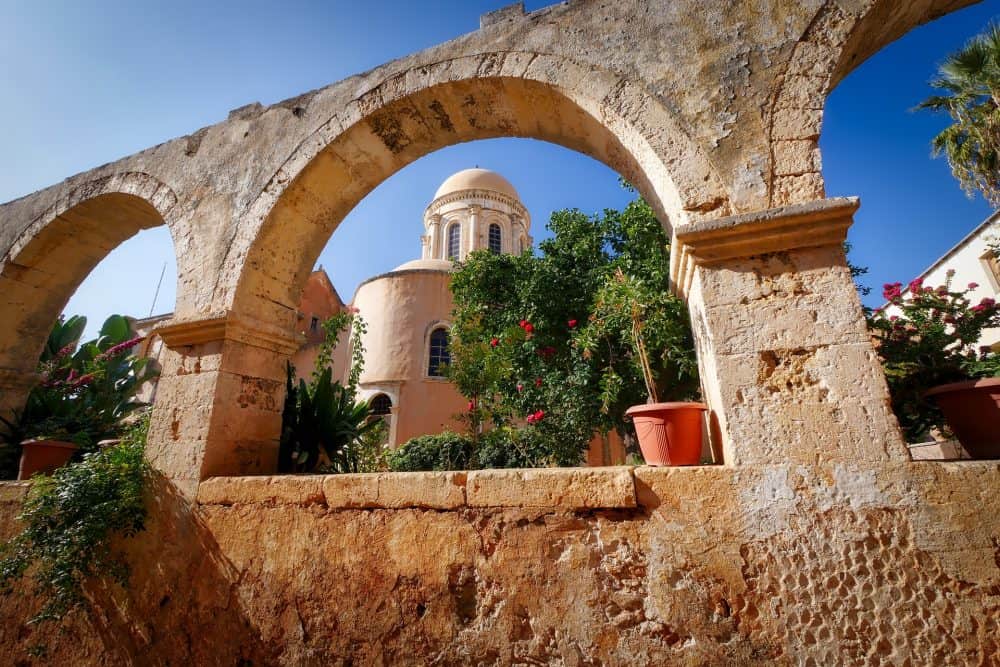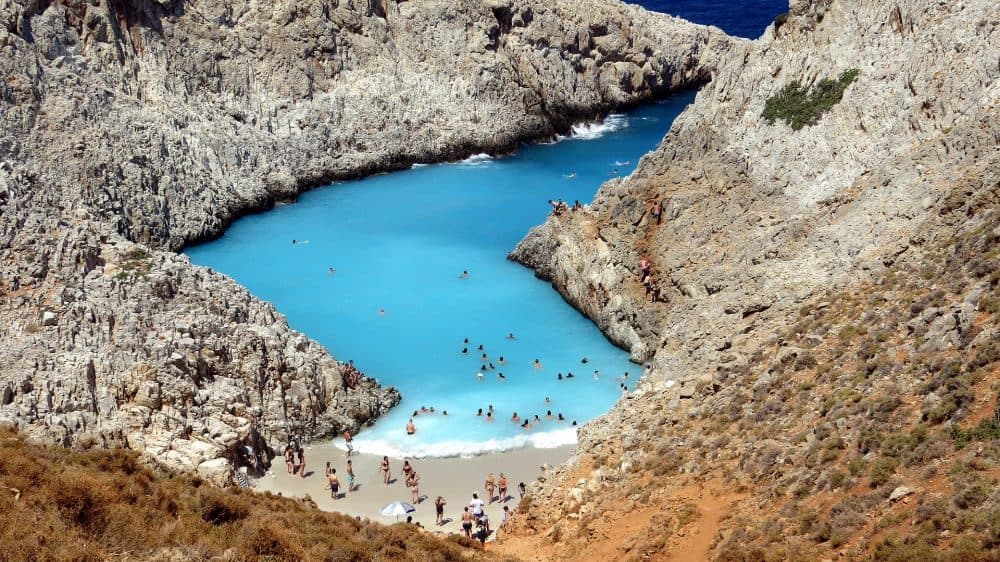 WHERE TO STAY IN HERAKLION
The best places to stay in Heraklion are ideal for exploring many of the island's highlights and have easy access to a good selection of beaches.
Out of the Blue Capsis Elite – Opulent resort of five hotels in one on a private peninsula. Highly discreet, with striking designs, each hotel different. Plenty of suites and private villas with pools. Seven restaurants. The resort is popular with wealthy Russians and others.
Candia Suites – This stylish hotel offers accommodation in the centre of Heraklion. The bright, individually dressed suites have modern amenities, comfy soft furnishings and pretty balconies. In-room dining is available, or relax on the hotel's roof terrace. Great for families or couples exploring the old town.
LATO HOTEL – One of the town's more modern designer hotels. Contemporary lines and trendy minimalist living areas. Spacious rooms and suites with balconies and sea views. Three good restaurants, gym, spa and meeting rooms. A modern choice.
If you'd prefer to stay in an apartment or private villa I'd recommend visiting booking.com.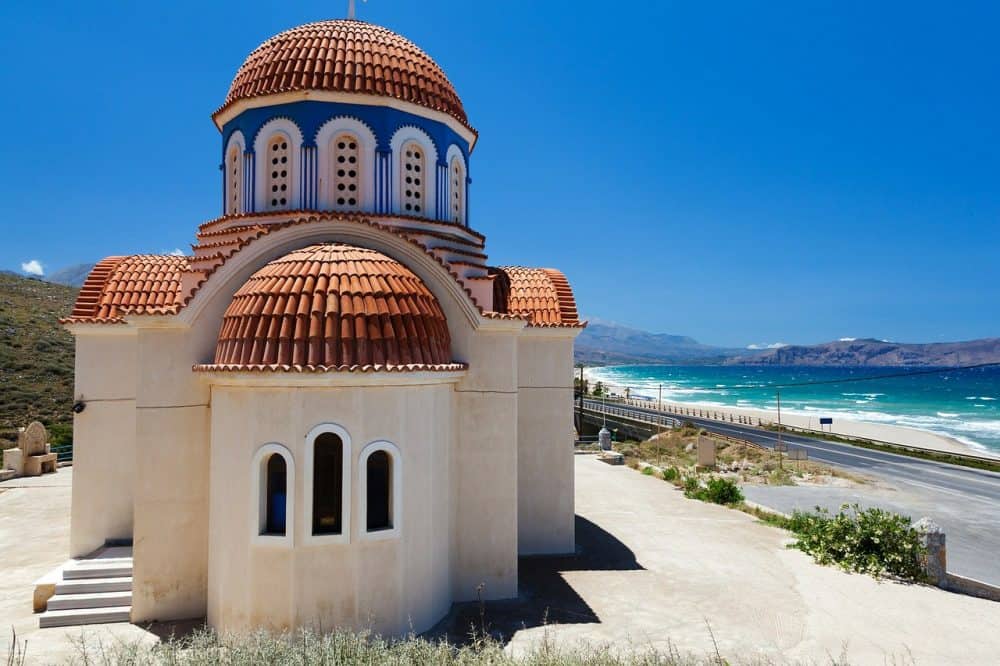 THINGS TO DO IN HERAKLION
Knossos
Knossos is one of the main reasons that people visit Heraklion, and it is a site with immense historical value just outside the city (so look into car rental Heraklion if you're heading here). Often noted as Europe's oldest city, this archeological site dates back to the Bronze Age (which is around 3000 – 1200 BC for those who aren't too history savvy). The ruins are a labyrinth of culture, but are well-known for being the apparent home of half-man, half-bull Minotaur, who attacked his victims within this maze, which was designed so that they could never escape. In 2019, it's unlikely that you'll suffer the same fate, so take a visit to Knossos if you can.
Koules Fortress
If you're looking to take in as much history as possible, Koules Fortress is a good shout. This 16th century Venetian fortress will take you back in time as you look around all of the different rooms, which were used as prisons cells, food stores, and hideaways for ammunition. Nowadays, you can just enjoy reading a little bit about the fortress, and you also get to see the beautiful views from the top, which is ideal if you're looking to see the city from a different perspective. Another bonus of this place is that it's good for those travellers on a budget, at €1 per person to take a look around.
Agios Minas Cathedral
Let's be honest, are there any travel lovers out there who don't like to take a visit to a cathedral every once in a while? If you're a fan of all things architecture and you want to see what Crete has to offer, then you won't be disappointed with the Agios Minas Cathedral. If you think the outside is impressive, then wait until you see the stunning and colourful interior, lined with impressive chandeliers. This is the largest church that you'll find throughout the whole of Crete, so adding it to your list is an absolute must if you're looking for some culture. Take it from us: you should definitely not forget to look up when you get inside.
The Old Venetian Harbour
If you're visiting Heraklion, the Old Venetian Harbour is a must, even if you're only having a slow walk around to appreciate the scenery. The port is still in use by the local fishermen and those who own – and dock – boats nearby, but it was first established around the 9th or 10th century, and has a history that is as extensive as that of Heraklion itself. If you're around this area, try to get a bite to eat somewhere near the harbour, and enjoy people watching, as many Cretans – not to be confused with cretins, which could be awkward – like to stroll around the harbour.
Museum of Visual Arts
Another place to soak up some Heraklion culture is the Museum of Visual Arts, and this one focuses upon the modern wonders of Crete, rather than the old ones. This museum calls a former Basilica its home (which is pretty cool in itself) and prides itself on promoting the work of Cretan artists, as well as hosting lectures and seminars on the important artistic ideas throughout the island. This is certainly one of the venues that brings the city back into the 21st century, so add this to your list if you're looking for a break from all of the extensive history that Heraklion has to offer.
Morosini Lions Fountain
We know, right? Another piece of 16th century history leaving us all wondering, 'when is Heraklion going to give it a break with all of this amazing cultural importance that it keeps putting on show?' Although the Morosini Lions Fountain is not really significant enough to make a whole trip out of, try and go via the fountain when you're having a wander around, as it is worth seeing. Lions Square, where the fountain is based, is one of the busiest parts of Heraklion, so you'll probably find yourself here at some point anyway, taking in the hustle and bustle of the city.
Wineries and vineyards
Crete is home to a whole host of wineries and vineyards, and Heraklion is no exception. Whilst this can be one of the more expensive ways to spend your time in the city, learning about the history of Crete's wine production is certainly interesting for even the most seasoned traveller. You may have to rent a car, as is the case with Knossos, but venturing out of the city to these places if you have more time will be a worthwhile endeavour. Many of these wineries are also home to some tasty Greek restaurants, so make sure that you grab some food here whilst you're around (oh, and a bottle of wine, of course).
If you're considering a trip to Heraklion, then going to these 7 places is certainly worthwhile, and will make your trip a memorable one. Of course, there are many more appealing factors to this beautiful city, from the delicious food, to the many bustling streets of shops and bars, but these are some of the main excursions that you may want to go on during the day, to make sure that you get in a bit of Heraklion culture. Enjoy your trip to Crete (and its restaurants and vineyards) and Heraklion in particular, which is arguably one of the most interesting cities in Europe.
Other posts that may help you:
The Ultimate Guide to Agios Nikolaos
HOTEL: Daios Cove Luxury Resort, Crete
REVIEW: Skiathos Princess Hotel, Greece
10 Budget-Friendly Travel Destinations to visit in 2019
Thank you for reading and as always happy adventuring!
If you've enjoyed this post, please share it for me with all your friends and family!
Sophie X