This post is part of a paid campaign to promote the Balearic and Canary Islands, as part of their #SpanishIslands Campaign. Although all views are my own and I have not been instructed what to include.
When I was in my teens and 20's Ibiza never appealed to me. I was never a big party-goer and I was always under the impression that you went to Ibiza to party and nothing else. However, over the past few years Ibiza has become one of my favourite destinations in Europe, offering pristine beaches, clear waters, great beach bars, incredible sunsets and activities galore.
I love the vibe of Ibiza and nothing else compares to this magical island. I loved heading to Ibiza in the spring or autumn, when the crowds of the clubs have gone home and you can really relax, restore and recoup in Ibiza's many cool bars, restaurants and famous markets.
Also known as the Magic Island, Ibiza has a long spiritual history and due to Es Vedra, the dramatic limestone rock island near Cala d'Hort, it is the world's third most magnetic point after the North Pole and the Bermuda Triangle. This is said to be the source of Ibiza's spiritual energy, now bringing millions each year for yoga, spirituality and zen.
When planning a sunny getaway to the Ibiza, a budget is of course essential. However, have no fear, with this alternative guide to Ibiza you'll come armed with a plan in mind, a budget for your trip and a tick list of places to visit in Ibiza. Ibiza isn't cheap but avoid tourist haunts and you can eat at a taverna for around €15. Entry to top clubs can cost €60, with drinks from around €12.
An alternative guide to Ibiza
When to go to Ibiza
The best time to visit Ibiza is from May to October when high temperatures hover in the early-30's but the party crowd descends and Ibiza get's busy. My favourite time of the year to visit Ibiza is between the months of November and April, when flight and hotel rates drop along with the temperatures to more moderate 20s. Ibiza is blissfully crowd-free in winter and beautiful in spring, so make sure you visit Ibiza then.
An alternative guide to Ibiza
How to get to Ibiza
Ibiza has an international airport which serves both the island of Ibiza and the neighbouring smaller island of Formentera. There are flights from most UK airports during the summer to Ibiza, and airlines including easyJet, Ryanair and Jet2 start flying direct to Ibiza in spring or early summer. The only direct winter flight from the UK is with British Airways from London City, but Vueling and Iberia fly via Palma, Madrid or Barcelona.
If you are off to Ibiza to party, check out my blog post on how to travel Ibiza on a budget.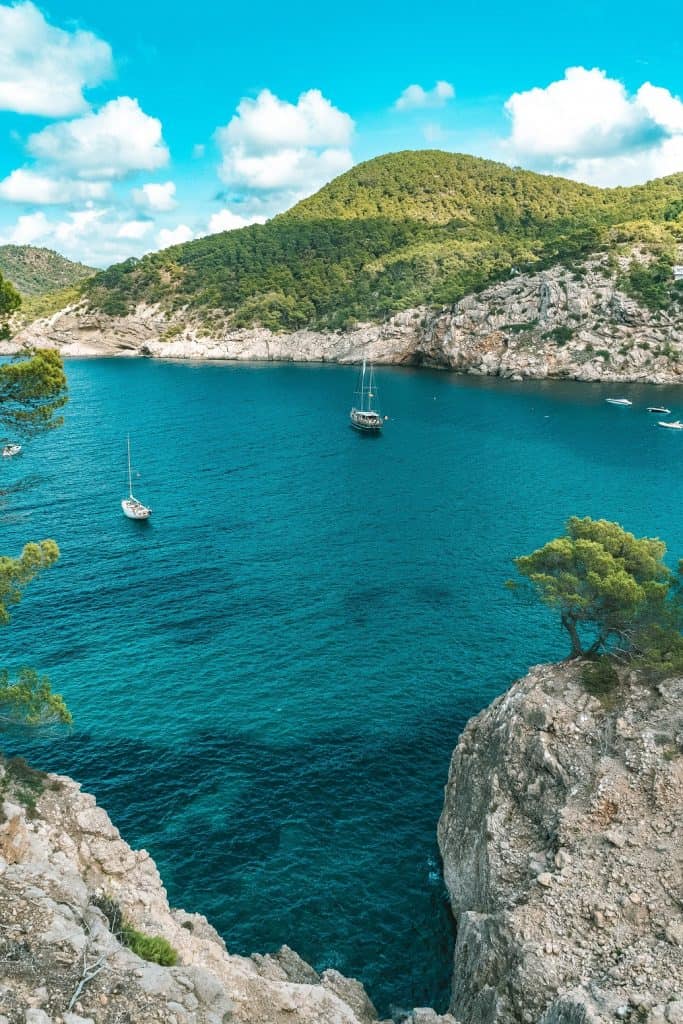 An alternative guide to Ibiza
Where to stay in Ibiza
There are so many options for accommodation in Ibiza including hotels, airbnb's, b&b, mansions, and even camping! Santa Eulalia, a beautiful town and resort on the East coast of the island, is popular with families and those looking for a quieter holiday and this is my favourite place to stay in Ibiza when I visit. Santa Eulalia has a long-established reputation as the island's gastronomic and cultural centre.
Ibiza Town
Talamanca
Sant Jordi de ses Salines
Santa Eulària des Riu
Playa de Portinatx
San Antonio
Wi-Ki-Woo Hotel Ibiza
The bright and bold Wi-Ki-Woo Boutique Hotel & Apartments boasts a fantastic location right by the rocky shoreline and overlooking the sea. The famous Sunset bars can be easily reached by walking along the coastal path, or you can simply enjoy the sunsets from the hotel terrace – the choice is yours.
Hard Rock Hotel Ibiza
Hard Rock Hotel Ibiza is in the entertainment district and on the beach. Port of Ibiza and Marina Botafoch are worth checking out if an activity is on the agenda, while those wishing to experience the area's natural beauty can explore Bossa Beach and Las Salinas Beach.
Can Vistabella Boutique Resort
Can Vistabella Boutique Resort is in a rural location and near the beach. The area's natural beauty can be seen at Calo des Moro Beach and Cala Bassa Beach, while Ibiza Karting San Antonio and Sunset Strip are popular area attractions. Air Zone Ibiza and Aquarium Cap Blanc are also worth visiting. Our guests appreciate the resort's quiet location.
W Ibiza
W Ibiza is on the beach. Port of Ibiza and Marina Botafoch are worth checking out if an activity is on the agenda, while those wishing to experience the area's natural beauty can explore Talamanca Beach and Benirras Beach. Travelling with kids? Consider Ibiza Karting San Antonio and San Rafael Racetrack.
Nobu Hotel Ibiza Bay
Located in Ibiza Town, Nobu Hotel Ibiza Bay is on the beach. Port of Ibiza and Marina Botafoch are worth checking out if an activity is on the agenda, while those wishing to experience the area's popular attractions can visit Ibiza Karting San Antonio and Sunset Strip. Travelling with kids? Consider Gran Piruleto Park P. Bossa, or check out an event or a game at Can Misses Football Stadium.
Casa Cook Ibiza
Casa Cook Ibiza – Adults only is located in Sant Antoni de Portmany. Ibiza Karting San Antonio and Port of Ibiza are worth checking out if an activity is on the agenda, while those wishing to experience the area's natural beauty can explore Calo des Moro Beach and Talamanca Beach. Looking to enjoy an event or a game while in town? See what's happening at Can Misses Football Stadium or C.R.I.C. Ses Salines.
ME Ibiza
Located in Santa Eulalia del Rio, ME Ibiza – The Leading Hotels of the World is near the beach. Those looking for an activity can check out Marina Botafoch, while everyone can enjoy the natural beauty of Talamanca Beach and Figueretas Beach. Travelling with kids? Consider San Rafael Racetrack and Gran Piruleto Park P. Bossa.
*Hotel descriptions taken from hotels individual websites.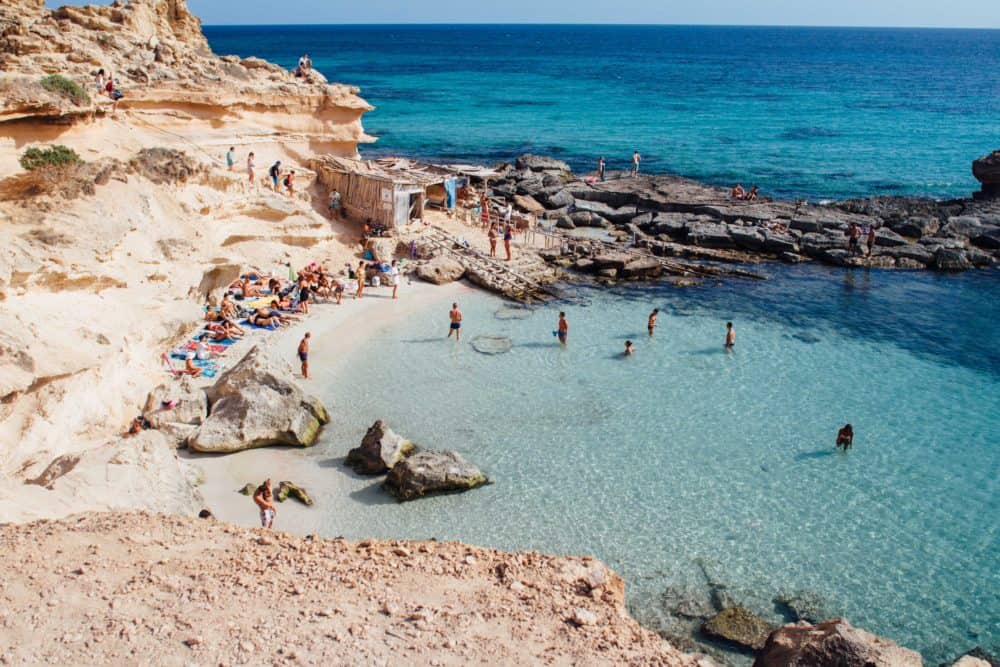 An alternative guide to Ibiza
Top 10 Things to do in Ibiza
1. Explore Ibiza Old Town
One of the best things to do in Ibiza is visiting the Old Town. And it's the best place to go to escape the party vibes of Ibiza's port. The Old Town is perfect for wandering around, along the cobbled streets, to admire the wonderful architecture and then stop off for something to eat or drink. There are plenty of unique boutiques, bars and restaurants in this area, including some of my favourites. If you love history, this is the place for you too, with so many stories, and the battlements are another spot to spend some time with a grand cathedral and an archeological museum to explore too, featuring relics from the Carthaginian era.
2. Go hiking!
Five years ago I would never have thought about coming to Ibiza for hiking or walking, but Ibiza is great for walkers who prefer to explore the natural beauty around them on foot. There are lots of hiking tours available to book, which usually take you along the coastlines and between beaches where you can rest up afterwards. The hike from Cala Conta to Cala Tarida is one of my favourites and has stunning scenery throughout the route. Here you can also traverse cliff edges, explore caves and marvel at the crystal clear water of the sea below.
3. Eat good food
Ibiza has some of the best restaurants in Europe, and for the past five years has been leading the way with healthy haunts opening all over the island. Some of my two favourites include Passion Cafe and Wildbeets.
Established in 2002 by Croatian-born Lana Love, there are now seven Passion Cafés across the island. They specialise in organic, healthy food and some of my favourites include homemade granola, açaí bowls, and the most flavoursome vegan burgers. And another fave is Wildbeets, in the village of Santa Gertrudis which serves up the most amazing raw vegan food, and hot meals too. They aren't the cheapest on the island but they are one of my faves!
4. Visit hippy markets
The famous hippy market at Las Dalias is one for the bucket list offering visitors the chance to peruse stalls selling local art, jewellery, clothes, leather, food, crystals and anything else you can think of. The market is open on Saturdays in the winter and for three days and four nights a week during the summer. It's certainly one of the biggest tourist attractions on the island, so even if you're not into shopping you can grab a beer or a coffee and people watch. It's a wonderful place!
5. Visit beach bars
Ibiza has lots of amazing beach bars, where you can sit back, relax and enjoy the views with a cocktail in your hand. Simply check out google 'best beach bars in Ibiza' for more information.
6. Club Tropicana Hotel
One of the most iconic hotels in Ibiza is Pikes, in the hills to the north of San Antonio. The hotel was made famous in the 80's when Wham! shot their Club Tropicana music video here in the famous boutique hotel and celebrity hangout. Ever since a lot of stars stayed and partied, including Grace Jones and Freddie Mercury.
The club room is a very intimate space holding just 150 people, but outside there's a cool pool area and a pink tennis court where parties are also held. Pikes hosts art exhibitions, open-air cinema nights and themed food evenings.
7. Wander around Santa Eulària des Riu
Santa Eulària des Riu is a town on the east coast of Ibiza, where you can find the iconic whitewashed Puig de Missa, a fortified church with watchtower. The beautiful port of Santa Eulària des Riu was more or less unknown to tourists until recently, and was filled more of locals than tourists. But in recent years the town has opened some incredible cafes, restaurants and bars, and has put the town on the map. The town is also close to some great beaches in the north including the gorgeous Cala Pada a few minutes' cycle out of town.
8. Street art in Ibiza
Urban In Ibiza is an exciting event organised by Paul Saunders, a former London promoter in September and showcases young artists alongside internationally established names. The event involves a lot of street art on canvas combined with live painting and workshops and it takes place at venues such at Atzaro Agroturismo and HEART.
9. Yoga on the beach
Ibiza is a soulful island, with much more than night clubs and all-nighters and I much prefer to come to Ibiza to switch off and unwind. Ibiza is the perfect place to come for a yoga retreat or meditation holiday and there are now hundreds across the island as well as in some of the bigger hotels. Why not join the most well-known, Ibiza Retreats, which offers tailor-made yoga holidays, boot camps and meditation retreats all over the island. Go for Amante Ibiza who provide breakfast after your morning yoga session. Or invest in the Body Camp, a body, mind and spirit overhaul.
10. Secret beaches
Ibiza's most beautiful element is the beaches. Boasting some 200 km of coastline, Ibiza is crammed with secret beaches and hidden coves. Cala Salada is a quiet sandy crescent with shallow turquoise waters and is popular with the local crowd but make sure you also don't miss the Bronze Age cave paintings nearby at Ses Fontanelles. If you're looking for complete peace, head to Cala Llentrisca near Es Cubells where you rarely bump in to any other tourists because it can only be reached by a 2km rocky path, and few tourists make the effort.
BOOK TRAVEL INSURANCE BEFORE YOU FLY

Picking travel insurance that covers you in all eventualities is an essential part of planning a trip for every single person. If you can't afford travel insurance, you can't afford to travel. You never know what's around the corner. World Nomads is an affordable option that I personally recommend.BOOK HERE
Other posts that may help you:
The Best City Breaks for Couples
Beginner's Guide to Europe Interrail Routes
Copenhagen Chic at the Andersen Hotel
Best Vegan Restaurants in Malmo
Ultimate Guide to a Weekend Break in York
10 of the Best places to eat Brunch in London
The Best Weekend Trips in the UK
Sign up to AirBnB with this link and receive a £23 off your first booking.
To receive my articles and reviews straight to your inbox SUBSCRIBE HERE.
Did you know I also vlog my trips? Make sure you subscribe to my YouTube channel so you get alerted when all my travel videos goes live… CHECK THEM OUT HERE
Thank you for reading and as always happy adventuring!
If you've enjoyed this post, please share it for me with all your friends and family!
Sophie X