So have you heard of OceanMedallion™? If you've seen my other blog post you will know I headed off on another cruise last month, with the wonderful team at Princess Cruises. I jumped aboard the inaugural cruise for Princess Cruises's brand new ship Sky Princess and we sailed for five days around the Mediterranean, stopping in Montenegro, Italy and Greece.
I went on a trip last year through Italy, Spain and France, and ever since that trip I've caught the cruise fever and couldn't wait to get back onboard another Princess Cruises ship. For this inaugural cruise onboard the Sky Princess, we flew in to Trieste in Italy, before heading out of port on a five day cruise around the Mediterranean stopping at both Kotor in Montenegro and Athens in Greece.
Sky Princess is the very first Princess MedallionClass™ ship built specifically for the OceanMedallion™ technology, for the maiden voyage I was lucky enough to be onboard. Other ships in the Princess Fleet already have the OceanMedallion ™ technology but none were built specifically with the technology in mind, until the Sky Princess.
Having been on many cruises over the years, I had experienced life without MedallionClass so I was super excited to head onboard Sky Princess to find out much more about the OceanMedallion™ technology. In this post I've worked alongside Princess Cruises to explain everything there is to know about the MedallionClass™ technology including the OceanMedallion™ , OceanNow™, PlayOcean™ and more.
I have a lot of content coming your way from this trip over the coming weeks, so stay tuned, but if you want to find out more about the revolutionary Princess Cruises MedallionClass™ Experience keep reading…. Oh and make sure you check out my YouTube channel and subscribe to watch the vlogs from this trip and others.
Sky Princess MedallionClass
Onboard Sky Princess
As part of my adventure on the brand new Sky Princess around the Mediterranean, I wanted to give provide a quick tour of the ship, including all of the amenities that are onboard this magnificent ship. As you'd expect from the name, Sky Princess, is a beautiful ship with long, spacious decks, an array of restaurants, cafes and bars to choose from, and contemporary design from top to bottom.
The ship is brand new and you could see this throughout the ship, from the shiny marble tops, classy interiors and modern technology including the new Princess Cruise's MedallionClass™. With OceanMedallion, guests can experience a truly personalised and seamless vacation.
From the moment I stepped foot on the Sky Princess, I was immediately impressed. I was also super excited to be one of the first people ever onboard, the first to ever experience a sailaway onboard and the first people to ever sleep in the beds of the staterooms.
Sky Princess is a Royal-class cruise ship currently operated by Princess Cruises, and the second ship to sail for the cruise line under that name. Sky Princess is a 3,660-passenger ship and features a stunning multi-story Piazza atrium, adults-only Sanctuary and their famous Movies Under the Stars concept, as well as a number of other traditional Princess Cruises' staples.
Some of my favourite highlights from the Sky Princess include:
An incredible four pools: Wake Pool, Retreat Pool and two main pools
The adults-only Sanctuary which you can book for a half a day
The famous Movies Under the Stars
Over 80% of cabins on offer for guests have balconies
The Enclave which is Princess' largest-ever thermal suite
Brand new Phantom Bridge Escape Room
Vines award-winning wine bar
The luxury Sky Suites featuring 270-degree views and has the largest balcony at sea
Chef's Table Lumiere behind-the-scenes dining experience
Sky Princess MedallionClass
What is MedallionClass?
One of the most amazing things about the new Sky Princess ship is the brand new Princess Cruises MedallionClass™ Experience which is available for all passengers to use as part of their cruise. Onboard the new Sky Princess you can say goodbye to plastic credit-card-style room keys, and say hello to the new MedallionClass™.
Using this innovative technology, you can enjoy more of what you love using a small Medallion, which links to your onboard account, making your experience on board personalised, and comes with an app, so you can order food and drink, make reservations for dinner, book shore excursions and unlock your stateroom door hands-free as you approach. The MedallionClass™ is a world-first and using the app ensures your whole trip is seamless and stress-free. Plus, stay connected while at sea with fast and affordable MedallionNet Wi-Fi.
What is OceanMedallion™?
The complimentary OceanMedallion is your portal to everything Medallion has to offer. The OceanMedallion is the size of a 10p piece and can be worn in a variety of ways such as a wristband, pendant, clip or even in your pocket. The OceanMedallion is a free, wearable device that holds your unique digital identity which is encrypted and communicates with thousands of sensors onboard and in port. It lets the crew see information they can use, to serve you better.
As soon as we boarded we were given our OceanMedallion, which we used to check in on port side. A photo is taken of you, which is stored on your profile, and then you are free to roam the ship with your Medallion. I opted to wear the Medallion as a clip on my top for most of the stay and loved how sleek and stylish it was.
What is Medallion Net?
MedallionNet™ delivers land-like connectivity from the middle of the ocean. It's your Wi-Fi whilst onboard and lets you stream your favourite shows, movies, music and sports. You can stay connected to the internet everywhere on board so you can text, post photos, video chat and more. For as little as $9.99 per day you can purchase MedallionNet and if you purchase before the cruise, you get 10% off.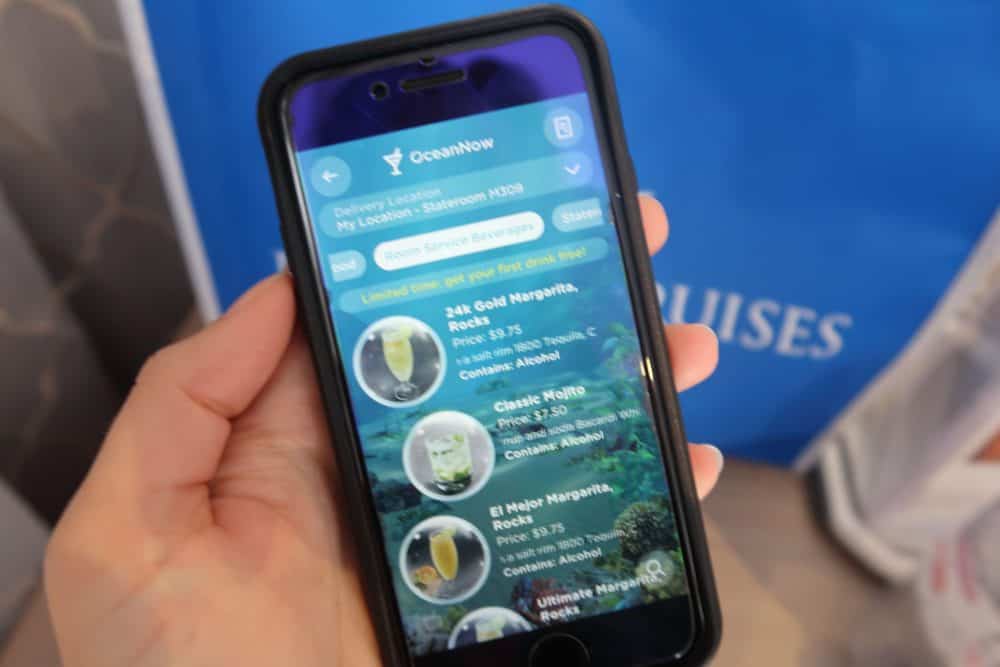 Sky Princess MedallionClass
As part of the Medallion experience there is an app, which is your best friend when you are onboard a MedallionClass ship. The app allows you to check timetables in the gym and register for the class, upload your documentation ahead of boarding for a swift check in, guides you around the ship if it's your first time onboard and allows you to order drinks to wherever you on the ship. The innovative technology was amazing to use onboard and I am so glad we got a chance to use it on Sky Princess.
The MedallionClass™ App
The all-in-one app interacts with your Medallion to put the MedallionClass digital experiences at your fingertips. You can also access these offerings through your stateroom TV and touchscreens around the ship.
OceanReady®
Using OceanReady® you can start your cruise sooner, by completing all the necessary documentation to embark the ship before you set foot in the city you leave from. OceanReady prepares you for your cruise, enriches your arrival and helps foster an enduring relationship for the future. Through OceanReady, you can upload your documentation and set your preferences ahead of time so you can swiftly walk on board and communicate everything your ship needs to know about you.
Before you board your ship you will have to check in online and fill in all your information via your Cruise Personaliser. Then you will be prompted to download the Princess MedallionClass™ app via Google Play or the Apple App Store and get OceanReady™.
Ocean Compass™
OceanCompass is your digital portal, where cruise planner meets concierge. It's a guide that you can access anywhere, on your mobile and all across the ship. It's your personal experience concierge before, during and after vacation, and can be found online, on smart devices, on kiosks in port terminals, on stateroom TVs, on interactive surfaces located throughout the cruise ship and on devices carried by crew members.
You can use the OceanCompass to enhance your vacation, select experiences and create personalised event-based itineraries. OceanCompass helps you navigate your ship and your cruise, like streamlining the boarding process, personalized shore excursions invitations, ordering your favourite drink and more.
Think of OceanCompass™ like your personal interactive navigator, ready to guide you to where you want to go and help you easily locate and chat with friends and family anywhere on board. Accessible through the MedallionClass app and on portals throughout the ship.
OceanConcierge
Use OceanConcierge™️ as your go-to source for everything from planning events and activities to browsing restaurant menus and reviewing the ship's itinerary.
OceanNow™
With Here & Now™ if you forgot sunscreen and your kids left their goggles at home, have them and a drink for you delivered to you poolside. So if you've gone to top deck to enjoy Stargazing with Discovery at SEA™, or to watch a film with Movies Under The Stars, but want a hot chocolate or a cookie — it's easy to order with Here & Now as you simply order, and they find you onboard using geo-tracking to bring you your drink or snack.

Sky Princess MedallionClass
Overview
My whole experience of OceanMedallion™ was amazing. I loved the time I spent onboard, and this was made even better through the OceanMedallion™ technology. It made my whole experience easier and smoother, especially when it came to checking in. I loved being able to check in and see what was happening onboard at any time, and then book in or reserve a spot. I loved being able to order a drink to my room using the app, whilst I was getting ready for dinner. I loved paying for everything using the Medallion and not having to think about carrying around a card or cash. And my whole experience felt very personalised. The OceanMedallion™ technology makes the entire cruise experience even better!
Find cruises on MedallionClass ships: Caribbean Princess® | Crown Princess® | Regal Princess® | Royal Princess® | Sky Princess®
Coming soon to: Ruby Princess® (Jan 27, 2020), Grand Princess® (Mar 29, 2020), Enchanted Princess® (Jun 15, 2020), Emerald Princess® (Aug 16, 2020), Coral Princess® (Oct 16, 2020), Island Princess® (Dec 20, 2020), and Discovery Princess℠ (Nov 3, 2021)
So has that persuaded you to try cruising? I'd love to know if my cruise experience and blog post made you think differently about cruising – let me know on Instagram or Twitter!
I was a guest for the launch of Princess Cruises Sky Princess inaugural cruise around the Mediterranean. Staterooms onboard the Sky Princess start at £XX. For more cruise deals click here.
A big thank you to Princess Cruises for inviting me onboard the Sky Princess. This post has been created as part of a sponsored collaboration with Princess Cruises, however as always all views are my own.
Other posts that may help you:
The Best City Breaks for Couples
10 Hygge Things to do in Copenhagen
Ultimate Guide to 48 Hours in Malmö
Ultimate Guide to Columbia Road Flower Market London
Log cabins with hot tubs in the UK
Sign up to AirBnB with this link and receive a £23 off your first booking.
To receive my articles and reviews straight to your inbox SUBSCRIBE HERE.
Did you know I also vlog my trips? Make sure you subscribe to my YouTube channel so you get alerted when all my travel videos goes live… CHECK THEM OUT HERE
Thank you for reading and as always happy adventuring! If you have any questions about the destination please leave these in the comments below.
If you've enjoyed this post, please share it for me with all your friends and family!
Sophie X