Porto is one of my favourite cities in the world. It is a coastal city in northwest Portugal known for its stately bridges and port wine production. But if you are already travelling to Porto, why not take a day trip from Porto in to the wonderful countryside of Portugal?
Portugal's second city, Porto, is amazing, and like my favourite city Lisbon, offers so much to tourists, from food, to culture, and religion to activities. In the medieval Ribeira district you can find an array of narrow cobbled streets, with beautiful cafes and restaurants dotted along the river.
São Francisco Church is known for its iconic baroque interior or if you're after something more fancy, you can find the palatial 19th-century Palácio de Bolsa. The Douro River is historically known for its merchants and business traders, who would come to the city to sell their goods from all around the world. And make sure you also stop at some of the cities World Heritage sites.
On a weekend break to Porto, you might want to spend a few days here, but make sure you don't miss what's awaiting you just outside the city. On a day trip from Porto you will be able to find many nearby natural landscapes; from mountains to rivers and lagoons to beaches, all only a few hours from the city of Porto.
And if you love your wine, the neighbouring Douro Valley is known for its vineyards and wine-tasting trips.
Top Things to do on Days Trips from Porto
Douro Valley. The Douro Valley

Peneda-Gerês National Park

Vigo

Braga and Guimarães

Porto Wine Tasting Tour

Aveiro

Vinho Verde Province

Coimbra

Guimarães

Viana do Castelo
Days Trips from Porto
How to get to Porto
Porto Airport is known as Francisco Sá Carneiro Airport and is only seven miles from the city centre. It is the second busiest air hub in Portugal, the terminal offers regular flights to destinations across Europe. You can also get from Lisbon to Porto by bus, train, car, in less than a few hours.
300 km – 3 hours by driving
320 km – 3 hours 21 minutes by train
Portugal has three international airports, Lisbon, Faro and Porto. These three airports cover the entire country, although you can find smaller airports, but these will be more expensive and less frequent.
Days Trips from Porto
When to go to Porto
The best time to visit Porto is from May to September when the weather is often sunny and warm. Porto experiences a moderate climate but sometimes in summer it can get really hot. I would visit Porto
from March to May or September to October, because the weather is still warm, hotel rates are cheaper and there are fewer crowds than in summer.

Days Trips from Porto
Where to stay in Porto
Best areas to stay in Porto are in the surroundings of Torre de los Clérigos, neighbouring Praça da Liberdade, and the popular area of Ribeira. Other areas include Praça Batalha, Cedofeita and Mercado do Bolhão, which are all near the city centre.
Luxury
Porto A.S. 1829 Hotel – £148
1872 River House – £143
Mid-Range
Sheraton Porto Hotel & Spa – £101
Pestana Porto – A Brasileira – £88
Budget
Eurostars Porto Douro – £56
Porto Palácio Hotel & Spa – £74
Days Trips from Porto
Douro Valley
The terraced vineyards and green rolling green hills of the the Douro Valley have been described as some of the most beautiful sights in the country and it's obvious as to why. The Douro Valley region is also among the best places to go wine tasting in Portugal and was recognised by UNESCO as a World Heritage Site in 2001.
You may find that a day is not enough time to visit this amazing region, and you are probably right, but if you are short on time, I would add a day trip from Porto to the Douro Valley as the #1 thing to do. The region is beautiful, and there's lots to learn here! You can access the region by train, car or even river cruise, up the Douro river.
Days Trips from Porto
Peneda-Gerês National Park
If you love hiking, nature and discovering unique places then a trip to Portugal's only national park is a must. Located in the districts of Viana do Castelo and Braga, it's an easy place to incorporate within a day trip from Porto and is really easy to get to from the city. I would grab your trainers, a water bottle and your work out gear and head for a day of hiking in the hills.
Days Trips from Porto
Aveiro
Also know as the'Venice of Portugal', the adorable town of Aveiro is another place where travellers can experience romantic gondola rides, eat ice cream by the river and admire the painted boats and gorgeou buildings. The town used to just be a fisherman's town by the sea, with a coastal lagoon, with canals and traditions.
Today it's a multicultural city and you must try their famous Ovos Moles. It's very easy to get to from Porto, whether visitors choose to drive, take a train or hop on a bus from the city for a day trip from Porto.
Days Trips from Porto
Vigo
One of the biggest fishing ports in the world, but with a lot more to offer, Vigo is a northern town in Portugal rich in seaside history, and was one of the places early travellers and navigators would deart. The proximity to Spain means the city is influenced massively by spanish culture and is a great place to enjoy seafood.
The town is often overlooked against some of it's more known towns and cities, but I would add this place to your list for day trips from Porto.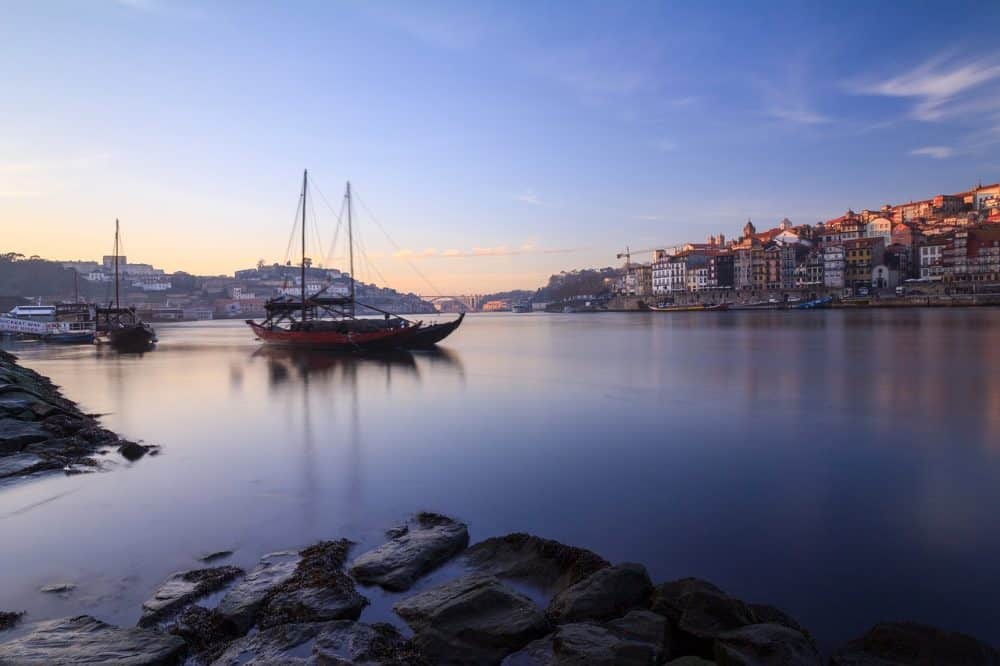 Days Trips from Porto
Braga
It's super easy to take a day trip from Porto to the city of Braga which is rich in culture and history. They are also super close to Porto so are easy to reach and don't take much time. It's a great place to immerse yourself in Portuguese culture, with a visit to the medieval castle of Guimarães, where the first Portuguese king was born. And it is also an UNESCO World Heritage site. In Braga you will also find ancient buildings and churches around every corner, as the city is heavily influenced by religion.
Days Trips from Porto
Vino Verde
One of the most famous things Porto is famous for is Port, but it is also wine! I would definitely recommend a visit to Vino Verde region, where you can taste all of the wine this gorgeous country is famous for, especially their green wine.
After a day trip from Porto to the historical wine producing region of Vinho Verde province you'll know all about it – including that green wine is also known as 'young wine' and is adored all over the time. I enjoyed many glasses of green wine in Porto and Lisbon and loved the taste and texture!
Days Trips from Porto
Coimbra
The ancient city of Coimbra is home to the oldest university in Europe (Universidade de Coimbra) but it also well-known around the world as being the medieval capital of Portugal back in the 12th century. The city is gorgeous, with the most amazing architecture and Portuguese culture and traditions are still very much alive in this amazing town. If you walk the streets of the town in the evening you will be surrounded by people laughing, dining, singing and Fado singers playing guitar.
Days Trips from Porto
Guimarães
Guimarães is a medieval city where the first king of Portugal was born, and is also now an UNESCO World Heritage Site. Make sure that you see the world famous castles and other beautiful historic buildings, which were built from as early as the 10th century. I would recommend combining your day trip from Porto, with a morning spent in Guimarães and an afternoon spent in Braga as they are both north of Porto.
Days Trips from Porto
Viana do Castelo
Another day trip from Porto worth adding to your Porto itinerary is a visit to Viana do Castelo which is both steeped in history and offers tourists the opportunity to relax on the many beaches. It's gorgeous narrow streets provide tradition as soon as you arrive, and as its a famous seaport, there is also an abundance of seafood restaurants! Make sure you see the city's most popular site the Templo-Monumento de Santa Luzia (Santa Luzia Temple) which is just stunning!
If you on a bigger trip exploring more of Europe check out my guides to France, Germany, Greece, Iceland, Italy, Portugal, Spain and United Kingdom.
---
Are you visiting Lisbon too?
Here are five day trips from Lisbon…
The surrounding regions of Lisbon offer tourists a stunning natural beauty, beyond the busy city of Lisbon. There are an array of fascinating historic towns and glorious sandy beaches. The number of day trips from Lisbon can extend your holiday to the city by a few days, and I would definitely recommend anyone visiting Lisbon to do this as the city is amazing, but so are it's surrounding regions.
The guide will highlight the best day trips from Lisbon, and offer further information on what to do in these places. And if you've got another few days, check out this guide to visiting Ericeira. The following list is some of my recommended day trips from Lisbon:
Popular day trips from Lisbon
Sintra
Cascais
Fatima and Nazare
Obidos
Belem
Sesimbra
Óbidos
Knights Templar
Mafra
Vineyards of Azeitão
---
Other posts that may help you:
Festive Things to do in London at Christmas in December
Ultimate Guide to one week in Bali Itinerary
Visit Lisbon: 9 Day Trips from Lisbon
How to spend 5 days in Switzerland Itinerary: Basel, Zurich and Lucerne
Ultimate Guide to Honeymoon in The Maldives
Berlin City Break: How to spend a Weekend in Berlin Germany
Sign up to AirBnB with this link and receive a £23 off your first booking.
To receive my articles and reviews straight to your inbox SUBSCRIBE HERE.
Did you know I also vlog my trips? Make sure you subscribe to my YouTube channel so you get alerted when all my travel videos goes live… CHECK THEM OUT HERE
Thank you for reading and as always happy adventuring! If you have any questions about the destination please leave these in the comments below.
If you've enjoyed this post, please share it for me with all your friends and family!
Sophie X