I love Cyprus! The island has so many amazing things to do and I wanted to pull together some of my favourite Cyprus tourist attractions to share with you.
With most mornings jam-packed with activities including boat trips to the blue lagoon, scuba diving and off-roading in the Avakas Gorge, and then afternoons were spent at the on-site spa, relaxing around our private pool and light evenings drinking wine.
The perfect way to explore some of the very best places to visit in Cyprus.
The island has a lot to offer and there are many things to do in Protaras, as well as an array of family-friendly things to do in Larnaca. If the party scene if more your vibe, there are lots of things to do in Ayia Napa or if you want to see the iconic flamingoes, then this is one of the top things to do in Limassol.
Top 10 Places to Visit in Cyprus
Hire a yacht with Georges Watersports
Visit the crystal waters of the Blue Lagoon
Swim around Aphrodite's Rock
Hike the Avakas Gorge
Go scuba diving with Dive Point Cyprus
Explore the ruins of Paphos
See flamingos at Larnaca Salt Lakes
Try Horse Riding at Aphrodite Hills
Wander around beautiful Limassol
Top 10 Places to Visit in Cyprus
Hire a yacht with Georges Watersports and head along the Akamas Peninsula to the Blue Lagoon
One of the most memorable experiences from our trip to Cyprus was the morning we spent with the wonderful people at George's Watersports. Georges watersports is a well-established business that settled operations 1989 in the small graphical harbour of Latchi, located on the North West of the island and lies on a beautiful coastline and a panoramic peninsula.
During the summertime, Latchi Harbour attracts thousands of tourists every year that want to visit and explore by themselves the magnificent bays and the beauties that Akamas forest offers. Georges watersports offer self-drive speed boats for hire, a great opportunity for you and your family to experience your own private charter on your holiday.
We hired our very own 300hp Acapulco Sports Yacht which could have 12 people on board and they also provide you with a skipper. It was an amazing boat (make sure you check out my vlog from the trip for the most amazing drone shots from the yacht).
Once you leave the harbour, you then cruise along the 13 km long North Coast of the Akamas Peninsula, from Latchi Harbour up to the Arnautis cape.
Along the coast, you can visit and anchor in all the multiple bays, such as Manolis- Sea Caves, Bladji-Amphitheatre bay, Chamili before ending up at the Blue Lagoon for swimming.
We headed here as part of our 3-hour boat hire with George's Watersports and because we had hired our own boat it meant we arrived before the crowds on the bigger boats arrived. The place is spectacular and the waters are incredibly blue!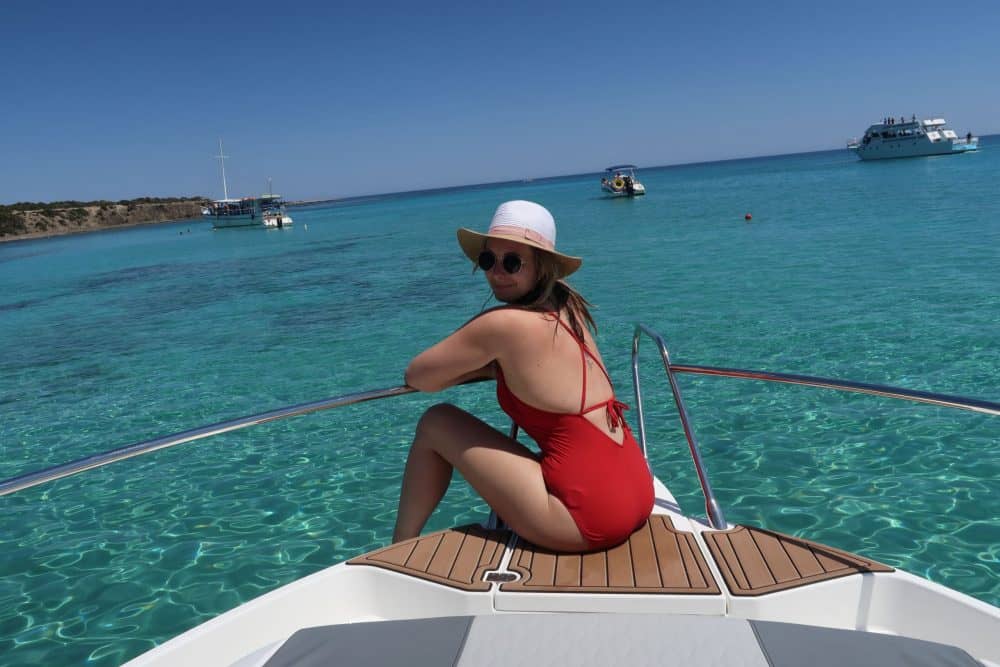 Have a couples massage at The Retreat
Whilst we were on holiday at Aphrodite Hills in Cyprus, we also made sure we took a visit to the resort's own luxury spa called The Retreat. Me and Theo head to The Retreat on one of our last days at the resort, visiting late afternoon to enjoy a 30-minute Couples Swedish Massage.
The massage combines light-to-medium pressure which releases tension, improves circulation and eases aching muscles. It involves the use of hands, forearms or elbows to manipulate the superficial layers of the muscles to improve mental and physical health.
We both felt incredibly relaxed after we left our treatment room, and headed for the terrace outside to relax in the sunshine with a glass of Jasmine Tea. Once we had awoken from our massage, we jumped in the infinity pool, and the hydrotherapy pool in the spa, before heading downstairs to the sunad and steam room.
Swim around Aphrodite's Rock
Supposedly where Aphrodite rose from the water, this is one of Cyprus' most famous landmarks and is visited by millions each year. Petra tou Romiou also known as Aphrodite's Rock, is a sea stack in Paphos, Cyprus, located off the shore along the main road from Paphos to Limassol. The combination of the beauty of the area and its status in mythology as the birthplace of Aphrodite makes it a popular tourist location.
Hike the Avakas Gorge
Avakas gorge is the most well known gorge in Cyprus. It is located very close to the entrance of Akamas peninsula from the area of Agios Georgios Peyias. Its total length is about 5 km, however the narrow part of it covers about the first 2 km, after that it opens up and it is more like a small valley.
On the first narrow part you can admire the impressive rock formations, while of the second, more open, part, you will enjoy the beautiful landscape and wonderful vegetation. We headed here on a sunny afternoon, by car, not realising the road surface wouldn't be very good. So we drove some of the way, got out and had a wander. We didn't get chance to find the famous gorge caves due to the road surface, but if you head in from Coral Bay it is easier to find.
Go scuba diving with Dive Point Cyprus
On our third morning in Cyprus me and Theo left Arabella with my parents and we headed to go scuba! We drove over to Paphos to Saint George's Hotel just north of Paphos town and met with Ray, who owns the Dive Point Diving Centre.
Diving in Paphos is among the best diving in Cyprus with a number of different dive sites with their own range of depths, difficulty levels and points of interest. I have dived a few times before, but Theo was a beginner and had never dived before. The wonderful team at Dive Point Cyprus are professional PADI and BSAC registered instructors who are waiting to show you the delights of diving in this Mediterranean paradise.
With water temperatures remaining pleasantly above 25C well into October, Cyprus has a longer diving season than most of its competitors nearby. The clarity of the sea, often vital to good diving, is also excellent. Visibility of more than 30 metres is not uncommon. Seas are usually calm, meaning there is rarely any current to contend with, and making the diving benign and manageable for people of all abilities.
Once we had done our paperwork, got fitted in to our gear and been measured up, we jumped in the car and headed across to Coral Bay with our instructor Kevin and his assistant for the day Callum, who was there on work experience. We couldn't do their try dive in the lagoon outside the hotel due to the winds being strong, so we headed to Coral Bay instead which offered us an easy descent, calms waters and a depth of up to 10m.
We arrived at the bay and got kitted out, before getting in to the water to do our skills with Kevin. These were optional but both me and Theo chose to do them to improve our confidence under the water. And then, off we went…
We headed under the water, and it was the most magical hour. At first we sunk to a depth of 1m, then 2m and Theo went down to 3m, whilst I stayed up higher due to my ears not being able to pop. We saw an array of different fish throughout the hour, and Kevin showed us some beautifully coloured fish and even a sea sponge. We both had such a great time diving with Dive Point Cyprus and we can't wait to return to do another dive with them!
Explore the ruins of Paphos
Paphos is a city on the southwest coast of the Mediterranean island of Cyprus. Inhabited since Neolithic times, it has several sites relating to the cult of goddess Aphrodite, whose mythical birthplace was at Old Paphos (Kouklia).
New Paphos is the modern city that incorporates the harbor, and the ancient ruins of tombs, Petra tou Romiou, fortresses, theaters and villas at Kato Paphos Archaeological Park. There are also an array of things to do including: Tombs of the Kings, Coral Bay
Head to Ayia Napa for the party scene
Ayia Napa is a Mediterranean resort town on the southeast coast of Cyprus, known for its beaches and nightlife with young adults all across Europe. Plateia Seferi is surrounded by bars and clubs. If you fancy a party, head here on a Saturday night!
Explore the Sea Caves
The Ayia Napa sea caves are a must see landmark along the stunning coastline at the Cape Greco national forest park. Here you can find incredible rock bridges, hidden caves and tunnels. And they pretty amazing to look at from a distance too – the sea caves extend for up to 80 metres underground and are only partially submerged. They can be explored on foot at low tide and this area is popular for snorkeling, diving and swimming.
See flamingos at Larnaca Salt Lakes
Larnaca Salt Lake is a complex network of four salt lakes of different sizes to the west of the city of Larnaca. The largest is lake Aliki, followed by lake Orphani, lake Soros and lake Spiro. They form the second largest salt lake in Cyprus after the Limassol Salt Lake. During the cooler months, from October to March you can also find the famous flamingoes here! (Credit: Wikipedia)
Try Horse Riding at Aphrodite Hills
The Aphrodite Hills Riding Club offers horse riding experiences in the forestry land of Lakkos Tou Frangou, which is adjacent to the north end of the Resort. Located in an area of outstanding beauty, the horse riding facilities are available for all ages and abilities.
The stable facilities include private lessons for beginners or experienced riders; trail riding off-road in stunning countryside; a Pony Club where children visit the stables to learn about riding and pony care, and a large outdoor arena. Arabella and my mum headed up to the stables on a sunny morning for Arabella to try a pony ride with the excellent instructors they've got at the stables. Here they've got 11 working horses, one mule and a pony called Pixie! It was such a lovely addition to the holiday and something we never imagined Arabella could experience in Cyprus!
Play a championship PGA Golf Course
Featuring a magnificent championship golf course, a dedicated 3-hole Golf Academy, a magnificent Clubhouse and surrounded by breathtaking scenery; it is the perfect place for golfers of all standards and ages.
My mum, dad and brother headed out early one morning before the heat caught up with them, to put their skills to the test on the 6,289 squared meters course and overlooking the site where Aphrodite, the Greek goddess of love, is said to have emerged from the sea.
---
Thank you for reading and as always happy adventuring!
If you've enjoyed this post, please share it for me with all your friends and family!
Sophie X