Osaka is the third biggest city in Japan, it offers a completely different atmosphere than Tokyo. But to really experience this vast city, you must do your research and use this Osaka itinerary.
As a child, I would frequently visit Osaka. And, as a proud daughter of an Osakan (they are known in Japan for their brash and eccentric mannerisms), I know the city extremely well.
With its mixture of modern funky streets and majestic historic monuments, visiting Osaka is an absolute delight.
And, all the incredible sights of Osaka can be assembled into a perfect 3-day Osaka itinerary!
From trying out Osaka's delicious cuisine (including Takoyaki and okonomiyaki) to gazing at the adorable turtles at Shitennoji Temple, Osaka is filled with an abundance of extraordinary things to do.
So, I hope this 3-day itinerary helps you as you plan your trip to Osaka!
The Best Time to Visit Osaka
First, let's talk about when you should visit Osaka. And, the answer is, whenever. As the climate in Osaka is temperate, it's always a good time to visit!
However, my favourite time of year to visit Osaka is definitely the spring (March, April, and May) and the fall (October and November). This is because it's the best time to admire Japan's cherry blossoms and autumn leaves, respectively.
Nevertheless, the summers and winters of Osaka are both lovely times to visit as well. While the summers (June, July, and August) are hot and humid with occasional rains, they still offer great weather. Furthermore, while the winters (December, January, and February) in Osaka are cold, there is rarely any snow, and the days are typically clear and sunny.
Overall, I recommend travelling to Osaka in the spring or fall if possible, but any time is okay!
How to Get to Osaka
There are many ways of getting to Osaka, including:
Plane: The easiest and most obvious way to get to Osaka is by plane. Osaka has two airports: the Osaka International Itami Airport (ITM) and the Kansai International Airport (KIX). Ironically, the Itami airport only services domestic flights. So, you can either fly into Osaka's Kansai Airport from abroad or fly into the Itami or Kansai airports from within Japan.
Train: If you are traveling in Japan, you can also visit Osaka by train. A popular route is through the Tokaido Shinkansen (bullet train) from Tokyo to Osaka. However, there are many possible train routes, fast and slow, depending on your point of departure. And remember to look into the Japan Rail Pass prior to visiting Japan, to save money on transportation!
Highway Bus: If you're traveling to Osaka from Tokyo, you can also take a highway bus. With both daytime and overnight buses available, the ride typically takes 8 hours.
Car: Finally, you can also travel to Osaka by car. While this option is definitely the most expensive (with the costs of renting a car, paying for gas, getting charged highway tolls, etc. adding up), it can also be a lot of fun!
How to Get Around Osaka
Now, let's talk about how to get around Osaka.
First, if you're entering Osaka by plane, there are a few ways of getting to Osaka's city centre from the two airports:
The Osaka International Itami Airport (ITM): If you're arriving at the Itami Osaka Airport, located 11 km (6.5 miles) from central Osaka, you can get to Osaka by limousine bus, taxi, or the Osaka monorail and train lines. By far, the easiest way to get to Osaka is by the Osaka Airport Limousine bus, which costs ¥650 and takes 30 minutes.
The Kansai International Airport (KIX): If you're arriving at the Kansai International Airport, located 37 km (22.5 miles) from central Osaka, you can get to Osaka by the JR Haruka Airport Express train, the Nankai Rapid Airport Express train, a limousine bus, or a taxi. By far, the easiest way to get to Osaka is by train, with the JR Haruka Airport Express being the quickest, but also costing more. However, it is covered by the Japan Rail Pass.
Once you've arrived at your accommodations in Osaka, there are many ways of getting around.
The easiest and best way to get around Osaka is definitely through the Osaka train and subway lines. However, as Osaka has a very extensive train and subway network (which is convenient for travelling around), it can also be confusing to navigate. I suggest referring to Google Maps, as getting around may require multiple transfers.
One big tip I have for traveling around Osaka (and Japan in general) is to use a prepaid IC Card. While the IC Card used in Osaka is the Icoca Card, there are other IC cards you can use, including the Suica, Pasmo, Kitaca, Toica, Manaca, Sugoca, Nimoca, and Hayakaken cards.
While the IC cards don't offer discounts on travel, they make riding Japan's railways super easy; you just load money onto the card, and tap in and out at each station. Without an IC card, you'll have to pay for each individual train ticket for every trip you make, which can be super cumbersome. IC cards can be purchased on ticket machines at JR stations.
Finally, there are other ways of travelling around Osaka, however, they tend to be more inconvenient. These include taxis and buses.
Budgeting for Osaka
I would recommend planning for a budget of around ¥9,300/day (around $90 USD/day). So, a three-day trip to Osaka will cost around ¥27,900 ($270 USD). Of course, this depends on your overall spending habits, and how much you're willing to spend on accommodations, etc.
Moreover, the cost of travelling to Osaka can be as low as ¥6,700/day (around $65 USD/day), which adds up to ¥20,100 ($195 USD) for three days. Check out my article if you want some tips on travelling on a budget!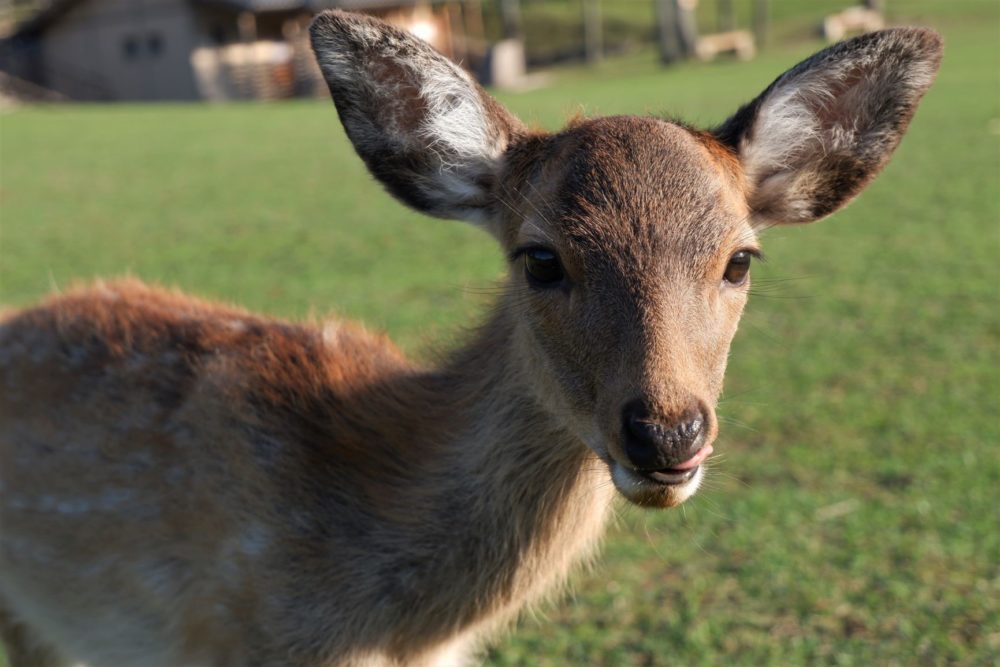 The Top 10 Things to Do in Osaka
Tour Osaka Castle. Initially constructed in 1583, it has since acquired its fair share of damages. However, it received massive repairs throughout the 20th century and is now one of the most popular tourist spots in Osaka. While you can tour the interior, I also recommend walking around the lovely park surrounding Osaka Castle, especially in the spring; it's one of the best spots to admire Japan's cherry blossoms!
Experience the nightlife of Dotonbori. Osaka's entertainment district, it's famously known for its extravagant, neon billboards (including the iconic Glico running man sign), a wide variety of bars and taverns, and incredible street food.
Spend a day at Universal Studios! A great option for families (I was always ecstatic to visit as a child), it also offers attractions for all age-groups. My favourite rides and attractions include the Harry Potter world, the Jurassic Park ride, and the Jaws boat ride.
Visit Tsutenkaku Tower. Originally built in 1912 (and rebuilt after World War II), it is known as the Eiffel Tower of Osaka. And, it is situated in Shinsekai, the best place to try out a variety of cheap, Japanese food!
Admire the turtles at Shitennoji Temple. Founded in 593 by Prince Shotoku Taishi, it is one of the oldest temples in Japan, and the first Buddhist temple to receive national oversight. And it features a small pond filled with adorable turtles!
Wander around Sumiyoshi Taisha. Built-in the 3rd century, it is one of the oldest shrines in all of Japan. I recommend walking across the Sorihashi Bridge, which has a uniquely high arch!
Explore the exhibits at the Osaka Aquarium. One of the best aquariums in Japan, it is the ideal place to spend a rainy afternoon.
Hike to the base of a waterfall in Minoo Park. An easy hiking route popular among locals, it is a delightful stroll through Osaka's forests. And it is also one of the best spots to admire Japan's autumn leaves!
Feed some deer on a day trip to Nara. Once considered sacred messengers of the gods, the deer are protected to this day. There are several vendors in Nara Park selling deer crackers for ¥200 a bunch (made especially for the deer), so I definitely recommend buying some!
Take a day trip to Kyoto. An ancient capital of Japan, it is definitely an unmissable stop on your Japan trip. And if you're wondering what to do in Kyoto, check out my Kyoto itinerary!
You can visit Japan any time of year, but spring is beautiful. Check out some of the best places to visit in Japan during spring.
3-Day Osaka Itinerary
Day One
8:00 – After arriving at your hotel and leaving your luggage, enjoy a simple breakfast.
9:30 – Now, head over to Osaka Castle. Spend some time walking around the entire park, admiring the towering castle from multiple angles, before exploring the interior of the ancient castle.
11:30 – Find a nice restaurant, and eat some lunch.
13:00 – Take a train to Minoo Park. Spend a couple of hours completing the Minoo Park hike, admiring the waterfall, streams, and beautiful forests surrounding Osaka.
17:00 – After completing the hike, head to Dotonbori for some dinner. Walk around the numerous restaurants, stores, and attractions, before choosing a restaurant to relax in.
19:00 – Now, enjoy some of Osaka's nightlife! Spend as much time out as you'd like, bar-hopping and experiencing the vibrant atmosphere of Osaka at night.
Day Two
11:00 – After having a slow and relaxing morning, head to Shitennoji temple. Spend some time touring its grounds, and admiring the turtles in its pond.
13:00 – Walk over to Tsutenkaku Tower, visible in the distance from Shitennoji temple. Explore Shinsekai, and choose a cheap spot for lunch.
15:00 – Head over to Sumiyoshi Taisha. Wander around the grounds, read more about its history and significance, and climb over the Sorihashi Bridge!
17:00 – Return to your hotel, and take a small, relaxing break.
19:00 – Head back out for some delicious dinner!
Day Three
9:00 – After a small breakfast, jump onto a train headed to Nara.
10:00 – Walk over to Nara Park. Buy some deer crackers from a vendor, and start feeding some deer; this is a great time to take some adorable pictures. But be careful, as some of the deer get quite aggressive! (I recommend hiding most of the crackers in your bag, and only taking out a couple at a time).
12:00 – Find a nice restaurant near Nara station for some lunch.
14:00 – Return to Osaka. Get off at Osaka-Umeda Station, and explore the nearby malls and shops for souvenirs.
16:00 – Now head over to America-Mura, near Namba Station, and continue souvenir shopping!
18:00 – Find a nice, final spot for dinner, before continuing onto your next destination (or simply returning to your hotel for the night).
Top Places to Eat in Osaka
While Japan as a whole is celebrated worldwide for its incredible food, Osaka in particular is well-known for its delicious cuisine. Two local dishes you'll have to try on your trip to Osaka include Takoyaki (balls of octopus mixed with batter) and Okonomiyaki (a savoury, cabbage pancake).
Additionally, these are some of the best restaurants in Osaka:
For Takoyaki: While you can find some delicious Takoyaki from street vendors (you can find many in the Dotonbori area), one restaurant I particularly recommend is Takoyaki Wanaka Sennichimae.
For Okonomiyaki: I recommend visiting Okonomiyaki Chitose. This is definitely the best place to try Okonomiyaki, with great cooks, friendly and welcoming staff, delicious ingredients, and a very affordable menu!
For Sushi: I recommend checking out a conveyer belt sushi restaurant; it's truly an experience that's hard to find elsewhere in the world. My favourite conveyer belt sushi restaurant in Osaka is Genrokuzushi Sennichimae. It's very affordable, the sushi tastes fresh, and the service is amazing!
For Ramen: While I'm personally not a huge fan of ramen, it is undoubtedly one of the most popular Japanese dishes. For some of the best ramen in Osaka, I recommend checking out Hanamaruken Namba Houzenji.
Top Places to Drink in Osaka
Balabushka: A pool and darts bar in Osaka with a great atmosphere, Balabushka is one of the best drinking spots for locals and tourists alike.
Video Game Bar Space Station: For a fun, themed Osaka bar, I recommend checking out the Video Game Bar Space Station. Decorated with neon lights and filled with vintage videogames you can play for free, this is one of the best bars in Osaka!
Bar Nayuta: Located in America Mura, the Bar Nayuta is an intimate bar with a relaxing atmosphere, friendly staff, gothic decorations, and creative cocktails. It is definitely worth a visit!
Where to Stay in Osaka
Osaka is a huge city, so there are many possible areas to stay in. However, since Osaka is so big, I recommend finding accommodations somewhere central and close to a train station.
The Tennoji area is where you'll find the most budget options, and it is also near many restaurants, shops, and train lines. However, the Kita and Minami areas are better for the more mid-range accommodation options. The Minami area is especially good for nightlife.
Here are some options for where to stay in Osaka:
Airbnb: The average cost for 2 people per night is around ¥9,678 (around $93.25 USD/night).
Hostel: Stay at the Osaka Guesthouse Nest for ¥1,486 ($14.32 USD) a night for a mixed dorm bed.
And if you are visiting Kyoto, make sure you check out these recommendations of where to stay in Kyoto.
---
Author Bio: Mia is a Canadian with a passion for hiking and exploring the world on foot. She is currently working abroad in Japan and runs the successful travel blog Walk a While with Me, where she shares her tips and guides for travelling around the world. Follow Mia adventures on Instagram too!

---
My Travel Tips and Recommendations
Flights
To book flights, I always use flight search engine Skyscanner, I regularly use the Everywhere tool to find the cheapest places to travel. It's how I get to travel so much all around the world. I find it the easiest way to compare flight prices across airlines and get the best deals.
Accommodation
For accommodation, I usually book most of my hotels or hostels through Booking.com. I love using this platform as it provides me with some amazing deals for accommodation all around the world. Or if you prefer, I also recommend using Airbnb. If you haven't signed up with Airbnb already, you can use this link to get £25 off your first visit!
Travel Insurance
Picking travel insurance that covers you in all eventualities is an essential part of planning a trip for every single person. If you can't afford travel insurance, you can't afford to travel. You never know what's around the corner.
Did you know I also vlog my trips? Make sure you subscribe to my YouTube channel so you get alerted when all my travel videos go live… CHECK THEM OUT HERE
Thank you for reading and as always happy adventuring! If you have any questions about the destination please leave these in the comments below.
If you've enjoyed this post, please share it for me with all your friends and family!
Sophie X