WE GOT A PUPPY! And we couldn't be more excited.
WELCOME TO THE FAMILY INDIE 🐶 We've been pretty quiet the past week due to this bundle of joy joining our family.
We've had her about a week and have fallen madly in love with her already. Her names Indie and she's a red fox Labrador/setter mix and we may be biassed but she really is the most gorgeous dog.
She's even got her own Instagram so head over to my Instagram for lots of photos. Bring on the puppy spam!
Below are my tips for getting a new puppy…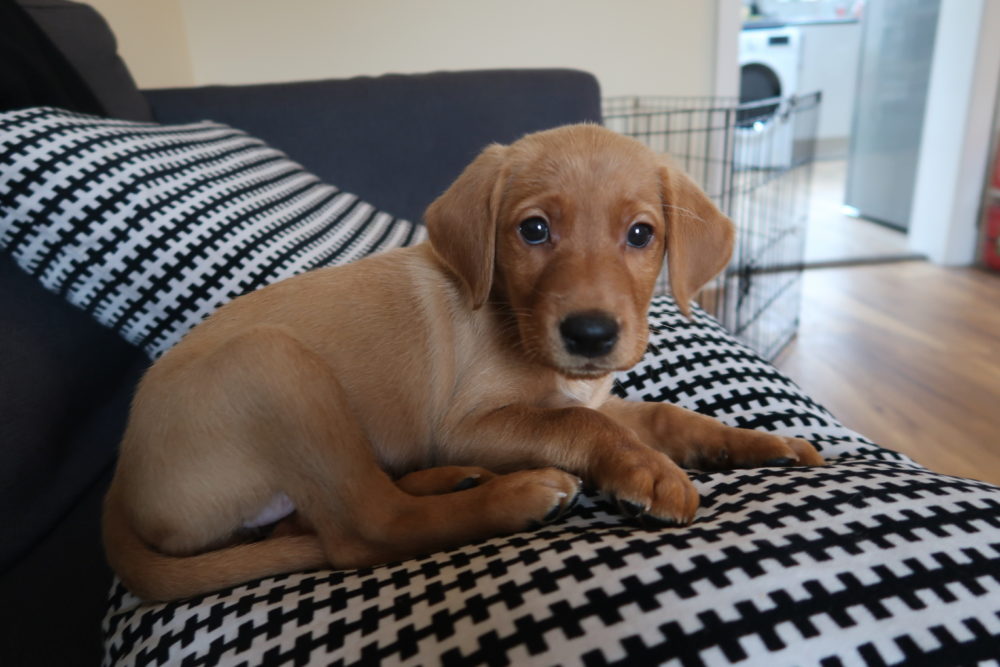 Puppy Walks
In winter, especially this winter, with lockdowns and restrictions, it can be much harder to stay positive. One of the ways that we do this is with fresh air and exercise. Many dog owners find joy in long winter walks with their pets, using the necessity of walking their dog as an excuse to get out and do more exercise. Other people aren't so keen on the Great Outdoors in winter, and being a dog owner is typically the push that they need to get out.
But, that doesn't mean that it's always easy. Long winter walks are certainly good for us, but in cold weather and harsh conditions, it can be tough going. Here are some tips to help you and your furry friend stay safe, and comfortable in the winter.
Plan Your Walks
In the summer you might enjoy spontaneous walking, heading off wherever the mood takes you. In the winter, however, this can be a mistake.
Take the time to check the weather, and to think about how rain, snow, and ice might affect your planned walk. Check the route to make sure you can stick to pathways and flat ground when the weather is at its worst.
Walk in the Daytime
Daylight hours can be fairly limited in the winter. But, try to time your walks so that at least most of it, the part when you are furthest away from home, is in daylight to help you stay safe, and to make the ground ahead easier to see.
Adjust Their Diet
If you are walking long distances in cold weather, your dog might be burning far more energy than normal. You might want to increase their diet and add some supplements to make sure they are getting everything that they need.
Older dogs might struggle with stiff joints in the winter. Glucosamine and chondroitin for dogs can be found in many joint supplements for dogs and may help to keep their joints loose and comfortable, even in colder weather.
You can learn about glucosamine and chondroitin for dogs from YuMOVE. YuMOVE sells a range of health supplements for dogs and has a range of health guides, to offer other advice and tips to help you and your dog to stay safe and happy in the colder months.
Keep Their Hair Neat
Long, messy hair, especially around the feet can trap ice and carry snow. This can be very uncomfortable and lead to rubbing and ice burns. Keep your dog's hair trimmed to minimise the risks.
Invest in Boots
If you and your dog both enjoy a long winter walk and don't want to be limited, you might want to invest in some boots for your dog's feet for extra protection and grip. You should make sure you've got sturdy waterproof boots for yourself too.
Dry Off as Soon as You Get In
Sitting around wet, muddy, and covered in ice is bad for both you are your dog. Take off your wet clothes, rub your dog dry, and gently clean their paws, then enjoy a rest in front of the fire.
Winter dog walks can be great for your health and fitness, as well as your mood, which right now is more important than ever. Be careful, be prepared, and there's no reason you can't enjoy a walk.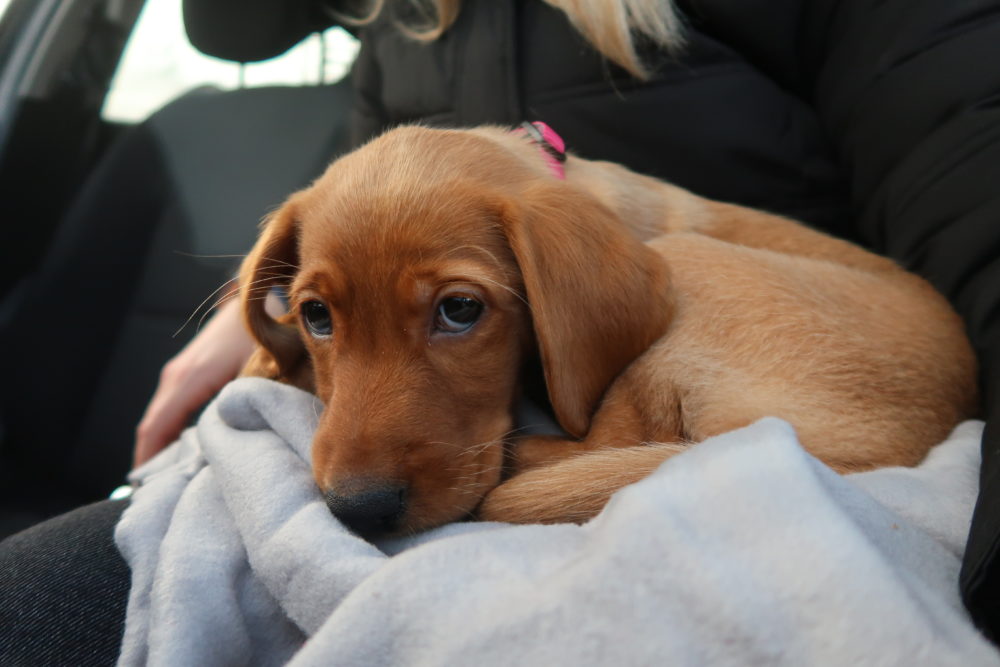 Puppy Diet
When you put your pooch on a new diet, it's that the matter is handled sensitively and with great care.
Unfortunately, all dogs have an extremely sensitive stomach, and if his or her food intake is suddenly flipped upside down, it can be a contributing factor to tummy issues.
They can be sick or have looser stools from this, so it's important to get the balance right here. One misstep, and at best your pooch will leave smelly presents for you, and at worst, more serious health problems can follow.
So, what things should you have in mind when introducing your dog to a new diet?
1. Pace the Swap
If your dog still has a fondness for their old meal, then there's no need to take it away from them just yet.
Instead of suddenly removing their old dinner from their life, gradually phase it out instead. By mixing the old food with the new, your pooch is still getting the occasional aromas and tastes of their trusted dinner, and yet slowly but surely it will disappear.
Give them a lesser portion of the old cuisine each mealtime, while slowly increasing the amount of the new stuff.
It can help to think of it as a closure of sorts for them, too. It might seem silly, but dogs treasure the food, seeing it as a much-cherished resource of theirs. They can even be territorial over it!
They won't know they're saying goodbye to the scrumptious doggy din-dins, but if they're suddenly cut off from it, they can become distressed and distrusting soon after, refusing to eat anything else.
2. Offer Incentives
Dogs are intelligent creatures, but sometimes they need a bit of a push in the right direction.
After all, your pooch can be cautious or even wary of their new foods at first. Your job is to put them at ease and make them feel comfortable and confident enough to give the new grub a try. Fortunately, there are a few tricks here that you can utilise to speed up the process.
For example, your pooch will get great sustenance from complete raw dog food. However, the dog feeding guide provided by raw food experts Bella and Duke recommends adding bone broth to incentivise your pooch to eat it all up.
Other methods mentioned by them include flicking parts of the meal to the floor, stimulating the scavenger part of your dog's brain and natural instincts.
Not only do Belle and Duke offer nutritious and delicious raw dog food, but they also provide helpful guidance that you should heed!
3. Reduce Treats
When your best buddy pines for treats, giving into their adorable demands almost seems inevitable.
However, much like humans, their intake of junk food can diminish their appetite. The Guardian referenced a global study, citing that more than half of cat and dog owners will give their pets food if they beg for it.
What starts a simple one-off snack or scrap quickly escalates something much uglier, and if you're living with others, they could also be dishing out treats on their own whimsy too.
Therefore, it's important to curb your dog's treat intake. You needn't eliminate them from your dog's diet entirely, but keep an eye on things here.
If your dog is hungry at dinner time and knows that he or she can't fall safely back on the nibbles offered throughout the day, they'll be much more inclined to eat their food and give their new diet a try.
---
My Travel Tips and Recommendations
Flights
To book flights, I always use flight search engine Skyscanner, I regularly use the Everywhere tool to find the cheapest places to travel. It's how I get to travel so much all around the world. I find it the easiest way to compare flight prices across airlines and get the best deals.
Accommodation
For accommodation, I usually book most of my hotels or hostels through Booking.com. I love using this platform as it provides me with some amazing deals for accommodation all around the world. Or if you prefer, I also recommend using Airbnb. If you haven't signed up with Airbnb already, you can use this link to get £25 off your first visit!
Travel Insurance
Picking travel insurance that covers you in all eventualities is an essential part of planning a trip for every single person. If you can't afford travel insurance, you can't afford to travel. You never know what's around the corner.
Did you know I also vlog my trips? Make sure you subscribe to my YouTube channel so you get alerted when all my travel videos go live… CHECK THEM OUT HERE
Thank you for reading and as always happy adventuring! If you have any questions about the destination please leave these in the comments below.
If you've enjoyed this post, please share it for me with all your friends and family!
Sophie X